Slingo Spotlight: Baking Bonanza
It's all about the sweet treats here at Slingo where today we'll be taking you on a trip to the finest bakery in town with the Baking Bonanza slot machine. Take your pick from the amazing cakes on offer, and prepare for a sugar rush as you can win up to 2,000x your wager.
About Baking Bonanza
Slingoers with a sweet tooth will love Baking Bonanza. Choose which delectable cakes you'd want to create, then match ingredients on the reels to win real money! In this exciting adventure, choose from Billionaire's Shortbread, Strawberries and Cream, Blueberry Pie, and much more. This game is sure to give you an amazing sugar high, too, with a possible prize pool of over 2,000x your bet! Are you ready to start baking? Now you can by playing  Baking Bonanza!
How To Play Baking Bonanza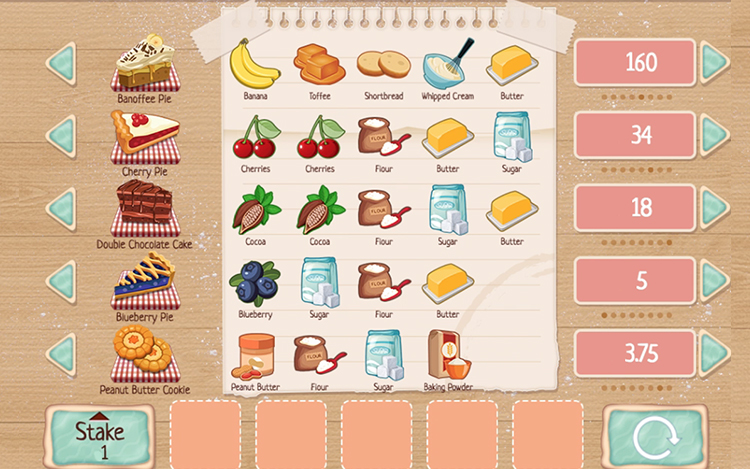 Baking Bonanza is a simple game to play online. To begin, use the button on the left of the screen to determine your total stake.
Then you may choose which cakes you wish to play for by using the arrows on the left and right of the rows. The cakes with the lowest value are in the first row, while those with the highest value are at the top. The values of each cake are listed in the right-hand column.
To begin, press the 'Spin' button on the bottom right of the screen once everything is in order.
The object of the game is to match the components on the reels to the ingredients on the grid (just like in classic Slingo games).
When you match an ingredient, it will be highlighted on the grid and the reels will spin automatically. On the right, there are even progress bars that show you how many ingredients you still need to find to finish each cake.
Each game lasts five spins, with the option to purchase additional spins at the end of each round. The cost of the additional spins is determined by the game's current position and potential winnings. The pink 'Spin' button will display the price for the following spin. You can choose to end the game and collect your prizes if you wish.
Baking Bonanza RTP and Wager Limits
Baking Bonanza has a theoretical RTP that ranges between 90.4-95.2% because players can select the volatility rating of their game depending upon their playing preferences. Wagers start at just £1 per game but can cost up to £100 per game if you're into some fine patissiere. 
Baking Bonanza Features
Choose your Cake
The grid in the Baking Bonanza game is set on a baker's workstation and has a charming pastel tone. At the start of the game, we're even greeted by a sophisticated-looking chef with a twirly moustache! However, before you begin playing, you need become familiar with some of the main elements and symbols you'll encounter.
You get to choose whatever cakes you wish to play for in Baking Bonanza. Let's take a closer look at a couple of them in more detail:
Golden Champagne Truffles:

These delectable-looking truffles are created with only the best ingredients, such as champagne, cocoa beans, and even gold leaf! If you can complete this complicated recipe, you'll win 2,450 times your original wager!

Billionaire's Shortbread:

Billionaire's Shortbread is the second most valued symbol, worth 1,300 times your stake. There's also gold leaf, cocoa, and caramel in there.

Strawberry Cheesecake:

If you want fruity flavours, the strawberry cheesecake is for you. This tasty gift is worth 52 times your wager!

Double Chocolate Cake:

This decadent, gooey chocolate cake is worth 18.5 times your initial wager.
There's an entire patisserie of cakes just waiting to be sampled – simply click the 'Help' icon in the top right corner of the game screen and scroll down to see them all.
Baking Bonanza Mobile
The Baking Bonanza slot machine, like all other Slingo Originals games can be played on all devices including mobile phones and tablets. This means you can visit the bakery whenever and wherever the mood strikes you.
Cook up a Storm with Baking Bonanza on Slingo
If you've got a sweet tooth and want to enjoy the many cakes on offer in the Baking Bonanza bakery, then come and play at Slingo, your online home for great slots, slingo games, bingo, and more. Sign up and play today.