Lightning Box has created the Five Pirates slot online. This very unpredictable game features a 95.49 per cent RTP and 1,024 possibilities to win across its five reels. Hold n' Spin and Barrel Bonus are two of the game's special features.
Five Pirates Slot Game 
The Five Pirates online slot was produced by Lightning Box. The Five Pirates slot UK has a 95.49 per cent RTP and 1,024 ways to win across its five reels, making it a very unpredictable game. Two of the game's special features are Hold n' Spin and Barrel Bonus.
In the Five Pirates slot game, why not stowaway on a pirate galleon for a sailing adventure? With eye-catching symbols across five reels, 1,024 ways to win, and decent bonus opportunities, this high variance slot has a long-term appeal.
The Five Pirates slot is an easy game to set up and play on your laptop, phone, or tablet. Join the crew and become the sea's scourge at Slingo.com!
Theme & Symbols
Imagine limitless rippling blue ocean waters merging with a sky of a complementary tint near the horizon. A gorgeous pirate ship floats on the turbulent ocean, so full of gold loot that the coins pour out of the hold and onto the deck. Two cutlasses stand nearby, bathed in the light of a flickering candle, ready to fight if the call to combat comes.
Lightning Box slots offer a number of interesting extra features that make them stand out, and one of them is the soundtrack. Expect to hear a stormy sea, squawking seagulls, and sea shanties played on an accordion.
The paytable for the Five Pirates slot machine is bang on theme and is as follows:
Skull flag (scatter):

5 = 2,000x, 4 = 400x, 3 = 250x, 2 = 100x

Galleon ship:

5 = 500x,4 = 350x, 3 = 230x, 2 = 50x

Map/cannonball:

5 = 150x, 4 = 100x, 3 = 66x

Monkey/pirates/parrot:

5 = 250x, 4 = 200x, 3 = 100x, 2 = 20x

Ace:

5 = 150x, 4 = 60x, 3 = 10x

King:

5 = 125x, 4 = 50x, 3 = 5x

Queen/jack:

5 = 100x, 4 = 40x, 3 = 5x

Ten:

5 = 100x, 4 = 20x, 3 = 5x

Nine:

5 = 100x, 4 = 20x, 3 = 5x, 2 = 2x
The Basics: How to Play Five Pirates Online Slot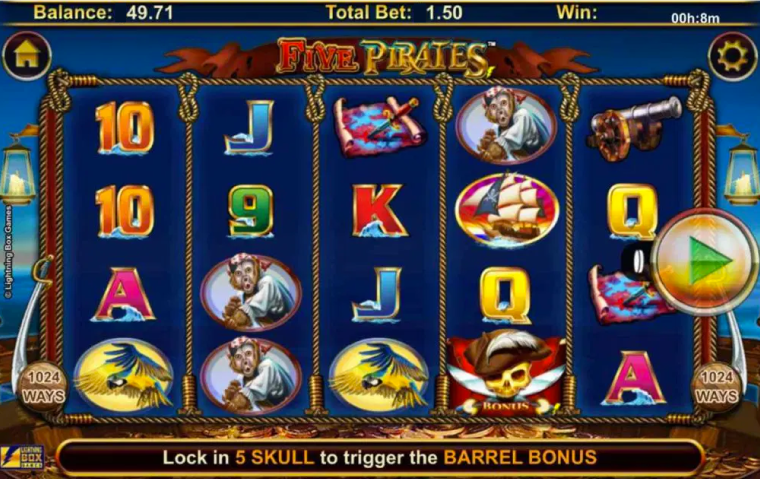 Follow these steps to play the Five Pirates slot machine:
Go to Slingo.com and load the slot. This should be straightforward because Five Pirates is designed to run on both desktop and mobile platforms (through the Five Pirates mobile slot).

Personalize the slot according to your requirements. If you need help, the cog in the top right-hand corner of the screen offers a number of options.
In the lower-left corner of the reel screen, press the spin icon. This will start the reels spinning.
Five Pirates Slot RTP & Wager Limits
Five Pirates has a theoretical RTP of 95.4% and is played at medium volatility. Wagers on the Five Pirates slot start at 50p per spin up to a max of £50 per spin.
Five Pirates Bonus Features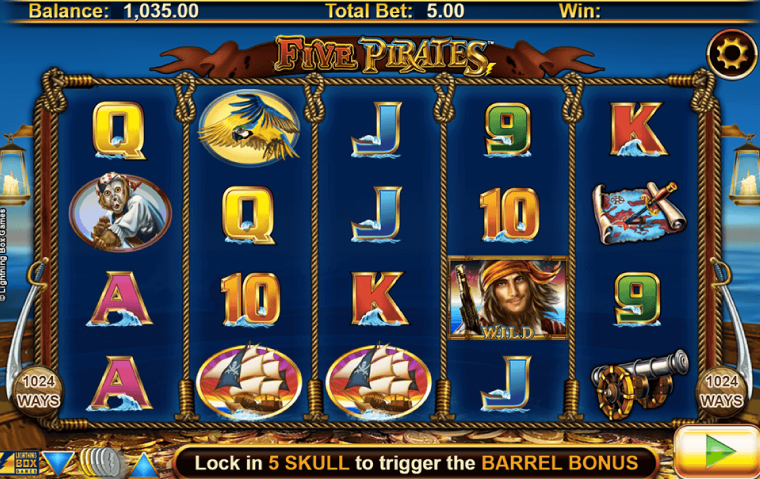 Wild Symbol
A male pirate is the wild symbol. Only appears on reels two and four, and it substitutes for all symbols save the skull and crossbones scatter.
Hold N'Spin 
This is basically the Five Pirates slot's version of free spins. When two, three, or four skull scatters appear on the reels at the same time, they lock in place and spin the remaining reels at least three times, triggering the bonus game. There may be further opportunities to gather more scatters and continue the pattern during the free spins. A bonus called the Barrel Bonus is provided if all five reels are locked in.
Barrel Bonus
In this second-level bonus game, players choose barrels at random. Each one has either a green arrow pointing you to the next barrel or a stop sign signifying the multipliers and free games won, as well as the bonus game ending.
Play Five Pirates Online on Slingo
If you've read enough about the Five Pirates slot, and want to sail the seven seas for yourself then sign up and play today at Slingo.com where you can play the Five Pirates game as well as a whole host of other casino titles. Visit our site to discover more.