The Football: Champions Cup slot online is a NetEnt-powered video slot with a gorgeous design and a football theme. This game has five reels and twenty pay lines, as well as Wild features, penalty shootouts, and multipliers. It's game time, and you have the opportunity to score the game's winning goal by spinning the reels at Slingo.com.
Football: Champions Cup Slot Game
We've seen a few football-themed slots games in our time, which is understandable given the sport's global popularity. However, we haven't seen a football-themed game as well-designed as NetEnt's, which isn't surprising given the company's hard-won reputation. Let's take a closer look at the immersive theme and symbols used in this game.
Theme & Symbols
Unlike many other online slots games, where the background is often as detailed as the reels, this one is all about the playing area, which takes up the entire screen. The football stadium can be seen at the far end of the playing field, and because the reels are slightly translucent, you can just make out the pitch, which is flanked by rows and rows of seats.
Rather than providing a musical soundtrack, the game's makers have chosen to stay with the football theme, providing an animated audience that celebrates as the action develops on the field. When the player wins, the music builds to a crescendo, creating the sensation that you're watching a football match.
The entire game was methodically created with a keen eye for detail. Football fans will be overjoyed to learn that their beloved sport has been immortalized in an online slots game, while even those who aren't fans of the sport will like the overall design and gameplay - not to mention the potential to win a substantial prize pool!
Symbols used in this game include the A, J, 10, and K card symbols, as well as fundamental football patterns. Low-paying symbols are card symbols, which are designed to seem like dazzling, metallic characters. Traditional lettering is used on these. The high-paying symbols are a white football glove against a blue cone-like backdrop, a white football shirt with two white stars against a pink armor-like background, a football shoe with green stars against a green background, and a white whistle against a blue oval background.
The Basics: How to Play Football: Champions Cup Online Slot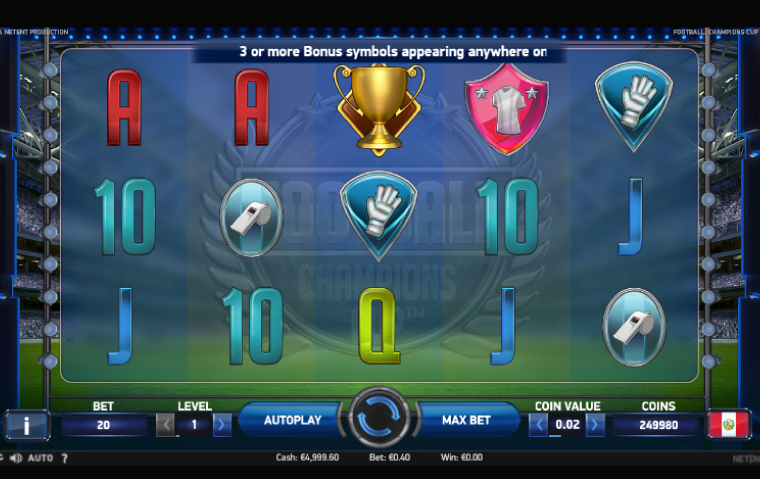 You won't notice anything unique about the controls for the Football: Champions Cup slot if you're used to playing online slots games. In fact, NetEnt goes to great measures to make their games as basic and intuitive as possible, so even a complete novice shouldn't have too much trouble picking up the game. To get started, load the Football: Champions Cup slot UK at Slingo.com. This can be done on any device including on the go via the mobile slot.
A player's first decision is usually how much money they want to wager on each spin of the reels. However, there is one tiny aspect of this game that you must solve first: your team's country. In the bottom right-hand corner of your screen, you'll find a national flag; click it to see a selection of flags.
It's time to decide on the value of your coins now that you've decided the nationality of your team. The next step is to choose your play level, which will affect your overall wager. There are ten levels to choose from, all of which are located to the left of the main Spin button, and your choice will affect your total wager per spin. After you've made your selection, simply hit Spin to start the reels spinning.
Football: Champions Cup Slot RTP & Wager Limits
The Football: Champions Cup slot game can be played for as little as 20p per spin, all the way up to £100 per spin. The Football Champions Cup slot machine has a great RTP of 96.82%.
Football: Champions Cup Bonus Features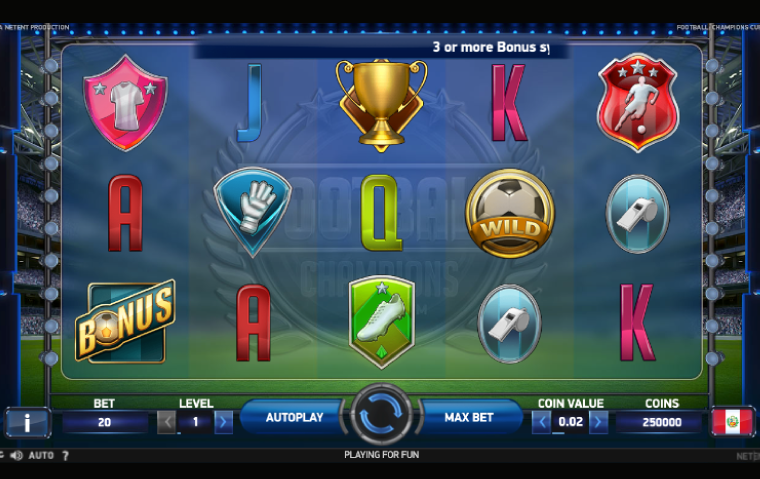 Wild Symbol
The football is the wild symbol, and it can take the place of any other symbol on the screen except the bonus symbol.
Wild Overlay
At any point throughout the spin, anywhere from 2 to 5 footballs could appear on the screen and settle as wilds.
Penalty Shootout Bonus
When three or more bonus symbols appear anywhere on the screen, the select and click penalty shootout game is activated. It's a simple turn-based game in which you aim for your opponent's goal from one of four positions. If he doesn't catch your shootout, you get some quick cash.
Then it's your turn to shoot, and you'll have to save from one of four options. Your win multiplier will grow by one if you save, but you will lose that round if you don't. You have five rounds to earn the most cash and multipliers, but the game will continue until one of you is eliminated.
Football: Champions Cup Slot Free Spins
When three scatter symbols appear on reels 2, 3, and 4, the free spin bonus rounds are launched. There are four rounds in total, each with six free spins.
All you have to do to go farther in the competition is win the 'match.' In the game, you'll acquire either blue or red 'wild' symbols at random; you want the red ones because they give you an advantage over your opponent. You'll have scored more goals than the machine at the end of your six free spins, and you'll have won the game.
The top three awards are 500 times your bet in the first place, 100 times your bet in second place, and 20 times your bet in third place for winning this tournament. (This is in addition to the winnings from the free spins, which are stacked with extra wilds.)
Play Football: Champions Cup Online on Slingo
Make sure you have your account ready in time for kick-off, so you can enjoy the Football: Champions Cup slot without delay. Sign up and play today at Slingo.com.