Gem Rocks Slot Game
In the Gem Rocks slot machine, Yggdrasil takes us on a geological voyage. This slot game, which has stone golems and wonderfully high-quality visuals, boasts a massive 4096 different win ways, as well as a unique monster rock feature and a drop-down winnings feature, which may make each spin of this slot potentially pretty lucrative!
Theme & Symbols
Who said rocks have to be boring? Developer Yggdrasil didn't think so when they came up with the theme of the Gem Rocks slot UK. Featuring gem encrusted rocks and innovatively designed rock creations, stones and pebbles have never looked so good!
The Jewel Rocks slot machine has a variety of stone symbols, each with a beautiful gleaming gem buried inside. Because the rocks are color-coded and the gems are different shapes, distinguishing these identical symbols isn't difficult. The orange stone with a cross, purple stone with a diamond, green stone with a square, and grey stone with a triangle are the four lowest-paying symbols. For 6 on a pay line, these symbols can pay up to 20 times your wager.
The dark blue rock with a triangle and the aqua rock with a circle is the next two high-paying symbols. For 6 on a pay line, these can pay up to 25 times your bet. The golden rock with a moon in the center is next, and it can pay up to 35 times your investment amount. The highest paying symbol is the red rock with the gold border and the star, which may pay out 200 times your wager for six on a pay line.
The Basics: How to Play Gem Rocks Online Slot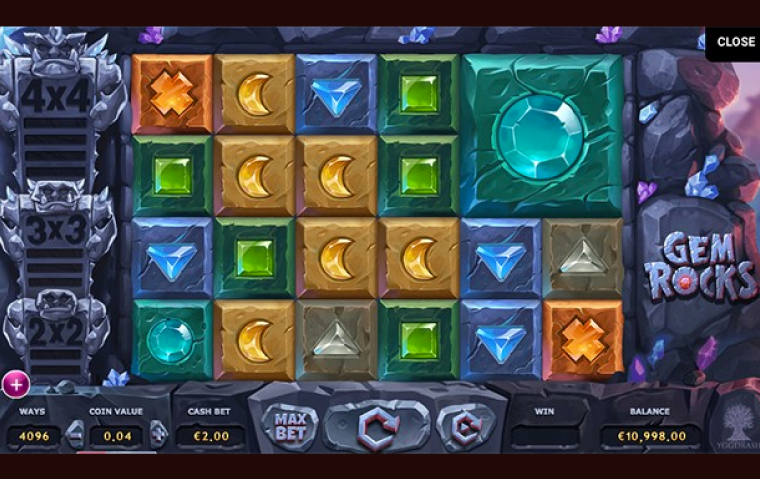 The Gem Rocks slot game is compatible with all devices including mobile phones and tablets via the mobile slot. All of the budgets, goals, and playstyles are divided into 16 convenient bet levels, making getting started with the Gem Rocks slot a breeze. Despite its extreme volatility, coin values range from 0.002p to £1 per coin, making this slot accessible to all types of gamers. The + and - buttons are used to alter bet levels and coin values, and the 'max bet' button is used to play the Gem Rocks online slot at maximum wagering settings. Once you've decided on your bet, all you have to do now is press the spin button to start the reels spinning.
Gem Rocks Slot RTP & Wager Limits
The Gem Rocks slot online has a theoretical RTP that's a little over the current market average at 96.2%. Wagers for this game are incredibly flexible and designed to appeal to a wide variety of players. You can spin the reels of Gem Rocks for just £0.10 per spin or a maximum of £50 per spin if your budget allows it. 
Gem Rocks Bonus Features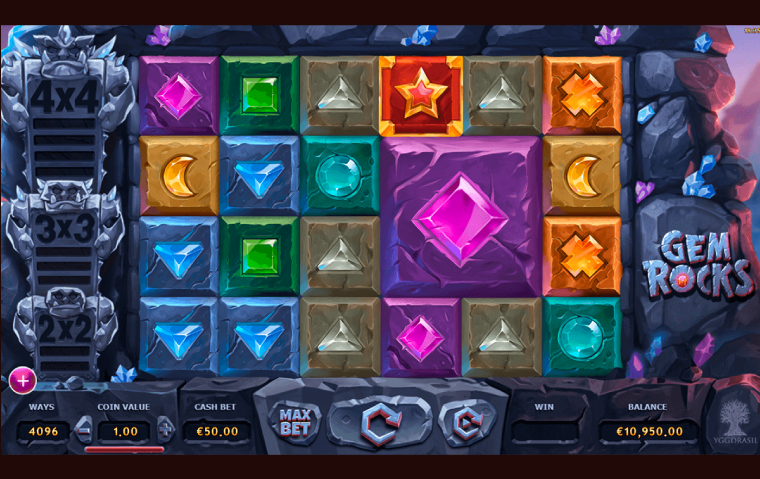 Despite being a modern slot there aren't any Gem Rocks slot free spins. There are two exciting features though, which are as follows:
Drop Down Wins
This is Yggdrasils' moniker for cascading symbols, tumbling reels, or avalanching reels, which are a prevalent feature of most Megaways slots and help the Gem Rocks game boast its astonishing 4096 distinct win ways. Because many wins can be earned from a single spin, the symbol payouts of the Gem Rocks slot may appear to be a little smaller than other slots.
When a player lands a winning combination, the winning combination is withdrawn from the reels and fresh symbols fall down to take their place. These new symbols can create their own winning combination, restarting the process until no more new combinations appear. The collected line wins will subsequently be credited to your account.
Gem Rocks Feature
The Gem Rock feature is triggered by landing numerous winning combinations. After 2, 5, or 9 consecutive wins, this feature will trigger, and players will be awarded a giant symbol called "monster rock." The larger the monster rock symbol, the higher the combination streak. Two consecutive combos will result in a 2x2 monster rock, five will result in a 3x3 monster rock, and nine will result in a massive 4x4 monster rock.
Play Gem Rocks Online on Slingo
Gem Rocks is definitely a slot that's a bit different from the other games that Yggdrasil has created in the past but it still includes their innovative themes and high-quality graphics. If you want to give the Gem Rocks game a try, then look no further than Slingo.com. Sign up and play today.