Mega Joker Slot Game
Mega Joker is a classic and traditional-style slot game from NetEnt, one of the industry's most well-known developers. The game is a simple slot machine game with classic fruit symbols and the possibility of winning a progressive jackpot.
Theme & Symbols
This is a fascinating game to play since, as, despite being an online slot, NetEnt designed it to look like a mechanical fruit machine, complete with flashing lights and ringing bells. This gives players the best of both worlds: classic gaming enjoyment paired with the ease of an online slot. When you first see Mega Joker, you might be perplexed. With two sets of reels, a variety of fruits, and giggling jesters, the screen is busy, but if you're a true slots fan, this may be considered a visual feast, with something new to discover each time you play.
Standard fruit machine symbols are employed in the Mega Joker slot, and their value varies depending on whether you play in standard or Super Meter mode, as seen below:
Symbol values in standard mode:
Three cherries: 10 to 20 coins

Three lemons: 10 to 20 coins

Three watermelons: 40 to 80 coins

Three bells: 100 to 200 coins

Three treasure troves: 200 to 2,000 coins

Three jesters: 10 to 400 coins
Symbol Values in Supermeter Mode
Three cherries: 100 to 200 coins

Three oranges: 100 to 200 coins

Three lemons: 200 to 400 coins

Three grapes: 200 to 500 coins

Three watermelons: 500 to 1,000 coins

Three bells: 600 to 1,200 coins

Three 7s: 800 to 2,000 coins

Three or more jesters: 100 to 2,000 coins
The Basics: How to Play Mega Joker Online Slot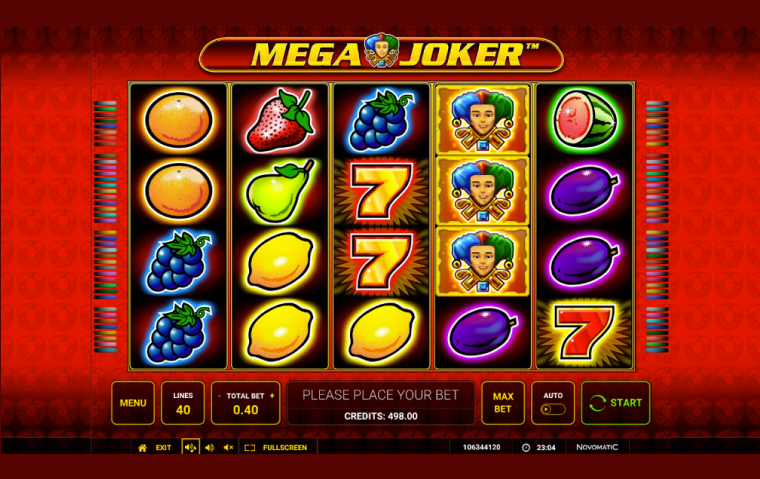 To begin playing the Mega Joker slot, go to Slingo.com and launch the game, the Mega Joker slot online can be played on all devices including on the go via the mobile slot. The Mega Joker slot game's controls are found at the bottom of the screen once it has been loaded. The 'jackpot' display will also be visible, which will reflect the value of the rolling progressive jackpot. The two game categories are basic and 'super meter.' The super meter mode is comparable to a bonus game in that it allows you to access greater prizes and gamble more on each spin. In easy mode, the main gameplay takes place on the bottom set of reels. You can choose from 0.10 to 1.00 coins for your coin size, and stake 1 to 10 coins on up to five pay lines in this mode. The buttons at the bottom of the screen can be used to modify these values. When you're ready to play the Mega Joker online slot, press the 'spin' button to start spinning the bottom reels.
Mega Joker Slot RTP & Wager Limits
The Mega Joker slot machine can be played for just 10p per spin or up to £100 per spin, so there's plenty of flexibility when setting your wager. As a medium volatility slot machine, most slot players will be able to enjoy this title which, depending on the features used, can have a whopping RTP of up to 99%!
Mega Joker Bonus Features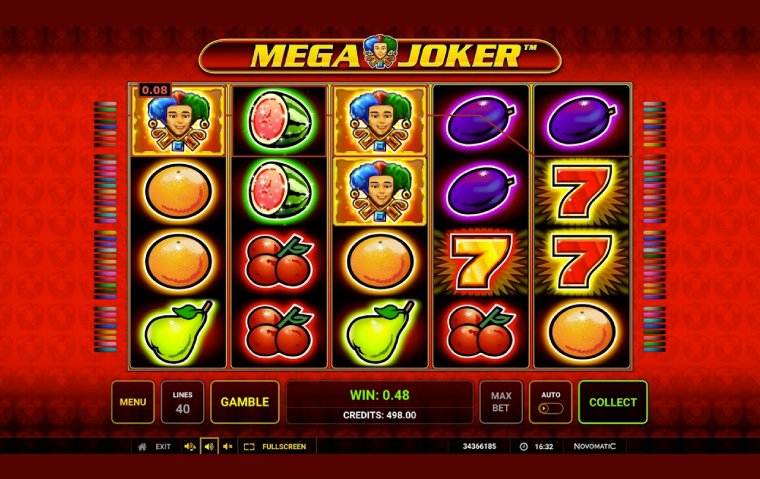 The Mega Joker slot doesn't have free spins, but don't be too disappointed as it does have the following features instead:
Super Meter
This is a standard element of the Mega Joker slot and one of the primary reasons for the appearance of the reels. If you bet the maximum of 10 coins on all active pay lines and have a winning combination, you have two choices: collect your winnings or engage the 'super meter' mode by hitting the 'spin' button. This increases both the risk and the potential for a high payment, so it's essentially a question of assessing the risk vs. the potential profit.
Progressive Jackpot
A progressive jackpot is available with the Mega Joker slot UK. However, there is nothing players can do to activate this feature; it is entirely dependent on luck and random chance, which we believe adds to the game's excitement.
Play Mega Joker Online on Slingo
The Mega Joker slot machine has a little something to offer everyone, so if you want to try it out for yourself give the reels a spin at Slingo.com. Sign up and play today!