Monopoly Slingo Slot Game 
The world famous board game has a slots-meets-bingo crossover. Monopoly Slingo slot uk has a highly customisable 5X5 grid slot bingo mashup. The aim of the game is to create Slingos by getting a line of five connecting squares on the grid, either horizontally, vertically, or diagonally. Other than that, land properties and iconic squares to boost your payout with the help of instant cash rewards and multipliers. 
Monopoly Slingo Mobile slot can be played at Slingo.com on your phone or tablet. 
Theme & Symbols
In theory, Monopoly Slingo slot free spins, is based on the Monopoly board game. The symbols include the Joker. When players land on a Joker symbol, players get to pick a card to help them complete a slingo. The Free Parking symbol. Each time a player lands on the pass Go, a cash prize will be added to the free parking space. When players land on this tile, players get to have the entire collected pot. The multiplier symbol. When players complete all property on a set, they will receive an additional multiplier on their winnings. Go to Jail tile. If players land in jail, they need to roll a double to get out, or have a get out of jail card. Community Chest tile. When players land on this tile, players will receive a card, a card could be an instant cash prize, a move to a random space on the board, or go to jail. 
The Basics: How to Play Monopoly Slingo Online Slot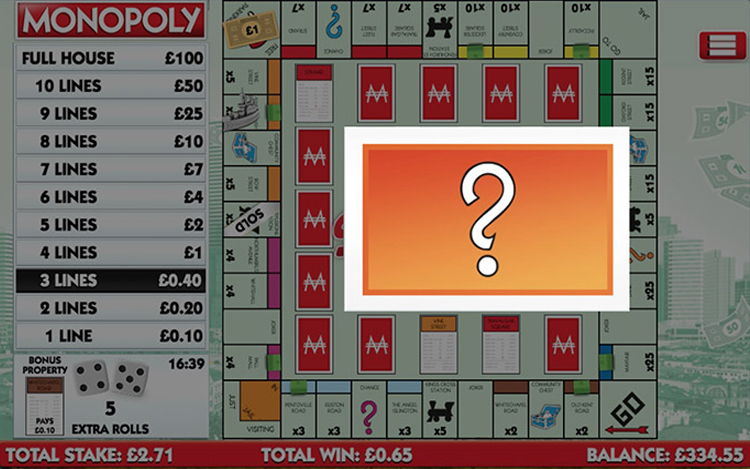 Before players start playing Monopoly Slingo online slot, they need to choose a profile. Players can choose; a Dog, Car, a Battleship, or a T-Rex. Each of these profiles have a different volatility. Once players have picked their icon, they can then select their stake. Monopoly Slingo slot machines are played on a gameboard, each round starts with a dice roll, which reveals where they will land on the board. Landing on a property will mark all colours of that property on the game grid. Once players have used up all their dice rolls, they have a chance to purchase extra. 
Monopoly Slingo Slot RTP & Wager Limits
The Monopoly Slingo slot machine lets players choose their volatility level. Higher volatility means more extra rolls and higher prizes. As such, low volatility goes to the Dog icon. A car icon has medium, a Battleship icon is medium to high, and the T-Rex icon has the highest volatility. 
Monopoly Slingo online slot has an RTP of 95% and maximum bet is 25.00
Monopoly Slingo Bonus Features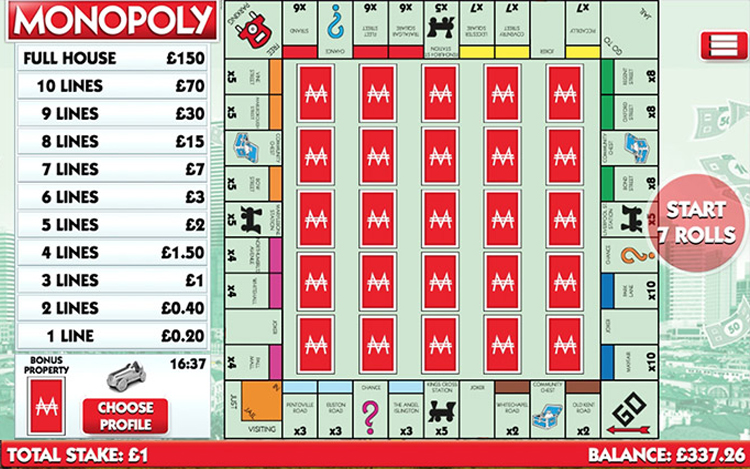 Monopoly Slingo slot online has no game scatter. The game doesn't also have a Wild
Monopoly Slingo slot game Extra Roll feature
If players roll a double, they are rewarded with an additional extra roll. 
Play Monopoly Slingo Online on Slingo
Monopoly Slingo is just one of thousands of exciting games you have at your fingertips available at Slingo.com. At Slingo.com, we take responsible gaming seriously.