Slingo Spotlight: Slingo Centurion
Welcome to Slingo Spotlight, our new blog series that takes a closer look at some of our most popular Slingo games. We'll delve deeper into their themes, features, gameplay and more to find out what makes them such a hit.
This time it's the turn of Slingo Centurion, one of our favourite Slingo collabs ever!
This Roman Empire themed game takes all the best bits of the hugely popular Centurion slot and throws in a generous helping of Slingo magic, giving fans a whole new way to play.
With bonus features such as Reelus Maximus, Prizes on Parade, Caesar's Free Spins and Road to Rome, this action-packed game has the potential for some truly epic wins.
So don your armour, grab your shield and get ready to enter the world of Slingo Centurion! Read on to find out more about this legendary Slingo game. 
Slingo Centurion Theme & Design
Slingo Centurion: Maximus Winnus is set at the height of the Roman Empire – think Julius Caesar, brave centurions and plenty of hidden treasure waiting to be discovered! The game is set outside what looks like a Roman temple, and a friendly centurion even appears at the side of the grid to herald the start of the game.
Symbols including chariots, helmets and coins help to set the scene, so that you'll really feel like a soldier on the road to Rome!
The format follows the familiar x5 grid format of other Slingo games, and it's easy to get the hang of this carefully designed game.
Game RTP & Wager Limits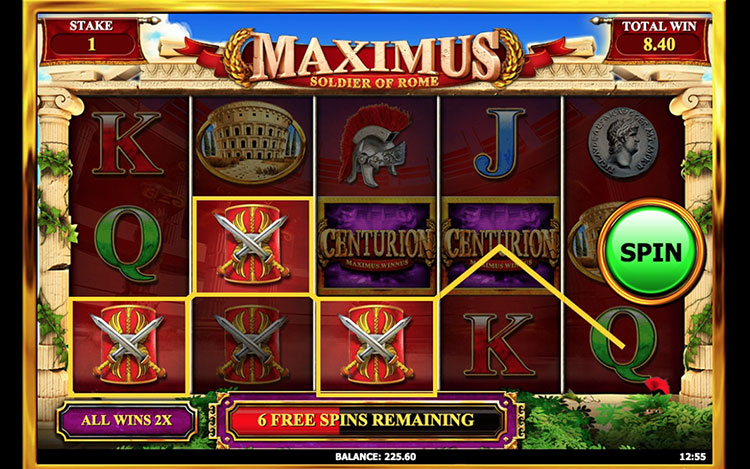 Slingo Centurion is a medium-high volatility slot with an RTP of 95%. In case you're not sure what that means, RTP is the return to player percentage.Percentage return to player (% RTP) is the expected percentage of wagers that a specific game will return to the player in the long run.
In medium-high volatility slots like Slingo Centurion, the risk is greater but there are bigger prizes up for grabs.
The minimum bet is £0.20 and the maximum bet is £100, meaning that this game is suitable for players with a range of different budgets.
How to Play Slingo Centurion
Before playing Slingo Centurion, you'll need to select your stake and then press 'START GAME.'
Then it's time to go into battle!
In Slingo Centurion, you have ten spins to match the numbers on the reel with those on the grid. Slingos are completed by winning lines from left to right.
You'll recognise a few of the symbols on the reel from other Slingo games. The Joker with a red hat is Wild and enables you to mark off any number in the grid above. The Joker with a green hat is a Super Wild, and he'll let you mark off any number in the entire grid.
A free spin symbol awards you an extra spin at the end of the game, and the red devil acts as a blocker to try to stop you landing wins.
In the bonus games, you'll also come across some symbols on a traditional slot reel.
The highest paying symbol in the bonus game is the Centurion logo, which has a top prize of 500x your bet for five of a kind.
It's followed by the horse and chariot and the Colosseum, which are both worth up to 400x your bet.
The shield and sword, the soldier's helmet and the silver coin are all worth up to 300x your bet, and the letters K, Q and J can win you up to 200x your bet.
Slingo Centurion Features
Bonus Game Features
Slingo Centurion has seven exciting bonus rounds to give you even more chances to win a cash prize. The bonuses are triggered by completing five or more Slingos, and bonuses are shown in the pay ladder. For example, six Slingos triggers the Prizes on Parade bonus.
Let's take a look at the different bonus rounds in a little more detail:
Reelus Maximus: This feature fills the first three reels of the five-reel slots with colossal symbols, increasing your chances of scooping a prize!





Prizes on Parade: This exciting feature invites you to hit 'stop' on the dancing light on one of the multipliers to win the prize it corresponds to.





Caesar's Free Spins: You're in favour with the king – Ceasar rewards his most loyal subjects with free spins and multipliers to increase their chances to win.





Caesar's Free Spins Red: This round is the same as the previous one, except the number of spins and multipliers are boosted in the bonus.





Road to Rome: Make your way to Rome by rolling the dice to move around the board, collecting prizes as you go. If you make it to Rome, you'll win a fantastic cash prize!





Road to Rome Red: The same as the previous round, with even bigger prizes up for grabs!





Wild Power Spins: A centurion will progressively place blocks of Wilds on the second, third and fourth reels through three power spins.
Slingo Centurion Mobile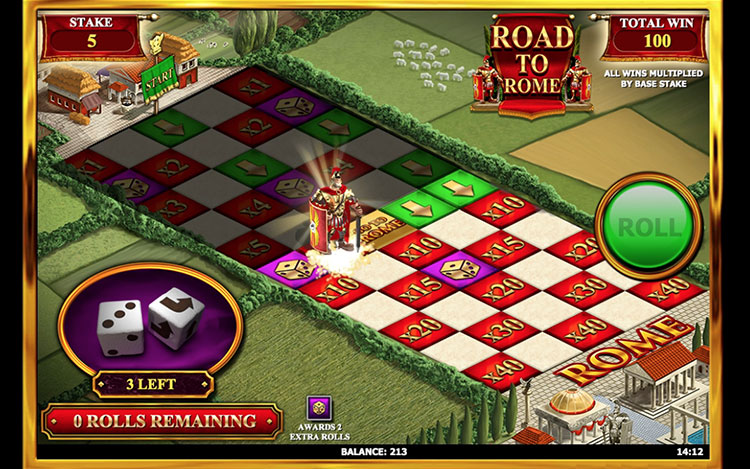 Slingo Centurion is fully optimised for both desktop and mobile use, meaning you can play whenever and wherever suits you best. Whether you're in your pyjamas or on the go, you'll be transported to the epic world of the Roman Empire!
Play Slingo Centurion on Slingo
With its fun Roman Empire theme, exciting bonus rounds and epic real money prizes, Slingo Centurion is one of our most popular collabs ever! Play it now at Slingo.com for a unique gaming experience in a safe, secure environment that puts you first.