Slingo Spotlight: Slingo Classic
Welcome to Slingo Spotlight our new blog series where we shine the spotlight on the most popular titles on our site. In today's article, we'll be shining the spotlight on the OG Slingo game which started off the entire genre; Slingo Classic. Once left languishing in slot history, this slot has been revamped for the modern era for its 20th anniversary. Here's what we have to say about this classic slot game.
Slingo Classic Theme & Design
The Slingo Classic Slingo game has been carefully designed to perfectly mimic where the genre first began with the OG Slingo slot that was released over 20 years ago. If you're a seasoned Slingo player that has fond memories of playing the original game, then the Slingo Classic Slingo game will be the ultimate nostalgic experience. Even if you're brand new to the world of Slingo slots, you'll enjoy the retro vibes this game is putting out. 
Game RTP & Wager Limits
Slingo Classic has a theoretical return to player in line with other Slingo games at 95%. As a medium volatility slot game, Slingo Classic is designed to be enjoyed by all players, which is also seen in its flexible wagering limits which start at just 20p and cap out at £25. 
How To Play Slingo Classic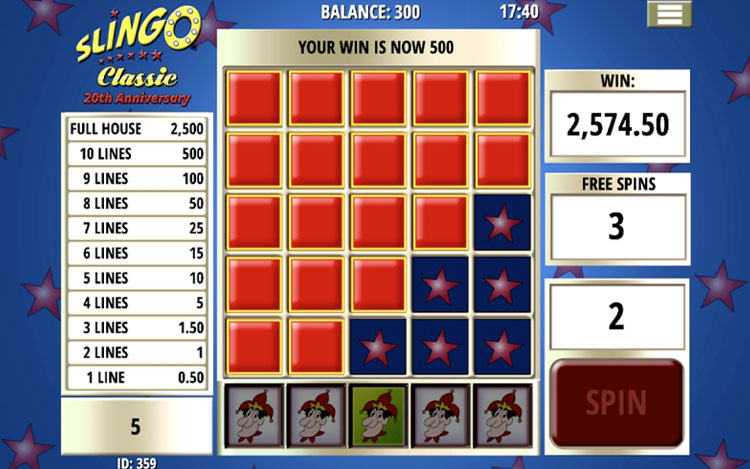 To play Slingo Classic you'll first need to set your stake by using the + and - buttons to increase or decrease your wager amount. Once satisfied you can click the red 'start game' to begin playing. The aim of the game is very simple; you'll have 11 spins to match as many of the numbers that appear on your 5x5 game grid as the numbers landed on the reel. Each line that is completed is called a Slingo and will move players up the prize ladder for bigger and better payouts. This prize ladder is found on the left side of the game grid and completing all 11 Slingos (which is called a Full House) will award players with the top prize which is 500x their wager. 
The Slingo Classic slot has two main special symbols; the Joker and the Super Joker. These act similarly to the wild symbols of slot machines. The joker can mark off any number in the column above its reel position, while the super joker can mark off any number anywhere on the game grid.
Slingo Classic Features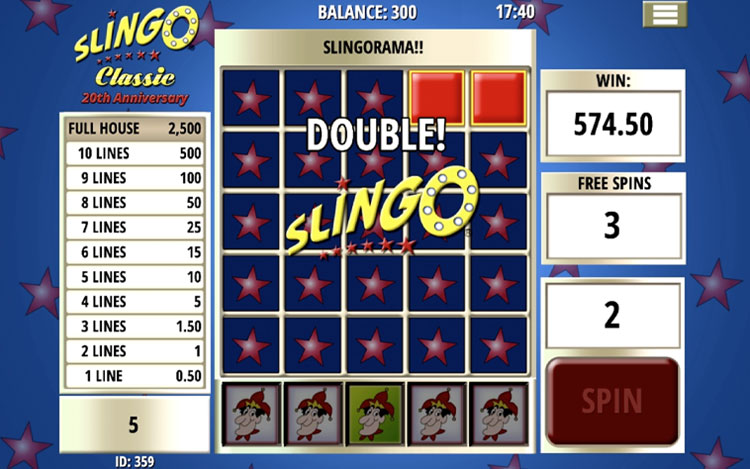 Free Spins
Players win free spins whenever the free spins symbol is displayed on the reels. Players will have an extra spin added to their tally but will reduce the number of extra spins that players are able to purchase at the end of the main game.
Slingo Coins
Players can win an instant cash prize when a golden coin is landed on the reels
The Devil
This cheeky fellow will act as a blocking symbol and prevent you from making matches.
Extra Spins
Once the main game is done players are able to purchase a maximum of 8 additional spins (though each free spin awarded will reduce this total. The cost for each extra spin will be clearly labeled above the spin button and will change to reflect the current state of play.
Slingo Classic Mobile
While when this title was first released, mobile phones still had flip screens, the revamped Slingo Classic slot game has been fully optimized for mobile and desktop use. You can play this game on the go whenever and wherever you like and both Android and iOS devices can play this title.
Come and Play Slingo Classic at Slingo
If you want to give Slingo Classic a try or play a selection of the best Slingo games online then you'll have to make our site Slingo your first stop. Sign up and play today.