Slingo Spotlight: Slingo Fortunes
Welcome to Slingo Spotlight where we shine the light on some of the best slingo games on our site. The focus of today's article is the oriental-themed Slingo game called Slingo Fortunes. Let's take a closer look at the many great features of this title, and how you can play Slingo Fortunes for yourself.
Slingo Fortunes Theme & Design
Slingo Fortunes is an online slot game inspired by Chinese culture. The Slingo Fortunes slot machine, like Deal or No Deal Slingo, allows the player to choose their lucky envelope at the start of the game before eliminating the other envelopes and the prizes they represent. Awesome reward multipliers await you as each Slingo boosts players up the Prize Boost Ladder!
Even better, if you get 4 Slingos, the Slingo Fortunes online slot will start making you cash offers in exchange for your envelope. Will you cut your losses and accept the offer, or will you stick to your guns and find the reward that fate has in store for you?
Game RTP & Wager Limits
Slingo Fortune is a medium volatility slot game with a theoretical return to player (RTP) of 95%. Games can cost as little as £1 per game but can cost up to £100 per spin if you're a higher-stakes player.
How To Play Slingo Fortunes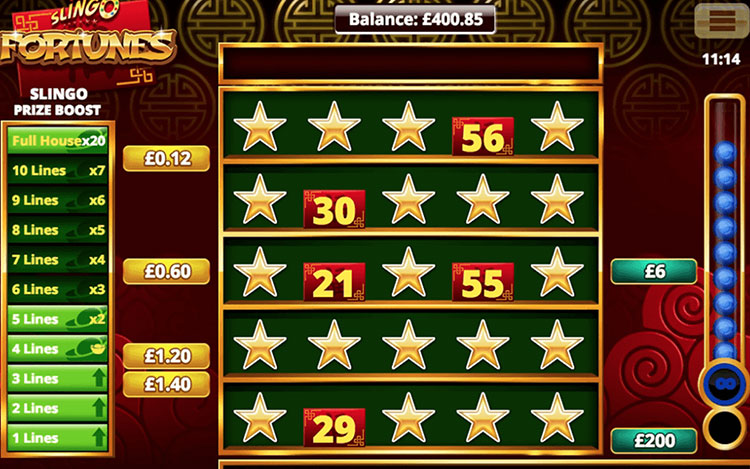 To begin playing Slingo Fortunes, you'll need to set your stake amount.The Slingo Fortunes game provides a variety of wagering alternatives to suit most budgets. To begin playing, click the 'start game' button once you're satisfied with your stake.
When the game starts, there will be 26 envelopes on the screen. Each envelope corresponds to a prize value, which is assigned at random. You must choose one of the 26 envelopes to be your lucky envelope, which will be placed aside for later. The game grid will be made up of the remaining 25 envelopes. To finish Slingos, spin the reel and match the envelopes. You'll be given 10 spins with the option to purchase an endless number of extra spins at the end of the play.
Slingos are accomplished by crossing off a line of envelopes. Completing four Slingos activates the fortunes offer feature, in which the game makes you propositions for the contents of your lucky envelope.
Slingo Fortunes Features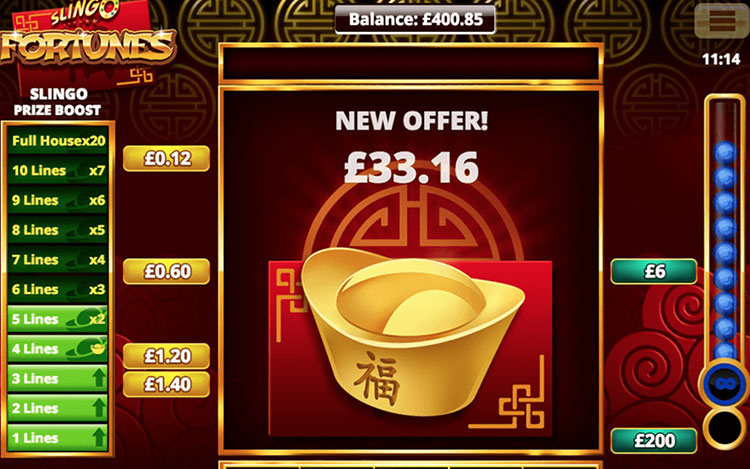 Lucky Envelope Values
The Lucky Envelopes surround the Slingo Fortunes game grid. Each time a match is made the corresponding envelope will be removed from play.

Prize Ladder
The prize ladder for Slingo Fortunes is as follows:
Players will be offered an envelope for 4 Slingos

x2 multiplier for 5 Slingos

x3 multiplier with 6 Slingos

x4 multiplier with 7 Slingos

x5 multiplier for 8 Slingos

x6 multiplier with 9 Slingos

x7 multiplier with 10 Slingos

x20 multiplier if you achieve a full house
The Fortunes Offer
When a player has 4 Slingos, the first fortune offer will be made. The following options are available to players:
Refusal:

Decline and open your envelope

Spin:

This allows you to continue playing
If you choose to continue, you will be presented with new offers after each spin.

Slingo Fortunes Mobile
Slingo Fortunes is an HTML5 game, which means it may be played without the use of an up-to-date Flash Player or any other tools. This means it works flawlessly on a wide range of devices and platforms, including smartphones, tablets, laptops, and desktop computers. Slingo Fortunes may be played on both Android and Apple iOS smartphones.
See What Fortune Has in Store and Play Slingo Fortunes on Slingo
You can play Slingo Fortunes any time you like at Slingo.com the number one Slingo site! Completely compatible with all devices, you can play great games at Slingo whenever and wherever the mood takes you. Come and play today!