Slingo Spotlight: Slingo Reel King
Slingo Spotlight is the feature where we shine a light on the best and most popular slot games played on our site. In today's article, the spotlight is firmly fixed on a popular Slingo title called Slingo Reel King. To find out more, keep on reading. 
Slingo Reel King Theme & Design
Finally jackpot slots fans can enjoy Slingo titles too as Slingo Reel King merges the much-loved Slingo genre with the Reel King jackpot system. This gives the Slingo Reel King Slingo game a massive potential multiplier of 25x plus a top payout of 500x stake. The Slingo Reel King game looks a lot like other Slingo Games; with the same grid formula and single reel, but with its red and gold regal theme, we think this title has a little more 'razz ma Tazz than other Slingo games. 
Game RTP & Wager Limits
Slingo Reel King is a low-volatility Slingo game that's been designed to make jackpot-themed games accessible to all players. With a standard Slingo RTP of 95% games of Slingo Reel King can be played for as little as 20p, but can also cost a maximum of £25 per game meaning that all budgets are catered for.  
How To Play Slingo Reel King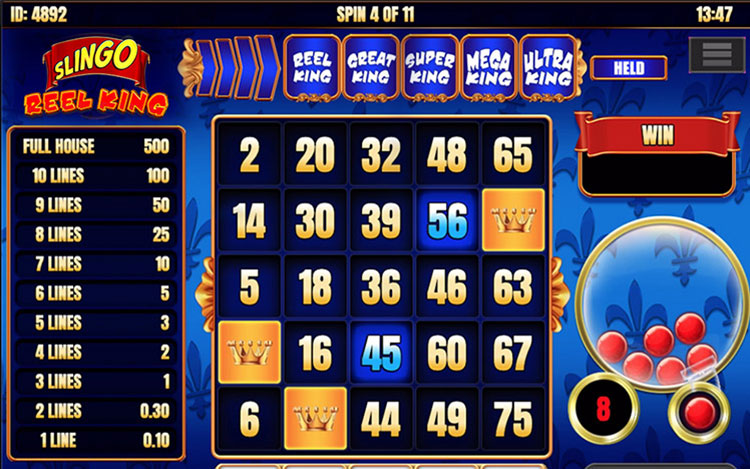 The Slingo Reel King game is really easy to step up and can be played with just a few clicks. Setting your wager is done using the + and - buttons found at the bottom of the game screen. As mentioned, betting ranges for this slot is flexible and once you're happy with your wager just click the 'start' button to begin playing.
Despite there being an additional feature to this Slingo game, the gameplay works exactly like most other Slingo games. The aim of the game is to match the numbers on your game grid with the numbers landed on the reel. Marking off lines are called Slingos while marking off the entire grid is called a Full House. 
The symbols used in this game include wilds and super wilds which act exactly like the joker and super joker of traditional Slingo slots and can be used to help you mark off numbers. There's also the diamond symbol which is a blocking symbol and a free spins symbol too. 
The Reel King feature comes into play when players have moved far enough along the prize trail. One of the five Reel kings will become active and award you their bonus.
Slingo Reel King Features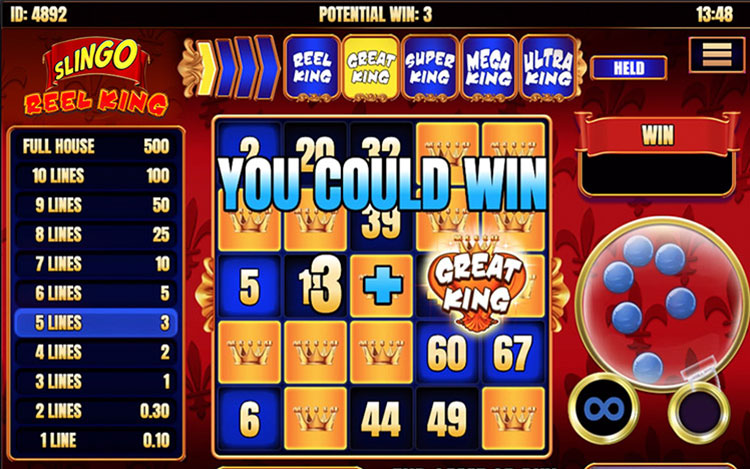 Reel Kings
There are five Reel Kings in play during the Slingo Reel King slot machine. Each king is displayed on the upper left-hand side of the game screen and can become active when players advance along the prize trail. More than one Reel King can become active at once and each King has their own unique features. 
Prize Trail
Players will progress along the Reel King prize trail at random. After any spin you might hear a 'ding' sound that will inform them that they've moved an extra space along the trail and are closer to activating bonus features.
Extra Spins
At the end of the main game, players can purchase an unlimited number of extra spins. The cost for each extra spin will reflect the state of play. The price of each spin will be clearly indicated above the spin button and you can stop playing at any time.
Slingo Reel King Mobile
Slingo Reel King is fully optimized for use on mobile phone and tablet devices. Completely compatible no matter if you're using an Android or iOS device, you can play the Slingo Reel King game whenever and wherever the mood strikes you.  
Play Slingo Reel King at Slingo
At Slingo, you can play Slingo Reel King as well as all the best and most-loved Slingo titles out there. We're the number one place for Slingo slots; the clue is in our name! Play today!