Slingo Spotlight: Slingo Riches
Welcome to Slingo Spotlight, the fun blog series where we take a closer look at some of our favourite Slingo games! We'll cover their themes, bonus features, how to play and more to give you everything you need to know about the best Slingo games.
This time we're taking a trip back in time with Slingo Riches, the very first Slingo game!
Slingo Riches first burst onto the online gaming scene back in 2015, and it took the community by storm! Since then we've released lots more great Slingo games, but Slingo Riches will always be one of our favourites.
With its simple yet fun 5x5 grid format and exciting Joker bonus, Slingo Riches has plenty to offer to both experienced players and those who are new to Slingo.
Read on to find out more about this superstar Slingo game!
Slingo Riches Theme & Design
Slingo Riches has a simple, pared back design with a relaxing blue and purple background that reminds us of classic casino games.
The grid itself is clear and easy to understand, with a pay ladder on the left of the game screen that you can work your way up by completing Slingos.
All the classic Slingo characters are here too, with the Jokers and Super Jokers to help you mark off numbers. But watch out for the Devil, who will try to stop you landing winning combos!
We love the classic look of this game, which just goes to show that great games like Slingo don't need lots of bells and whistles to create a fun gaming experience!
Game RTP & Wager Limits
For those of you who are interested in the more technical aspects of the game, Slingo Riches has an RTP (return to player) of 95%. Percentage return to player (% RTP) is the expected percentage of wagers that a specific game will return to the player in the long run. This means that for every £100 wagered on the game, it should pay out £95 over time.
This RTP makes the Slingo game medium volatility. With statistics like these, Slingo Riches is well-suited to both experienced players and those who are newer on the scene.
And with a minimum bet of £0.50 all the way up to £100, the game appeals to players with a wide variety of budgets.
The top prize on this 5x5 grid game is 200x your initial bet – fingers crossed for a Full House!
How to Play Slingo Riches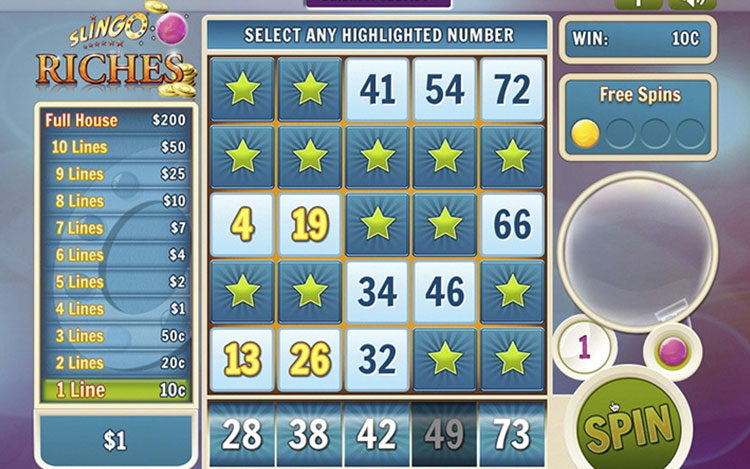 Before playing Slingo Riches online you'll need to decide your stake by using the + and - buttons on the left of the screen. Once that's sorted, you're ready to play!
 Hit the START GAME button to begin. The aim of the game is to match numbers on the reels at the bottom of the screen with those on the grid, and each game lasts for 11 spins. 
You'll win a Slingo for marking off five numbers on one of 12 win lines. With each Slingo you win, the cash prize increases – your progress is shown in the ladder to the left of the screen. Win a Full House (11 Slingos) to be rewarded with 200x your original stake!
The Joker in Slingo Riches lets you mark off any number in the column above to help you complete Slingos. There's also a Super Joker, which enables you to mark off any number on the entire grid, and even a Joker Bonus cash prize that is activated by landing three or more Joker/Super Joker symbols on the reel.
Gold coins award an instant cash prize, and watch out for the Devil symbol – he'll act as a blocker to try to stop you landing winning combos!
Slingo Riches Features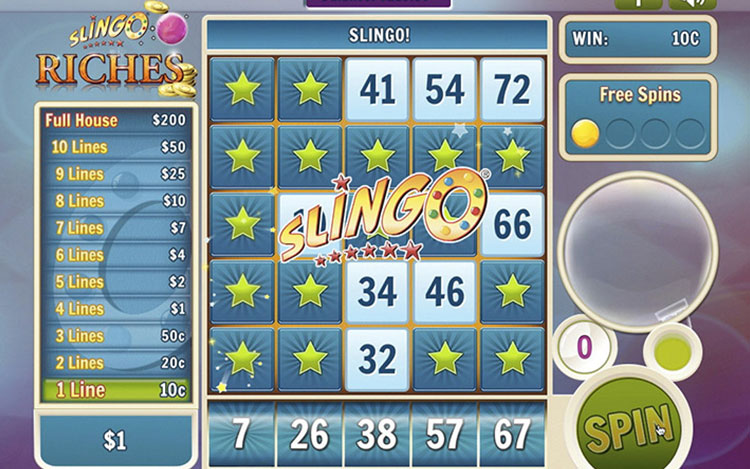 Bonus Game Features
Although Slingo Riches is a pared-back version of the game, it still offers a few fun bonus features for players to enjoy. Here's a quick run-down:
Joker and Super Joker: Find three or more Jokers or Super Jokers on a single spin to win a cash prize! The value of the prize is shown as part of the pay table on the left of the game screen, and is dependent on your total stake.
Gold Coins: Find a stack of gold coins on the reels to win an instant cash prize! The value of the coins is shown on the left of the game screen too, and is also dependent on your total stake.
Free Spins: Find the Free Spin symbol on the reel to win an additional spin at the end of the current game.
Extra Spins: After each game, you'll get the opportunity to purchase extra spins and continue the fun! The price for each spin will be shown on the red 'spin' button.
Slingo Riches Mobile
Like all Slingo games, Slingo Riches is fully optimised for desktop and mobile use so that you can play whenever and wherever suits you best. With Slingo's high-quality gaming platform and user-friendly interface, playing our games on your mobile is a breeze.
Play Slingo Riches on Slingo
With its simple design and fun Joker Bonus, Slingo Riches is a true Slingo classic. And where better to play it than the official home of Slingo? Join us now for an exciting gaming experience that puts you first.