Slingo Spotlight: Slingo Showdown
Welcome to Slingo Spotlight the series on our blog where we shine a light on the most popular Slingo titles on our site. In this review we'll be bringing you all the info you need to play the Slingo Showdown game; a Slingo title that takes place in the wild west.
About Slingo Showdown
The Slingo Showdown, set in the Slingo Saloon, combines the thrills and spills of Slingo with the excitement of the wild west. Hold on to your hats, for the Slingo Showdown online is unlike anything you've ever experienced! Not only will you enjoy all of the usual Slingo fun with all of the bonuses in place, but the Slingo Showdown will also award players for achieving poker hands!
The 5x5 grid is made up of playing cards, and in this mega showdown, the slot reel cards can be used to mark off any matching cards anywhere on the game grid. With multipliers for completing 4 or more Slingos and bonuses for completing poker hands, the Slingo Showdown game is a lot of fun and may potentially pay off in a pretty big way.

The Slingo Showdown Slingo Game uses the following symbols. The Joker can mark off any card in the column above its reel position while the Super Joker can be used to mark off any card on the grid and can also be used as a wild card in poker hands. The Devil prevents possible matches from taking place and Free Deal Cards provide the player an extra deal and also act as wild cards in poker hands.
How To Play Slingo Showdown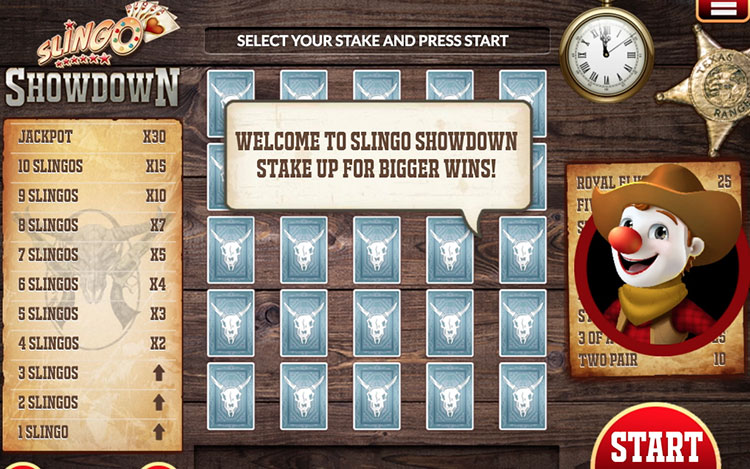 Set your stake amount using the + and - buttons on the bottom left-hand side of the game screen to begin playing Slingo Showdown. Press the 'start' button when you're satisfied with your stake amount. Your cards will be dealt, and any suits or numbers that match will be eliminated from the game grid. Slingo is a game in which the goal is to mark off lines of numbers. Each Slingo you get will multiply your score.
The game is divided into nine rounds or deals (instead of the traditional Slingo spins). If you get a poker hand during your deal, you'll get an extra cash payout, which is detailed on the paytable on the game screen's right side.
If you wish to try to finish some more Slingos after the main game, you can buy additional deals at the price given above the deal button.
Slingo Showdown RTP and Wager Limits
The Slingo Showdown slingo online game is played at medium volatility and has a theoretical return to player (RTP) of 95.4%, minimum wagers for this game start at just 20p per spin and cap out at £100 per spin.
Slingo Showdown Features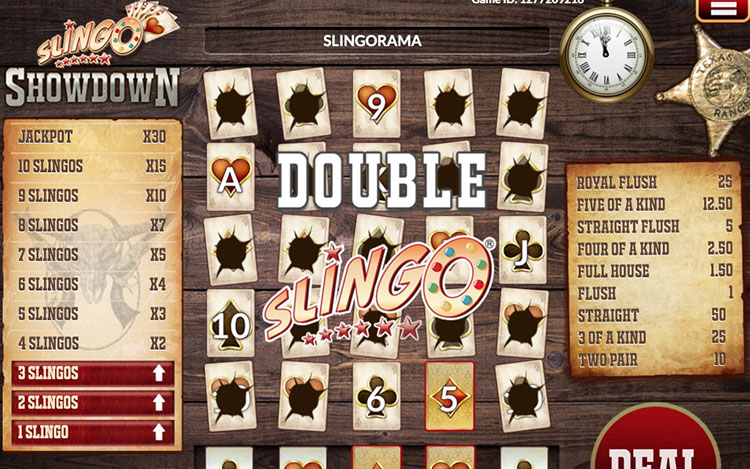 Poker Paytable
When you're dealt a winning poker hand in the Slingo Showdown online game, you'll be awarded cash prizes.
Multipliers
Once you've achieved over 4 Slingos you'll start gaining access to the following multipliers:
4 Slingos: x2 multiplier

5 Slingos: x3 multiplier

6 Slingos: x4 multiplier

7 Slingos: x5 multiplier

8 Slingos: x7 multiplier

9 Slingos: x10 multiplier

10 Slingos: x15 multiplier

Jackpot: x30 multiplier
Additional Wilds
The Super Joker and Free Deal symbols act as wild cards in poker hands, meaning they can be used to help you make poker hands by substituting for any other card.
Slingo Showdown Mobile
Slingo's most recent games have all been created with mobile play in mind. This means you can respond to the wild west's call whenever and whenever you want. This HTML5 game doesn't require any time-consuming downloads or updates, and it works on both desktop and mobile devices, including tablets, from manufacturers like Android and Apple.
It's Time For Slingo Showdown on Slingo
Come and play Slingo Showdown at Slingo; the experts at all things Slingo. To play this title as well as a whole host of other games simply sign up today!