Slingo Inca Trail Overview: Journey to the Lost City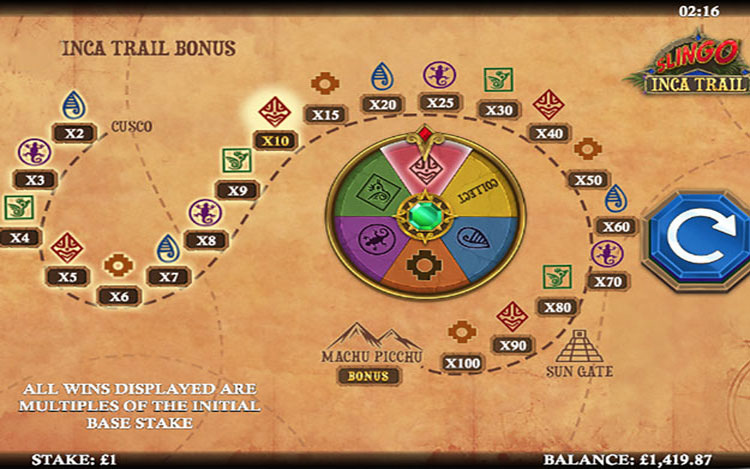 Gaming Realms have brought us lots of great Slingo Originals games, but Slingo Inca Trail has to be one of our favourites. This feature-packed game transports us to Machu Picchu, an ancient Incan citadel hidden high up in the mountains of Peru.
In Slingo Inca Trail you'll go on your own journey, following the Bonus Trail for your chance to go on the hunt for precious artefacts on the way to Machu Picchu.
Keen to learn more? Read on to find out what we love about playing Slingo Inca Trail. Or if you're looking for a complete guide on how to play the game, visit the Slingo Inca Trail game page.
Slingo Inca Trail Game Information
Game Name:

Slingo Inca Trail

RTP:

96.47%

Game Provider:

Slingo Originals, provided by Gaming Realms

Reels: 

5

Theme:

Ancient Civilization, Gems

Paylines:

12

Feature/s:

Additional Free Spins, Bonus Game, Bonus Wheel, Bonus Game: Pick Objects, Free Spins, Multiplier, Prize Line, Symbols Collection, Wilds

Min & Max Bet:

0.2 - 100

Volatility:

High

Biggest Possible Win:

x5000.00
HIGHLIGHT ONE: Slingo Inca Trail Gameplay
Slingo Inca Trail is a fun, fast-paced game that offers a fresh new take on the familiar Slingo format. If you've played Slingo games before, you'll recognise the Slingo grid and the corresponding pay ladder next to it. The aim of the game is to match up numbers on the reel at the bottom with those on the grid, forming lines (or 'Slingos') and working your way up the pay ladder.
But this time there's an exciting addition to the gameplay, which makes it feel like you're playing two games in one! As well as numbers, Wilds and Super Wilds (more on those later), arrow symbols can also appear on the reels.
Each arrow symbol will help you to progress along the Bonus Trail at the top of the grid. Make it to the Bonus symbols on the Trail to play the Inca Trail Bonus game, where you'll spin a wheel to collect artefacts and hopefully make it all the way to Machu Picchu!
If you reach your destination, you'll get to choose an artefact to win a multiplier prize.
We love the progressive bonus levels in Slingo Inca Trail – it really makes it feel like you're on an adventure!
HIGHLIGHT TWO: Explore the Slingo Inca Trail Game Theme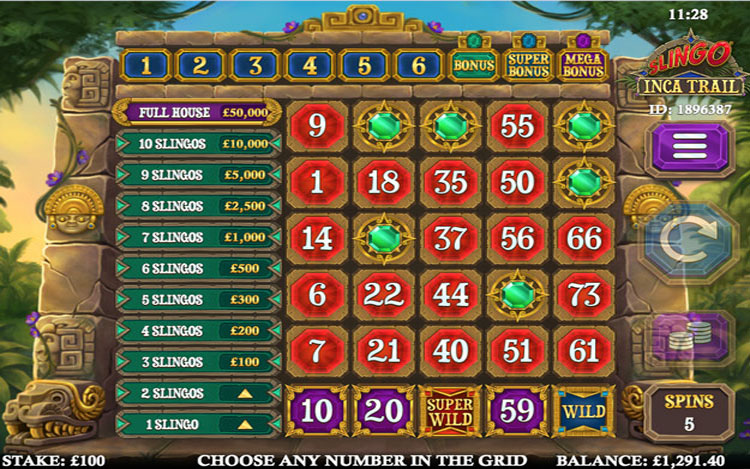 The Slingo Inca Trail game is beautifully designed, with lush green trees swaying gently in the wind and an Incan temple hidden behind the reels. There's even a friendly llama to keep you company beside the reels and watch all the action.
In case you're not familiar with Machu Picchu and the Incas, here's a quick summary. The Incan empire dominated western South America in the 15th and 16th centuries. Machu Picchu was an Incan citadel built high in the mountains of Peru, and is thought to have been a royal estate and a place to keep its most important citizens safe from attack.
The location was so remote and well-hidden that it was not discovered by the Spanish in their conquest of South America – in fact, Machu Picchu was kept a secret until an American explorer found it in 1911 with help from locals. For this reason, it is also known as 'The Lost City'.
Today Machu Picchu is one of the seven wonders of the world, and attracts thousands of tourists every year!
HIGHLIGHT THREE: Get to Know the Slingo Inca Trail Symbols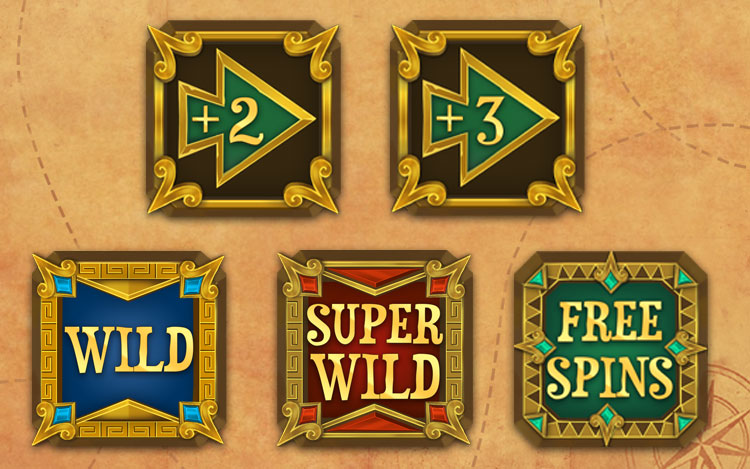 Slingo Inca Trail has a few special symbols with different functions in the game. Here's a quick summary:
Wild:

Allows you to mark off any number in the column above it

Super Wild:

Mark off any number in the entire grid

Free Spin:

Receive an extra spin at the end of your current game

Arrow:

Moves you along the Bonus Trail. The number of positions moved will depend on the number that appears with the arrow symbol (1, 2, or 3)
HIGHLIGHT FOUR: Discover Slingo Inca Trail Game Bonuses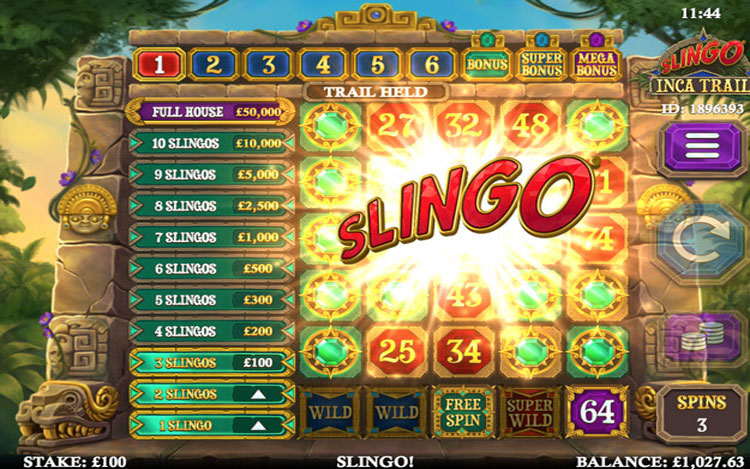 The Slingo Inca Trail slot has a few bonus games and additional features to look out for. Read more below:
Inca Trail Bonus
This bonus is activated by reaching the Bonus, Super Bonus or Mega Bonus squares on the bonus trail above the reels. At the end of the game you'll be taken to a new screen, where each spin of the wheel will select a different bonus icon. Keep on spinning until you land on Collect, or until you reach the end of the trail!
Machu Picchu Bonus
If you reach the end of the Inca Trail, you've made it to Machu Picchu! You'll get to play a fun picking game where you'll choose one of six precious artefacts. Behind each artefact is a mystery multiplier that will be applied to your prize total.
FINAL HIGHLIGHT: Slingo Inca Trail Summary
All in all, Slingo Inca Trail is one of our favourite additions to the Slingo Originals games catalogue. We love the Incan theme and the mystery of Machu Picchu, and this unique Slingo game gives you the chance to go on your own adventure. 
Slingo Inca Trail is just one of many fantastic Slingo Originals releases by Gaming Realm. To find out more about some of our other titles, check out our blog about Slingo Originals games. 
Play the Epic Slingo Inca Trail at Slingo
Slingo.com is the official home of Slingo Originals, including Slingo Inca Trail. This unique game gives you the chance to discover the mysteries of Machu Picchu, all from the comfort of your own home! With its original theme, simple gameplay and exciting bonus rounds, you'll love this innovative Slingo game. Ready for an adventure? Register at Slingo and play Slingo Inca Trail now!