Slingo Showdown Overview: Welcome to the Wild West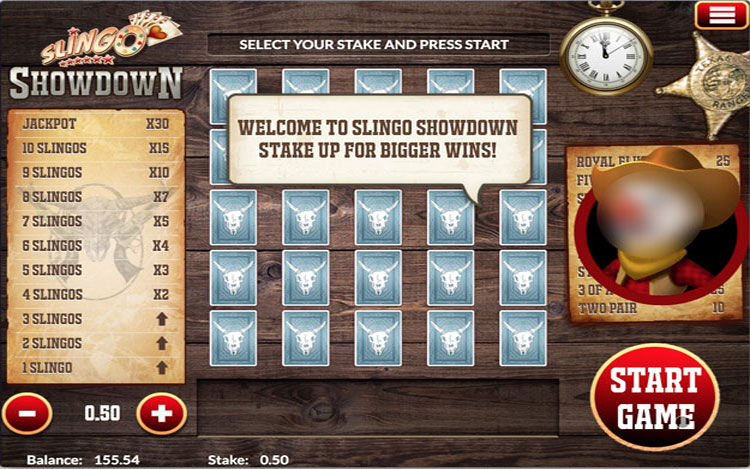 This time the spotlight is on Slingo Showdown, the Wild West-themed Slingo game that combines Slingo and poker for a fantastic gaming experience. This Slingo Originals and Gaming Realms title is one of our favourite games in the Slingo catalogue, and it's definitely one to try if you haven't played it yet – or a great game to revisit if you have!
In Slingo Showdown, card values (e.g., 10 of diamonds) appear on the grid and on the reels. The aim of the game is to match card values on the reel with those on the grid to mark them off, bingo style.
If you complete Slingos that are also poker hands (like Royal Flush or Four of a Kind), you'll win a cash prize. Completing Slingos moves you up the multiplier ladder, and the further you progress the greater the multiplier that will be applied to your win.
In this review, we're going to explain what makes Slingo Showdown such good fun to play. If you're looking for a complete guide on how to play the game, visit the Slingo Showdown page. 
Slingo Showdown Game Information
Game Name:

Slingo Showdown

RTP:

95.4%

Game Provider:

Slingo Originals brought by Gaming Realms

Paylines:

12

Theme:

Wild West

Reels: 

5

Feature/s:

Jackpot, Scatter Symbols, Wild Symbols, Free Deals

Min & Max Bet:

0.10 - 100

Volatility: 
Biggest Possible Win: 
HIGHLIGHT ONE: Slingo Showdown Gameplay
Slingo Showdown is a unique Slingo game that features elements of both poker and Slingo. Whether you're familiar with poker hands or not, Slingo Showdown is fun and easy to play.
We love the challenge of trying to make poker hands as well as completing Slingos, since it adds a new dimension to the gameplay.
The highest prize is for a Royal Flush (an Ace, King, Queen, Jack and 10 in the same suit), with smaller prizes for Straight Flush, Four of a Kind and more.
If you're not sure what the different poker hands are, you can always look them up online. However, it isn't necessary to play Slingo Showdown, and this innovative game is designed for everyone to be able to enjoy.
Look out for Jokers and Super Jokers on the reels, as they will let you choose card values to mark off on the grid. Super Jokers also act as Wilds for poker hands, helping you to land winning combinations and work your way up the pay ladder.
Free Deal symbols award an extra spin at the end of the current game, and also act as Wilds for poker hands to give you even more chances to win a prize.
HIGHLIGHT TWO: Explore the Slingo Showdown Game Theme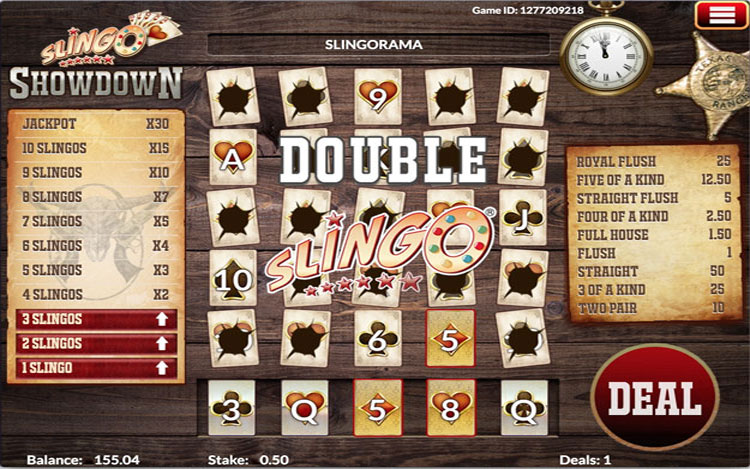 Slingo Showdown has a Wild West theme that makes it stand out from the crowd. We like to imagine that we've just stepped into the Slingo saloon when we're playing, and the game's rustic design (complete with a 'Texas Ranger' sheriff's badge) really sets the scene.
To give you some context, the Wild West was a time period ranging from 1865 until 1900, after the Civil War in America. During this period, many American pioneers were migrating to the west of the country. This often caused conflict with the Native Americans already living there, and this era in history is remembered as a time of cowboys, gunslingers, wild prairies and dangerous outlaws.
We think it makes a great setting for Slingo Showdown, and the carefully designed theme really makes the game come to life.
HIGHLIGHT THREE: Slingo Showdown Symbols
Slingo Showdown has a few special symbols to look out for. Here's a quick summary:

Joker: Enables you to mark off any number in the column above the one it appears in
Super Joker: Lets you mark off any number in the entire grid, and also acts as a Wild for poker hands
Free Deal: Awards you an extra spin of the reels at the end of your current game
Devil: Takes up a place on the reels as a blocker, to try to stop you completing Slingos (boo!)
HIGHLIGHT FOUR: Slingo Showdown Game Bonuses
Slingo Showdown has a couple of fun bonus features that help to create an amazing gaming experience. Here they are in a little more detail:
Jokers and Super Jokers
Jokers and Super Jokers allow you to mark off specific numbers on the grid, so that you can hopefully complete Slingos and win a prize. Super Jokers also act as Wilds for poker hands, giving you a chance to boost your prize winnings.
Buy Extra Spins
At the end of each game, you'll be given the chance to end the game and 'Collect', or buy extra spins to keep playing. The price of each spin will be shown on the 'Deal' button.

FINAL HIGHLIGHT: Slingo Showdown Summary
Slingo Showdown is an adventure-packed Slingo game with a fun Wild West theme. We think it's one of the best ever releases from Slingo and Gaming Realms, and we love the concept of playing Slingo with a poker-inspired twist.
If you're interested in discovering more great Slingo games like Slingo Showdown, check out our blog. Happy spinning!
Play Slingo Showdown at Slingo
Slingo.com is the official home of Slingo Originals, including Slingo Showdown. Go on an adventure to the Wild West to see if you'll discover some treasure! With its exciting theme, simple gameplay and fun poker-inspired action, you'll love this innovative Slingo game. Ready to play? Register at Slingo and play Slingo Showdown now!