The third instalment of NetEnt's renowned Strolling Staxx series, Strolling Staxx Cubic Fruits, has five reels and ten paylines, and its Nintendo-inspired backdrop is made up entirely of cubes (including clouds and trees in the background). The Strolling Staxx Re-spins feature, which has a win potential of up to 500 times your bet, is the standout feature of this game.
Strolling Staxx: Cubic Fruits Slot Game 
Strolling Staxx: Cubic Fruits slot machine is fruits meets geometry in today's review. Strolling Staxx: Cubic Fruits slot is a NetEnt online slot machine created with 10 paylines and a variety of extra features. The game has some great features such as stacked symbols, colossal symbols and of course re-spins all giving the player multiple ways to win big. If all this sounds exciting then keep reading our Strolling Staxx: Cubic Fruits slot game review to find out how you can get involved and win big. 
Theme & Symbols
Strolling Staxx: Cubic Fruits slot is a tropical theme-based slot with all the typical colours of a tropical holiday. You can see the plump fresh fruit of watermelons, bananas, and pineapples. The symbols themselves are these fruits as well as the usual card symbols, king, jack, queen and so on. Additional fruits are plums, cherries, lemons, and strawberries. All of the symbols, as stated by the title, are represented in a cubic state creating an almost cute charm to the symbols themselves. 
The Basics: How to Play Strolling Staxx: Cubic Fruits Online Slot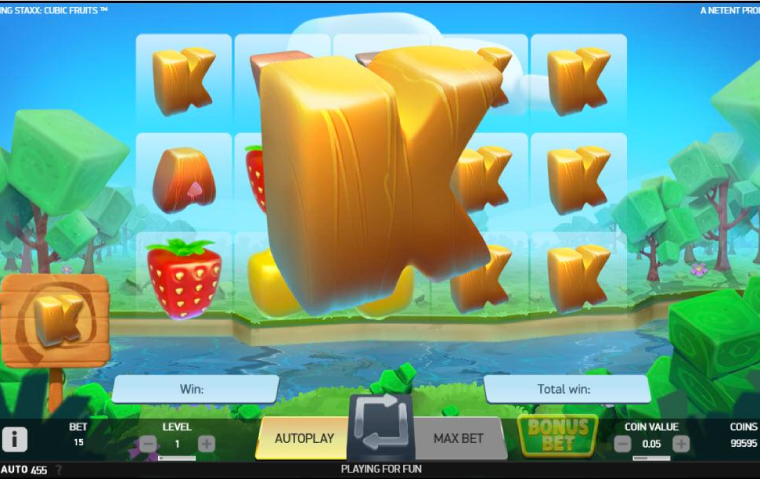 Strolling Staxx: Cubic Fruits is a relatively easy slot machine to learn with its layout is clear and concise. The first thing the player must do is set a wager, which can be done via the coin value located at the bottom right. You will either click the "+" or "-" to increase or decrease the wager amount. Once the player is happy with the placed wager, we need to click the two golden arrows in the centre to begin the spinning of the reels. After a short time, the reels will stop and the winnings will be paid as well as any Strolling Staxx: Cubic Fruits bonus or Strolling Staxx: Cubic Fruits free spins. If the player is unsuccessful they will need to restart the process by setting and bet and respinning the reels. 
Strolling Staxx: Cubic Fruits Slot RTP & Wager Limits
Strolling Staxx: Cubic Fruits has a theoretical return to player rate of 95.98% which is average for a slot machine to provide a payout. The minimum wager bet is as low as 0.1 coins and the maximum wager is a 300 coins wager. The Strolling Staxx: Cubic Fruits has medium volatility.
Strolling Staxx: Cubic Fruits Bonus Features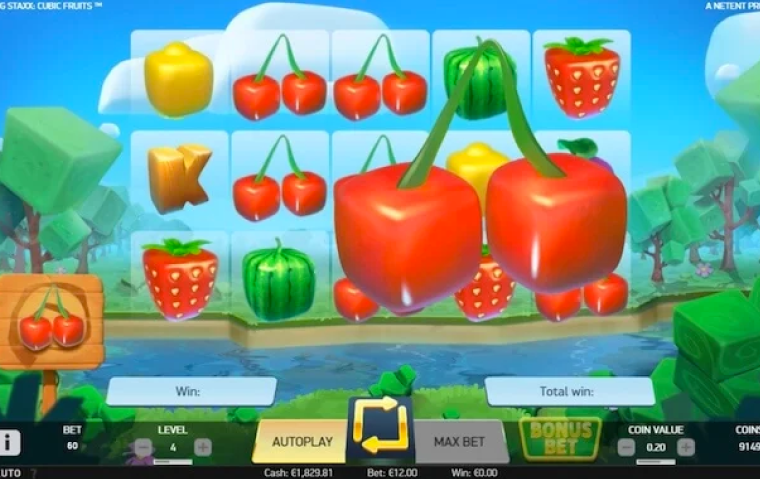 There are many different ways to win big in Strolling Staxx, here we will discuss the features and what you can do to get them started;
Wild Symbol
The large W is the wild symbol, and it can be utilised to generate winning pay by replacing any other sign. It can either be a colossal symbol or a small walking symbol. 
Bonus Bet + Extra Chance
You can increase your chances of landing these large symbols on the reels by wagering an additional 5 coins. 
Colossal Symbols
Any sign can appear as a colossal symbol on the reels, covering a 2x3 or 3x3 space. These can appear on the reels in full or in part. This makes a large area of the reel possible to win even further. 
Respins Feature
Strolling Staxx's slots' creation of free spins is the "respins feature". If one or more reels are covered in the same symbol, generating a stack of symbols, re-spins are given. All of the same symbols that are connected vertically or horizontally will begin to travel from left to right in as many re-spins as necessary until no more of these remain. Respin features are always good for the player in slot machine games as you can reattempt winnings that you may have lost recently or previously. 
Play Strolling Staxx: Cubic Fruits Online on Slingo
If Strolling Staxx: Cubic Fruits is a slot that seems interesting then head over to Slingo.com to try and tackle these many features to win big. Strolling Staxx: Cubic Fruits will provide hours of fun for those looking to gain or pass the time. Strolling Staxx: Cubic Fruits slot online can be played via an online platform or can be played via its Mobile slot on any smartphone device.