Cameo allows you to live out your childhood dreams by providing you with the opportunity to receive personalised messages from your favourite celebrities. So whether you're struggling to think of a birthday present for your friend, or just looking for a novelty way to spend any leftover cash from your latest UK bingo win, Cameo could be the perfect solution. 
Launched in 2017, this video-sharing website is currently host to over 40,000 celebrity contacts, from actors to athletes and everything in between. As the demand for this service increases, so does the cost -but which celebrities charge the most?
To answer this, our team has put together a list of the celebrities who are currently earning the biggest bucks per message on Cameo, and to make things more interesting we have also split our Rich List into categories based on relevant industries.
The Most Expensive Cameo Celebrities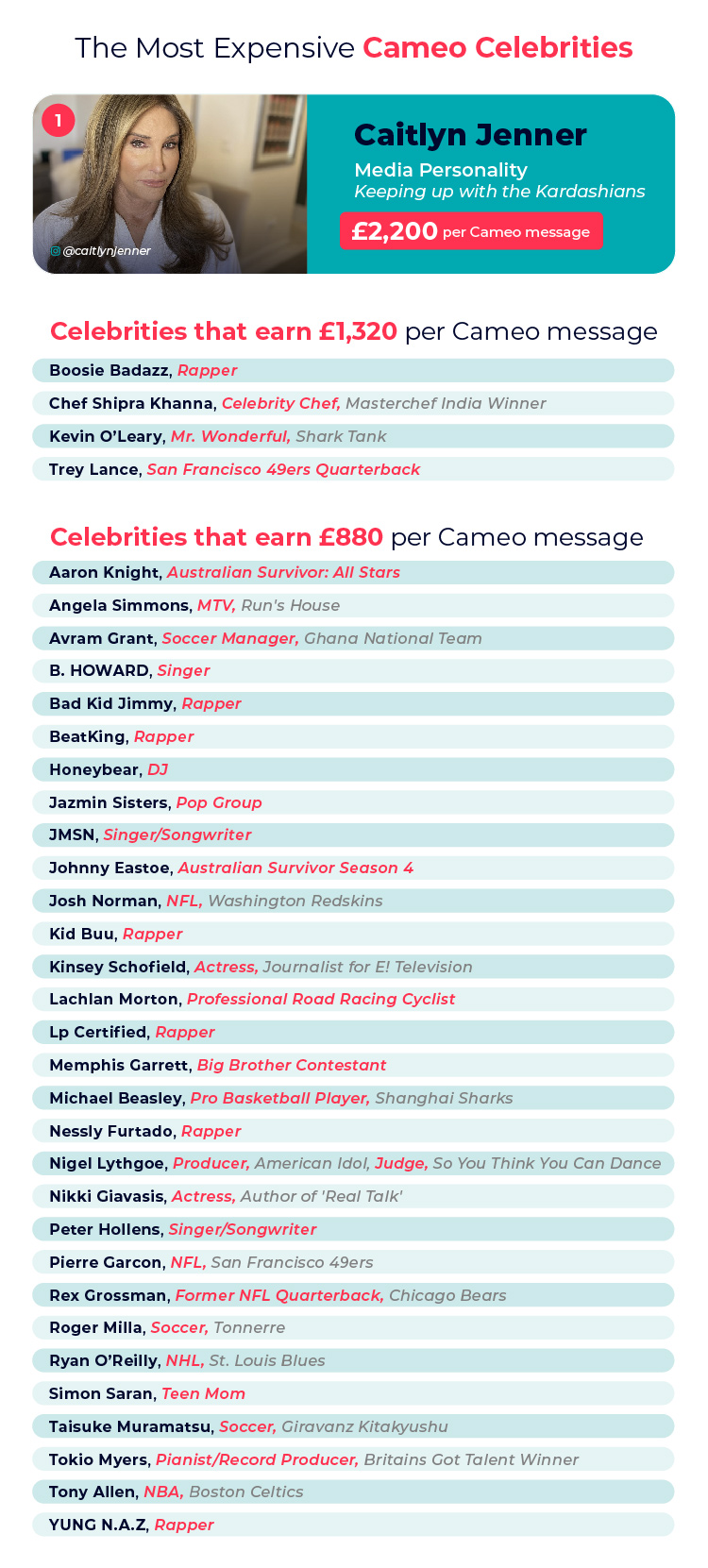 1. Caitlyn Jenner - £2,200 per message
Sat firmly in the top spot as the most expensive Cameo celebrity, and charging anywhere from £2,200 per message is media personality, Caitlyn Jenner.
2. Trey Lance, Boosie Badazz, Kevin O'Leary, Chef Shipra Khanna - £1,320 per message
At £1,320, the second highest cost per message is shared between four celebrities- including athlete Trey Lance and rapper Boosie Badazz. Also among these celebrities is Shipra Khanna who found fame after winning the second series of MasterChef India.
Making up the last of the celebrities who charge £1,320 per Cameo is Canadian businessman Kevin O'Leary. Otherwise known as 'Mr Wonderful', he is best known for his role on the US version of Dragons Den, entitled 'Shark Tank' in which budding entrepreneurs present business ideas to a panel of tycoons. Just like the contestants on Shark Tank, Mr Wonderful is hoping that you will invest in him by purchasing a £1,320 Cameo message!
The next highest cost per message is £880 which makes up 30% of our total Rich List.
The Most Expensive Cameo Actors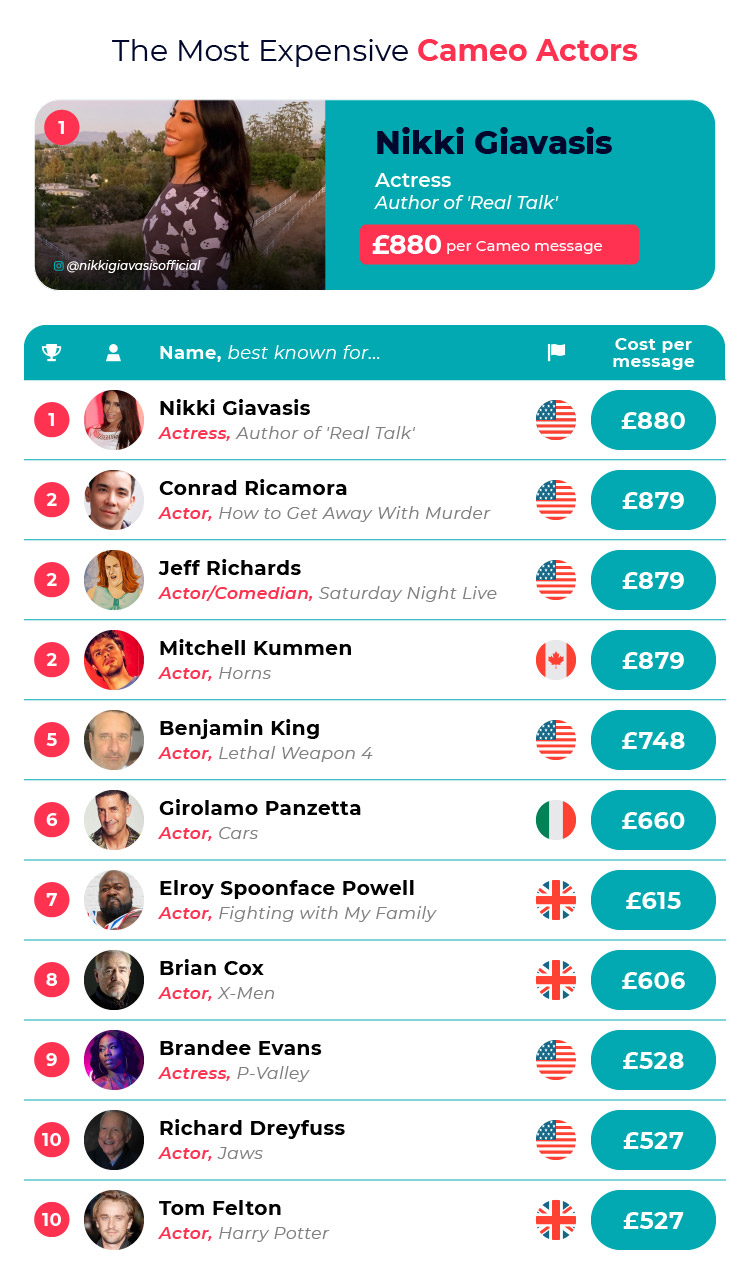 1. Nikki Giavasis - £880 per message
Taking the title of most expensive Cameo actor, and charging £880 per message, is Nikki Giavasis - best known for her background acting and book 'Real Talk'. 
2. Conrad Ricamora, Jeff Richards, Mitchell Kummen - £879 per message
Just behind Nikki in the ranking is the star of 'How To Get Away With Murder' Conrad Ricamora, and actor Mitchell Kummen who each charge £879 for a personalised message.
Joining the above celebrities as second in the ranking is actor and comedian Jeff Richards. You may be familiar with his infamous 'drunk girl' sketches on Saturday Night Live for which he is most well-known.
The Most Expensive Cameo Athletes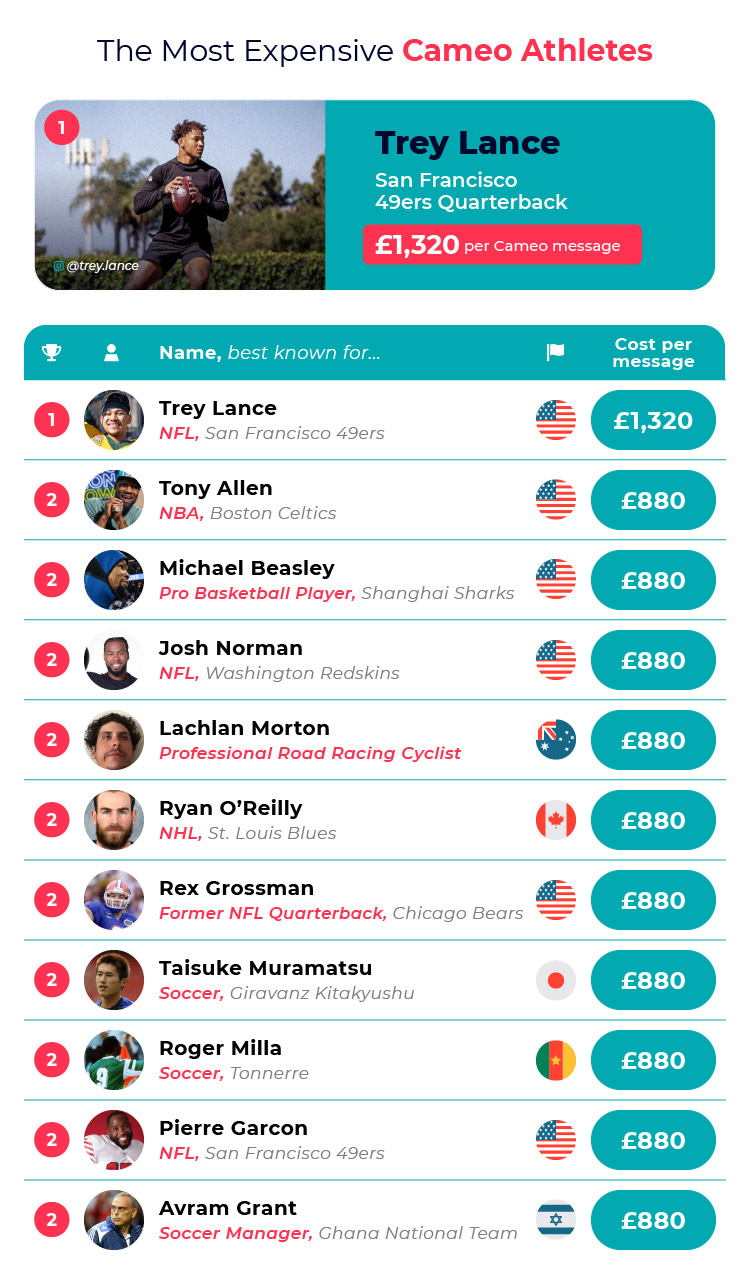 1. Trey Lance - £1,320 per message
Best known as a quarterback for the San Francisco 49ers, Trey Lance tops our list as the most expensive Cameo athlete with a £1,320 charge per message.
2. Tony Allen, Michael Beasley, Josh Norman, Lachlan Morton, Ryan O'Reilly, Rex Grossman, Taisuke Muramatsu, Roger Milla, Pierre Garcon, Avram Grant - £880 per message
At £880 per message, the second most expensive Cameo celebrity from this list is shared between ten athletes who have found fame in various sports. Included in this are American football players Josh Norman and Pierre Garcon who are best known as players for the Washington Redskins and the San Francisco 49er's respectively.
Another sport that appears to be a hotspot for athletes charging a pretty penny on Cameo is basketball. Former NBA shooting guard Tony Allen, and Shanghai Sharks' star Michael Beasley both charge £880 for a personalised message.
The Most Expensive Cameo Musicians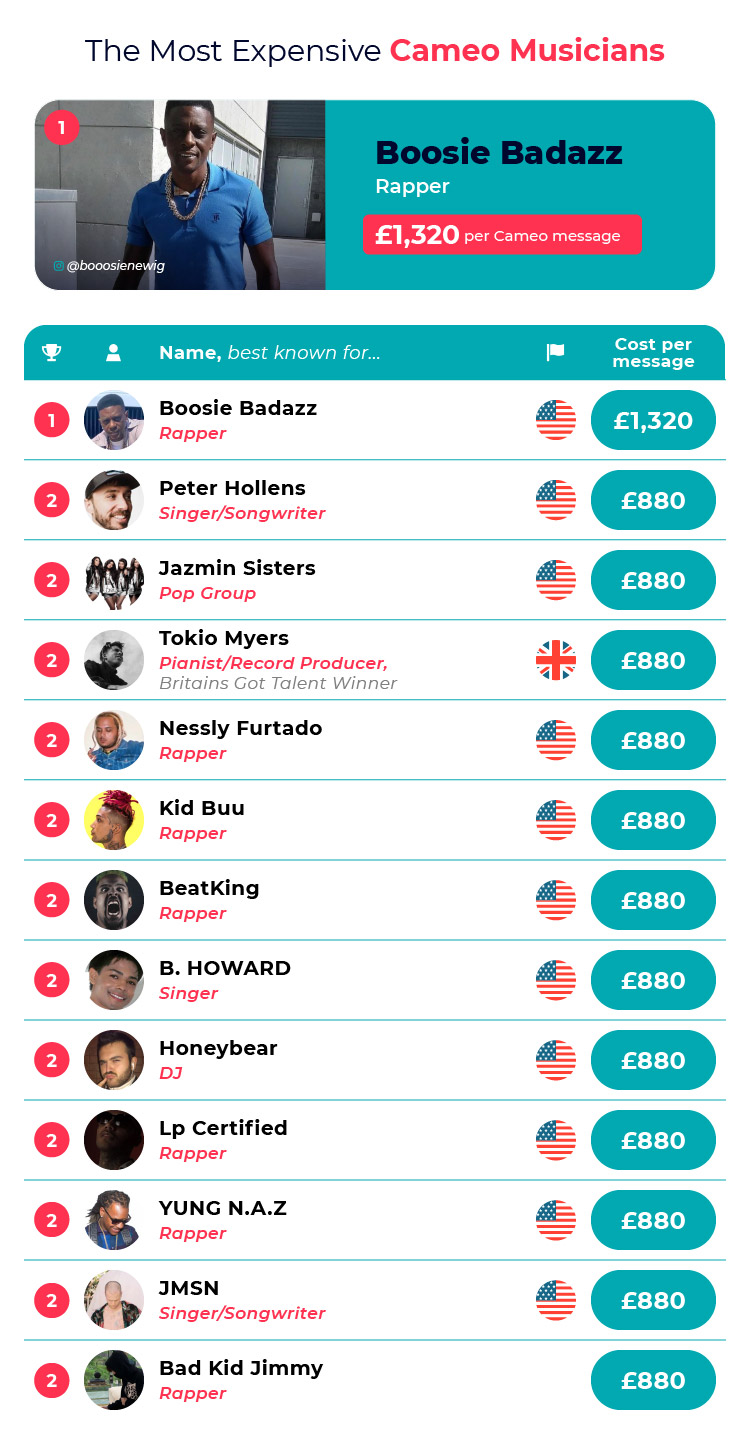 1. Boosie Badazz - £1,320 per message
Best known for his hit song 'Set it Off', a message from American rapper Boosie Badazz will put you back a staggering £1,320.
2. Peter Hollens, Jazmin Sisters, Tokio Myers, Nessly Furtado, Kid Buu, BeatKing, B. HOWARD, Honeybear, Lp Certified, YUNG N.A.Z, JMSN, Bad Kid Jimmy - £880 per message
Following a similar pattern to our previous lists, the second spot in this list is shared between various celebrities. If you are a lover of Saturday night TV then you might be familiar with Tokio Myers who famously won the eleventh season of Britain's Got Talent, but if you are interested in purchasing a personalised message from him then it will set you back £880!
Rappers make up a large portion of the musicians who charge £880 per Cameo message, including Kid Buu and Bad Kid Jimmy among others. This means that if you are a fan of rap music then you are in luck - but you may need to save up before getting a shout-out from your favourite musician.
The Most Expensive Cameo Reality TV Stars
1. Caitlyn Jenner - £2,220 per message
Best known for her appearances in the reality show 'Keeping up with the Kardashians', it is no surprise that media personality Caitlyn Jenner takes the top spot as most expensive Cameo Reality TV Star. As previously mentioned, a personalised video from this star is a whopping £2,200!
2. Kevin O'Leary, Chef Shipra Khanna - £1,320 per message
You may recognise the names of Kevin O'Leary and Chef Shipra Khanna as they both made an appearance in the most expensive Cameo celebrity list. It was revealed that they both charge £1,320 per message and although this is obviously very pricey, it is far from the top spot!
Methodology
Using the 'highest to lowest price' filter on Cameo we were able to find the top 25 celebrities from each of the following categories: Actors, Athletes, Musicians, and Reality TV Stars. By combining each of these lists, we were able to create a list of the most expensive Cameo celebrities across all relevant categories.