Whether out of envy or devoted admiration, we live in a culture that tends to obsess over the fortunes that the upper echelons of celebrities possess. From the Kardashians to the Beckhams, almost everyone has a vested interest in one celeb or another.  
You may wonder, which of these celebrity families earn the most? Which have the largest social media following and businesses?  
Well, we at Slingo have got the answers, we looked at the net worth, Instagram followings and the number of businesses the most famous families have. So, without further ado, let's look at which family has the most!
The Famous Families with the Biggest Net Worth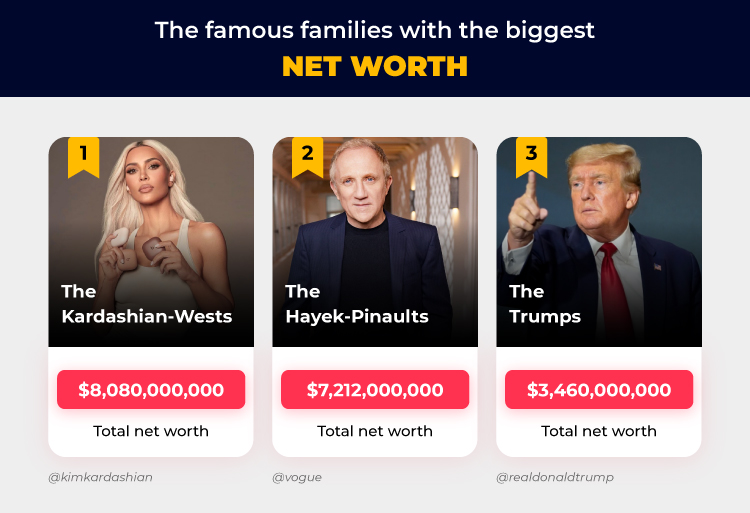 1. The Kardashian-Wests - Total Net Worth: $8,080,000,000
The Kardashian-Wests and their four kids have a total amassed net worth of $8.08 billion, which is a staggering sum of money. Kim and Ye (formerly Kanye) have featured in a host of reality shows about the lives of the Kardashians and Jenners. In fact, Kim was the highest-paid TV star back in 2015. And Ye has had a highly successful music career, having sold 160 million records and winning twenty-four Grammy Awards. Despite having been recently divorced, the pair are reportedly civil and co-parenting well, with each of their children already having an estimated net worth of $20 million. That's quite a family.  
2. The Hayek-Pinaults - Total Net Worth - $7,212,000,000
The two adults of this family have somewhat contrasting careers, Salma Hayek being primarily involved in acting and François-Henri Pinault being a businessman. Salma also has a production company, called Ventanarosa, with their first film being nominated for Best Foreign Film at the Academy Awards. François-Henri Pinault, on the other hand, inherited his father's company PPR and turned it into the luxury goods company Kering. He is also the president of Groupe Artémis, a holding company involved in a range of sectors. That said, it's no surprise this family has such a high net worth. 
3.
The Trumps - Total Net Worth: $3,460,000,000
The Trumps as a whole really came to the forefront of the world stage as they entered the White House. However, before doing so, Donald Trump was first and foremost a businessman. Having inherited his father's real estate company in 1971, he renamed it The Trump Organisation. He was also the co-producer and host of the TV series The Apprentice.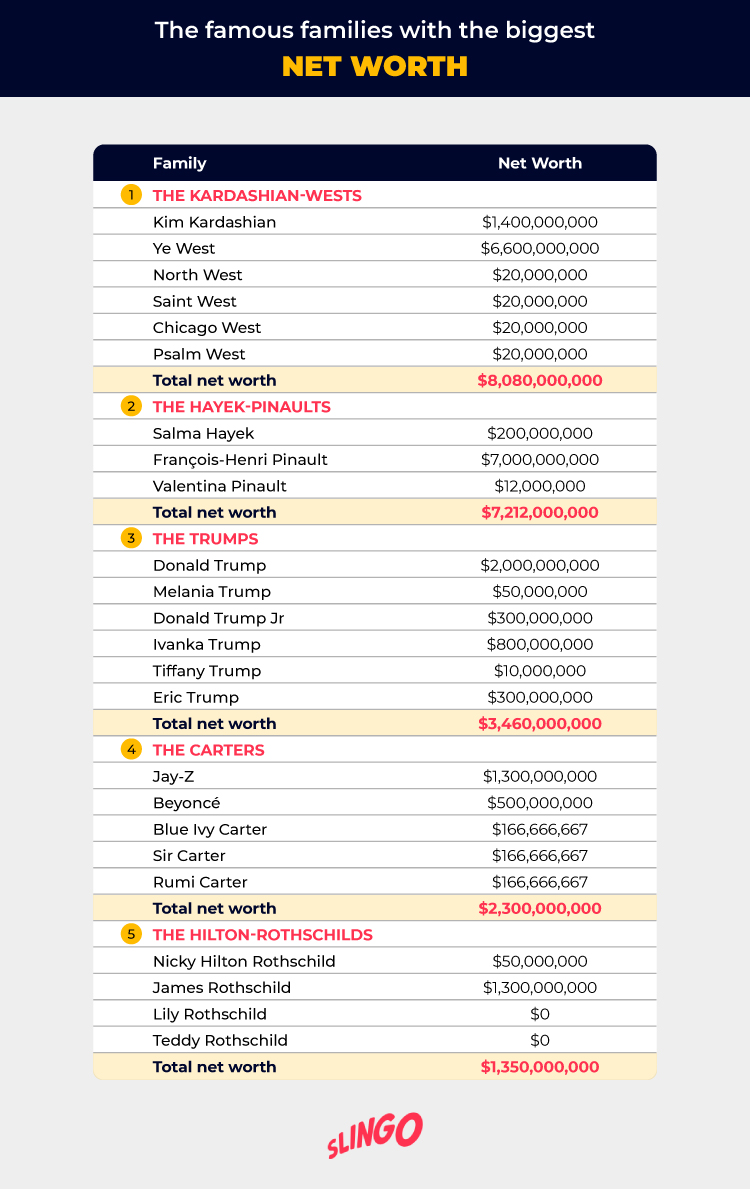 The Famous Families with the Most Instagram Followers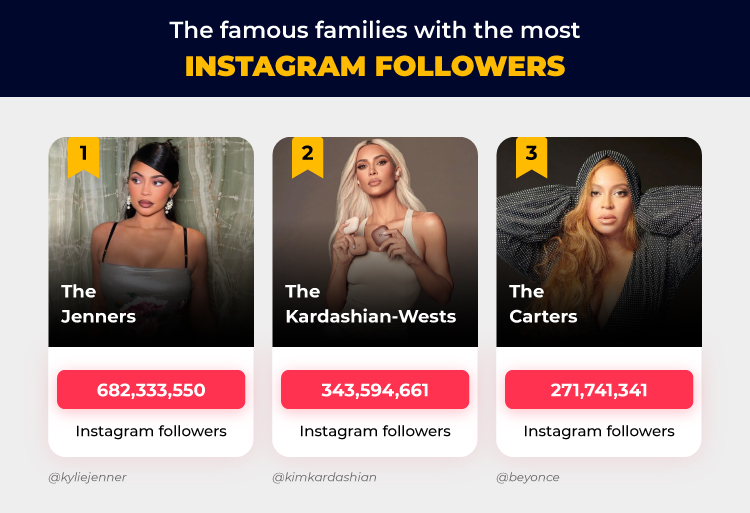 1. The Jenners - Total Instagram Followers: 682,333,550
Having also appeared on Keeping Up with the Kardashians, the Jenners are a wildly popular family, having amassed over 682 million followers on Instagram. Kylie and Kendall make up the majority, with the former having 362 million followers and the latter with 251 million. Kylie is the Jenner behind Kylie Cosmetics and she's collaborated with multiple celebrities, including Kim Kardashian's KKW. Kendall, on the other hand, owns 818 Tequila, with the goal of being an ethical, woman-owned brand.  
2.
The Kardashian-Wests - Total Instagram Followers: Wests 343,594,661
The family with the second-most followers on Instagram is Kim and Ye's family, both of whom have successful careers and own a few businesses between them. None of their kids owns an Instagram account, so it's just Kim and Ye making up the numbers here. Kim, herself has over 327 million followers, meanwhile, Ye has just over 16 million followers.  
3.
The Carters - Total Instagram Followers: 271,741,341
The Carters take the third spot, with over 271 million followers, coming from just Beyoncé. This had the potential to be much higher, however, in late 2021 Jay-Z made an Instagram account that he almost instantly deleted, in the first couple of hours he picked up 1.5 million followers. Jay-Z himself only followed his wife, Beyoncé.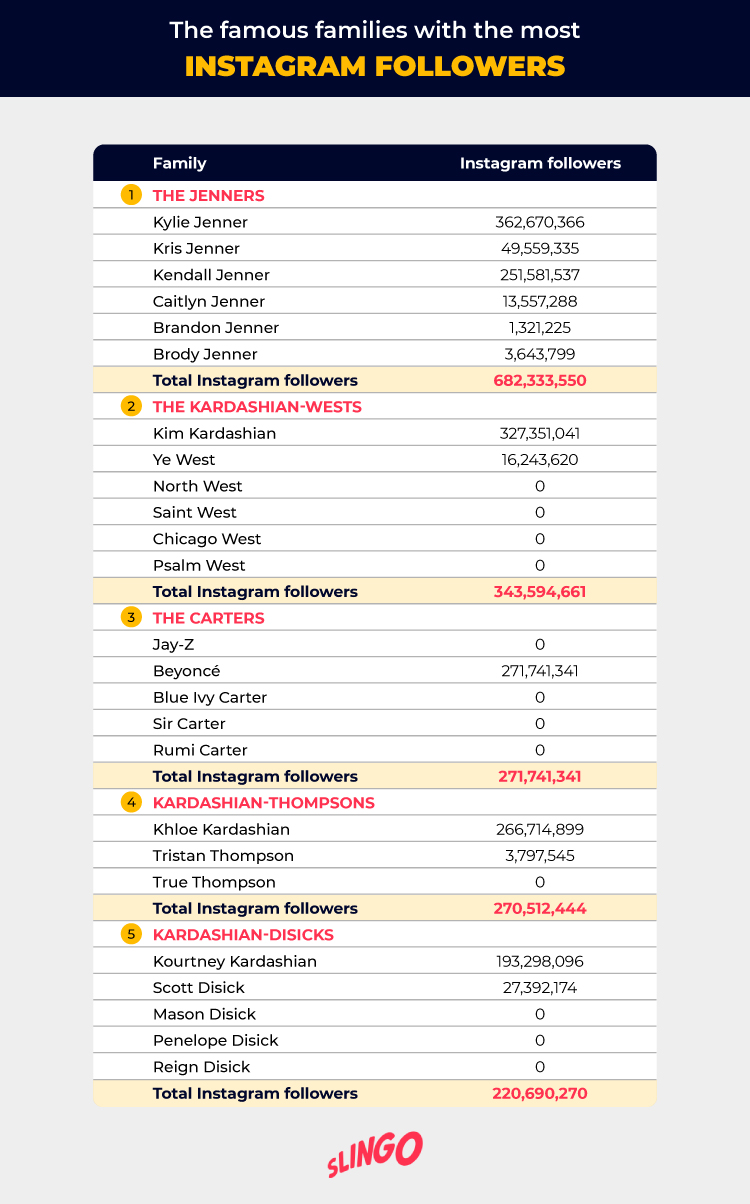 The Famous Families with the Highest Average Instagram Engagement Rate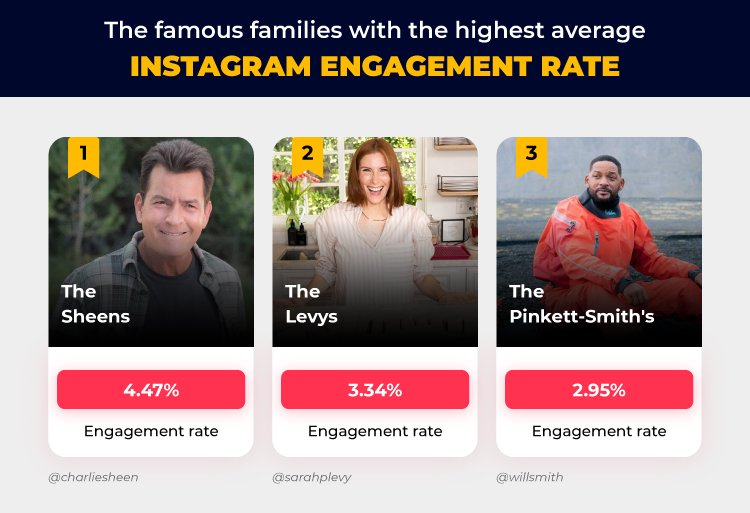 1. The Sheens - Average Instagram Engagement Rate: 4.47%
The Sheens have the highest average engagement rate on Instagram, made up of Martin and Charlie Sheen, along with Emilio Estevez. Martin, you may know from The Amazing Spider-Man (2012) when he portrayed Uncle Ben and Charlie featured in both Anger Management and Two and a Half Men. Emilio was in the 1983 coming-of-age drama The Outsiders. Between them, they only have a little over one million followers on Instagram, but with an engagement rate of 4.47%, it seems they at least have a dedicated fan base.  
2.
The Levys - Average Instagram Engagement Rate: 3.34%
The Levys all have one thing in common, they are all featured on Schitt's Creek (2015-2020). Eugene Levy also appeared in the American Pie films and has also won and been nominated for countless awards, including a Grammy for Best Song Written for Visual Media for his work on A Mighty Wind. They have an average 3.34% engagement rate on Instagram, which is pretty impressive. 
3. The Pinkett-Smith's - Average Instagram Engagement Rate: 2.95%
Will Smith should be instantly recognisable as The Fresh Prince of Bel-Air and for having starred in the show of the same name. As of 2021, his films had grossed $9.3 billion worldwide, notable films include Bad Boys and Men in Black. As for his kids, Willow has her singing career launched with "Whip My Hair". Jaden also has his own singing and acting career, having featured in the 2010 Karate Kid and was in "Never Say Never" alongside Justin Bieber. They all have huge followings, making their average engagement rate of 2.95% all the more amazing.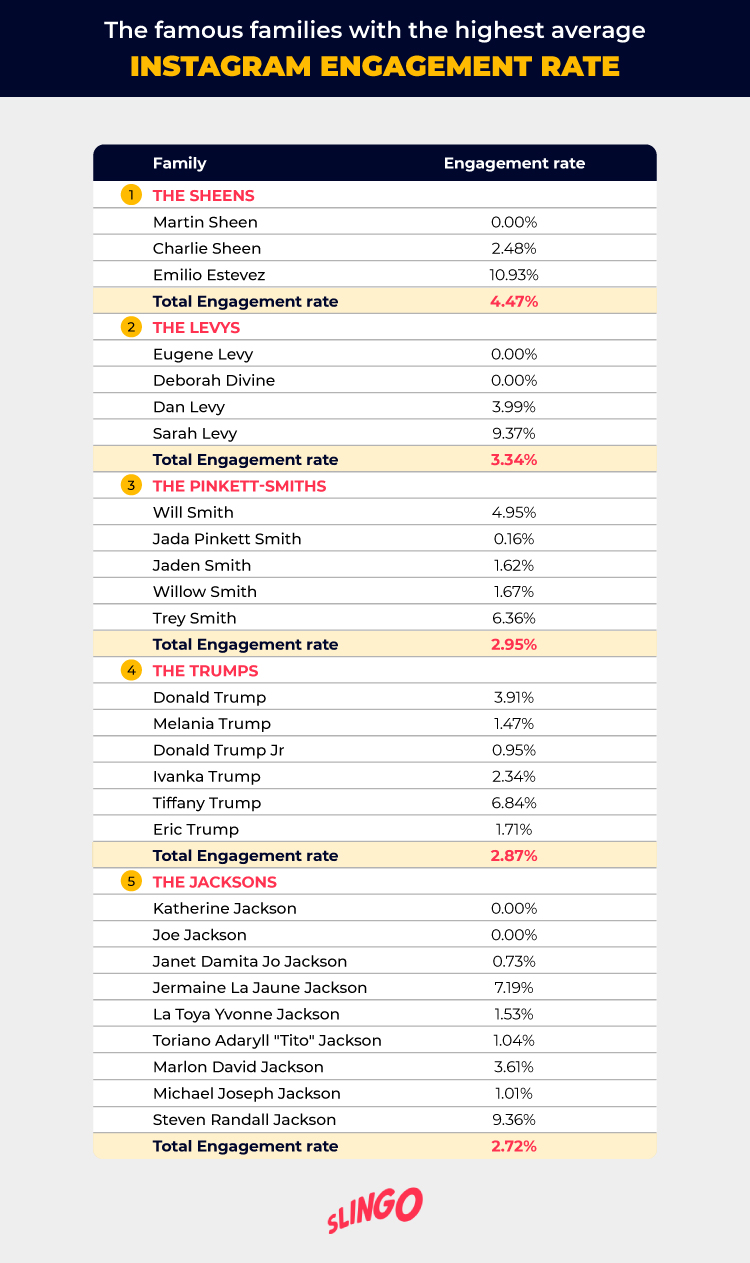 The Famous Families with the Most Businesses and Brands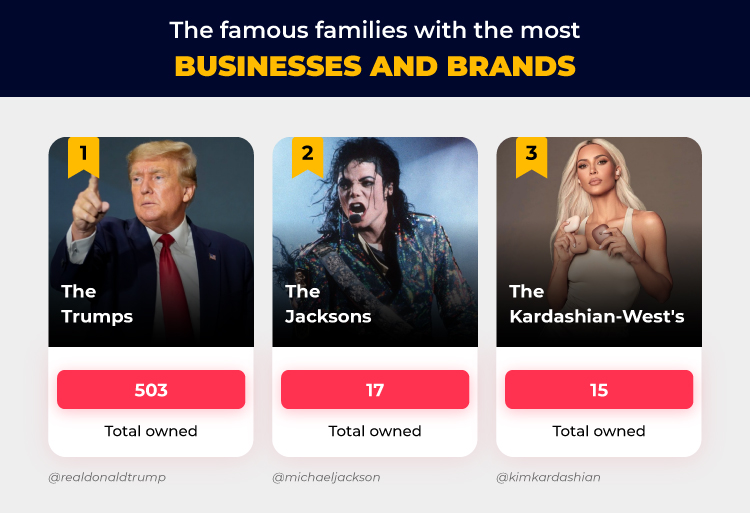 1.
The Trumps - Businesses and Brands Owned: 503
The Trump Organisation, which Donald Trump inherited from his father, owns around 500 business entities. Primarily, the Trump Organisation operates by investing in and developing a wide range of properties, such as hotels, resorts and residential real estate. Not to mention, Donald owns a range of golf courses.  
2.
The Jacksons - Businesses and Brands Owned: 17
Michael Jackson's estate owns the most in terms of businesses and brands in this family. In 1995 Jackson purchased a music publishing large catalogue including many Beatles songs, by November of the same year he merged with Sony to create Sony/ATV Music Publishing. He also owned a video production company named MJJ Ventures as well as a music production company similarly named MJJ Kingdom LLC, as well as a host of others.  
3.
The Kardashian-West's - Businesses and Brands Owned: 15
The two most notable businesses that Kim Kardashian owns are KKW beauty and Skims. KKW Beauty was launched in 2017 when Kim released her own fragrance line KKW Fragrance. She also collaborated with Kylie Cosmetics to create a makeup collection in 2018. In 2019, Kim, Khloé and Kourtney with KKW created three new fragrances, one for each sister. During the same year, she launched the shapewear company Skims, which did a collaboration with Fendi in 2021. Kanye West owns KW Foods LLC, which owns a chain of restaurants and he also has shared in the streaming app TIDAL. What can't this family do?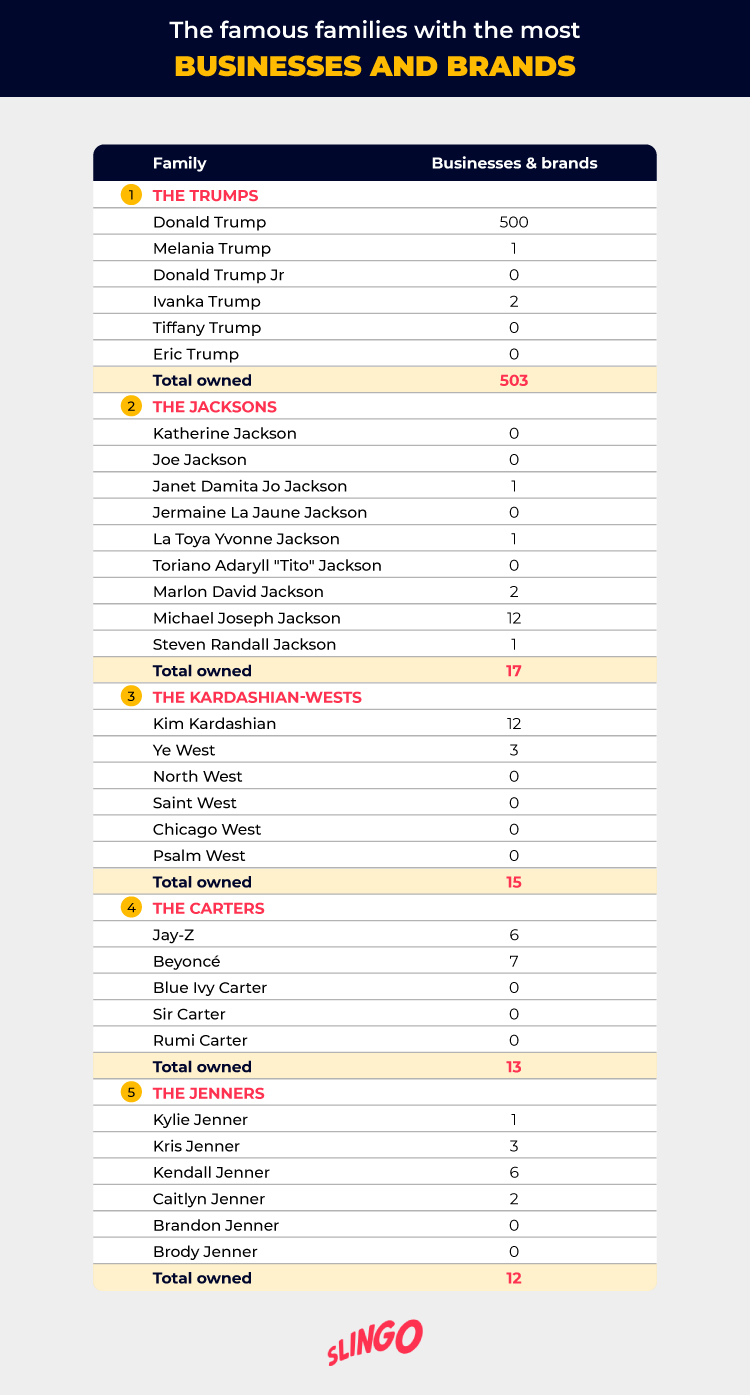 Methodology
We began by compiling a list of the most famous families in the world, using various sources and articles. We then searched each member of the family's net worth, using Celebrity Net Worth, though for many of the children we had to utilise other online articles. We then added up each individual family member's net worth to get the family total.
We then got each of their Instagram usernames and entered them into Social Blade, to get their exact follower count and their post engagement rate. We then added the follower counts of each member to get an overall amount. And calculated each family's average Instagram engagement rate.
Finally, we utilised Google search and various sources, including the person's Wikipedia pages to get an idea of the businesses and brands which they own.