It's always exciting when new Slingo games are released. Slingo is an exciting game genre, part bingo, part slots, that has taken the online gaming community by storm. Nowadays there are a huge range of Slingo games out there, and there are more coming each day. Here's three brand new Slingo games coming to Slingo.com in 2022 that we just can't wait for!
Slingo Stinkin' Rich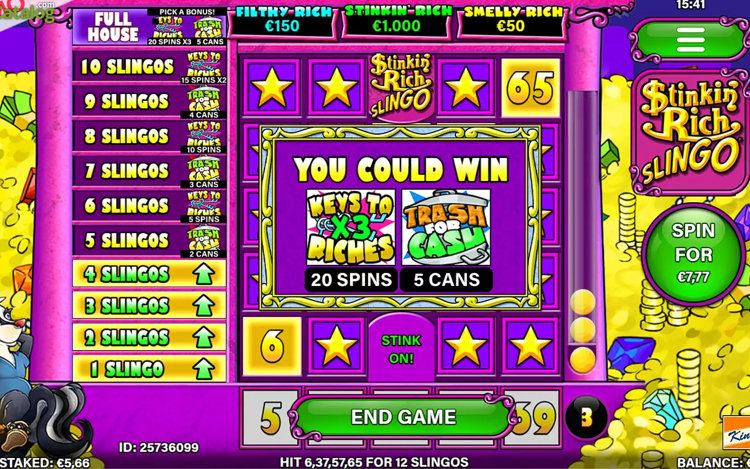 As you try to finish Slingos on your path to some smelly but substantial monetary rewards, Stinkin' Rich Slingo gives you the chance to experience the extravagant lifestyle of the rich and famous. Yes, you will have to endure Richard the Skunk for a short period of time. Don't worry if you've never played with the funky skunk; the two additional games will make it worthwhile.
The 5,5,3,5,5 grid is a replica of the King Show Games original video slot's reel layout. This is wonderful news since you just need three matches on the centre vertical Slingo and four matches on the top and bottom horizontal Slingos. Then there are the jackpots: landing three jackpot symbols awards the Smelly Rich prize, landing four makes you Filthy Rich, and landing five earns you the title of Stinking Rich.
Slingo Rakin' Bacon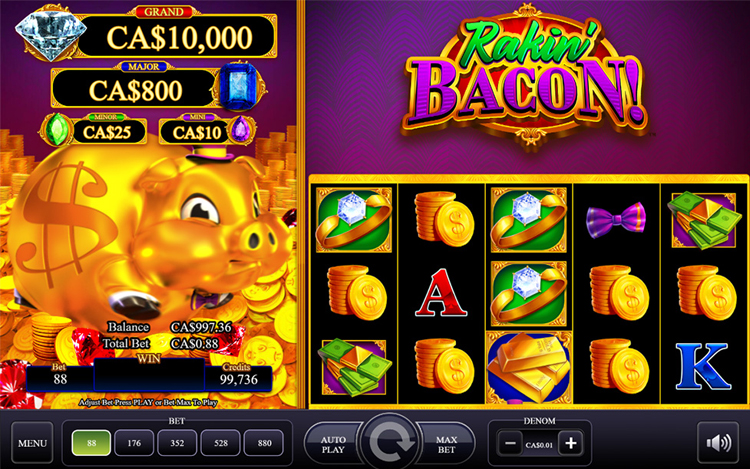 Slingo Rakin' Bacon, a variation on the vintage jackpot game from American Gaming Systems (AGS) by Gaming Realms, is jam-packed with amusement. With 15 spins on three different stages to keep you occupied, this game will have you hooked on the enchantment of land-based casinos.
The main character is Corsquealius, a golden pig wearing a top hat that gains weight as you collect coins. If you're hungry to win, don't worry—your wads of cash grow thicker too! You'll see bonus symbols appearing on the reels during the free spins phase. Each time the free spins bonus is retriggered, you will receive 15 additional spins if three of them combine to produce a winning combination. At the top of the ladder, where four fixed jackpots and 15 free spins are waiting for you, you'll soon be living large. As you move up the pay ladder, the reel sizes increase bigger, with the 15 spins available on each of the top three tiers containing a 55 reel letting you to win up to 10,000 times your initial wager. Obviously, the grand prize isn't nearly as absurd as a flying pig.
Slingo Super Spin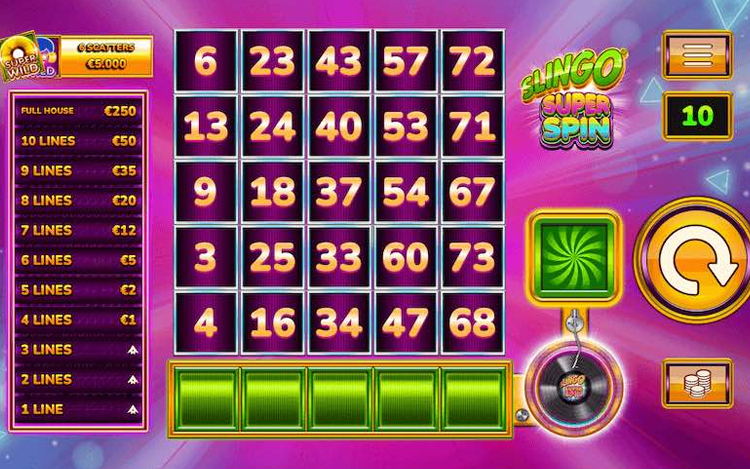 Hey DJ! As the winning numbers come in, spin the decks and tap your feet! With the addition of a mind-blowing sixth reel, this game gives players the ability to match ANY number on the grid while still providing the familiar Slingo experience. But there's more! The sixth reel awards a Gold Disc SUPER WILD if the matching number appears on any other reel. Slingo Super Spin truly gives players something to dance about with its foot-tapping music and increased winning opportunities on each spin. Players spin the reels to mark off numbers on the 55 grid while dancing till they pass out while the game's catchy melody plays in the background.
Slingo Super Spin features an additional extra sixth reel to increase players' chances of winning. Any number may be pulled from this reel, and it will be checked off if it matches a number on the grid. Additionally, it changes into a unique gold disc Super Wild if a number on one of the five standard reels matches. After 10 spins, if players are still moving, they are given the option to purchase more spins to keep the celebration going.
Play The Newest Slingo Games at Slingo.com
At Slingo.com we're always looking to bring our players new games, be this casino games, slot games, or what we're most known for; Slingo games. The games listed above are just a taste of what's to come here at Slingo.com and we already have a huge range of games on our site to keep you entertained in the meantime. Sign up and play today to discover more!