Welcome to Bingo Chat Rooms!
One of our favourite things about online bingo is the live bingo chat room, where you can chat to other players just like you would in a real-life bingo hall!
Whether you're an experienced player or a total newbie, learning the bingo lingo is essential for a fun gaming experience.
We've put together this helpful guide with everything you need to know about online bingo chat rooms, from common abbreviations used in chat rooms to chat features and etiquette. 
Bingo Lingo: Online Bingo Terms and Chat Abbreviations
When learning to speak (or type!) the bingo lingo, there are lots of bingo terms and abbreviations that make it easier to communicate quickly with your fellow players. But don't panic – they're all really simple, and you may already be familiar with a lot of them through what's known as 'text speak' or 'internet slang'.
Getting to grips with the most common terms and abbreviations used in live bingo chat rooms (and elsewhere) ensures that you get the most out of the chat room experience and makes it quick and easy to express yourself.
So, if you're ready to learn your LOLs from your LMAOs, let's get started!
Common Chat Abbreviations
Here's a list of the most common terms used in all chat rooms, or even via text communications. These basic abbreviations enable you to greet or say goodbye to your fellow players, or to let them know you'll be AFK (away from keyboard) for a while.
| | |
| --- | --- |
| AFK | Away from keyboard |
| BBS | Be back soon |
| BL/BBL | Back later / Be back later |
| BRB | Be right back |
| CTN | Can't talk now |
| CU | See you |
| CYA | See ya |
| GB | Goodbye |
| GM | Good morning |
| GN | Goodnight |
| GTG | Got to go |
| HAGD | Have a good day |
| L8R | Later |
| SYS | See you soon |
| TC | Take care |
| WB | Welcome back |
Expressive Chat Abbreviations
The following terms were mostly invented before emojis came on the scene, but they're still really popular in chat rooms today. Use them to express your emotions easily - YW!
| | |
| --- | --- |
| ((name)) | Hugs (name) |
| HUN | Honey |
| JJ / JK | Just joking / kidding |
| LMAO | Laugh my ass off |
| LOL | Laugh out loud |
| NP | No problem |
| OMG | Oh my god |
| OXOX | Hugs & kisses |
| QT | Cutie |
| TY / TX | Thank you / Thanks |
| WD | Well done |
| YW | You're welcome |
Bingo Game Chat Abbreviations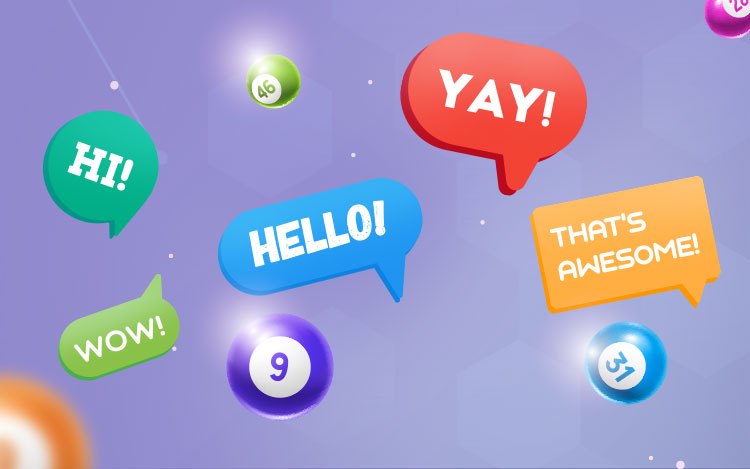 The next set of abbreviations are all game-related terms. Although they're not exclusively used for bingo, they're mostly used during a bingo game or a chat game session.
| | |
| --- | --- |
| 1TG | 1 Ball to go |
| 2TG | 2 Balls to go |
| 3TG | 3 Balls to go |
| BLNT | Better luck next time |
| CH | Chat host |
| CM | Chat moderator |
| FJP | Fixed jackpot |
| FFH | For Full House |
| FH | Full House |
| GG | Good game |
| GL | Good luck |
| GLA | Good luck all |
| GLE | Good luck everyone |
| JP | Jackpot |
| NT | Nearly there |
| PJP | Progressive jackpot |
| UL | Unlucky |
| WTG | Way to go |
| WD | Well done |
| WDW | Well done winners |
What Are Bingo Chat Games?
Bingo chat games are a fun way to interact with your fellow players and win prizes! These games are played in the chat room during bingo games, and there are usually two winners who each get a real-money ticket to the next bingo game.
The games can be announced at any time in any bingo room, so keep your eyes peeled! Our friendly hosts run word and number games, quizzes and more to give you the chance to win tickets while having fun!
Here's a quick run-down of a few of our favourite games. Remember, you'll need to check what's available in your bingo chat room as not all games are available all the time.
Alphabet Buddies: If your username starts with the same letter as the Full House winner, you'll win a free ticket! All you need to do is type 'I won too!' to claim your prize.
Karaoke: The chat host will give you the lyrics of a song, and the first person to type the title of the song will win.
First Ball Out: Type your lucky number before the start of the game – if it's the first one to be called out, the prize is yours.
What Do Bingo Chat Hosts Do?
Our amazing chat hosts are the life and soul of the party. They're real bingo fanatics just like you, and there are no robots in sight! It's their job to create that special vibe for each room and game, and to make sure you have a fantastic gaming experience.
All of our hosts are bingo experts, and what they don't know about the game isn't worth knowing!
They'll answer any questions you might have about how the game works, ensure that Slingo's bingo chat rules are being followed by everyone, and run chat games efficiently and fairly.
Bingo Chat Rules and Etiquette to Make Bingo Fun for Everyone
Our online bingo chat rooms are a fun, welcoming place that help to create a sociable bingo experience our players love. However, there are a few basic rules to make sure it stays that way:
Be friendly, considerate and polite to your fellow players. After all, we're here to have fun!
No swearing or bad language, please. Stay positive and keep it clean!
No SHOUTING LIKE THIS! Don't use capital letters unless it's appropriate (e.g., for an abbreviation).
Abuse, harassment or threatening chat towards other players or the host will not be tolerated.
Don't talk about controversial subjects that could make other players uncomfortable.
Be patient and give people time to respond. Maybe they're shy!
Protect your privacy. Don't give anyone your real name or any personal information (like your email address, for example).
No catfishing! Don't impersonate another player or the host – just be yourself.
Bingo chat rooms are a spam-free zone. That means no advertising, and no repeat posting of the same text.
Stay positive, and remember that bingo is a fun game of chance that uses a random number generator to determine its outcomes.
Explore Bingo Chat Rooms at Slingo
Join our bingo chat rooms for a fun, sociable bingo experience where you'll feel right at home. Click here to visit our bingo category page and choose your favourite room!