Slingo Cascade: Join the Slingo Pirate Crew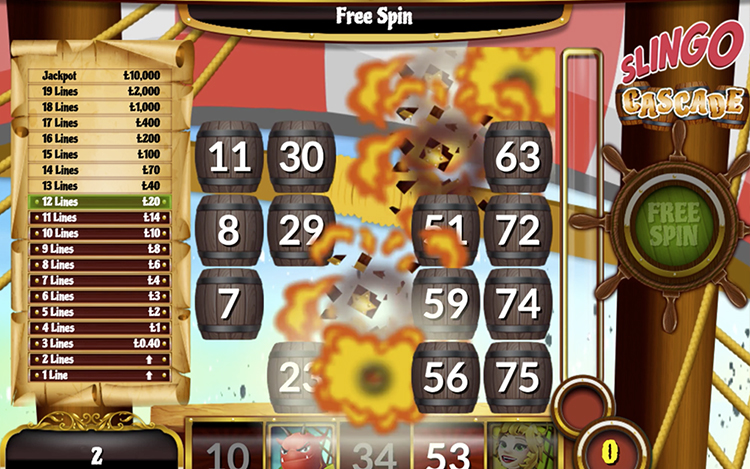 It's time to join a pirate crew and cruise the seven seas in the Slingo Cascade online game.
When you play this game, you never know what kind of treasure you'll find, so grab some Slingos and find out!
The Slingo Cascade has been redesigned with a nautical theme and some new rules!
As you complete a Slingo on Slingo Cascade, the line will be removed and new numbers will fall into the game grid. When you match numbers in Slingo Cascade, the number on the grid is taken from the game grid and replaced with a new one; if that one also matches, you appear to be winning multiple prizes from a single spin!
It's safe to say that Slingo Cascade is a fast-paced Slingo game that isn't for the faint of heart!
Slingo Cascade: Game Basics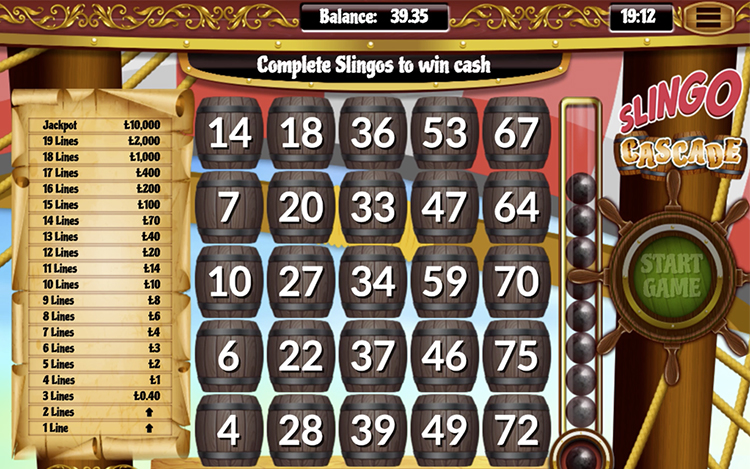 Slingo Cascade is a fast-paced game that is simple to play for new players and Slingo lovers alike. You can play this slot at any time you like at Slingo.com and on any device of your choosing such as on the go via the mobile slot. To begin, you'll need to set your stake amount using the + and - keys, then, when you're satisfied with your wager press the 'start game' button.
You'll see a 5x5 game grid with a 1x5 reel beneath it when you first start the game. The goal of each game is to match the numbers on your game grid with the numbers on the reels throughout the course of nine spins. The cascade mechanism distinguishes Slingo Cascade from other Slingo games. When a player completes a Slingo, the Line explodes, and new numbers fall in their place. The cascading activity on the reels continues, with matching numbers dropping off the reels and being replaced by fresh ones.
Slingo Cascade kept the other symbols to a minimum due to the fast-paced action, and there's no helpful Joker to assist you this time. Slingo Cascade, on the other hand, includes:
The

Devil

is a sign that prevents you from forming matches, so is definitely best avoided!

 Also known as the fairy, the

Cherub

replaces the Joker in Slingo Cascade and can assist you in marking off 1 to 5 digits.

Landing the

free spin

symbol at the end of your base game spins will give you an extra spin. (But more on this later)
You can purchase extra spins at the end of the game to help you complete more Slingos.
The cost of each spin is displayed on the green 'spin' button, and it changes with each spin to reflect your game progress. Of course, if you're satisfied with your earnings in the base game, you may press 'collect' to exit the game and take your loot!
How to Get Free Spins on Slingo Cascade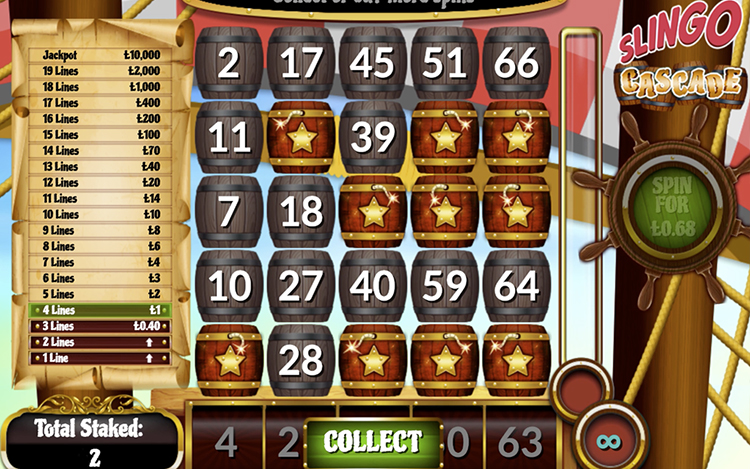 Achieving free spins on Slingo Cascade is a simple and straightforward process. Like with many other Slingo titles, all players need to do to be awarded with free spins is to land the free spins symbol on the reel. Once this is achieved players will be awarded with a free spin, all of the free spins collected will be played at the end of the main game spins and before any extra spins are purchased. 
Speaking of extra spins, when you're done with your main game spins and free spins you can purchase as many extra spins as you like. Because of this, any free spins you are awarded won't be subtracted from the number of extra spins available to you. This means that in theory, if you wish to, you could continue to purchase extra spins until a free house is achieved. 
If you just want to give the Slingo Cascade slot machine a try, for example, if this is your first time ever playing a Slingo game, then you can play the Slingo Cascade game on Freeplay mode. This is a great way to see if you like a game or learn the rules of a game without needing to wager your hard-earned cash. Of course, if you want to win real cash payouts you'll need to change to the standard slot, but still, this is a fun and definitely free option.
Play Slingo Cascade Online at Slingo.com
Slingo Cascade is a bright and exciting game that perfectly captures the fun spirit of the Slingo slot genre while still adding to the genre by adding new features and game experiences that most players will enjoy. As a medium volatility slot game, both new and seasoned players can enjoy what this title has to offer, plus with a standard Slingo RTP of 95%, there are no nasty surprises only swashbuckling fun.
At Slingo.com you can take to the high seas and play the Slingo Cascade slot machine any time you like. All of the games on our site are compatible with all devices and can be played on the go as long as you have an internet connection. So, if you want to set sail with Slingo Cascades' pirate crew, or you want to try any other of our Slingo titles, bingo games, casino games, slot games, or more, sign up and play today at Slingo.com to discover more.