From Slingo Rainbow Riches to Slingo Starburst and more, there are plenty of Slingo Original games to explore.

Read on to find out more about our favourite Slingo Originals, plus learn more about how it all started…
All about Slingo Originals
Slingo was invented back in 1993, when American entrepreneur Sal Fagliacia created an exciting blend of slots and bingo. 
The game gained popularity quickly on the internet - which was also a new phenomenon! 
However, it wasn't until 2015 that the Slingo Originals games studio was officially created, providing opportunities for our developers to come up with innovative new Slingo games.
Slingo Riches and Slingo Extreme were both launched in 2015, and since then the Slingo Originals team has shown no signs of slowing down!
Today there's a huge range of fun Slingo games to choose from, and the team is constantly coming up with fresh new ideas to wow our players.
So without further ado, let's take a closer look at some of our favourite Slingo games!
Slingo Originals Games Here at Slingo
Here's a list of the most popular Slingo Originals games (in no particular order!) and some info about what makes them so great:
Slingo Rainbow Riches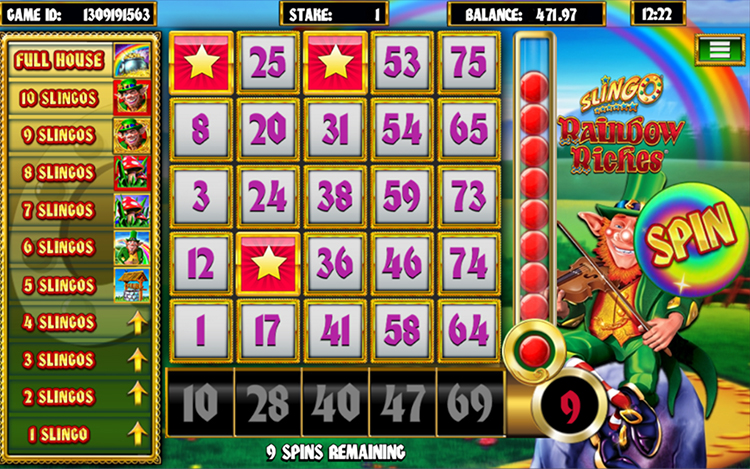 In this marvellous mash-up, you'll complete Slingos on the familiar 5x5 grid to move up the bonus ladder, unlocking exciting bonus rounds as you go.
Complete five or more Slingos to trigger one of seven exciting bonus rounds, which fans of other Rainbow Riches games will recognise.
Get five Slingos to play the Wishing Well bonus, where you'll choose one of three wishing wells to reveal a multiplier prize.
Or make it all the way to the top of the bonus ladder (11 Slingos) to reach the Pots of Gold bonus round. With a top prize of 1,000x your original bet, will you find your pot of gold at the end of the rainbow?
Slingo Starburst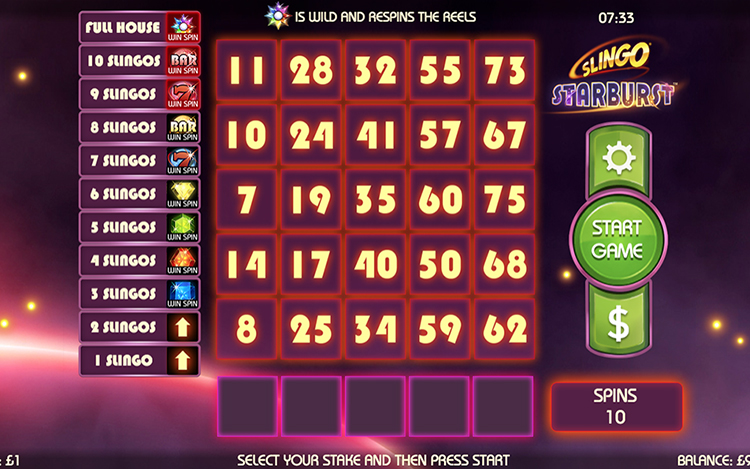 What do you get when you cross two of the most popular online games on the planet? Slingo Starburst, that's what! We've added a sprinkle of the old Slingo magic to intergalactic slot Starburst to bring you an amazing gaming experience full of Slingos, a chance to win spins, and amazing real money prizes.
Simply spin the reels on the familiar Slingo grid to mark off numbers and complete Slingos. Move your way up the ladder on the left of the screen to gain Win Spins in the Starburst bonus game, which is triggered at the end of the game or whenever you hit 'Collect'.
Work your way to the top of the Slingo ladder to get a guaranteed win with a dazzling Starburst Wild, which can expand over the reels and trigger a re-spin to help you land even more winning combos!
Slingo Reel King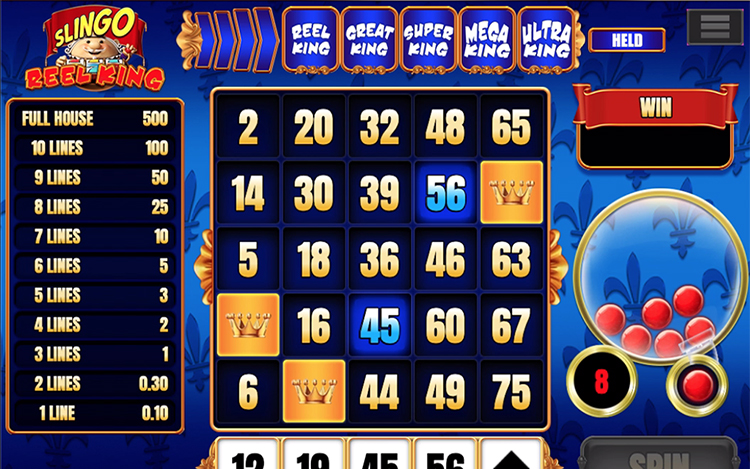 Slingo Reel King takes all the best bits of classic slot Reel King and combines them with the much-loved Slingo mechanic for double the fun!
You'll recognise the familiar Slingo 5x5 grid, where you spin the reels to complete Slingos and work your way up the pay ladder on the left. And this new fun Slingo game comes with some fresh and exciting features!
Reels can randomly make a 'ding' sound on any spin – when this happens you'll progress further along the Reel King trail, where there are five exciting bonus games to be triggered.
Activate the Ultra King game to see up to nine Reel King characters appear on the screen, each giving you the chance to win amazing real money prizes!
Slingo Deal or No Deal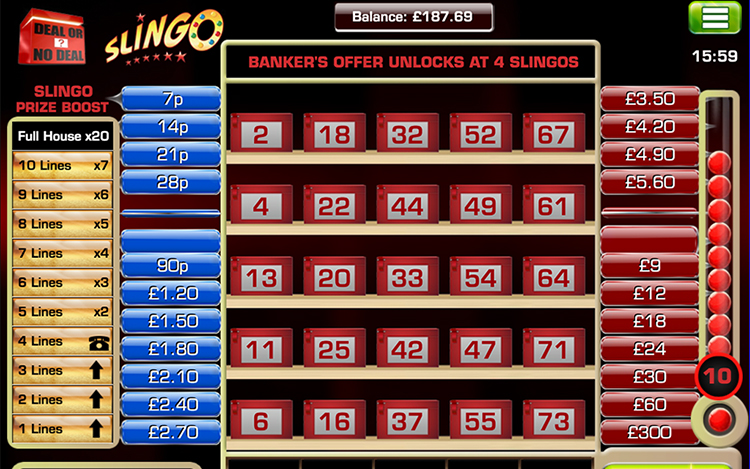 Slingo Deal or No Deal blends the hugely popular Slingo format with the Deal or No Deal concept and has a top jackpot prize of £100,000 cash!
As with any other Slingo game you'll be presented with a 5x5 grid, but this time it's filled with numbered boxes that you'll recognise from the TV show.
Each box contains a prize that could be any of the values listed on either side of your grid, and it's your job to pick boxes to eliminate prizes and work your way towards an offer from the banker.
Completing Slingos also helps you increase the value of the prizes left in the game!
Slingo Fluffy Favourites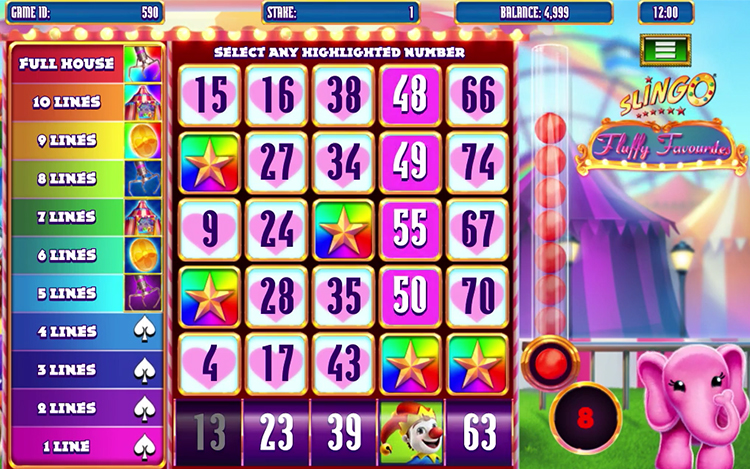 Roll up, roll up, Slingo Fluffy Favourites is here! This fabulous game takes all the best bits of the fairground-themed Fluffy Favourites series and blends them with a little Slingo magic.
You'll recognise the familiar Slingo 5x5 grid, where you spin the reels to complete Slingos and work your way up the pay ladder on the left. However, this time there are some fun new symbols to help you win real cash prizes!
Find three Nellie the elephants on the reels to activate a Free Balls Bonus, or complete Slingos to trigger fun bonus games like the Coin Pusher Bonus or the Mega Toybox Pick bonus.
Slingo Centurion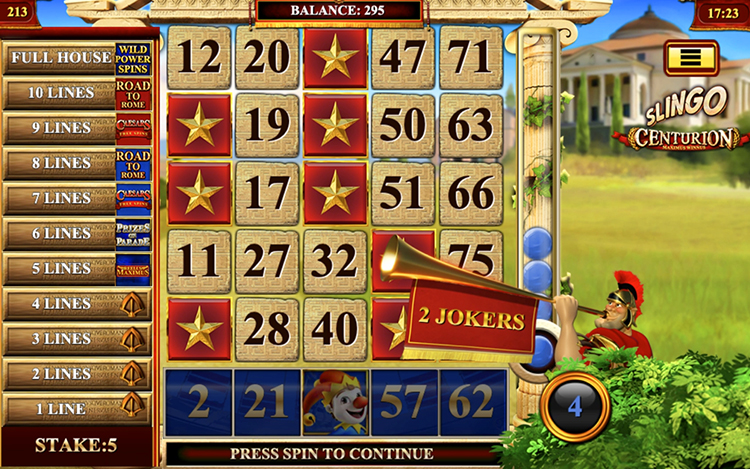 Slingo Centurion is an exciting Slingo adaptation of the hugely popular online slots game Centurion. Take a trip back in time to the days of Julius Caesar, and see if you can conquer this mighty game! 
The aim is to lead your army to victory by marching up the bonus ladder on the left to unlock bonus features such as Reelus Maximus, Prizes on Parade, Caesar's Free Spins and Road to Rome. 
And with fun Roman-themed symbols like chariots, helmets, coins and colesseums, this epic Slingo game is one of our favourites!
Each game consists of 10 initial spins, with the opportunity to buy extra spins at the end of the game to keep the fun going.
Play Slingo Originals Games at Slingo.com
Enjoy all these games and more at Slingo.com, the official home of Slingo Originals. Join us today for an amazing gaming experience in a safe, secure environment that puts you first. Ready to have some fun? Let's Slingo!