Slingo Reel Extreme: Red Hot Slingo Action Like No Other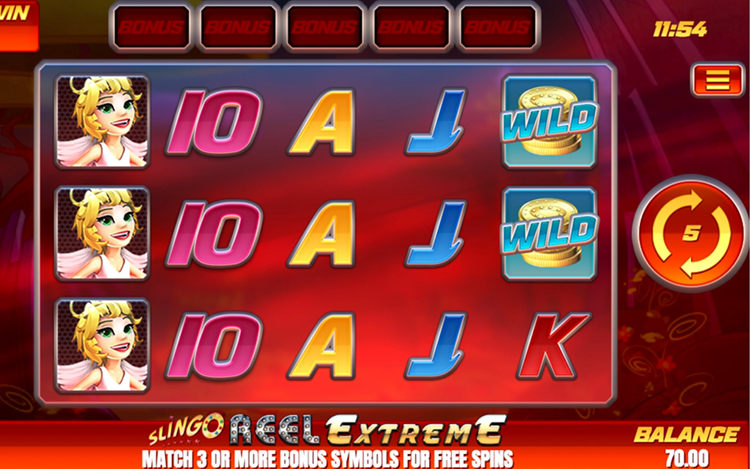 Slingo Reel Riches is a fun game, but do you wish the stakes were higher and the action was more dramatic? Then you might want to give Slingo Reel Extreme a try!  Slingo Reel Extreme is a combination of Slingo Reel Riches and Slingo Extreme, and it's jam-packed with blazing fun!
With a rock and roll soundtrack to match its bad-boy image, the Slingo Reel Extreme packs a punch with fantastic bonus features, connected games, faster action, and the option to buy endless extra spins. It's easy to say that the Slingo Reel Extreme game's creators know how to up the ante in typical Slingo style!
Slingo Reel Extreme: Game Basics
When you first start playing Slingo Reel Extreme, you'll notice that it doesn't look anything like the original Slingo games; there's no bingo grid to be found! Slingo Reel Extreme, on the other hand, is a 5-reel, 20-pay line Slingo game. While this change may appear unexpected at first, be assured that this is still a Slingo game, complete with iconic characters such as the Joker, Super Joker, and clever Devil on the reels. The Slingo Reel Extreme game offers a theoretical return to player (RTP) of 95.6 percent and is played at medium volatility. Wagers begin at £1 per spin and up to £100 per spin.
Simply follow these easy steps to begin playing the Slingo Reel Extreme Online Game:
Load the Game at Slingo.com

Set your wager amount, ensuring that you are comfortable with the amount you will be wagering.

To begin the game, press the 'Spin' button.

The goal is to land as many winning combinations as possible during your spins.
Slingo Reel Extreme was created with mobile compatibility in mind, allowing you to play the game on a variety of platforms such as desktop PCs/laptops, tablets, and smartphones. This means you can play Slingo Reel Extreme whenever and wherever you want, without having to worry about incompatible features.
All of the familiar Slingo characters are front and center in Slingo Reel Extreme, as we mentioned earlier! The Joker and the Super Joker are two versions of the same character. The pair of Jokers can appear on the reels, and they operate as wild symbols in Slingo Reel Extreme, substituting for all other symbols save the bonus symbol to help you get more matches.
The wicked Devil has returned to his old pranks. When this nefarious character appears on your reels, he will obstruct any potential matches or combinations. Slingo Reel Extreme slot game has its own wild logo, which resembles a stack of golden coins, in addition to the Jokers. This sign not only replaces other symbols (except the bonus symbol) to form matches, but it also doubles the win lines! Lastly, there's the bonus symbol which is used to trigger the Win Spin Bonus feature.
How to Get Free Spins on Slingo Reel Extreme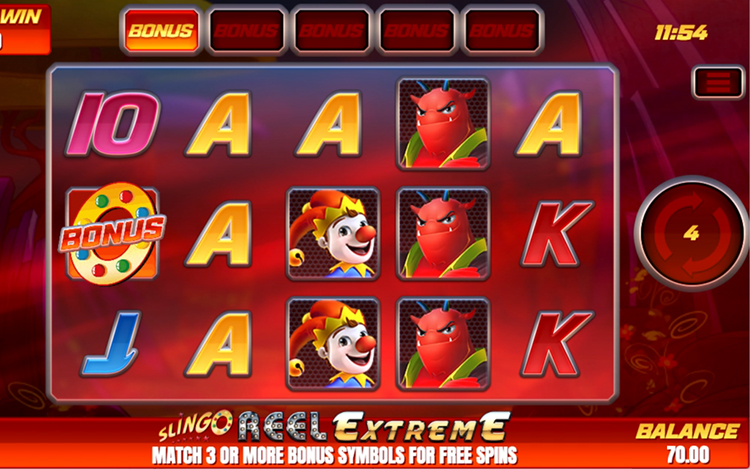 Slingo Reel Extreme doesn't have free spins in the traditional sense. Don't worry though! Instead, it has something much better; Win Spins. The 'Wins Spins Bonus' in Slingo Reel Extreme is triggered when three bonus symbols appear on the reels during basic play or during linked spins (more on this later). This bonus round is unique in that it allows players to set the level of volatility for the bonus round by selecting one of the following options:
16 spins plus a multiplier of x2.

8 free spins plus a multiplier of x4

4 spins plus a multiplier of x8
The multipliers, on the other hand, can be enhanced if you land more bonus symbols. If you land four bonus symbols, for example, you'll be able to select from the following great options:
16 free spins plus a multiplier of x4

8 free spins plus a multiplier of x8

4 spins plus a multiplier of x16
You'll be able to choose from the incredibly high multiplier options if you manage to get 5 bonus symbols:
16 spins plus a multiplier of x20

8 spins with a multiplier of x40

4 spins with a multiplier of x80
But that's not all that the Slingo Reel Extreme slot has to offer! Also included in the bonus features are Linked Spins. The Slingo Reel Extreme online Slingo game offers five linked spins. During these spins, any bonus symbols you collect will be carried over to the next spins until the 5 linked spins are finished. If you've been unlucky and haven't been able to acquire a bonus from these spins, you can buy more spins in the Slingo Reel Extreme Slingo game to help you attain a bonus feature. 
Play Slingo Reel Extreme Online at Slingo.com
At Slingo.com we love all things Slingo; it's quite literally in our name! We're the number one hot spot for Slingo games including Slingo Reel Extreme, alongside other fantastic slot machines, bingo games, live games, casino games, and so much more. Sign up and play today to discover everything we have to offer at Slingo.com.