Slingo Reveal is a popular, but also somewhat overlooked Slingo game that can offer some pretty spectacular payouts and some super fun Slingo action. In this article, we'll be getting you acquainted with how this game works, and most importantly answering the question of how you can earn free spins when playing this game, so stay tuned to find out more!
Slingo Reveal: Get Lucky and Reveal a Maximum Multiplier of 10,000x Your Bet
Slingo is excellent at inventing original twists on the traditional Slingo concept, and Slingo Reveal is no exception. This game has everything for everyone to enjoy. It combines a Slingo slot with a little scratch-off and even fruit machine action.
In this game, you not only need to gather Slingos, but every time you do, Slingo Reveal gives you the chance to win even more! A symbol with a prize amount is displayed each time you complete a Slingo (by crossing off a line of five numerals). If you can gather the right number of the symbol that has been revealed, you will win that prize.
In the Slingo Disclose, which flawlessly combines Slingo and instant win game action, you never know what you'll reveal next. Who knows what you'll uncover next with a sizable potential jackpot payment; you'll have to spin to find out!
Slingo Reveal: Game Basics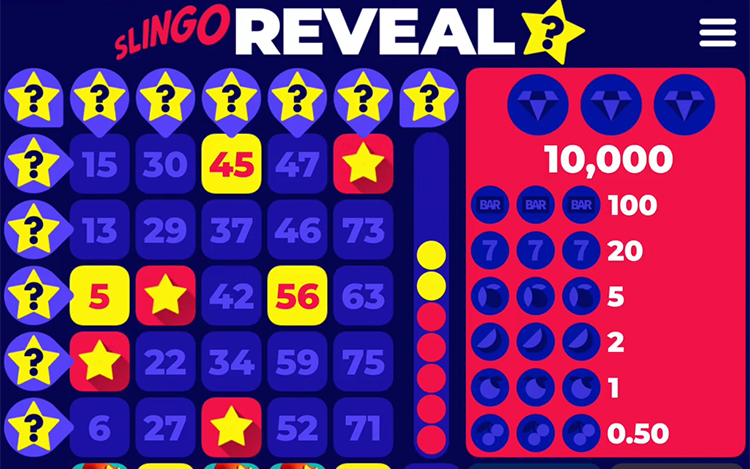 You must first choose how much you wish to wager before you can start playing the Slingo Reveal game. It's truly that simple to begin the game after you're happy with your wager; just click the "start game" button!
Nine spins, a 5x5 game grid, and a 1x5 slot reel are all included in each Slingo Reveal game. Each time the slot reel is spun, it will show five symbols or numbers. If any of the numbers on your game grid match any of these symbols or numbers, they will be crossed out. Making Slingos—lines of numbers that are marked off vertically, horizontally, or diagonally—is the object of the game.
After you finish each round of Slingo, a symbol will be revealed. Slingo Reveal gets its name from the fact that all you have to do to win the prize-linked with a symbol is to simply gather the right quantity of that symbol while you play.
Beginning with the Joker, which has the power to cross out any number in the column above its reel location, all of the traditional Slingo symbols are present and accurate in Slingo Reveal. At the end of the game, players receive one additional spin when they see the free spins symbol. The free spin indicator is not visible during additional spins. Only appearing on the middle reel, The Devil is a blocking symbol that prohibits you from making a match.
The prize symbols, which include cherries, oranges, watermelons, plums, 7s, and BAR symbols, are the last to appear. They are all traditional fruit machine symbols.
How to Get Free Spins on Slingo Reveal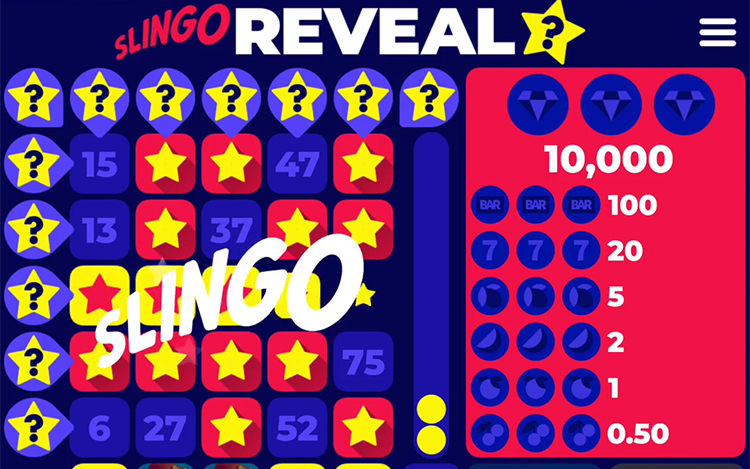 Getting free spins on Slingo Reveal is really easy, you simply need to land the free spins symbol on the reel below the game grid to earn an extra spin for free. Free spins are played at the end of the main game and can be a really handy way to complete some pesky last-minute Slingos. Alongside this, once your free spins are done, you can purchase as many extra spins as you like; not quite free spins, but still a great option for advancing further up the prize ladder.
Play Slingo Reveal at Slingo.com
Slingo Reveal can be played whenever you like at Slingo.com. You don't need to worry about device compatibility as like all the other slot games on our site, Slingo Reveal can be played on any device of your choosing including mobile phones and tablets making it great for gaming on the go. To discover Slingo Reveal for yourself, and try landing those all-important free spins, sign up and play today at Slingo.com where you'll find a whole host of fantastic smash-hit games, with Slingo Reveal front and centre of course.