The entertaining slots and bingo game Slingo Starburst is inspired by one of NetEnt's most well-liked titles. This Slingo game has a top prize of 1,500 times, Win Spins on the original Starburst slot, a variety of wilds, and other exciting features. Join us as we take a closer look at the Slingo Starburst game as well as how to get free Slingo spins too.
Slingo Starburst: Reach for the Stars!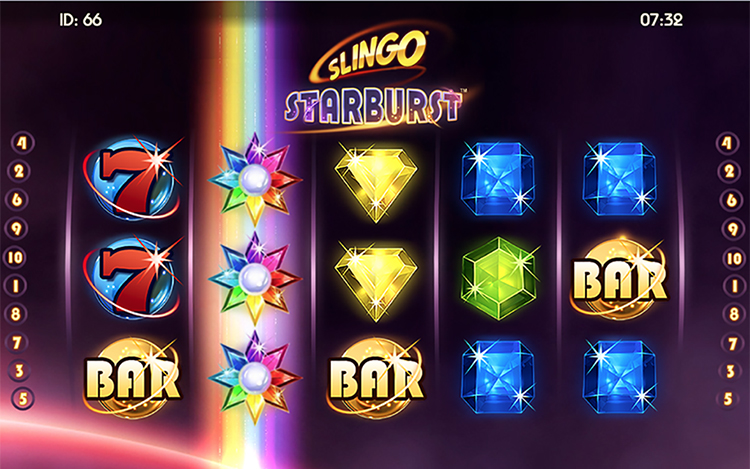 Slingo and Starburst, two of the most played online casino games on the planet, are combined in the quick, entertaining, and exciting slot machine known as Slingo Starburst! In the Slingo Starburst bonus game, spin the reels on the well-known Slingo grid to score progressively lucrative Win Spins, with dazzling Starburst Wilds and extra spins Wilds to assist you along the way. 
Slingo Starburst: Game Basics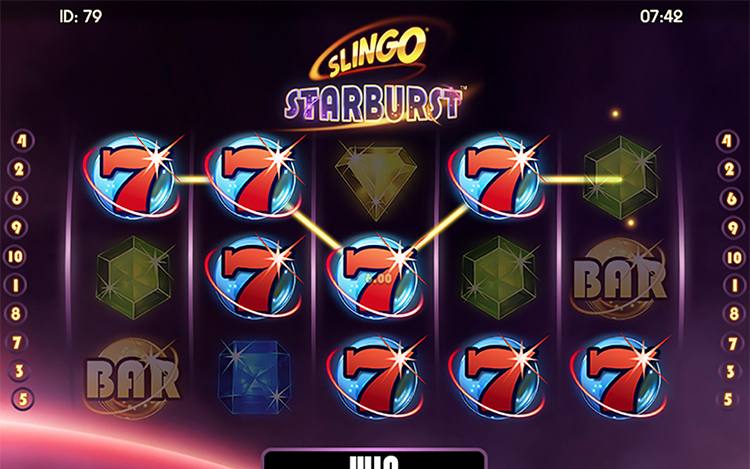 The aim of Slingo Starburst, just like other Slingo games, is to achieve Slingos. In order to score a Slingo, spin the slot machine reel to remove numbers from the 55 grid. As you climb the bonus ladder on the left after each Slingo, you'll get closer to the stunning Win Spin Bonus. However, it's not just Slingos that are illuminating the night sky; three or more Purple Gem symbols hitting on a single spin can result in an immediate payout.
On a PC or at the best mobile casino sites, you may play the Slingo Starburst slot machine online.
The symbols on a meter next to the grid will be familiar to fans of the original Starburst, but instead of the bright diamonds, red 7s, and BAR symbols, you see a 5x5 matrix of numbers.
Winning Slingos requires a single-row reel below. Wins move you up the reward meter for win spins on the traditional Starburst slot machine.
The Slingo Starburst online slot has a remarkable return to players ratio of 96.66 percent and is a low volatility game.  You get ten spins when you wager between 0.10 and a hundred dollars.
How to Get Free Spins on Slingo Starburst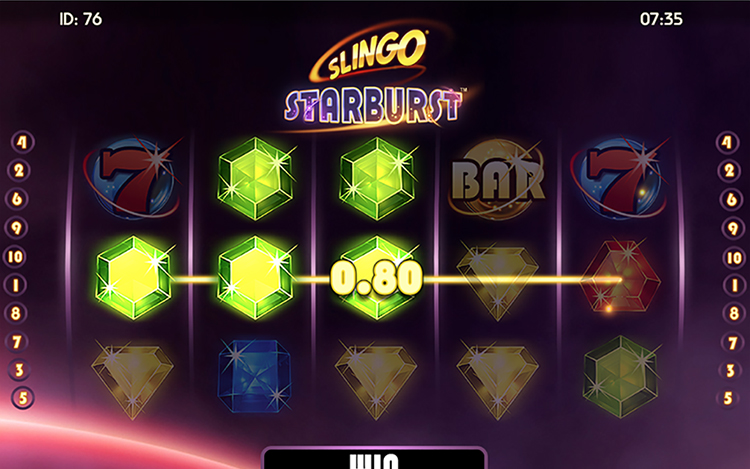 Slingo games often have a free spins bonus, but few have three different kinds; which is what Slingo Starburst offers. In this game players can receive free spins in a variety of different ways, here's some information on how you can achieve these free spins and how they work:
Respins
Any number from the column just above where the wild symbol lands may be crossed out. Additionally, they stay put on the reel as it respins, giving you still another opportunity to get number matches and eventually a Slingo. This is a really nice addition to the Slingo Starburst game that isn't seen in many other Slingo slots.
Starburst Win Spins
The true star of the show is this magnificent feature. You can receive a Win Spin bonus tied to a certain symbol if you're fortunate enough to get three or more Slingos. This is played out on a different slot at the conclusion of the base game when you'll obtain a win of the pertinent symbol that is guaranteed. All other reels spin again when wild symbols expand, remain in place, or do both. What are win spins, you might ask? They're spins that are guaranteed to be winners - exciting!
Extra Spins 
You will be given a chance wheel with an additional spin at the game's conclusion. You can spin the wheel once more to spin the slot reel if the arrow lands in the green area. This can go on till the red part of the wheel is reached. All extra spins will be charged at a price that reflects the current state of play.
Play Slingo Starburst at Slingo.com
So, now you know the ins and outs of the Slingo Starburst game it's time to zoom off into the stratosphere and try the game for yourself. Sign up and play today at Slingo.com.