Slingo's Guide to Fun and Safe Gaming
Here at Slingo, we want to create a fun, accessible and entertaining gaming experience for all our players. However, we're equally dedicated to promoting responsible gambling and want to safeguard our members and protect them from playing irresponsibly.
With that in mind, we've come up with a few things to remember while you're playing, as well as explaining some of the measures we've put in place to help you gamble responsibly. To find out more, you can always check our Responsible Gaming page here.
Things to Remember
It's Not A Way To Make A Quick Buck
Gambling is a form of entertainment, not a way to earn money. The aim of the game is to have fun, and gambling should not be seen as a potential source of income.
There is No Hack
Whatever game you choose to play, it's important to remember that all outcomes are completely determined by chance. Despite what you may hear, the games are not rigged and instead use a Random Number Generator (RNG) to determine outcomes that are fair and probabilities that mirror real-world results.
Although you may be tempted to believe that a certain outcome is more likely based on a previous series of events, this is mere superstition since past events do not change the probability that certain events will occur in the future.
For example, just because a coin has landed on Heads ten times in a row it does not mean that the next result must be Tails, since the likelihood of a coin landing on Heads is always 50/50. For more on this, check out this helpful page on Gambler's Fallacy here.
Play For Fun
Gambling should be a fun and entertaining activity. That's why it's important to play only when you are in a good mood and can really enjoy it. Don't gamble if you're in a bad mood or under the influence, as this can alter your perceptions and lead to irresponsible gambling.
Know Your Limits
Before you start playing, take a moment to set money and a time limit for yourself. Never play with money you don't have or can't afford to lose, and make sure you don't use funds that should be used towards, rent, bills, or other expenses. You should check your activity regularly in the Balance page, too, to make sure you're aware of how much you're spending.
Take a Break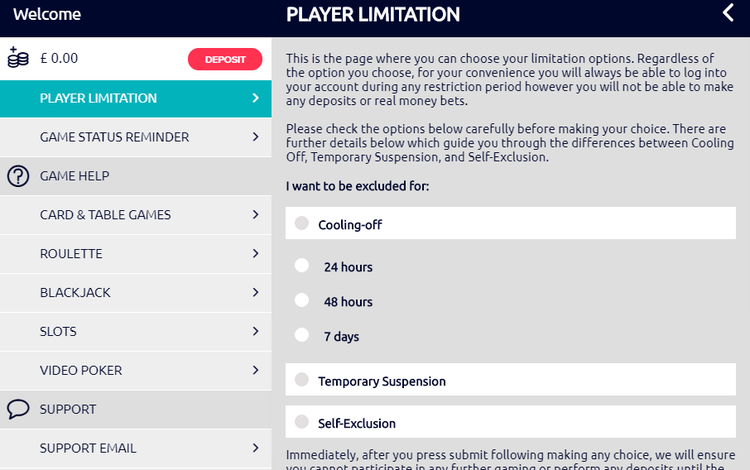 If you feel like you need to take a break from gambling, we've got some helpful player limitation options to make sure you stick to it. Just go the 'My Account' page on the Slingo page to access the following options:
This can be set from 24 hours to 7 days
Suspend your account for 30 – 90 days
Deactivate your account for a minimum of 180 days.
Choosing any one of these options means you won't be able to gamble or deposit during the set time frame, nor will you receive any marketing material (please note that it can take up to 24 hours to remove you from all marketing databases).
More Tools to Help You Gamble Responsibly
Deposit Limits
You can set an option to restrict your daily, weekly, or monthly deposits when creating an account. These limits can be changed at any time from the 'My Account' page.
Reality Check
You can contact the support department to add a Reality Check message to your account. When this feature is activated, a message will appear telling you how long you have been playing for and giving you the option to continue, view your game history or close the game. You can choose how frequently the messages appear.
Self-Assessment
We've come up with a quick test you can use to check whether your gambling is starting to become an issue. The questions prompt you to think about your relationship with gambling and to take action to protect yourself if necessary.
Slingo Is Looking Out for You
If Slingo notices you may have a gambling problem, we will contact you about our Responsible Gaming policy and discuss applying some limits or restrictions to protect you.
There are lots more resources you can use to get advice or help control your gambling, from GamStop to Gamblers Anonymous. Please see the 'Keeping a Watchful Eye' section on our Responsible Gaming page for more useful links.
The most important thing to remember is that gambling should be fun and entertaining. If you're concerned about your gambling or need help setting your limits, please use our responsible gambling tools or get in touch with our support team for help.
You might also want to check out our list of useful budgeting apps that help players track their gambling expenses and promote responsible gambling.