Play Slingo with an Oriental Flair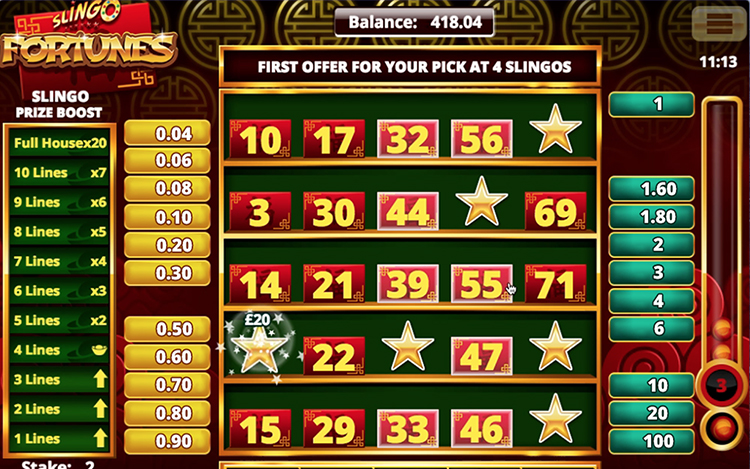 The Chinese know a thing or two about luck, and the Fortunes Offer feature in the Slingo Fortunes game embraces this concept by giving players many chances to test their luck during their game. Free spins and limitless extra spins are also available in Slingo Fortunes.
The Deal or No Deal game mechanic, Slingo, and Chinese culture are all incorporated into the Slingo Fortunes slot machine. In this Slingo game, players choose a lucky letter from a list of 26 and receive offers based on the contents of their letter during the game. Slingos completion moves the player up the prize ladder, allowing them to win bigger and higher prize multipliers.
How To Play Slingo Fortunes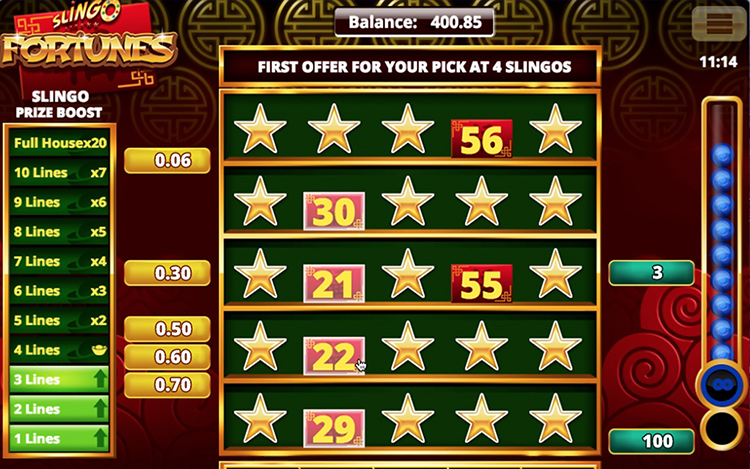 It's simple to play Slingo Fortunes. Load the game at Slingo.com on any device of your choosing. To begin, change your stake using the - and + buttons on your game panel before pressing 'START GAME.' You'll be presented with a screen with various envelopes and asked to choose one. Each envelope contains a cash prize worth an unknown amount, so keep your fingers crossed that you pick a good one! After that, your lucky envelope will float to the bottom of the game screen, ready to be opened later.
The object of the game is to spin the reels and remove envelopes that correspond to the numbers on the reels. If you open five envelopes in a row diagonally, vertically, or horizontally, you'll complete a Slingo. When this happens you'll go up one rung on the reward multiplier ladder to the left. Once you've accumulated 5 or more Slingos, the value of all remaining prizes (including your mystery envelope) will increase by 1x with each Slingo, starting at 2x and increasing to 20x!
After completing four Slingos, you'll be given an alternative award dependent on the remaining values in the game. If you click 'ACCEPT' and accept this offer, your game will finish. If you choose 'DECLINE, OPEN PICK,' you will be able to open your lucky envelope from the beginning of the game and take the prize money inside. You want to eliminate the lesser prize sums in order to enhance your chances of earning a large cash award! Alternatively, you can select 'SPIN' to continue playing for bigger multipliers, with a fresh offer appearing after each spin.
You'll win the value of your lucky envelope x20 if you reach the top of the prize ladder.
How to Win on Slingo Fortunes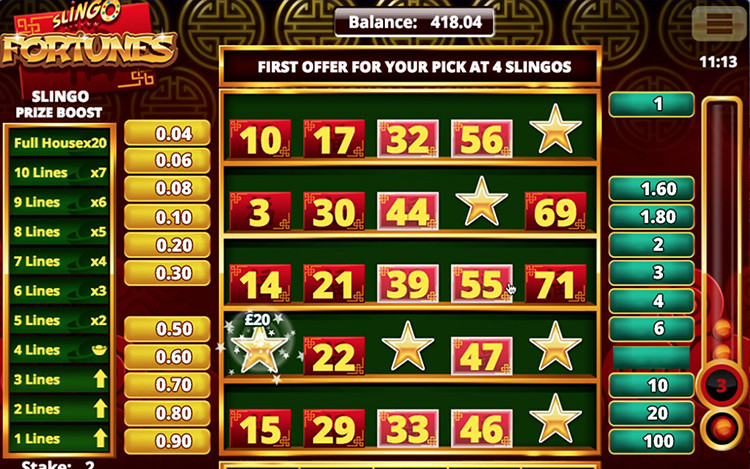 When you first start the Slingo Fortunes Game, you'll see 26 envelopes on the screen. Each envelope has a prize value that has been assigned at random. To create your first reel spin, select the envelope that is calling to you and press 'spin.' Each game consists of ten spins, each of which displays 50 symbols at random.
Work on finishing Slingos (which entails crossing off a line of five envelopes). You will be given a monetary prize in exchange for your envelope if you complete four Slingos; you can accept or decline. If you decline each spin, you will be presented with a new offer. If you haven't accepted an offer by the end of the spins, it's time to open your envelope and see what you've won.
A variety of symbols featured in the Slingo Fortunes game can help you to improve your odds of winning and if you've played a Slingo slot before you'll probably recognize a few of them. The Joker is able to open any envelope that's positioned above its reel location, while the Super Joker is able to mark off any symbol in any position. Next is the free spins symbol which will award players with an additional spin which is played at the end of the main game spins. Watch out for the devil symbol though as this pesky icon will block potential matches.
Make the Most Out of Slingo Fortunes Bonus Features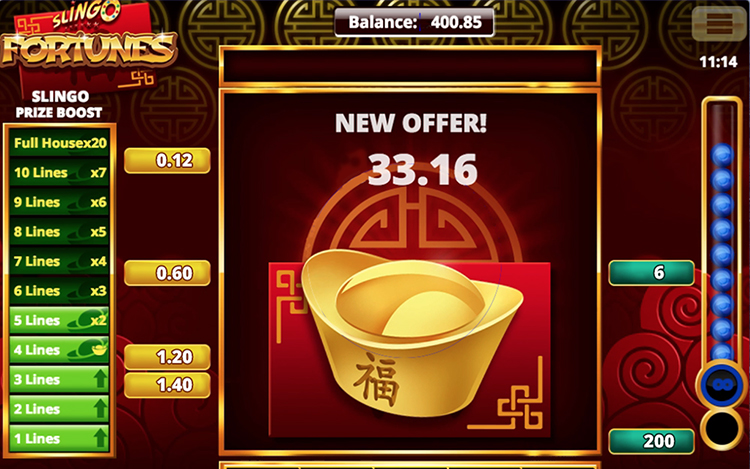 Prize Boost Ladder
The Prize Boost Ladder can be found on the left side of the grid, and the more Slingos you land, the further up the ladder you'll climb. The higher you go, the more multipliers you'll get, and completing four lines will trigger the fortune bowl feature. You have three options here: accept the offer made with the bowl, decline the offer and reclaim your original envelope, or simply keep spinning the reels. If you accept the offer, your next victory will be multiplied by 2x, then 3x, and so on. This multiplication will continue until you land a Full House, at which point your win will be multiplied by a whopping 20x.
Extra Spins
After your initial ten spins have been used up, you can purchase additional spins to increase your chances of winning a prize. There is no limit to how many extra spins you can buy, so you can keep playing until you get a Full House. The cost for each extra spin will always be clearly labeled above the spin button and will change to reflect the current state of play, so you can always make an informed decision. (Remember, when the fun stops, stop.)
Play Slingo Fortunes Online at Slingo.com
At Slingo.com you can play Slingo Fortunes as well as a whole host of other great Slingo titles, bingo games, slot games, casino games, and more. Sign up and play today.