Slingo Rainbow Riches: The Fantastic Free Spins Slot Game
Slingo Rainbow Riches is a hugely popular online game that combines the well-known Rainbow Riches slot series with the iconic Slingo game system. Unlike other Slingo games, the Slingo Rainbow Riches game not only has bonus features but the chance for free as well as unlimited spins. Keep on reading to find out more about these features. 
Slingo Rainbow Riches: Game Basics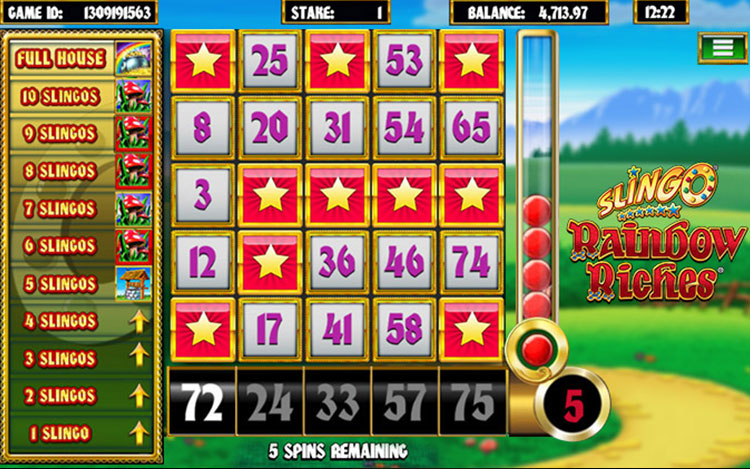 Even if this is your first time playing a Slingo game or even a casino game, getting started with Slingo Rainbow Riches is simple. Check out the Rainbow Riches Slingo rules and paytable for all the details you'll need; you can review this information at any moment to refresh your memory. The Slingo Rainbow Riches RTP is 95.6% which is around the market average for a medium volatility Slingo game. 
To start playing, you'll need to alter your wager using the selection on the left side of the main game screen. The Slingo Rainbow Riches game offers a wide selection of wagering options to suit a wide range of players, so selecting your ideal wager shouldn't be too difficult. All you have to do now is spin the reel and start creating those matches!
The object of the game is to match the numbers on your game grid to the numbers that appear on the reel beneath them. Slingo is the game of completing lines of symbols to achieve Slingos and marking off all the symbols will be a Slingo Rainbow Riches full house. 
The Slingo Rainbow Riches game includes a variety of bonus features which is unusual for a Slingo game. Here's some information on the features to look out for:
Cash Crop Bonus
50 coins spin and when they stop spinning participants will be awarded a multiplier prize.
After that, the player will be asked to flip a coin to determine whether they want to accept their winnings or continue to the next round in the hopes of gaining a higher multiplier.
Magic Toadstool Feature
This is a pick-and-win bonus round in which players must choose three toadstools from a screen of toadstools. Each toadstool can disclose a multiplier of up to 5x, but finding a fairy will activate a bonus round.
Wishing Well Bonus
This game also has a pick and win bonus component where players can make a wish on one of the wells to uncover a prize. Instead, players may be moved to the Road of Riches additional feature if they are lucky.
Let's Talk About Free Spins…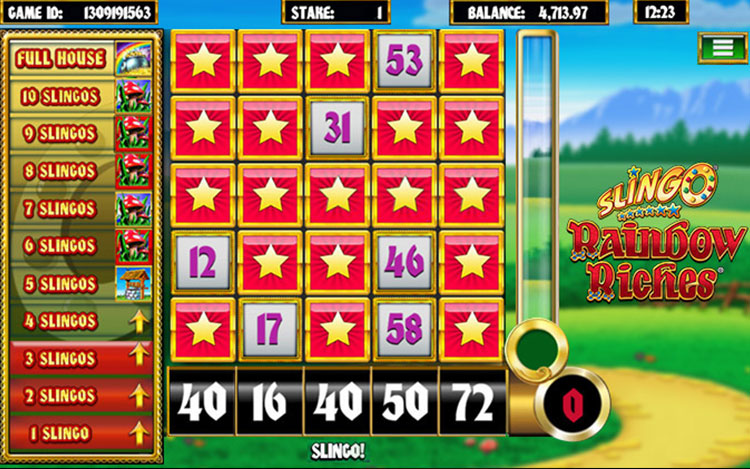 Now let's talk about landing free spins on Rainbow Riches Slingo. In Slingo Rainbow Riches both free spins and unlimited spins can be played. Winning free spins is easy, unlike slot games, you don't need to worry about landing combinations of scatter symbols and so on. Instead, all you need to do is land a free spin symbol on the reel to automatically receive one free spin; it's as easy as that.
Slingo Rainbow Riches also has unlimited extra spins which can be purchased at the end of the initial main game spins and can be used to complete more Slingos and increase the final payout potential. The cost for each additional spin will always be clearly labeled above the spin button, and you can always choose not to play, so make sure you use this feature responsibly.
Discover and Play Slingo Rainbow Riches on Official Slingo Site
So, now you're probably asking 'where can I play Slingo Rainbow Riches?' the answer is simple; at Slingo! It's in our name, we're the best place to play Slingo games and we're proud of it! Sign up and play today!