Slingo Meets Rainbow Riches in a Marvellous Mash-Up!
Slingo Rainbow Riches blends all the best bits of the Rainbow Riches slot game with the familiar Slingo grid, giving Rainbow Riches fans a whole new way to play!
With its bright, cheerful theme, simple gameplay and SEVEN bonus rounds, Slingo Rainbow Riches is ideal for both complete newbies and experienced Slingoers alike. 
From the Wishing Well bonus to the Pots of Gold bonus and more, there are plenty of opportunities to win a cash prize.
Read on to find out more about Slingo Rainbow Riches, including how to play and how to make the most of those bonus features!
How to Play Slingo Rainbow Riches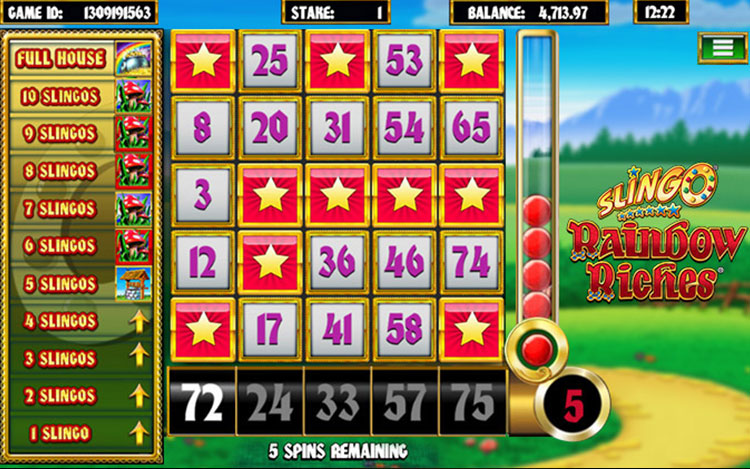 Before playing Slingo Rainbow Riches, you'll need to decide on your stake and then hit 'Spin.'
The aim of the game is to match numbers on the reels at the bottom of the screen with those on the grid, and each game lasts for 10 spins.
You'll win a Slingo for marking off five numbers on one of 12 win lines. With each Slingo you win, you'll progress further up the ladder on the left.
Complete five or more Slingos to access one of seven exciting bonus rounds (more on those later on)!
How to Win on Slingo Rainbow Riches
Since all online slots and Slingo games are games of chance, there are no hacks or ways to guarantee a win. All outcomes in Slingo Rainbow Riches are determined by an RNG (random number generator) - a computer system that is almost impossible to predict.
However, our top tip for playing Slingo Rainbow Riches is to use the Jokers and Super Jokers wisely. When these symbols appear on the reels they enable you to choose numbers to mark off on the grid - so choose carefully!
The aim of the game is to mark off lines (or 'Slingos') on the grid to work your way up the bonus ladder on the side of the grid.
If you're given the chance to mark a number off on the grid, think about it carefully to see which grid position you think will help you to complete Slingos! Sometimes the choice may be obvious (e.g., if you've only got one number left to complete a Slingo), but at other times you might need to carefully weigh up your options.
Make the Most Out of the Slingo Rainbow Riches Bonus Features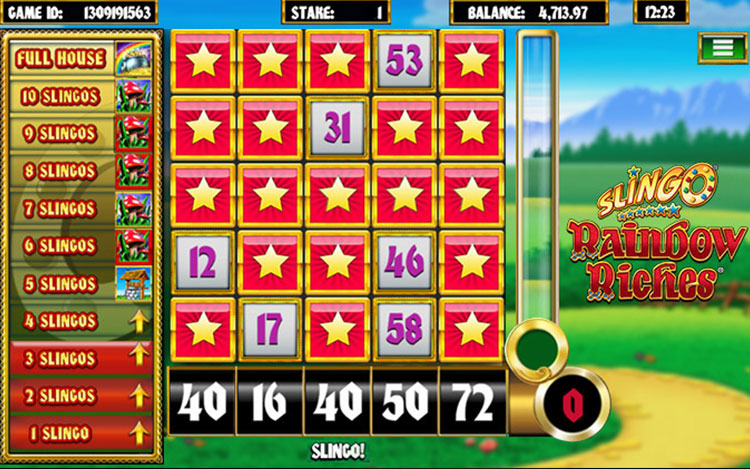 Slingo Rainbow Riches has a whopping seven bonus rounds, which offer players the chance to bag additional win multipliers and supersize their wins. Complete five or more Slingos to unlock a bonus round, which will play at the end of the current game.
You'll have the chance to play the bonus game, or purchase extra spins to try to unlock the next game up the bonus ladder.
From the Wishing Well bonus to the Pots of Gold bonus, each round has a unique theme and set of prizes to be won. 
Trigger the Road to Riches bonus and win multipliers of up to 500x, or reach the top of the ladder and activate the Pots of Gold bonus to win up to 1,000x your bet!
Play Slingo Rainbow Riches Online at Slingo.com
Where better to play Slingo Rainbow Riches than at Slingo.com, the official home of Slingo.com? Join us now for an amazing gaming experience in a safe, secure environment that puts you first. Ready to play? Let's Slingo!