What Are Scratch Cards and How Do I Play Them?
We couldn't be more excited to welcome online scratch card games to Slingo.com! Enjoy all the thrill of scratching off symbols to reveal instant wins, plus a huge choice of fun themes and exciting bonus features. Just like online slot games, scratch cards offer players fast, fun and exciting ways to win. In this article, we'll explore online scratch cards in a little more detail and provide a helpful guide about how to play them.
What Are Online Scratch Cards?
To put it simply, online scratch cards are a computerised version of traditional scratch cards. Although physical scratch cards gained popularity in the UK in the '90s with the introduction of the National Lottery, online scratch cards didn't appear until about 2010. Although the early versions were pretty basic compared to the high-quality games we have today, they were immediately popular with players thanks to their added convenience and generous instant payouts.
Since then, online scratch cards have become increasingly diverse, engaging and (most importantly) fun! Whereas the options for traditional scratch cards tend to be quite limited, with online scratch cards you have a larger variety of games. Choose from a huge selection of themed games, many based on hit slots like Cleopatra and Fishin' Frenzy. Although we do love an old-fashioned scratch card once in a while, the crystal-clear graphics, fun animations and immersive soundtracks of online scratch cards add an exciting new dimension to the experience that's hard to beat.
How to Play Online Scratch Cards
Scratch cards are one of the easiest ways to play for instant wins. We're sure you're all familiar with how traditional scratch cards work – first you buy the scratch card from the shop, then you use a coin to scratch symbols off the card to (hopefully) reveal a winning combination!
Online scratch cards follow the same basic idea, with a few important differences. First, there's no need to go to the shop. You can buy an online scratch card on your desktop or any mobile device, meaning you can play wherever and whenever you feel like. You can also buy an online scratch card for as little as £0.10, whereas traditional scratch cards cost at least £1.
To play, simply scratch or pick the symbols using your mouse if you're on a desktop computer, or your finger if you're on your mobile. In many games you'll need to match three symbols to win, but you can always check the paytable for your chosen game to find out what the payouts are.
Whereas traditional scratch cards only award payouts for winning combinations, online scratch cards give you the chance to win with win lines AND winning combos! And as if that wasn't enough, online scratch cards really up the ante with their exciting new features. Some have bonus rounds and generous multipliers to maximise your wins, plus instant payouts of potentially huge prizes!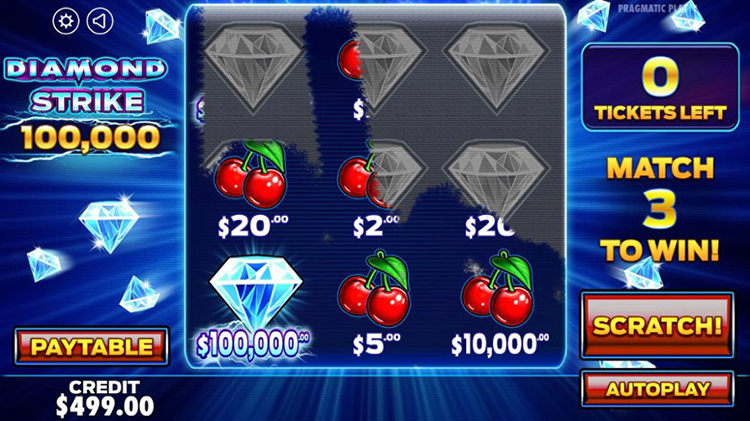 Online scratch cards are one of our favourite ways to play, and with our huge selection of games there really is something for everyone. We're constantly adding fun scratch card games for you to choose from, visit the scratch card page to see the latest releases.