Unlock True Magic by Achieving a Slingo Rainbow Riches Full House
Slingo Rainbow Riches combines Barcests iconic 'luck of the Irish' slot series with the winning Slingo format. This slot is incredibly popular not only because it offers the best of both worlds when it comes to its theme and format, but also the huge amount of bonus features on offer each time a Slingo is achieved. At the top of the prize, ladder sits the Full House, and in this article, we'll be talking in detail about what happens should you be lucky enough to achieve a full house in Slingo Rainbow Riches.
Let's Get to the Basics: How to Play Slingo Rainbow Riches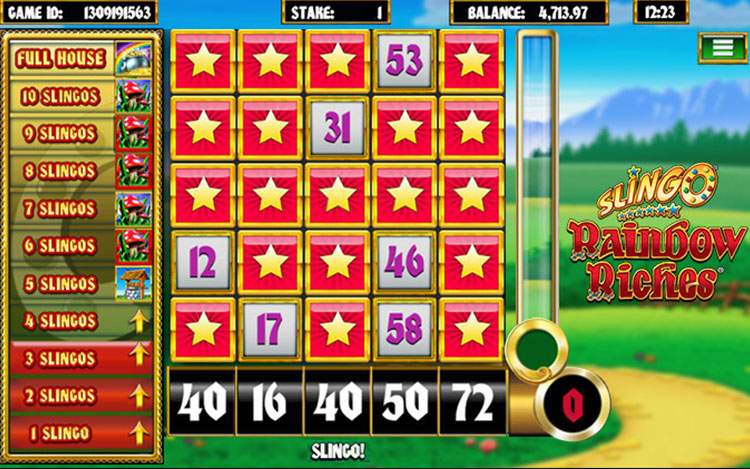 To begin playing Slingo Rainbow Riches, you'll need to adjust your stake using the selector on the left side of the main game screen. The Slingo Rainbow Riches game offers a wide selection of wagering options to suit a wide range of players, so selecting your ideal wager shouldn't be too difficult. All you have to do now is spin the reel and start creating those matches once you've decided on your bet amount.
Slingo Rainbow Riches is similar to other Slingo games in that it is played online. The object of the game is to match the numbers on your game grid to the numbers that appear on the reel beneath them. Slingo is the game of completing lines of symbols, whereas a full house is a game of checking off the complete grid.
There are certain classic Slingo symbols to search for in addition to the numbers. The Joker is a useful symbol that allows you to designate any number in the column above its reel position with a single click. His older brother, the Super Joker, is considerably more helpful, allowing you to tick out any number in any grid location. There is also an unhelpful symbol known as the Devil symbol. This emblem serves as a blocking symbol, preventing you from creating pairings.
Aside from the Slingo Rainbow Riches rules, you'll want to know that Slingo Rainbow Riches has a theoretical return to player (RTP) of 95.6% which is pretty standard for Slingo games. It's also worth noting that Slingo Rainbow Riches is played at medium volatility. 
Road to Full House: Up the Bonus Ladder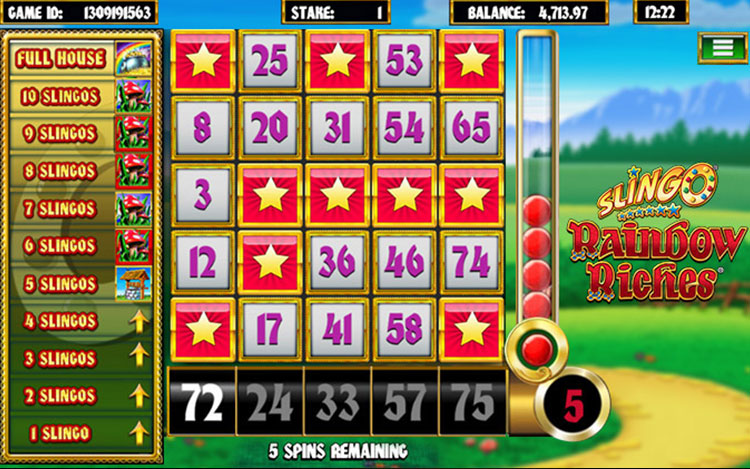 So, what happens when you achieve a Rainbow Riches Slingo full house? Well, first you need to know a little about the Bonus ladder, which is as follows:
5 Lines (Wishing Well Bonus)
Three Wishing Wells will appear, and you'll get to choose one of them.  Each one has a unique prize attached to it. Which one will you uncover?
6 Lines (Cash Crop Bonus)
A total of 50 coins will spin in front of you, each with a different multiplier. The multiplier you've won will appear once they've stopped spinning. After that, a coin flip will determine whether you get another chance to play the feature or collect your prize. With each round, multipliers increase from 0.50 to x10, so you'll want to keep the feature going if you can. 
7 Lines (Magic Toadstool)
Take command and choose a Toadstool! You have three choices to reveal multipliers between x1, x5, or a fairy (which gives another three values). If all 24 toadstools are revealed with two picks left, the total win is multiplied by three! If one toadstool is left, you'll get an x2 multiplier.
8 Lines (Magic Toadstool Red)
This bonus round follows the same rules as the Magic Toadstool round, but there are four options instead of three, giving you a chance to increase your winnings.
9 Lines (Road to Riches)
To progress 1-6 places along the golden trail, spin the lucky wheel. You are awarded the prize from your current trail position when the wheel falls on COLLECT. This is almost like Rainbow Riches's version of free spins. 
10 Lines (Road to Riches Red)
The rules are the same as the original Road to Riches bonus, but all awards have been doubled. This gives you another opportunity to strike it rich!
Full House
When you achieve a full house in Slingo Rainbow Riches you'll activate the Pots of Gold bonus feature. 12 pots will spin around a golden arrow and players will win whatever value the arrow stops on once the pots come to a stop. Multiplier prizes vary from x50 to an incredible x1000 your wager. 
Play Slingo Rainbow Riches at the Official Slingo Site
So, you may be asking yourself, 'where can I play Slingo Rainbow Riches?'. The answer is simple, at Slingo.com of course; the home of the best Slingo Games. So, to travel to the Emerald Isle and play Slingo Rainbow Riches, sign up and play today.