From grandiose boutique hotels to unforgettable, intricately-designed hidden sanctuaries - the world's finest hotels can be found minutes away from central London.
If you're searching for the epitome of luxury, then an unrivalled getaway awaits you.
Read more about the most exquisite hotels near London below, or if you're considering another destination, check our lifestyle blog for more inspiration.
Here Are 13 of the Best Luxury Hotels Near London
The first luxury hotel on the list is a mesmerising step into another era. Iconic cathedral peaks greet you as you enter, towering above almost as if ascending towards the heavens.
The perfectly-kept green park lawns contrast romantically against the age-old buildings, curating an enticingly magical atmosphere.
Nestled in Canterbury, the contemporary lodge boasts an immaculate marriage between old and new, with gothic styles meeting contemporary interiors in picturesque fashion.
Experiencing the splendour of Canterbury Cathedral Lodge will be nothing short of idyllic.
A 4-minute walk from the Canterbury Tales museum and a 9-minute walk from Canterbury East train station.

The Cathedral Lodge has 35 exquisite sleek, elegant bedrooms, with the majority of the rooms offering iconic Cathedral views. Their facilities include luxurious en-suite bathrooms, free Wi-Fi, telephones and TVs for viewing pleasure.

Interesting info: Canterbury Cathedral Lodge was once occupied by 1960s residential buildings, which had replaced buildings lost during the bombing of World War II. The architectural design of the Lodge buildings showcases Sir William's interest in late gothic and Tudor architecture, with expressive references to the Cathedral buildings themselves.
An enchanting historic hotel fit for royalty. The glorious countryside manor stretches over 1,000 acres -sprawling gardens matched with unique antique-styled and angelic ambience.
The manor is the embodiment of immaculate architecture - old-styled rooms furnished in true classical style. You're also guaranteed a masterfully crafted cuisine experience at their Michelin-star dining room.
The tranquil and dreamy manor is rightfully rated among the best hotels to visit.
3 miles from Wakehurst Place Botanic Gardens, 23 miles from Glyndebourne Opera House and 12 miles from Sheffield Park train station.

There are 17 exquisite bedrooms and the Robinson Suite, each home to original paintings and restored antiques.

Interesting info: Gravetye Manor Countryside Hotel was once the home of William Robinson, author of "The English Flower Garden", who developed the garden into one of the most famous in England. After his death, the garden and the surrounding 1,000 hectares of naturally landscaped grounds were left to the Forestry Commission. Later on, it was used as a base for Canadian Army soldiers during World War II. They used parts of Robinson's garden to plant potatoes and leeks to supplement their rations; post-war, it was left derelict for many years.
Time to rejuvenate your soul with a blissful stay at Coworth Park. Prepare to be enticed by its lavish, rural charm - a secret hideaway from the rest of the world.
It's the perfect oasis of calm that is both distinctively refreshing and relaxing. It also has a rich history as home to prestigious figures that shaped the country in formidable ways.
Coworth Park is notorious for its delightful scenery, lavish buildings and remarkable culinary experience compliments of its Michelin-star restaurant. It's simply otherworldly!
Coworth Park is only 2.1 miles from Windsor Great Park and a mere 3.3 miles from Royal Ascot Golf Club.

The property comprises multiple buildings, including the original Coworth House, built in 1776. Close by stables and cottages were converted and transformed into lavish rooms and suites for a total of 70 rooms.

Interesting info: Coworth Park was the first UK hotel of its kind to implement sustainable measures, such as a biomass boiler within an underground energy centre that is fueled by burning willow trees.
Upon entry, you'll be greeted by meadows and woodlands leading to an iconic 17th-century building in the Hampshire hills. Heckfield Place is a country haven like no other, rooted in biodynamic principles and rich heritage.
Equipped with an eco-friendly spa, Heckfield Place is ideal for the perfect day of relaxation and unwinding. The Marle restaurant also prides itself in using local, organically-sourced food and has been awarded a Green Michelin Star.
Think warm, inviting and meticulously maintained - it's delightful and magnificent.
Only 4 miles from opera at West Green House and is conveniently located only 6 miles from the M4 motorway.

There are a total of 45 rooms in Heckfield Place. Each has an intricate, uniform design where you'll find plush wool rugs and intricately designed, handmade ceramic bedside lamps.

Interesting info: Several ingredients are sustainably sourced directly from the farm. There are two flocks of around 400 free-range Hyline chickens roaming the farm that provide eggs for the kitchens, 20 beehives and an orchard consisting of more than 500 trees!
On the banks of the River Thames lies a grandiose riverside mansion. A Victorian manor with sweeping gardens boasts a divine scenic and tranquil setting.
Guests have an array of wonderful facilities at their disposal, such as a riverside garden, spa, honesty bar and one of the finest boutique hotel restaurants available today.
River Arts Club Hotel provides guests with an enthralling and mesmerising experience - perfectly curated for your enjoyment.
Only a 10 minute walk from Taplow train station and less than a mile from Maidenhead library

There are six bedroom categories, from large suites with an open log fireplace and your own private terrace, to snug, delightful intimate rooms with most having glorious river and park views.

Interesting info: After changing ownership twice, the River Arts Club Hotel was purchased by art collector Henry Reitlinger as his personal country riverside residence but was subsequently turned into a museum by his daughter after his death in 1950.
An exquisite hotel surrounded by magnificent rolling hills on a 162-hectare estate, Beaverbrook Country House Hotel is notorious for having been frequented by the likes of Winston Churchill and many other influential and prominent figures.
The luscious landscapes have been home to famous high teas and gatherings, of which only tales remain as remnants. Experience the charm and extravagance of the surroundings, observe the original paintings and unwind at this opulent Victorian hotel.
Only 1 mile from the A4 and a mere 4 miles from the wooded areas of Ashtead Common.

There are 18 magnificently-designed rooms, each equipped with luxurious bathrooms, night robes, coffee machines, toiletries, Apple TVs and turn-down service.

Interesting info: Winston Churchill's favourite suite still retains a private-access door that he used to escape discreetly during wartime.
This hotel features elegant rooms, sumptuous decor and incredibly rich history - a luxurious mansion set on a 376-acre estate.
The exquisite hotel has rooms named after prominent guests, priceless antiques and absolute perfection in every detail. You'll be welcomed by a grand fireplace and oak panelling, and treated like a treasured guest!
Feast on palate-tingling cuisines and enjoy world-class service during your stay at Cliveden.
Only 6 miles from Dorney Lake and a mere 9 miles from Windsor Castle.

There are a total of 47 rooms, including 15 elegant suites. There's also Spring Cottage, which is an exquisite standalone summerhouse by the Thames that sleeps up to six people.

Interesting info: You can take a glorious boat trip on the river - Cliveden has an impressive flotilla of boats. Cliveden's three-bedroom riverside summerhouse, Spring Cottage, comes equipped with a butler who will see to your needs for an extra charge. There is also an interesting history behind this summerhouse: Profumo and close friends had a joyous time here in the run-up to the major political scandal in the 60s.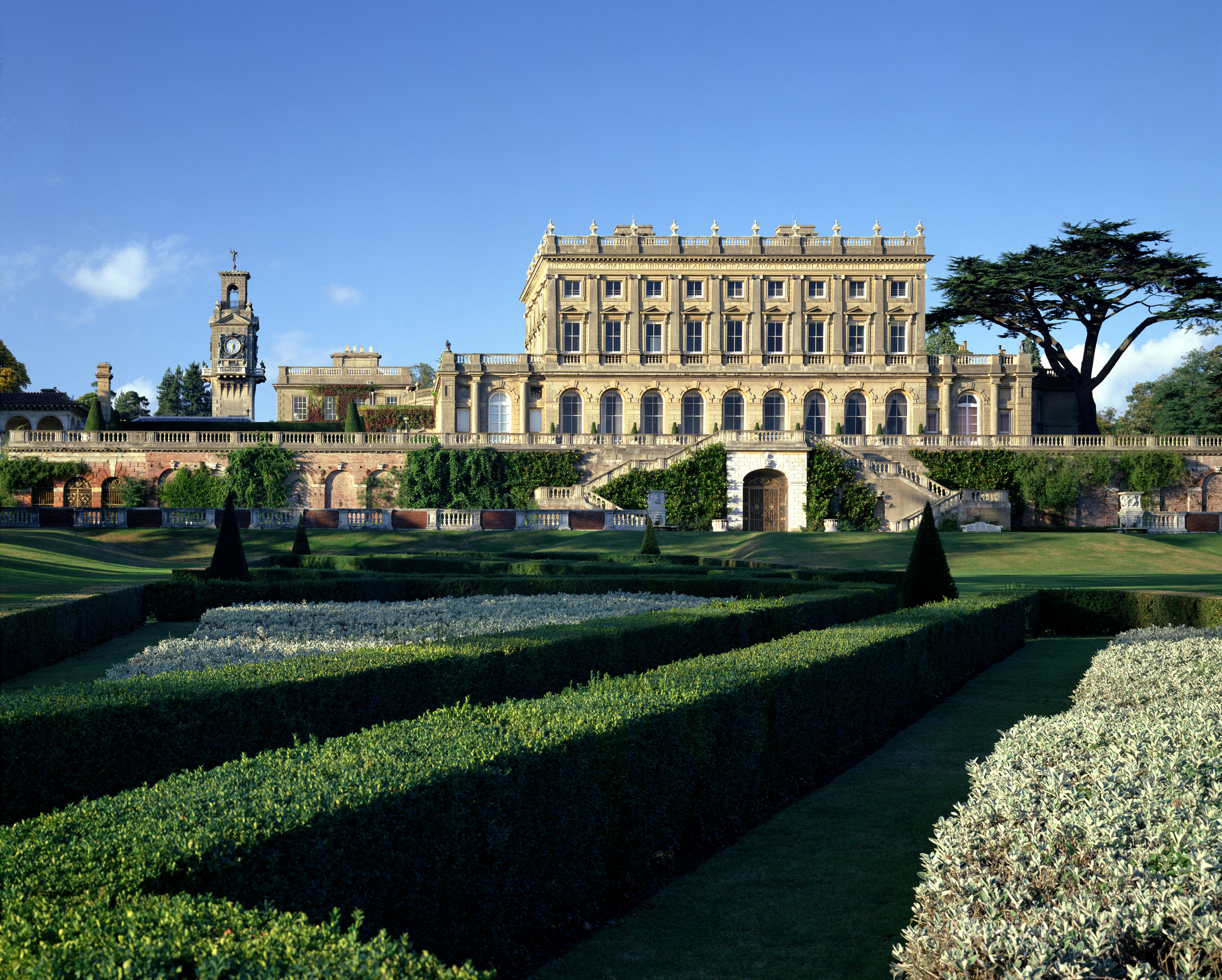 Enjoy the splendour of Stoke Park whilst being captivated by the iconic parkland setting. Most people know Stoke Park for its iconic feature as the background in the "Goldfinger" movie.
This magnificent palace is home to a 27-hole parkland golf course and was once owned by Queen Elizabeth I and William Penn. It's home to 49 intricately designed and world-class bedrooms - dreamy is an understatement!
All facilities are state-of-the-art, as expected from such a fine establishment.
Comfortably located 35 minutes from London and 7 miles from Heathrow airport.

Home to 49 beautiful bedrooms, a one-of-a-kind 27 hole Championship golf course, an award-winning spa, 13 exquisite tennis courts and an avant-garde gymnasium, you'll be sure to enjoy an enchanting Stoke Park experience.

Interesting info: Stuart King Charles I (1600-1649) was held fleetingly as a prisoner in the Manor House at Stoke Park.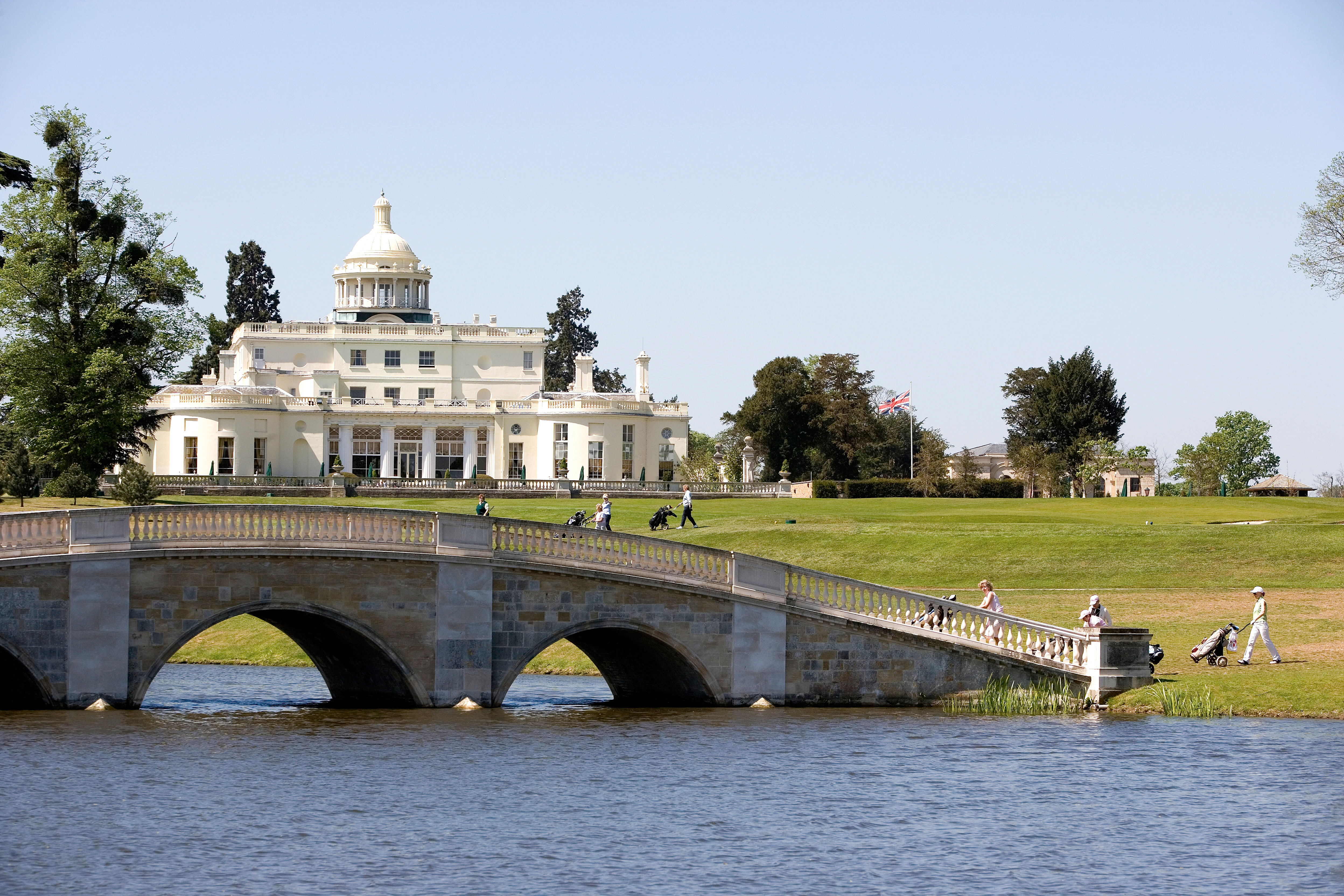 Iconically known as the home of the England National Football team before international events - the luxurious 128-bedroom hotel is simply fantastic.
It's an ultra-posh Georgian mansion with pristine facilities, including a 2 AA Rosette restaurant with a stunning drawing room, brassiere and cocktail lounge.
Any stay at Sopwell House will be unforgettable thanks to the state-of-the-art decor and elegant atmosphere - it's pure bliss.
Only 1.6 miles from the city centre and 26 miles from London.

Sopwell House is said to be the ultimate hidden haven for those who value pleasurable refinement and seek unrivalled freedom. Complementing this world-class ambience, guests will be welcomed by the homily warmth of a family-run hotel, a professional and dedicated team and a host of state-of-the-art facilities and services.

Interesting info: The last Governor of India's daughter Alice married Prince Andrew of Greece and was the mother of Prince Philip, Duke of Edinburgh. It is believed that a charming Prince Andrew proposed to Alice in the romantic gardens of Sopwell House.
Experience a 13th-century castle quite literally equipped for the royal family. Imagine mazes, gardens and lakes and an exclusive opportunity to stay in an iconic castle.
Spend the night in the Anne Boleyn Wing, looking out over the orchard. Incredible cuisine, professional staff and a magnificent royal atmosphere - it's an intriguing insight into another era.
Hever Castle might not be Buckingham Palace, but it is the ultimate getaway that will leave you feeling like a queen.
Only 30 miles south-east of London

It's home to 28 luxurious 5-star bedrooms located in the Astor Wing and Anne Boleyn Wing of Hever Castle.

Interesting info: The castle became the childhood home of Anne Boleyn, the second wife of King Henry VIII, who later went on to become the Queen of England for only 1,000 days.
The Flitch of Bacon is a timeless contemporary and quirky establishment that's an experience like no other. It's a 16th-century pub that houses incredibly cosy and inviting guest rooms that are perfect for a memorable occasion.
It's a classical-styled, comfortable and welcoming abode that will leave you enchanted by its quirkiness.
The rustic feel, unique ambience and outstanding location make the Flitch of Bacon an exquisite attraction to visit.
The nearest airport is London Stansted Airport, located around 10 miles from The Flitch of Bacon.

The Flitch of Bacon is the only Michelin-Star restaurant in Essex.

Interesting info: 'Flitch of Bacon' comes from an age-old custom practised in Dunmow in Essex. The award of a flitch of bacon (half a pig, cut sideways) was granted to any couple who had been married for at least a year and a day and could prove that they had never argued or regretted being married!
Only a short way out of London lies the magnificent Eastwell Manor in Kent Downs. A glorious rural setting with a neo-Elizabethan style.
Spectacular sprawling lawns, two restaurants, a golf course and world-class facilities - this is perfection.
If you're looking for a pristine getaway embodied in rural charm - look no further.
Equipped with a fitness centre and steam room, you can relax and unwind as you deserve.
Only 4.3 miles from Ashford International Station (for the Eurostar) and 5.4 miles off the M20.

There are 76 exquisite bedrooms and luxurious suites spread across the Manor House, Mews Cottages, and two Shepherds Huts. The 24 Manor House rooms are classically styled, with trundle beds, deluxe bathrooms and iconic views across the gardens and surrounding estate.

Interesting info: In 1874, Eastwell Manor was occupied by Prince Alfred, Duke of Edinburgh, the second son of Queen Victoria. He continued to live at Eastwell Manor with his family until 1893 when he inherited the Duchy of Saxe-Coburg and Gotha in the German empire. It's well documented that Queen Victoria was a frequent visitor during this time - there are photos of her skating on the lake.
The perfect marriage of modern and traditional, which curates an unforgettable experience for you and your loved ones. The contemporary-rustic design creates an exceptional homily atmosphere.
You'll be welcomed by professional staff, ready to accommodate your every need. The rooms are simply exquisite, and the cuisine and culinary experience are divine.
This is the perfect romantic getaway for couples, young lovers and old. Experience the majestic ambience of The Crown Hotel.
Only 0.8 miles from the railway and tube station and a mere 10 miles from the Hellfire Caves.

The Crown has 40 elegant and intricately designed bedrooms, two grandiose function rooms and an exquisite bar and restaurant.

Interesting info: The scene in Four Weddings And A Funeral where Andie McDowell and Hugh Grant get intimate was filmed at The Crown Hotel!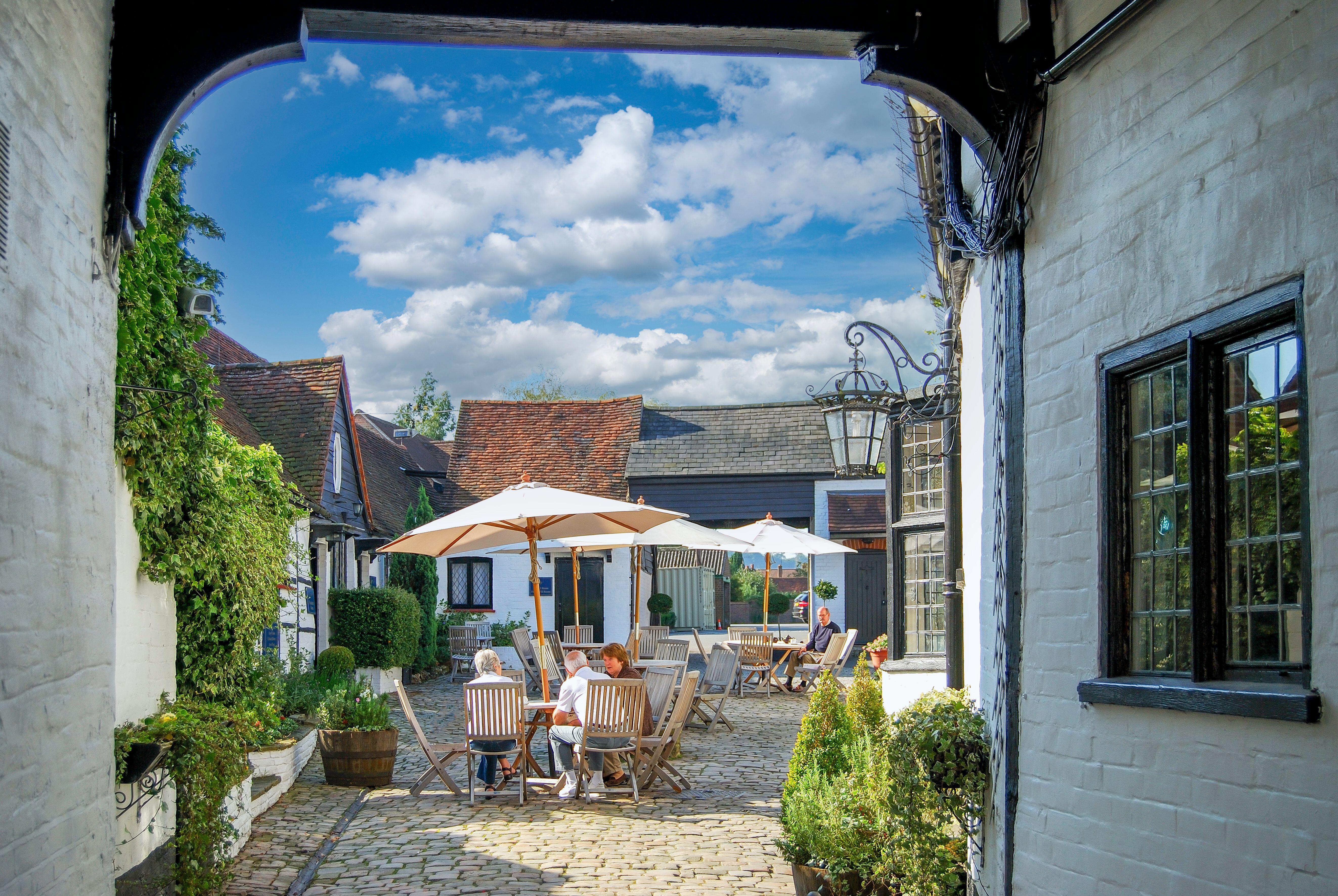 FAQs
What are some of the property amenities at Flitch of Bacon?
The Flitch of Bacon is an incredible establishment that caters impeccably for guests. Some of the property amenities include a dining room, bar, concierge, Wi-Fi, street parking and a banquet room.
It's a homely location that provides a wholesome experience. You're guaranteed excellent service, professional staff and an unforgettable atmosphere.
Can you take dogs to Coworth Park?
Dogs are not allowed at Coworth Park. However, an exception is made for service dogs.
How many bedrooms does Heckfield Place have?
Heckfield Place has 47 bedrooms, all of which are exquisite and perfect for couples. The rooms are maintained pristinely and assure guests have a comfortable and enjoyable stay.
How many Michelin Stars does Gravetye Manor restaurant have?
Gravetye Manor has one Michelin Star, which it retained for 2022.
Final Thoughts
A random inner-city London hotel is often the easiest to consider, but the real gems are located nearby but outside of the hustle and bustle.
A standard London Liverpool Street hotel doesn't leave you feeling satisfied and leaves you longing for something a little more luxurious. That's why you need to explore the finer establishments.
If you're looking for a romantic escape, some time away from home, and preferably a dip in an indoor pool - choose a luxury hotel near London!
Discover more luxury hotels throughout the UK
No matter where in the UK you are looking to go on holiday, we can give you plenty of ideas for luxury hotels you could stay in! Check out our other guides below: