Handbags make a statement, whether you are looking to freshen up your style with trendy new pieces or you seek a more timeless and classic look. But which designer bags have trended the most over the years, and which bags are still a fashion staple in 2023?
Our experts at Slingo, one of the UK's top bingo sites, have explored the top trending bags of this year and the long-standing pieces over the years. In addition, the new and upcoming handbags will be tested against the classics, to reveal how in-demand the newcomers are in comparison.
Finally, the most-followed designer bags' social media accounts will be analysed, to reveal which designers are the most Insta-famous.
The Most Iconic Bags in the World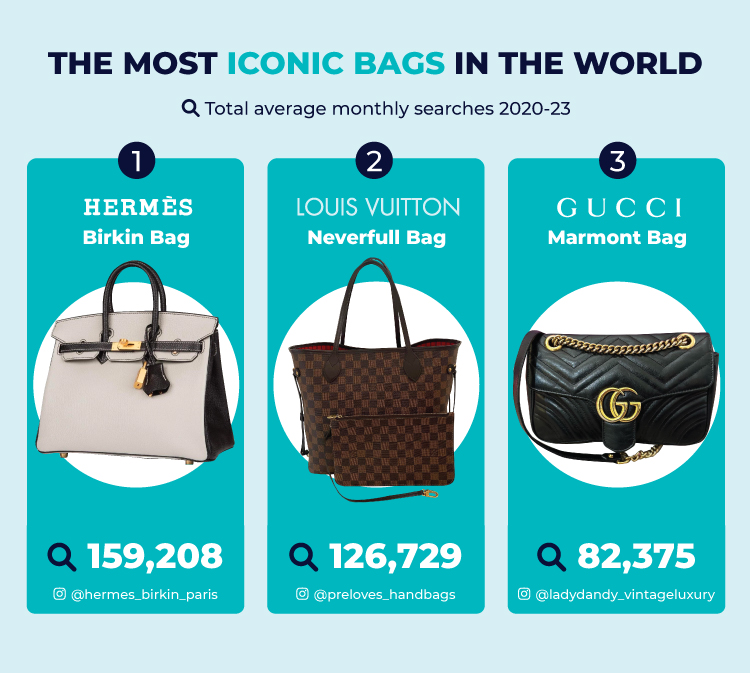 Hermès Birkin is the Top Trending Bag in the World, with nearly 160,000 Monthly Searches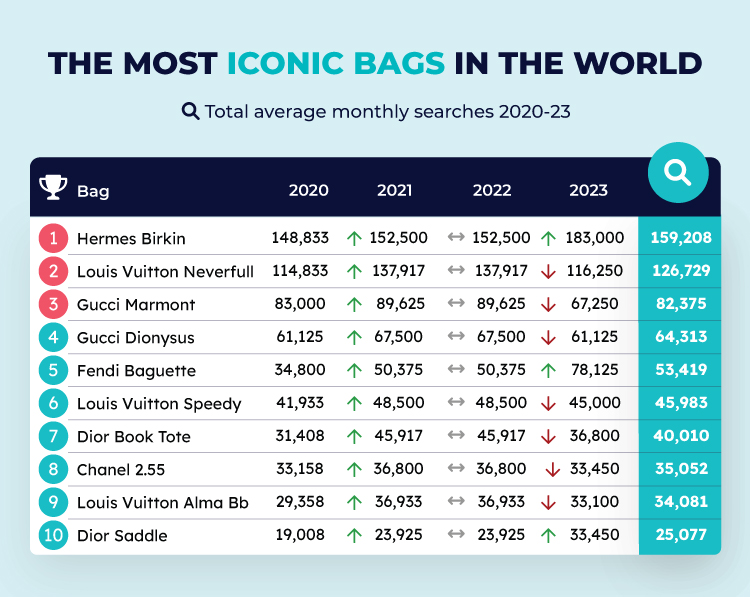 1. Hermès Birkin Bag
Total Average Monthly Searches: 159,208
The Hermès Birkin bag averaged the highest monthly searches out of 73 designer handbags, with a whopping 159,208 global searches. The iconic Birkin bag is a symbol of luxury and exclusivity, as purchasing a Birkin directly from Hermes is not an easy process. Customers must have a purchase history with the brand, and boutiques can only order a limited number of Birkins twice a year. The Birkin's exclusivity adds to its popular appeal, and it is considered an investment piece thanks to its timeless design and charm.
Back in 2020, searches for the desirable Birkin were at almost 149,000, but in 2023 they increased by 19%, to over 159,200 global searches. The Birkin has retained its popularity, despite its heavy price tag. Today, a standard leather Birkin costs around £10,000, but a crocodile and diamond-encrusted bag retails for as much as £200,000.  
2. Louis Vuitton Neverfull Bag
Total Average Monthly Searches: 126,729
In second place is the world's leading fashion house, Louis Vuitton's Neverfull Bag, with 126,729 average monthly searches. The classic style of the Neverfull hasn't depleted over the years, and this canvas piece remains a popular choice.
The iconic tote bag is an ideal size for travelling and doubles up as a weekend bag. The Neverfull is available in a Monogram canvas print and the Damier checker print in blue and brown, as well as the Empreinte leather and other seasonal designs. 
In 2020, the LV Neverfull had 114,833 average monthly searches. In 2023, the tote averages 116,250 searches per month, after just four months recorded. An increase in searches of 1.23% may seem small, but after being introduced in 2007 as a seasonal beach bag, the model has quickly achieved its status as a timeless classic.
3. Gucci Marmont Bag
Total Average Monthly Searches: 82,375
Finally, taking third place, is the Gucci Marmont handbag, with almost 83,000 average monthly searches. Since its debut in 2016, Gucci's portfolio of Marmont bags has grown exponentially and continues to rank as the most popular among luxury shoppers. With over 82,000 average monthly searches over the last three years, it's clear that this handbag is here to stay. The Marmont is defined by its archival symbol and soft maltase leather, and the collection includes shoulder bags, bucket bags, circular shapes and mini designs.
Top Trending Handbags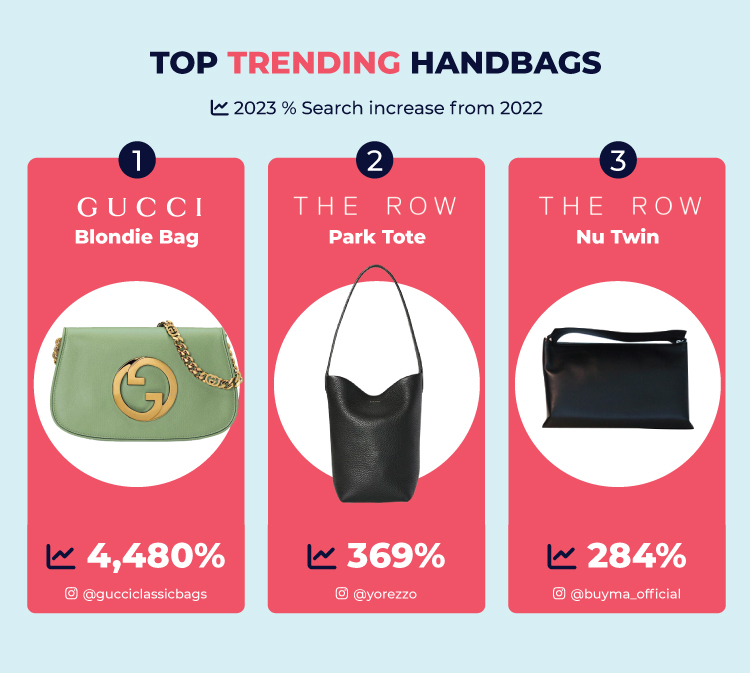 Introducing the 'It' Bag of 2023: The Gucci Blondie
1. Gucci Blondie Bag
2023 % Search Increase from 2022: 4,480%
The Gucci Blondie bag recorded the highest increase in searches out of 73 designer bags analysed, witnessing a staggering growth of over 4,480% between 2022 and 2023. The Gucci Blondie collection bag features the 70s interlocking G detail on the front that reworks the classic house emblem. Celebs including Anne Hathaway and Dakota Johnson have been spotted modelling the new bag, which could explain its surge in popularity. Prices for the Gucci Blondie bag begin at £2,000.
2. The Row Park Tote
2023 % Search Increase from 2022: 369%

The Row's Park Tote scored second place, with a search increase of 369% between 2022 and 2023. The Row, founded in 2006 by former Hollywood actresses Ashley Olsen and Mary-Kate Olsen, has built quite a reputation for its timeless and ready-to-wear luxurious bags.
The trusty tote bags are made with in-grained calfskin leather, and feature an interior toggle closure and flat handle. While The Row's handbag collection changes by season, its older styles remain vintage favourites. Influencers and celebrities have been seen toting their The Row accessories for years.

3. The Row Nu Twin
2023 % Search Increase from 2022: 284%
Another firm favourite from The Row is the Nu Twin, earning an increase in searches of 84% over the last year. This mini leather shoulder bag featured on the SS '20 runway is updated for spring with its minimalistic design, making it the essential bag for every day. The Nu Twin shoulder bag in black is crafted from grained calfskin, appearing as simplistic yet alluring.  The Row has captured the hearts of celebrity fans, including Zoë Kravitz, Sienna Miller and Margot Robbie.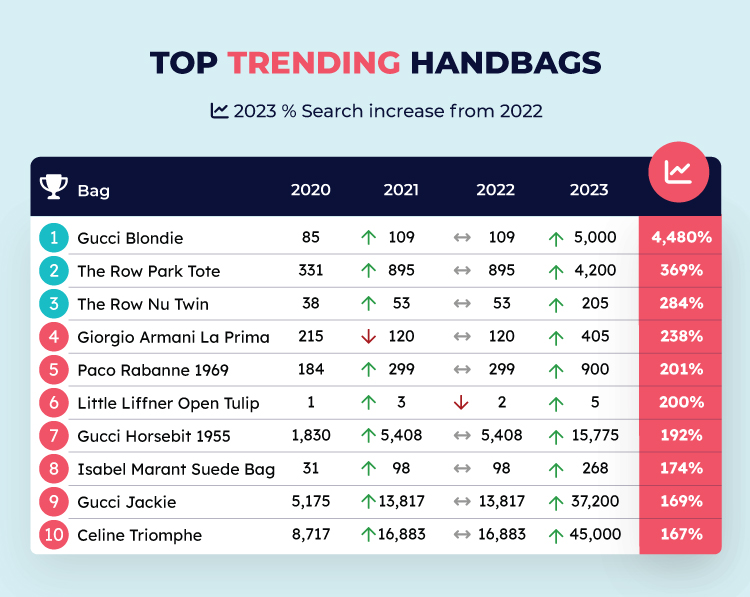 New Bags Vs. the Classics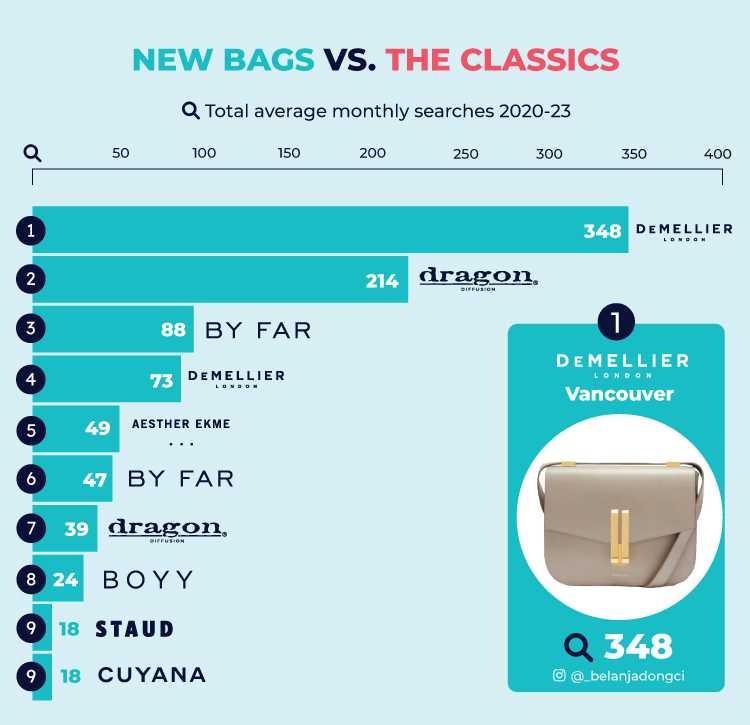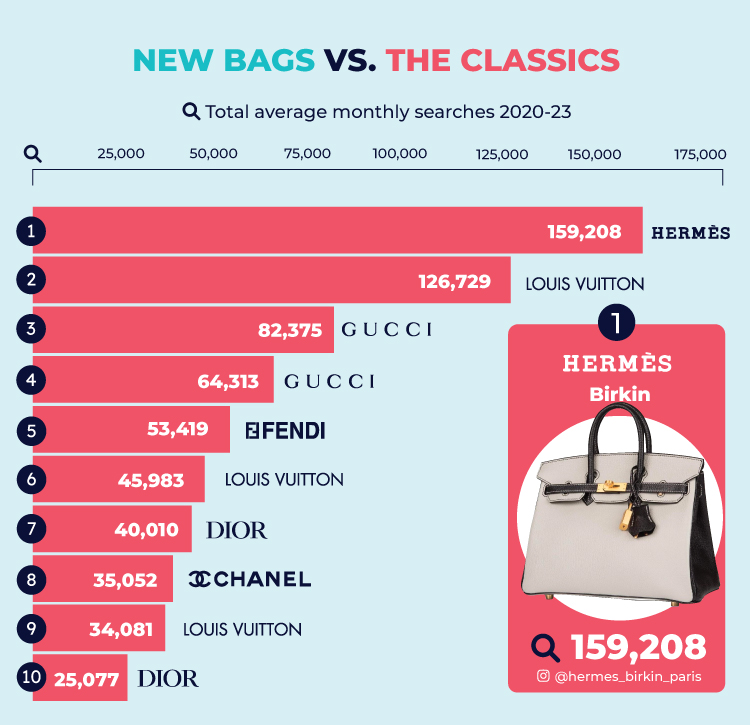 1. Demellier Vancouver Bag
Total Average Monthly Searches: 348
The Vancouver, which is a part of DeMellier's new spring and summer collection, had the highest average monthly search volume, with 348 searches between 2022 and 2023. DeMellier's vintage yet contemporary crossbody with customisable monogramming is the most popular bag out of the newbies, but how does it compare to our OG's? 
The Vancouver bag, when compared to the Hermès Birkin, still has a long way to go, with Hermès topping almost 160,000 monthly searches. However, if the bag remains as much a summer staple as it has this year, the DeMellier model stands a chance of becoming the more affordable version of this year's iconic "It" Birkin bag.
2. Dragon Diffusion Nantucket Bag
Total Average Monthly Searches: 214
Dragon Diffusion's Nantucket bag received the second-highest monthly search volume with 214 searches in the last year and four months of 2023. The large basket-style bag is made from slim leather ribbons to create a lightweight, durable form. Its size is comparable to Louis Vuitton's Neverfull, but it has more of a woven-basket style, making it an attractive summer staple. 
The Nantucket from Dragon Diffusion ranks second, alongside Louis Vuitton's Neverfullfrom the OG's, but the Neverfull received a huge monthly search volume of 126,729. This newcomer might bring LV some competitive advantage, particularly when it comes to its price point (the Nantucket retails at around £395).
The craftsmanship of the Nantucket is similar in its premium quality to the LV model. It is handmade, with skilled artisans in India using traditional methods to tightly weave this beige Nantucket basket bag from leather strips, which is designed to develop a unique patina.
3. BY FAR Miranda Bag
Total Average Monthly Searches: 88
The Miranda shoulder bag by cult brand BY FAR received the third-highest monthly searches, averaging 88 Googles a month. The vintage style bag features a single shoulder strap, foldover top with magnetic fastening and decorative buckle detail.
Inspired by '90s fashion and the early noughties, this bag gives the Gucci Marmont shoulder bag a run for its money, with a price tag starting at just £530, though it is often on sale. Released in Spring 2021 but still going strong in 2023, the Miranda bag is living proof that '90s shoulder bags seem to be the trend that just won't quit. Compared to the Gucci Marmont, the Miranda bag is more than half the price tag and is much easier to get a hold of, as the bag is available across several shopping outlets.
The Most-Loved Handbag Brands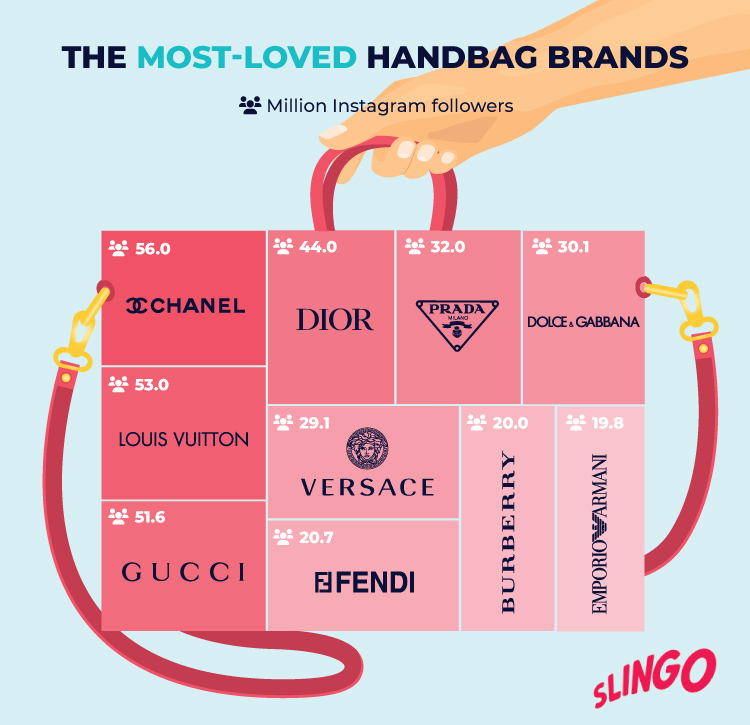 Chanel is the Most Insta-Famous Designer Bag Brand in the World
1. Chanel
Instagram Followers: 56 million
Topping our list of Insta-worthy designer bag brands is the luxury-fashion house Chanel, with 56 million followers across the world. One of the main reasons why Chanel is so famous and expensive is down to its rich history. Coco Chanel, the founder of the brand, began at the age of 20 when she began selling hats in Paris. Coco was inspired by menswear and modified them to be comfortable for women (at a time when women's clothes were considerably uncomfortable).
Now, the fashion house hosts a total of six seasonal collections per year: the Croisière (Cruise) Collection, Printemps (Spring or Spring/Summer Act 1) Collection, Summer or Spring/Summer Act 2, Métiers d'Art Collection, and Fall/Winter Acts 1 and 2.
2. Louis Vuitton
Instagram Followers: 53 million
Fashion icon Louis Vuitton is one of the most popular luxury brands in the world, with an Instagram following of 53 million. The brand has managed to maintain its desirability throughout history by upholding its impeccable quality and creating strong demand, through the use of celebrities and upper-class citizens being its main clientele. All of these factors contribute to its appeal and have led to a strong and loyal customer base.
3. Gucci
Instagram Followers: 51.6 million
Gucci is one of the most recognised and respected fashion brands in the world, known for its innovative designs and distinctive branding. Gucci ranked third place for the most Insta-worthy bag brands, with 51.6 million loyal followers. The name is still pretty much everywhere, when celebrities like Kylie Jenner, back in 2018, made headlines for carrying her baby in a $625 Gucci baby carrier. During the first half of 2018, Gucci's sales nearly doubled.
Methodology
We began by curating a seed list of the most popular designer bags, taken from articles like Bazaar's 30 designer handbags that will stand the test of time and Vogue's best designer handbags.
Google Keyword Planner was used to find the number of searches worldwide for each handbag name, for the years 2020, 2021, 2022 and the four months of 2023. Then, we calculated the average monthly searches for each year. We were able to directly compare 2023 data by dividing the total by the number of months currently available.
Any bags without substantial search data for 2020 were excluded from the list, to avoid skewed results when comparing to 2023 search increases. 
To create a seed list of the new bags, we used various articles, including Glamour's best designer bags, and Vogue's emerging handbag brands. 
Google's Keyword Planner was used to gather search data for 2022 and the four months of 2023, before calculating the average monthly searches for each bag. We were then able to directly compare the new bags to the old classics. This data is accurate as of 18/05/2023.
The number of Instagram followers was taken for every classic designer brand analysed, before ranking from the highest to lowest follower count. This data is accurate as of 18/05/2023.