Wales is home to a multitude of beautiful luxury holiday cottages. From the mountains to the sea, you'll be surrounded by natural beauty and enjoy a relaxing and memorable stay.
In need of a romantic getaway? Look no further than the Welsh coast. To help you plan the perfect getaway, we've found some of the best luxury cottages - and you could stand a chance to stay at one of them by playing on Slingo!
For all the best luxury travel inspiration, be sure to check out our lifestyle news.
1. Enlli Lodge - Barmouth, Snowdonia & the Llyn Peninsula
The Enlli Lodge is self-catered and a perfect retreat for two. You can enjoy the hot tub and admire the beautiful sea and mountain views. The lodge can be found on the North Wales coast and is close to a little village with a pub, restaurant, and shop. So, you can also enjoy a night out from time to time!
The coastal path is right on your doorstep, and you can treat yourself to the cafes, restaurants, and cute stores in Barmouth, the seaside town. The Harlech Castle's World Heritage Site is also nearby. Enlli is a very private space inside and outside but has plenty of room for more than two guests if you are wanting to accommodate a larger group.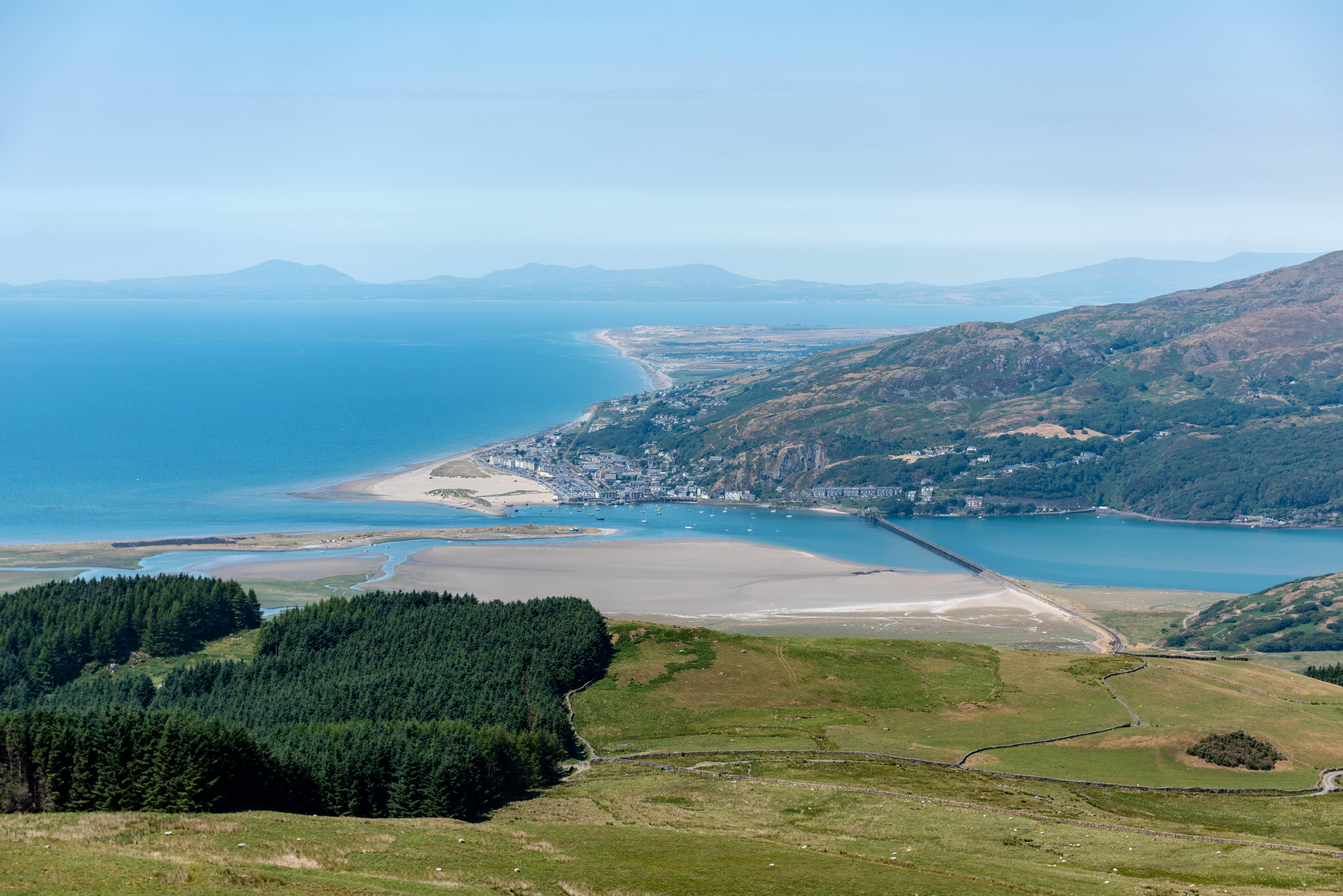 Next, Coastal View! This gem has one bedroom and can sleep two guests. It's in Oxwich and within walking distance of the Wales coastal path. It is also not too far from Oxwich Bay, where you can find a famous beer garden, two lovely restaurants, and many stores for you to explore. 
Coastal View is a luxury cottage located on a farm with stunning sea views and a lovely outdoor area for sitting in. The cottage is pet friendly, has wifi, and has many wonderful amenities to make it a pleasant and comfortable stay.
3. Tir Bach Iago - Aberdaron, Snowdonia & the Llyn Peninsula
Tir Bach Iago sleeps two guests and is perfect for couples, making for a romantic and relaxing retreat. The cottage is located on the Llyn Peninsula, sitting comfortably near the Wales coast path and a lovely little beach. You can find Aberdaron at the peninsula's tip; it is a beautiful seaside village! Why not adventure around the town and explore all it has to offer?
There are various pubs and restaurants with spectacular sea views that will just take your breath away! Also, there are a number of quaint tea rooms and cafes, or you can take a trip to the island of Enlli, otherwise known as Bardsey Island. It is a short boat trip, and there is much to explore!
4. Y Ddol Bach - Abersoch, Snowdonia & the Llyn Peninsula
Y Ddol Bach is a detached cottage that sleeps two guests in one bedroom, so perfect for couples wanting to get away for a romantic holiday. The cottage is spacious, practical, and luxurious, complete with a beautifully refurbished kitchen, dining area, front lounge, and garden. What's more, Y Ddol Bach cottage is surrounded by fantastic countryside and sea views!
We highly recommend going to explore - You can talk a walk down to Mickeys Boatyard beachside bar and cafe at Abersoch beach. Or a 20-minute walk to the Abersoch village. You can also take a drive to see the coves and sandy beaches in the Lleyn Peninsula or explore some picturesque villages.
Queens Road Studio sits comfortably next to the village of Mumbles and provides an excellent opportunity to explore the Gower Peninsula. Complete with a bathroom, kitchen, studio room, courtyard, and fabulous bedroom that sleeps two guests, the cottage has all the necessary amenities to equip you for a fantastic stay. Though bear in mind that young children and pets are not allowed on the property.
There are a multitude of shops and restaurants nearby, and you can even take a short walk to Oystermouth Castle, Newton Road, or the promenade to do some sightseeing. You are sure to have a relaxing and beautiful getaway!
Limeslade Court is the perfect beach escape, ideally located by the coastal path. The path itself can take you to Langland or Rotherslade, where you can find a lovely beachside cafe. It isn't a long walk away, but you can also go by car if you'd prefer. You will also find Bracelet Bay and Limeslade right on your doorstep.
Why not visit Castellamare, a delicious Italian cafe and restaurant, or treat yourself to an ice cream from Fortes Ice cream parlour. Mumbles is nearby, and the village has various cafes, boutique shops, and bars. Limeslade Court can sleep two guests comfortably in a king-sized bed and is fully equipped to offer maximum comfort.
7. Cae Cefn - Aberystwyth, Pembrokeshire & West Wales
If you are looking for a self-catering cottage holiday that's rural and quiet, then Cae Cefn is the place for you! This cottage is not too far from the town, so you're spoilt with stunning sea views on the one hand and various pubs and restaurants on the other.
The cottage lies on the Mid Wales coast and is near Aberystwyth's cliff railway and promenade and Ynys Las and Borth beaches - so there is much to do and see while you are there. Equipped with a large garden and spacious living areas, you'll have everything you'll need for a perfect stay.
8. The Hideaway - Saundersfoot, Pembrokeshire & West Wales
The Hideaway is perfectly positioned around some of the main attractions of Saundersfoot. It's quiet and peaceful but not too far from the delicious local eateries, where you can indulge in fantastic food and wine. It is also close to Blue Flag Beach, where you can paddle in the water and browse the various stores.
The cottage has a private garden where you can enjoy the BBQ or curl up by the firepit. You can also explore Tenby, stroll through the cobbled streets, and venture into the various shops and pubs. The cottage sleeps two guests and also allows two dogs!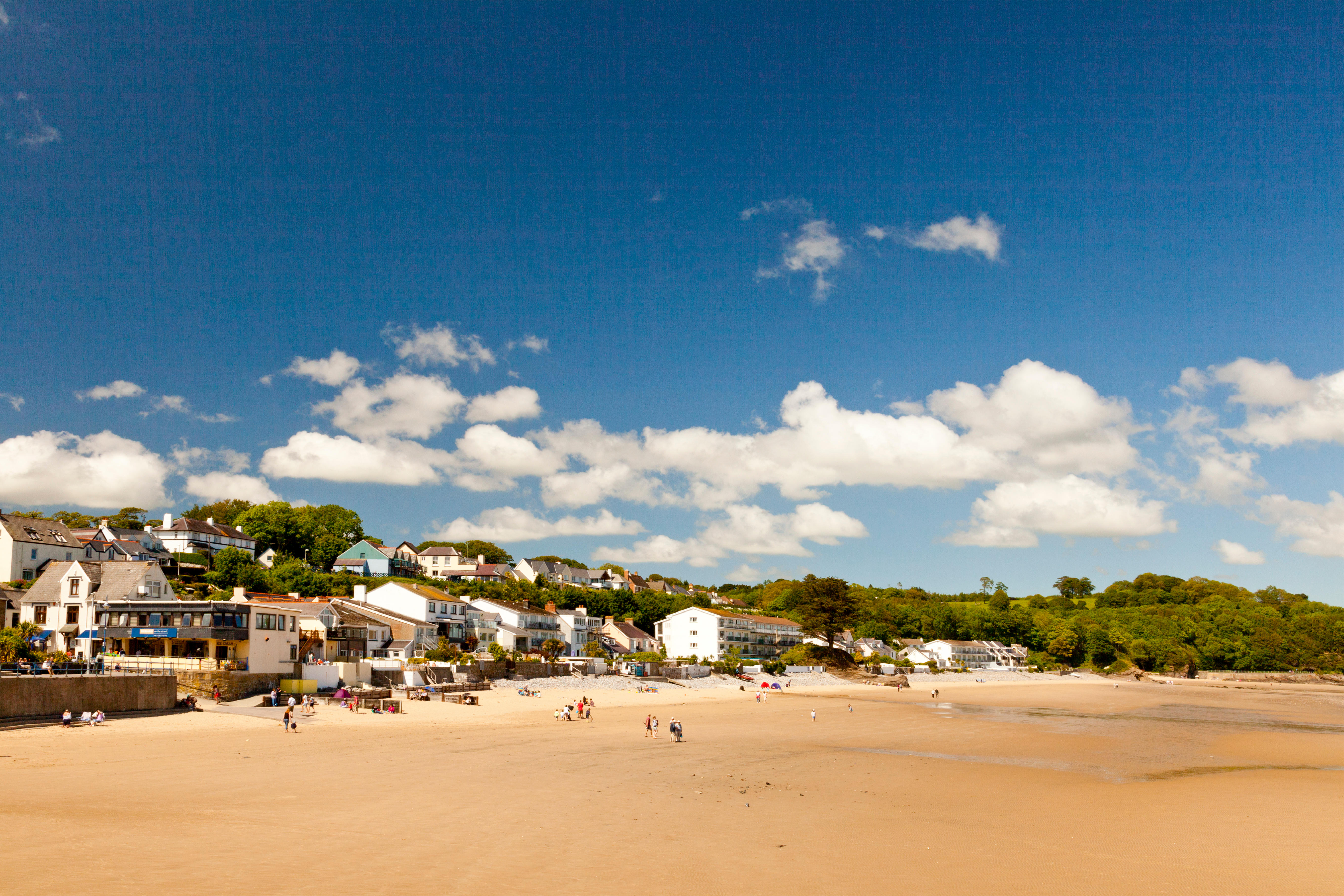 Mulberry Hill sits in a beautiful Victorian garden where guests can enjoy the stunning views of Three Cliffs Bay. The cottage is away from the road and is pretty quiet.
There are many footpaths to explore too - the Gower Way is a quick walk away where you can enjoy the panoramic sea views. Mulberry Hill is comfortable and well equipped for two guests to enjoy a wonderfully relaxing stay
10. Dan-y-Graig - Porthcawl, South Wales
Dan-y-Graig is a self-catered, detached little cottage in the South of Wales. The cottage is surrounded by forestry, trees, and an orchard - all very close to the beach. There are lots of activities available nearby to get stuck into, as well as a few golf courses nearby.
This cottage is perfect for those wanting a relaxing break from the real world whilst still indulging in fun and exciting outdoor activities. You will also be spoilt for choice with the various restaurants and pubs around!
11. The Nook - Llanbedrog, Snowdonia & the Llyn Peninsula
The Nook is perfect all year round. During the summer months, you can enjoy the outdoor garden and relax with a glass of wine. In the winter months, you can enjoy cosy nights in with a warm cup of tea. The Nook is in Llanbedrog, a lovely seaside village.
The village hosts several pubs and stores. You can visit Tremfan Hall restaurant, The Ship Inn pub, Glyn y Weddw pub, and the Plas Glyn y Weddw cafe and art gallery. This luxury cottage is small yet comfortable and is a perfect pick for couples.
Found in the lush gardens of Summercliffe Chalet Park, Whiteshell 17 is fantastic for beach lovers and families. Take a short stroll and enjoy beaches like Caswell Bay, where you can also find a multitude of shops and restaurants to frequent.
There are tons of attractions to explore in the area! Plus, the cottage is both pet friendly and sleeps two people.
13. Heol y Goron - Conwy, Snowdonia & the Llyn Peninsula
Heol y Goron is in the centre of town but is still quiet and beautiful. Why not take a walk to the High Street and explore the restaurants, cafes, delis, and shops? There is also a stunning Medieval castle, marina, and beaches. We highly recommend visiting the Snowdonia national park while you're there!
You're in for a treat when you visit Heol y Goron as there is so much to do, see and experience. Whether you want to relax, adventure, or have a good time; you can have it all when you stay here.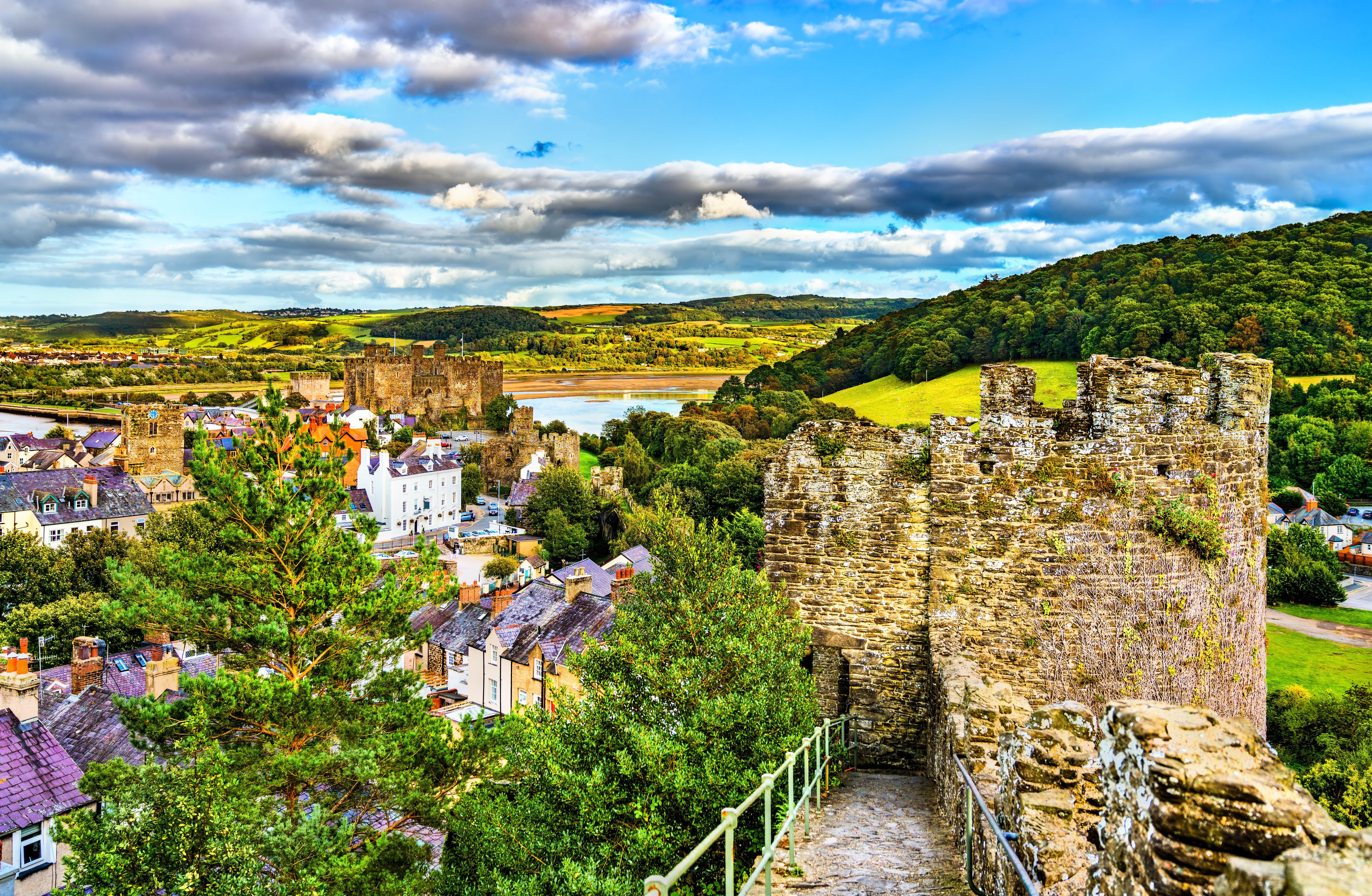 14. Swallows Cottage - Solva, Pembrokeshire & West Wales
Swallows Cottage is between St Davids and Solva and is the perfect stay for exploring, walking, sailing, and relaxing. There are various things to do and see in the town, and the cottage is the ideal spot to wind down and relax. Swallows Cottage is dog friendly and sleeps two people.
There are tons of activities to try out - from cycling, watersports, and golf to fishing, pony trekking, and horse riding. So you can have a fun, adventure-filled holiday - no matter your interests!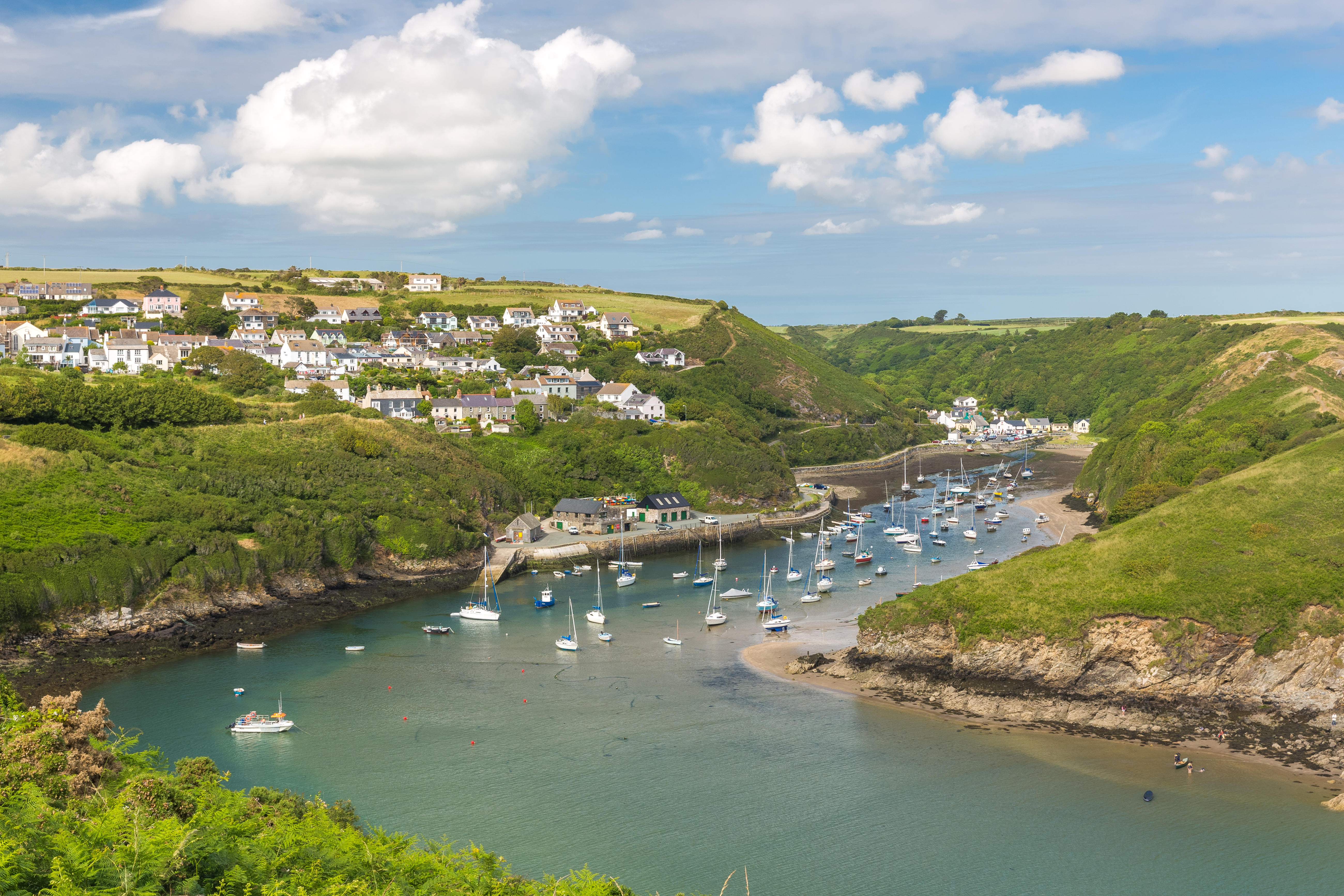 15. Bwthyn Bach- Gower, South Wales
Bwthyn Bach is perfect for couples wanting a little cottage retreat. The cottage boasts views of Swansea Bay and is surrounded by excellent local beaches like; Caswell Bay, Rotherslade, and Langland Bay.
Bwthyn Bach cottage is beautiful, comfortable, and a great escape as it has all the amenities one would need. You can also visit Mumbles Pier and the lighthouse near Bwthyn Bach.
FAQs
Is The Hideaway pet friendly?
Yes, it is. The Hideaway welcomes two dogs, but at an extra charge of 25 pounds per pet per week. However, you will need to bring your own dog bed with you as the dogs are not allowed on any furniture.
What is there to do near Enlli Lodge?
There are some lovely beaches near Enlli Lodge. It is also close to Tal-y-Bont, a village with a restaurant, pub, and shop. One can also go to Barmouth or go and explore Harlech Castle's World Heritage Site. There are also various activities, such as horse riding, golf, watersports, fishing, and cycling.
What are the check-in and check-out times at Bwthyn Bach Holiday Cottage?
The check-in time at Bwthyn Bach is 4:00 pm, and the check-out time is 09:00 am. Luckily there is a lot to explore around the cottage, so you can also kill some time with incredible sights and activities.
Final Thoughts
There are so many beautiful holiday cottages in Wales - everyone is bound to find something that suits them. Whether you want to relax, enjoy some outdoor activities, or indulge in fine foods and delicious wines, these coastal cottages are the place to be. Why not venture to the west coast of Wales and stay in Cardigan Bay and enjoy the national parks, Pembrokeshire coast, and stunning beaches.
The options are endless, and you are guaranteed to have an unforgettable holiday no matter where you stay. Wales is a beautiful and unique place - you'll definitely want to experience its magic and all it has to offer.
So, play some games on Slingo and turn your Welsh holiday dreams into a reality! A romantic and luxurious break might be just one game away!
Or, discover more luxury accommodation throughout the UK!
Make the most of the beautiful British countryside with some luxury cottages you can find up and down the UK. Check out our other guides below: