Many of us dream of travelling the world. Whether you want to ascend to the heights of a towering mountain or explore the exotic hidden world of a coral reef, there is so much to see and so many places to experience. 
You might think you need to jet off to foreign lands to find nature you have never seen before, but you may be surprised at what could be outside your front door. Discover the best places in the world for a natural adventure and see how your country compares. 
Adventure experts at Slingo have discovered where the world's most beautiful adventures are by analysing the number of volcanoes, coral reefs, mountains, waterfalls, and national parks that are located in countries all around the world.
The best countries to experience the most beautiful adventures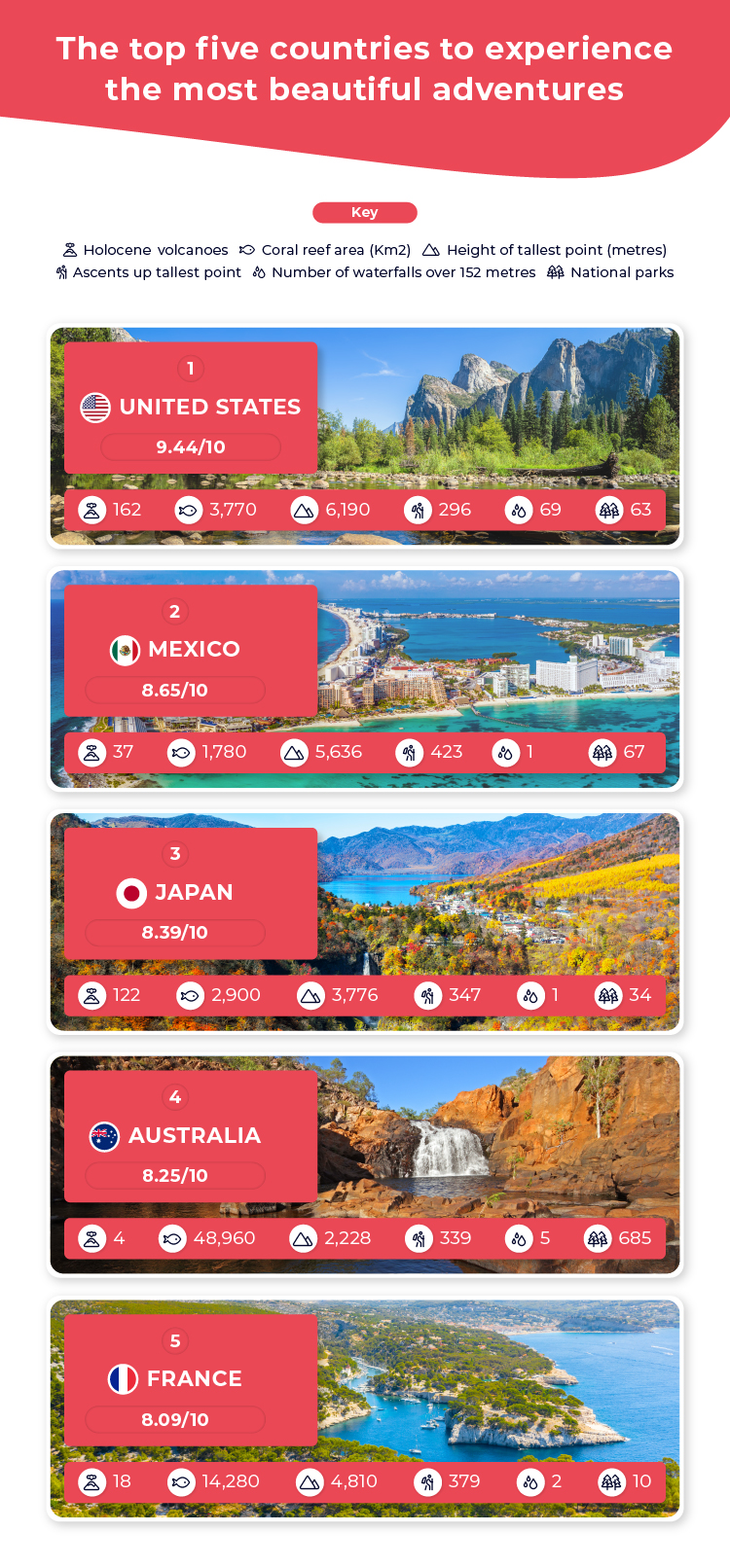 1. United States - 9.44/10
Holocene volcanoes - 162
Coral Reef area (Km2) - 3,770
Height of tallest point (metres) - 6,190
Ascents up tallest point - 296
Number of waterfalls over 152 metres - 69
National Parks - 63
The United States has been revealed as the best country for adventure holidays offering an incredibly large range of opportunities to experience the great outdoors. The US is home to 162 volcanoes, 69 of the longest waterfalls in the world, and 63 stunning national parks, including the world-famous Grand Canyon National Park and Yellowstone National Park. 
America is a stunningly diverse and beautiful country, full to the brim with the most spectacular views. The sheer variety when it comes to natural landscapes that the US has to offer is mouthwatering for any adventurer. Your next US visit could see you exploring the vast deserts of the Southwest, trekking through the rolling plains of Texas and Kansas, relaxing on a cool tropical beach in Florida, or gazing up at giant redwoods in California.
You can find some of the most beautiful adventures in the heart of the United States, whatever landscape you are looking for. From stunning beaches and smouldering deserts in the West to big-name cities and theme parks in the East, the United States leaves you wanting for nothing.
2. Mexico - 8.65/10
Holocene volcanoes - 37
Coral Reef area (Km2) - 1,780
Height of tallest point (metres) - 5,636
Ascents up tallest point - 423
Number of waterfalls over 152 metres - 1
National Parks - 67
Mexico is most known for sombreros, horse riding, and tequila, but this is just a glimpse of what is offered in Mexico for a willing adventurer. Adventurers of all shapes and sizes will be glad to hear that Mexico's highest point, the Pico de Orizaba, has over 400 ascents providing everyone with enough choices to find the best climb for the best views.
There are also 67 national parks throughout the country, each offering its own unique experiences. Some have coral reefs full of wildlife while others have mountains brooding at their centres. For sheer jaw-dropping natural beauty, there is the Sumidero Canyon National Park. For adrenaline junkies looking for their fix of rock climbing and exploring, then you have Grutas de Cacahuamilpa National Park to check out. There is a national park for any adventure located in Mexico. 
Some of the most fascinating places to visit in Mexico are its cenotes - stunning hidden swimming pools which the ancient Mayans believed to be the portals that allowed you to speak with the gods. The water inside Cenotes is so clear you can see straight through it like glass. Underwater photographers will be thrilled with the clear waters these hidden cenotes have on offer.
3. Japan - 8.39/10
Holocene volcanoes - 122
Coral Reef area (Km2) - 2,900
Height of tallest point (metres) - 3,776
Ascents up tallest point - 347
Number of waterfalls over 152 metres - 1
National Parks - 34
Japan is a stunning country with lots on offer for the keen adventurer. With 122  jaw-dropping volcanoes dotted throughout the country, there are lots of spectacular outdoor landscapes to explore. You could find yourself flying over ancient volcanoes in a helicopter or following in the footsteps of ancient samurai in Japan's idyllic countryside. 
One of the most recognisable landmarks in Japan is Mount Fuji, the tallest and most famous volcano in the country. The most popular period for people to hike up Mount Fuji is from July to August, while huts and other facilities are operating and the weather is warmest. There are eight peaks around the crater at the summit and climbers can visit each of these peaks.
Japan's ancient history and traditions still run strong throughout the country. Outside the dazzling lights of Tokyo, you'll find sacred mountain trails, tropical coastlines and coral reefs, and the Japanese Alps. You could even find yourself trekking the outdoors with a living Buddha or visiting monks in an ancient monastery.
4. Australia - 8.25/10
Holocene volcanoes - 4
Coral Reef area (Km2) - 48,960
Height of tallest point (metres) - 2,228
Ascents up tallest point - 339
Number of waterfalls over 152 metres - 5
National Parks - 685
Australia has one of the largest areas of coral reefs in the world, second only to Indonesia. Australia's Great Barrier Reef is renowned worldwide for being on every traveller's bucket list - and for good reason. The Great Barrier Reef is home to over 1,600 species of fish, including rare species of whales and six out of seven of the world's species of sea turtles. 
At Australia's coral reefs, you can swim casually among stunning coral formations, scuba dive to the depths of the ocean, or soak up the sun on soft lazy sands. Australia also offers a  huge variety of national parks in the world coming in at a whopping 685. Discover winding creeks, lush rainforest and jagged cliffs, or hang out with lounging kangaroos, explore hidden gorges and take a dip in crystal clear waterholes.
In addition to having some of the most popular coral reefs and national parks in the world, Australia is also home to Mount Kosciuszko, the highest peak in the country which stands at 2,228m. With over 300 ascents up the mountain, you'll be able to find the climb that works best for you and experience Australia's most incredible views.
5. France - 8.09/10
Holocene volcanoes - 18
Coral Reef area (Km2) - 14,280
Height of tallest point (metres) - 4,810
Ascents up tallest point - 379
Number of waterfalls over 152 metres - 2
National Parks - 10
France rounds off the top five best countries for adventure holidays. Coming in with a total of 18 volcanoes, 14,000 Km2 of coral reef area, and ten well-kept national parks, France is a brilliant place to visit for an outdoor adventure holiday. Most known for romance, art, and the Eiffel Tower, France also has some of the most stunning landscapes on the planet where you will fall in love with France's dramatic alpine scenery. 
France is a much-loved family holiday destination. Not to mention the country's great cuisine, France has a wonderful climate and exciting countryside, too. Blessed with stunning landscapes consisting of Alpine mountains, beautiful meadows, rivers, lakes, waterfalls, and spectacular coastlines, France is a must-visit for a beautiful holiday.  
Many adventurers flock to France every year to ski in the French Alps or explore the crystal-clear waters of the Côte d'Azur, where you can find some wonderful dive and snorkel sites. France is also home to 14,000 km2 of coral reefs, 10% of the world's total, offering some of the most memorable underwater experiences.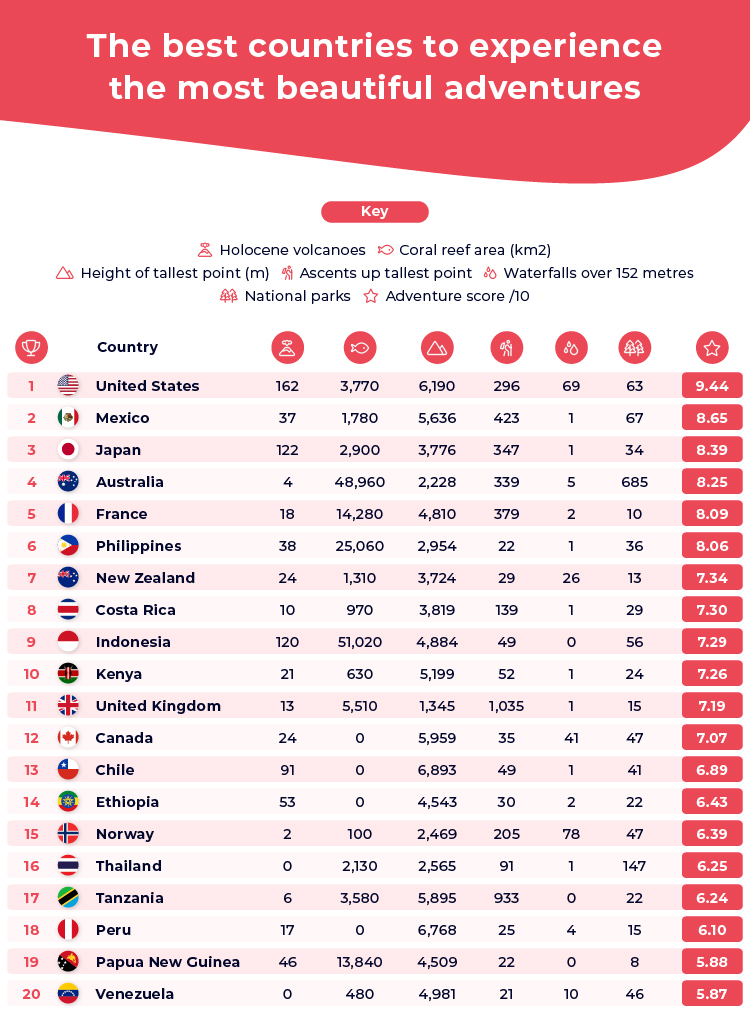 Planning your next adventure
To plan your next great adventure, take some time to consider what you want to experience and what you want to cross off your bucket list.
Where to find the most volcanoes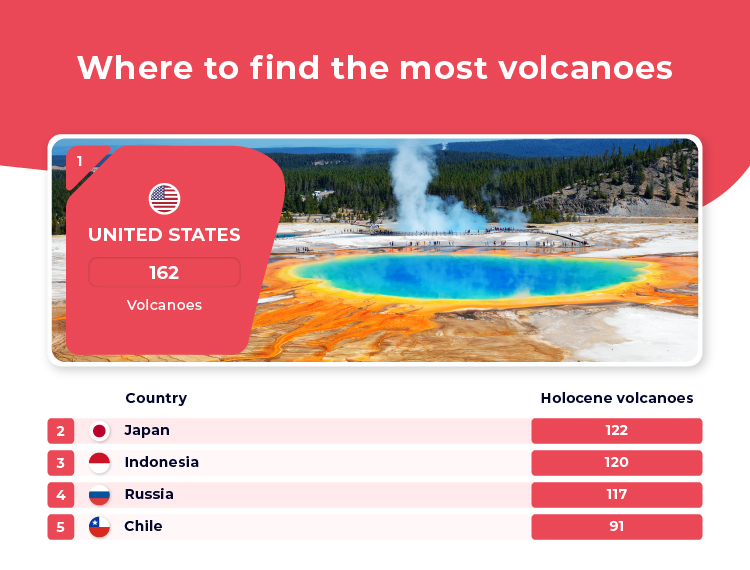 The United States - 162 Volcanoes
The United States tops the volcano leaderboard recording a whopping 162 volcanoes throughout the 50 states. Thrill seekers will be glad to hear that the USA is also home to over 10% of the world's potentially active volcanoes. The most popular and well known volcanoes are Mount Saint Helens in Washington, Mount Hood in Oregon (also the second most climbed volcano in the world) and Yellowstone Caldera in Wyoming.
Volcanoes offer spectacle over and above that of mere mountains. Their violent origins tend to create naturally stunning landscapes that attract sightseers from all around the world. You can enjoy the most impressive landscapes, scenic hiking trails and relaxing hot springs on your next visit to a volcano.
Where to find the most coral reefs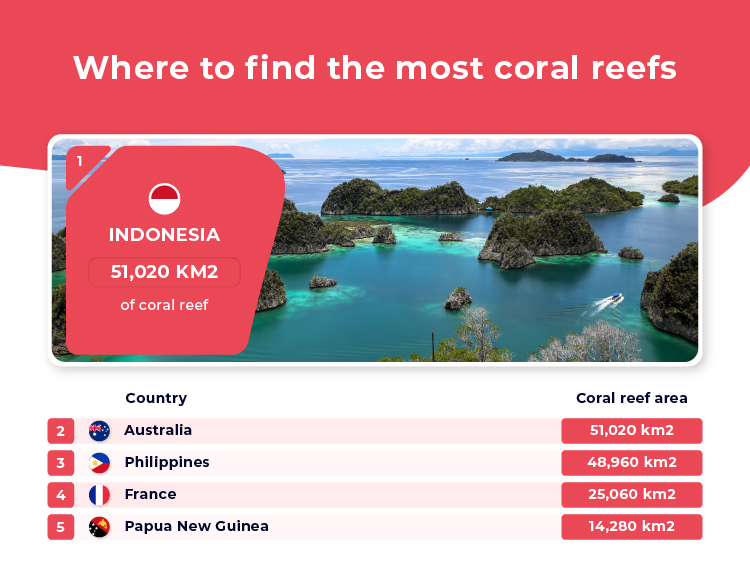 Indonesia - 51,020 km2 of Coral Reef
Indonesia is home to 17.95% of the Earth's coral reefs, followed closely by Australia with 17.22% (48,960 km2). Venture beyond Indonesia's West Papua and you'll find the islands of Raja Ampat, a marine oasis for coral reefs and wildlife. The waters surrounding these islands boast some of the most diverse and incredible biodiversity in the world. Spot thousands of different species of reef fish, hundreds of corals, sharks, and manta rays.
Coral reefs cover less than 1% of the ocean floor, yet, they are home to more than 25% of all marine life. If you are a wildlife lover, a coral reef is the perfect adventure holiday. Coral reefs are home to whales, sea turtles, and thousands of species of fish, and form some of the most vibrant natural habitats in the world.
Where to find the most mountain ascents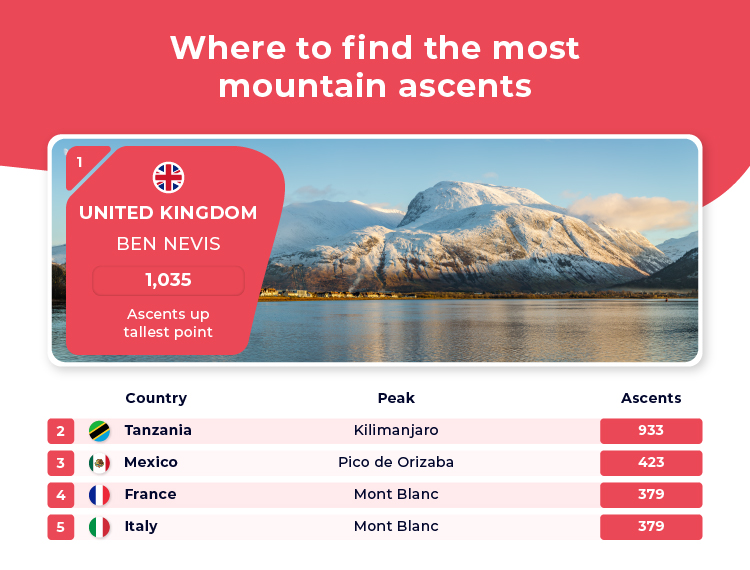 United Kingdom - 1,035 Ascents up Tallest Point
Ben Nevis, Scotland, is the tallest point in the United Kingdom and the British Isles. The summit reaches 1,345 metres above sea level and is the highest land in any direction for 459 miles. Ben Nevis can be a challenging climb, being the tallest mountain in Britain. However, anyone who is in good physical condition can make it to the peak. With over 1,000 ascents you will be able to find the ideal climb for your abilities. 
Outdoor adventurers can't go wrong with a mountain climb. Many mountains have tens if not hundreds of access points where you can make your ascent, so you can always find the best route based on your skill set and how long you want your journey to take. Make sure you pack up enough gear and provisions though, as climbing mountains can be dangerous for the unprepared. 
Where to find the most waterfalls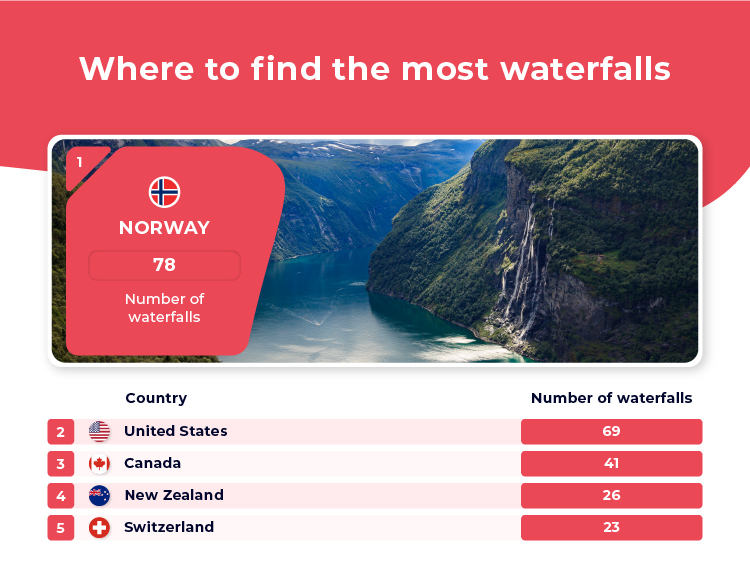 Norway - 78 of the World's Longest Waterfalls
Norway is home to 78 of the world's longest waterfalls. Vinnufallet is the tallest waterfall in Norway falling over 800 metres. The most famous waterfalls in Norway include the Seven Sisters, named for their resemblance to the flowing hair of seven maidens, and the mighty Kjosfossen, known for hosting students of the Norwegian Ballet School who dance and sing in front of the waterfall in the summer.
Waterfalls offer more relaxing outdoor adventures. They can often feel enchanting, and people travel all over the globe to experience these special landmarks. Included in Slingo's analysis are the longest waterfalls around the globe. Only waterfalls longer than 152 metres were included to give you an idea of where the most stunning waterfalls in the world can be found. 
Where to find the most National Parks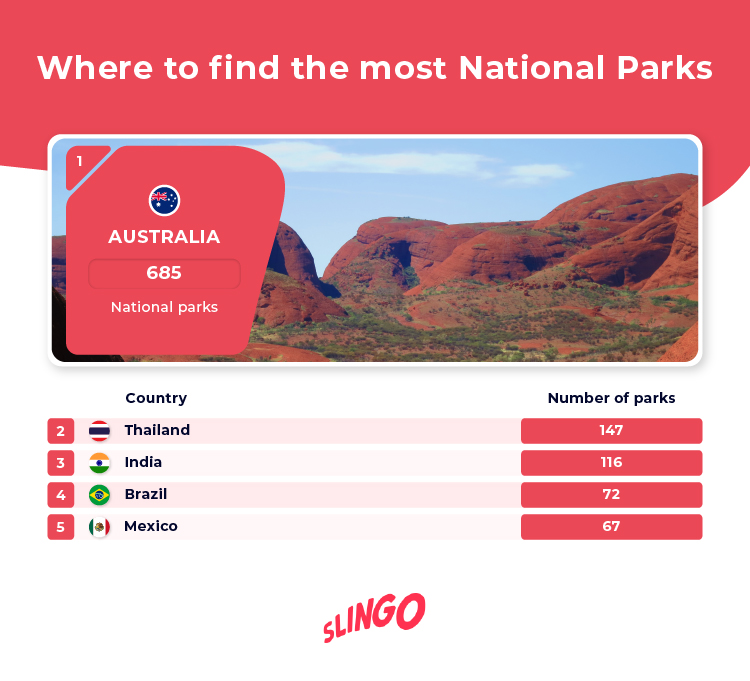 Australia - 685 National Parks
With almost 700 National Parks, Australia has a massive variety of outdoor adventures to be experienced. Each Park has its own distinct personality and characteristics, such as spectacular limestone rock formations, gorgeous sandy beaches, and a wondrous array of plants and animals. In many Parks, expect to find the world-famous Australian kangaroos and dingoes.
National parks are made for excellent outdoor adventures. Discover nature, exercise, and get some fresh air in some of the most diverse and protected natural areas in the world. National parks tend to be the most cost-friendly and easily accessible outdoor adventures you can experience and are perfect for solo travellers and families. 
Methodology
Volcanoes were recorded as Holocene volcanoes (Holocene volcanoes are volcanoes that have been active in the last 11 700 years) from the Smithsonian Institution's Global Volcanism program. Included in this data are volcanoes that lie within the boundaries of a country, on a shared boundary or area, in a remote territory, or within a maritime Exclusive Economic Zone. 
The Coral Reef area was recorded using the World Atlas of Coral Reefs where the data was accessed through worldatlas.com. Norway's coral reef area was taken from the ICES Journal of Marine Science. ​​
For mountains, the tallest point and ascents were recorded from Peakbagger.com. These factors were each given a half-weighting so that they make up a full factor in our normalised ranking system.
Waterfalls were recorded from the  World Waterfall Database where only waterfalls longer than 153 metres were recorded. In total, 1,020 of the longest waterfalls in the world were analysed. 
A normalised score was used to create a combined ranking for our 100 countries. All factors were given a weight of 1, except for the tallest point and ascents up to the tallest point, which were given 0.5 each to create 1 full factor for mountains. 
National parks were recorded from Wikipedia, where only those defined as "a clearly defined geographical space, recognized, dedicated and managed, through legal or other effective means, to achieve the long-term conservation of nature with associated ecosystem services and cultural values," were included. 
All data was recorded on or before April 14th 2023.