The sixth and final series of Netflix's The Crown is set to hit our screens, with much of the series focusing around the death of Princess Diana in 1997.
In a new interview with Slingo, former royal butler Paul Burrell revealed Elizabeth Debicki's portrayal of Diana 'haunts' him and the series will 'open up old wounds'. He also believes that Camilla inherited an 'unlucky lot' and is 'staying in the shadows' during King Charles' reign.

Paul also touched upon royal traditions for birthdays as King Charles prepares to turn 75-years-old.
Speaking on behalf of Slingo, Paul Burrell said:
---
*Terms and conditions apply.*
---
The first trailer for the final series of The Crown has been released, what are your thoughts on the series and the portrayal?
"The Crown is going to open up old wounds: it seems to be that Netflix are using Princess Diana's story as the main thread of this series and it's possibly going to upset a lot of people, especially Charles and Camilla. I did see that in part of it Diana appears as a ghost. People might think that's a silly story line, but I think that's quite appropriate because Diana is the ghost that will always haunt them and Charles and Camilla will never get away from Diana's lifetime of love that people showed towards her.
"I think the people in this country truly feel that Diana is the best Queen we never had and it was her rightful place. I think a lot of people feel it's not fair, they feel it's not how this fairytale should have ended, and they are hanging on to the fact that she was a young mother and died so tragically. The other thing is the fact that our late Queen did say that she wished Camilla to be known as the Queen consort. I think Charles went to his mother and said 'if you say this people will believe it and take it on board because your good will is paramount. If you die and I say this they will not accept it'. Charles actually took it one step further and made and styled her as Queen in every way he could. I think that's a problem for the general public, to see Camilla wearing a crown and being called Queen.
"The years they are going to portray are the years that I stood beside Diana. I was at the heart of what was happening, the separation, the divorce, Martin Bashir, Panorama, Hasnat Khan, Dodi Fayed: all of that happened under my watch, so this series has to be true, it cannot waiver.  
It was traumatic enough going through those years. The death of the Princess changed my life and I'm not going to sit back and let history be re-written by a re-enactment.
"The Princess was misinterpreted and misrepresented so many times in her lifetime people didn't understand her. I don't want this series to go further and do damage to her reputation or her memory. For many of the present generation this will be seen as a historical document and they will believe what they see because they weren't there and the ones that were there and loved Diana have a duty to stand up and say the truth. As far as I am concerned Diana was a fervent supporter of the monarchy, she was proud to be associated with the Royal Family, proud to be a royal princess, proud that her children are princes and I'm not going to see any of that be changed.  
"Elizabeth Debecki's voice haunts me because she has got it down to a fine art form. She has Diana's breathless way of speaking down perfectly. When I close my eyes and listen I am listening to Diana's voice and it's spooky. The way she phrases it and punctuates it is the Princess. She has obviously studied it very carefully and I know it's going to upset me and a lot of people.
"We are still talking about Diana 26 years after her death, beyond a generation, we are now talking to people who have no knowledge of this part of history and I believe we will still be talking about Diana way into the next century because she was such a trailblazer and made the biggest impact on the Royal Family and the present family cannot get away from that."
From the trailer do you think it will be truthful?
"From the trailer it looks to be pretty true to form. The Queen did have a dilemma of what to do: she was in a no win situation, either she stayed at Balmoral and protected her family and grandchildren, or she came down south and protected the people of this country. I saw that at the time, she could not win either way. Eventually she bowed to public pressure because she knew and always knew that she was Queen first. I think The Crown does portray that her country and people came long before her personal feelings and family. Until the day she died she put her country first.
"I think Charles and Camilla understand the person that Diana was and realise that she did something that they can never do and that's why I believe that Charles and Camilla are a caretaker monarchy. They are just keeping it on track until William and Kate come along to take the reins and I think that's what they will be known for. I do think that Camilla has inherited an unlucky lot. She married the man she loved but inherited everything that goes with it. I wonder how heavy that is on her as a person and I think that's why we haven't seen a great deal of her. She is staying in the shadows as much as she can, staying in the wings and letting the King take centre stage and I think that is a perfect role for her."
What was the atmosphere like around the time of Diana's death? 
"Behind closed doors the atmosphere was tense, you could cut it with a knife. These were unprecedented times, everybody was looking for the rule book but the page was missing. Nobody knew what to do so they made it up as they went along and sometimes they got it wrong. My role in all of that was to keep at the bottom of the pile and to look after my role and what I should be doing. I was being totally selfish and thinking that I should look after the Princess in death the way I had in life. It was such unknown territory.
"I took control of my unit, which was Kensington Palace, and I knew I had to get to Diana as quickly as possible. I sent messages through the Princess' controller to the Queen's private secretary knowing that those messages would get to the Queen. It was my concern that when the Princess returned home to England she would be taken to the Chapel Royal, a place that she had never known (it was dark and dusty). I sent a message to say "Wouldn't it be more appropriate if the Princess came home to Kensington Palace to spend time in a place that she had spent most of her life". A message came back from the Queen saying "I think that's a wonderful idea".
"Everybody around me was confused and disorientated, but after the initial grief, I was focused. I knew what I had to do. It was such a surreal world to be in. The night before the Princess' funeral I had a night vigil and stayed up with the princess. I lit all the candles I could find and asked the policeman to bring in flowers from outside. They brought them in and I arranged them in vases around the room and I stayed up talking to her all night. I took her address book and went through it from A to Z and talked about everyone because I knew them all. I thought that was the most appropriate way to end my service with her. The serenity and the calm of being with the Princess is my overriding memory of that time."
The King's birthday is coming up, how do the Royal Family usually celebrate birthdays?
"Birthdays aren't really celebrated in the Royal Family. We will send cards and gifts to ones we love but the Royals don't do that and that always surprised me. Especially with the Queen and the older generation, it was seen as quite common to send birthday cards to one another because it's reminding people that they are a year older. So I never saw birthday cards on the mantelpiece and I never had to rush around and find birthday cards for people. Diana's birthday was slightly different because she was so loved: it was a never ending conveyor belt of flowers and gifts and she always said 'I hate my birthday' because she spent the day writing thank you notes.
"Likewise with Charles, I don't think he will have an array of birthday cards because it's not really spoken about. People whisper 'happy birthday' around the residence but that's about it.  
The only other time it would be mentioned, which I think will happen on the King's birthday, is when the pipe major plays  underneath his bedroom window, he may throw in a small Happy Birthday. However, Charles is very generous and gives Camilla gorgeous gifts and gifts made for her which we see her wearing every now and then."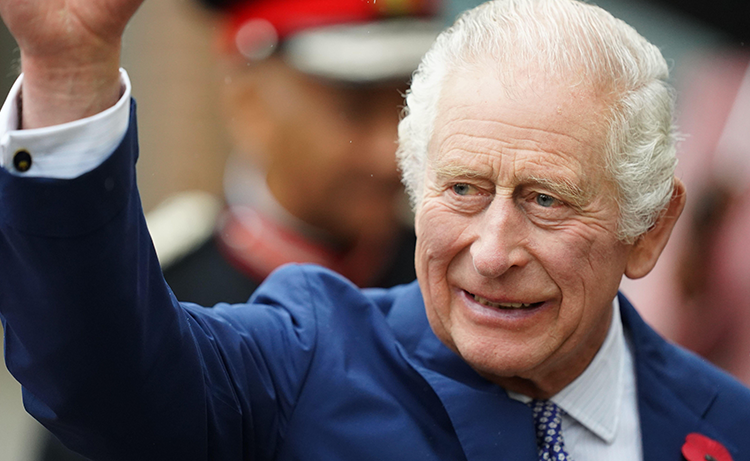 How will King Charles III celebrate his birthday
Did the Queen give Charles presents?
"The Queen didn't really give him birthday presents. She would give Christmas presents for the Christmas table at Sandringham. But it would usually be something useful, something that he might use when he is out riding but she would carefully find out from his household what he would use. Presents in the royal household are usually very beautiful or very useful."
Do you think Charles will celebrate?
"I'm sure he will have a party at Clarence House and bring his closest friends around him to thank them for their support. There will likely be a smattering of celebrities because Charles is attracted to celebrities. I think he is fascinated by people in the public eye and how they cope with it because he copes with it in a very different way but he wonders how others do. People he admires, enjoys and likes, he will invite them."
Reports that Harry and Megan could move back to the UK, where do you think would be an appropriate place for them to move back?
"Towards the Cotswolds would be ideal. I personally think there is no job or working role for them in the Royal Family, I think that's long gone. We shouldn't expect them to come back as working members of the Royal Family because they aren't going to, they are going to have to plough their own field now.
"I am sure that Harry misses some aspects of his life because his life in California must be quite vacuous at times whereas here it's filled with friends and family, his culture, things he likes to do and I think he must miss some of that. This is part of them now having a family, wanting to come back to revisit some of Harry's past. I have always thought that it's sad that Archie and Lilibet are missing out on the heritage of their father's family and their relatives. They are a Prince and Princess and when they turn 18 they might ask 'why did you deny us that', and I think they are addressing that by thinking maybe it's time to let them see something of the culture in England. They won't move here permanently. They are Americans and they will live their life in California but they will probably attend the social season in England. I could see Archie and Lilibet as guests of Princesses Eugenie and Beatrice in the future and going to Royal Ascot and that would seem appropriate. But I'm not sure Harry and Meghan will be welcomed into social circles because after all he has turned his back on this country. I think for the time being they have burned their bridges not only to their country but to their family, but their children haven't.
"In terms of returning to the UK I think they would want to live somewhere in the countryside. Harry should remember his days at Highgrove when he used to ride, as he will want Archie and Lilibet to ride. It would have to be a house with its own grounds and security, similar to Highgrove. Harry may want Archie to go to Ludgrove, he may want him to go to the school that he went to. Archie may also one day go to Eton the way Harry did so all of this is in their future which Harry and Meghan have to now establish and I do believe this move is the beginning of setting the stage for their children's lives."
Would they be welcomed back to any royal residence?
"I think there is a very bad feeling in the Royal Family about Harry and Meghan that if they let them back into the royal fold they will be betrayed again. They see it as airing dirty laundry in public and telling tales in public when they know all too well that they shouldn't do that. They see it as Harry now making money off the back of being royal which is wrong in their books. They have thrown other members of the family under the bus which is well documented now and you can't go back: once you have done it you're out and I think Harry has to understand that. It's a cruel world but they have to be like that to survive and to not let one of their own prejudice the privileged world they live in."
Do you think Harry is aware that he has burnt bridges in the UK with the public and his family?
"He knew what the score was when he was putting pen to paper, he knew what he was doing and what the consequences would be. He knew that his mother suffered the same consequences, he knew that when she wrote her book it had dire consequences. She managed to crawl back until the Panorama interview but once that aired it was the final straw. She had a troubled life trying to find a voice and that's what Harry's been trying to do, trying to find a voice and a place. Everybody makes mistakes but that was a huge mistake. Coming back to England, I wonder if he has thought how unpopular they are in their country and that will bring its own problems."
---
DISCOVER SLINGO
YOUR OFFICIAL SITE FOR SLINGO GAMES
Slingo is a vibrant online casino with a fantastic selection of Slingo games, online slots, live tables and more.
Join The Fun on Slingo.Com!