Music has forever been an important part of UK culture, but where is the best place to live for music fans in the UK? This report investigates where the best places for music access are by looking at venues and upcoming festivals.
If you're a true music lover and looking to move to a UK city which offers you the greatest range of music opportunities and culture, then this list, curated here at Slingo, will give you the best knowledge on where in the UK you can find the most opportunities to enjoy music.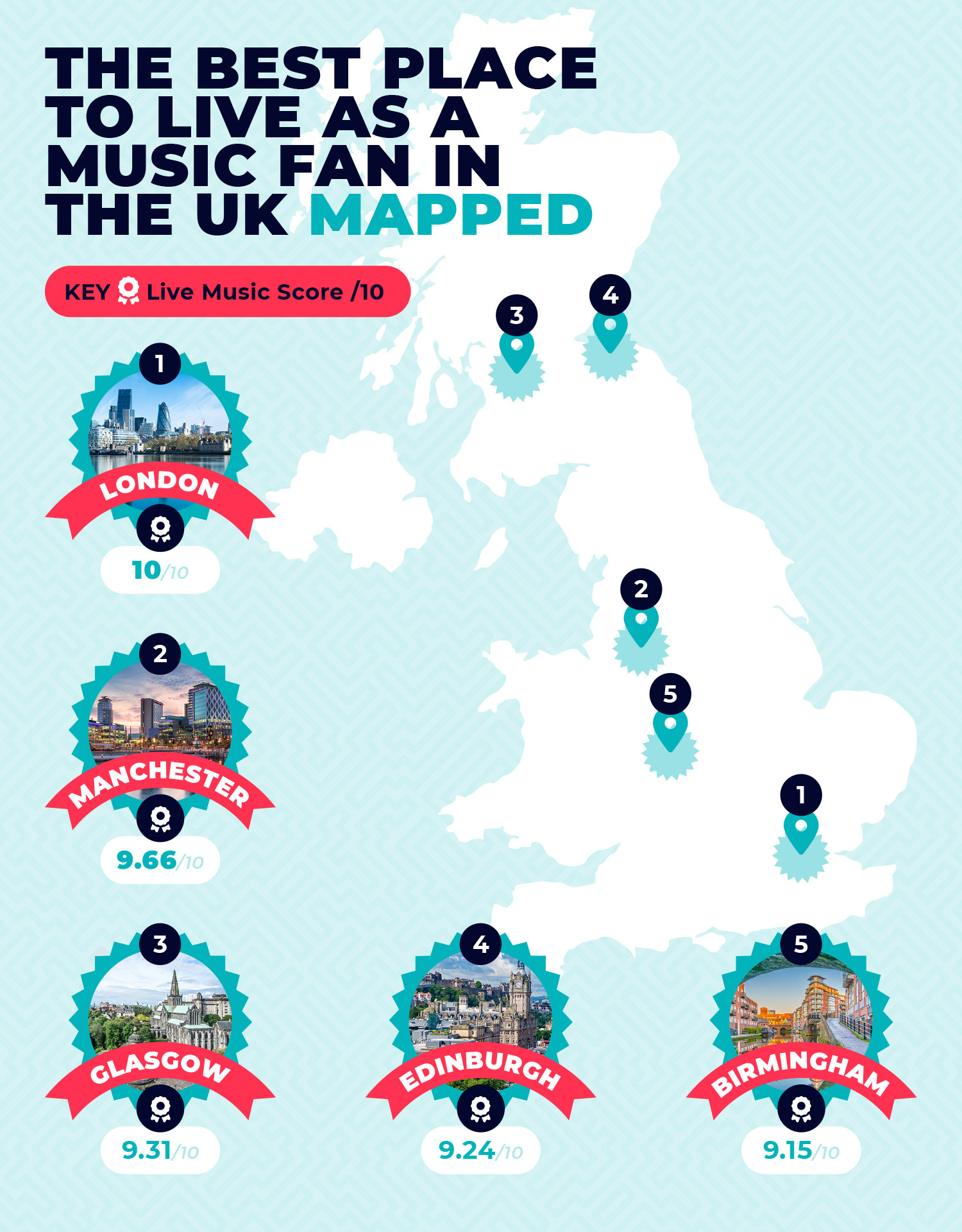 1. London - Live Music Score /10 - 10
The best UK city for music lovers is London, with a brilliant 10/10 music fan score. London has cultivated the most artists and bands over the years with 351 originating from the capital. This includes some of the biggest names in music such as David Bowie, The Rolling Stones, and Queen, among many others. With a whopping 16,596 upcoming concerts, being a Londoner in 2022 is ideal for any music fan.
2. Manchester - Live Music Score /10 - 9.66
Our runner-up on this list is Manchester, with a music fan score of 9.66. Manchester has the second most upcoming festivals behind London and the third most upcoming concerts, so there is plenty of music to hear and enjoy over the next year in Manchester. Home to big bands such as Oasis, Simply Red, and Take That, Manchester is a close runner-up for best UK city for music lovers. 
3. Glasgow - Live Music Score /10 - 9.31
In third place is the Scottish city of Glasgow, which sees an exceptional music fan score of 9.31. With a high number of upcoming concerts only slightly behind Manchester, Glasgow is only hosting a limited number of upcoming festivals. Glasgow is home to 148 bands including big names like Franz Ferdinand and the Fratellis. 
4. Edinburgh - Live Music Score /10 - 9.24
Home to the world's largest arts festival, the Edinburgh Festival Fringe, the Scottish capital of Edinburgh comes in fourth place on our list of best UK cities for music fans. There are 18 main music venues dotted around the city and over 158 artists and bands have originated from here. Edinburgh achieves a high 9.24/10 music fan score. 
5. Birmingham - Live Music Score /10 - 9.15
Rounding off our top five best UK cities for music lovers is Birmingham, with a music fan score of 9.15. Birmingham has 945 concerts and 13 festivals lined up for music fans in the next year so those living in Birmingham will have plenty to choose from. Birmingham was also home to some truly legendary 1970s rock bands such as Led Zeppelin and Black Sabbath.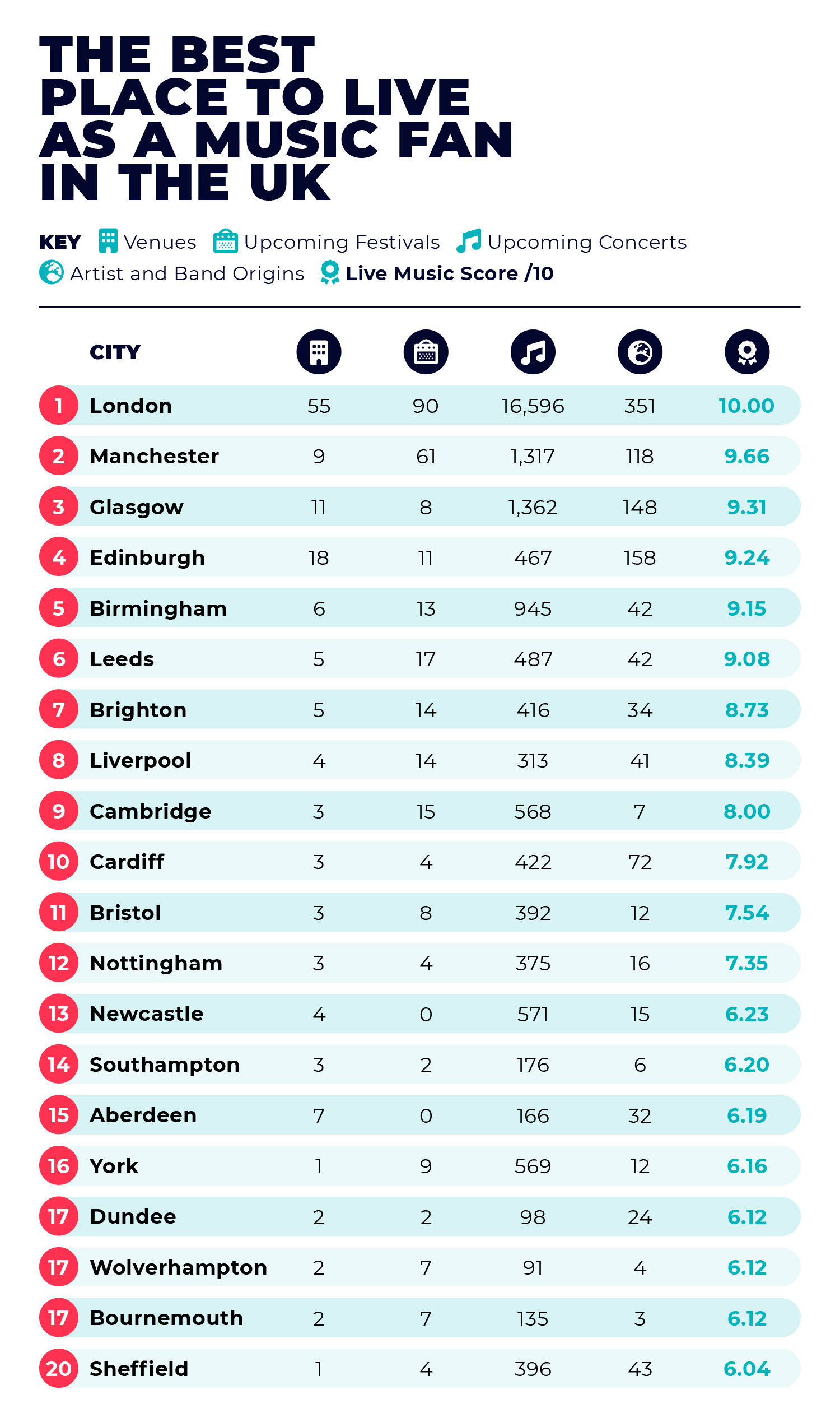 The UK's Most Popular Genres
We also identified the UK's most popular genres based on the number of upcoming concerts across the whole of the UK on Ticketmaster. The events cover all upcoming concerts in many of the UK's largest cities as well as at independent music venues.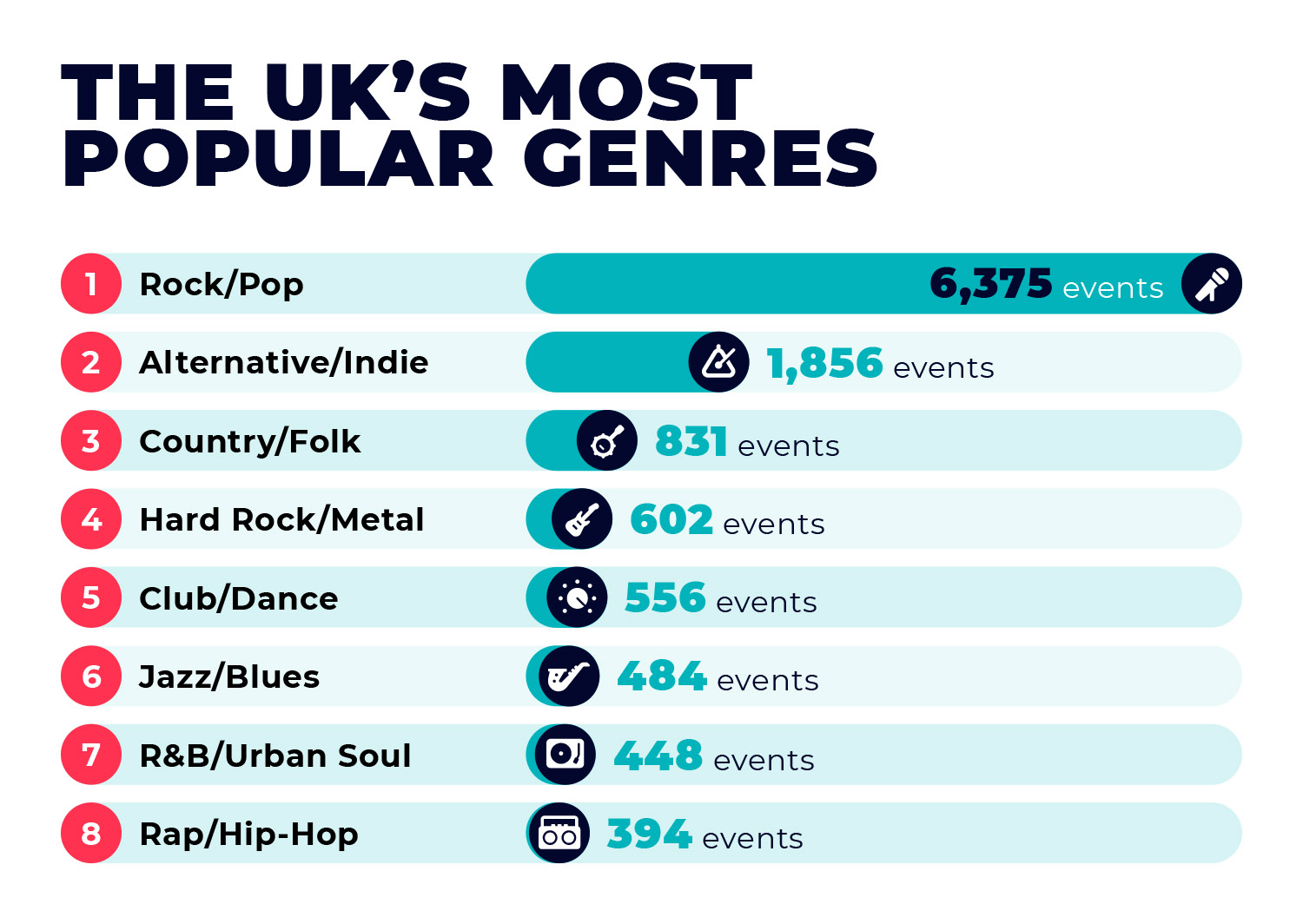 Rock/Pop - 6,375 Upcoming Concerts
With a whopping 6,375 upcoming concerts, over 4,000 more than the runner up, Rock/Pop is the UK's most popular music genre. 
Alternative and Indie - 1,856 Upcoming Concerts
Alternative and Indie is the second most popular genre in the UK with 1,856 upcoming concerts. Alternative and Indie has over 1,000 most concerts than the next on our list. 
Country/Folk - 831 Upcoming Concerts
In third place for the UK's most popular genre is Country/Folk. Country/Folk fans will enjoy 831 upcoming concerts in the UK.
The best cities for access to…
Venues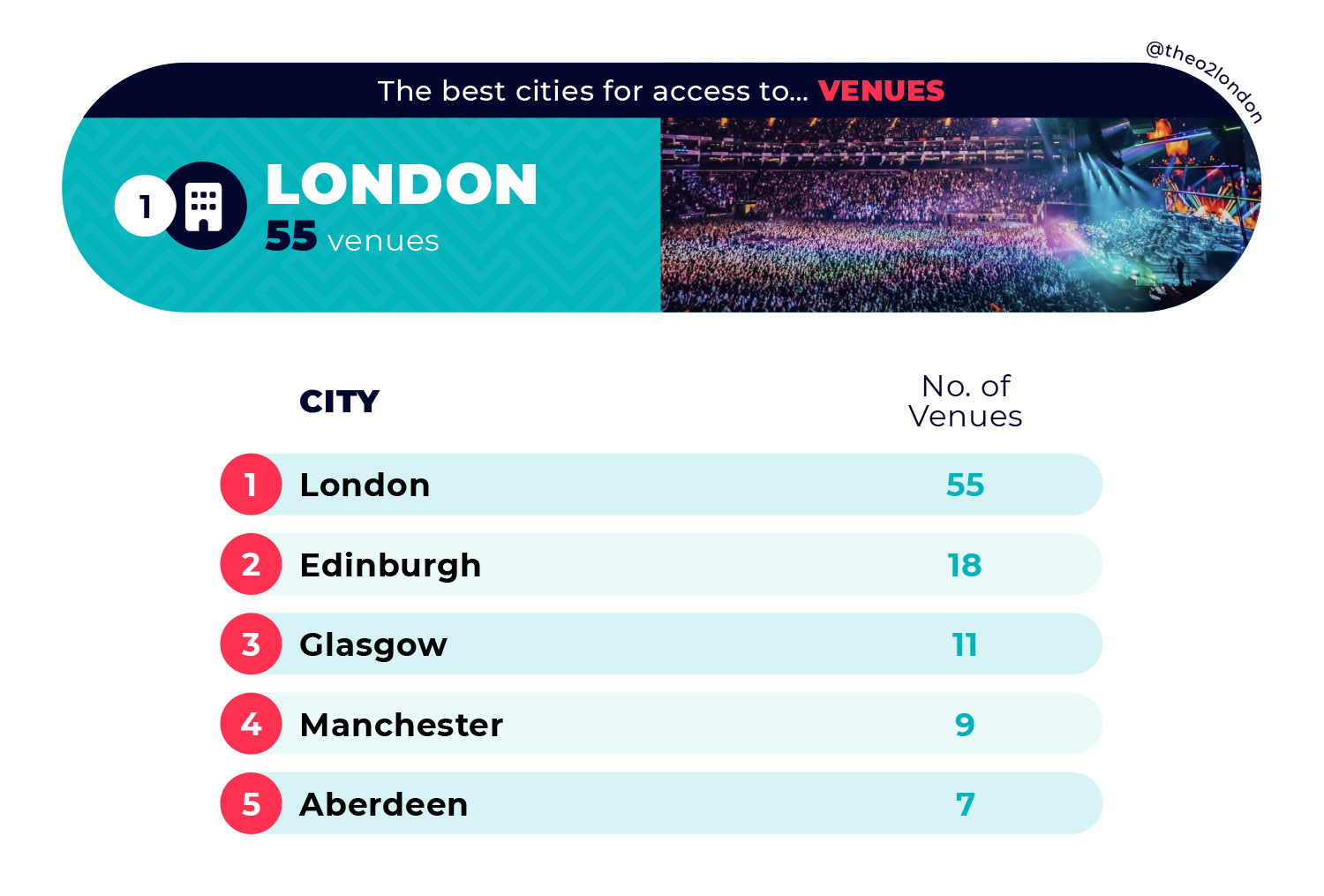 Upcoming Festivals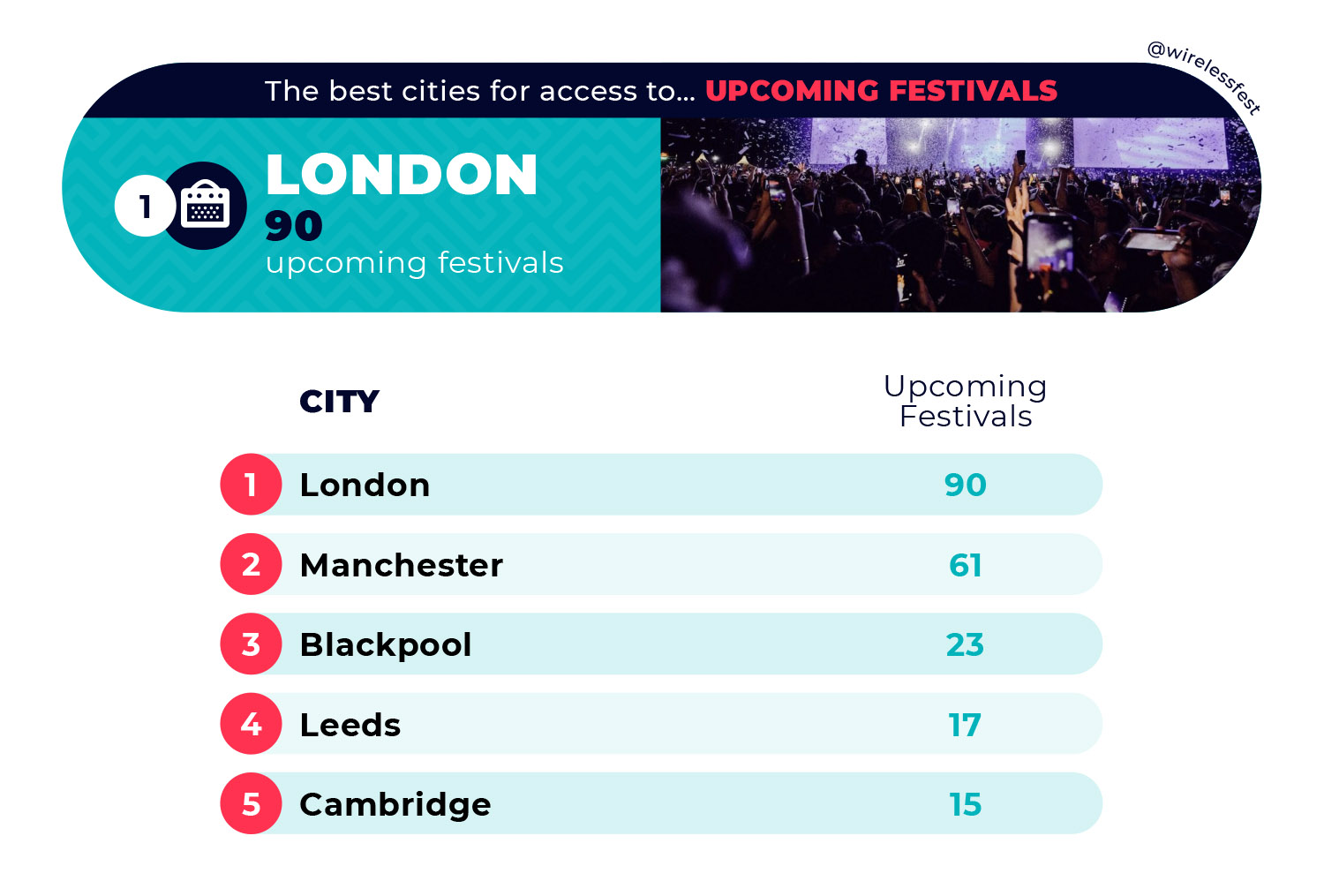 Upcoming Concerts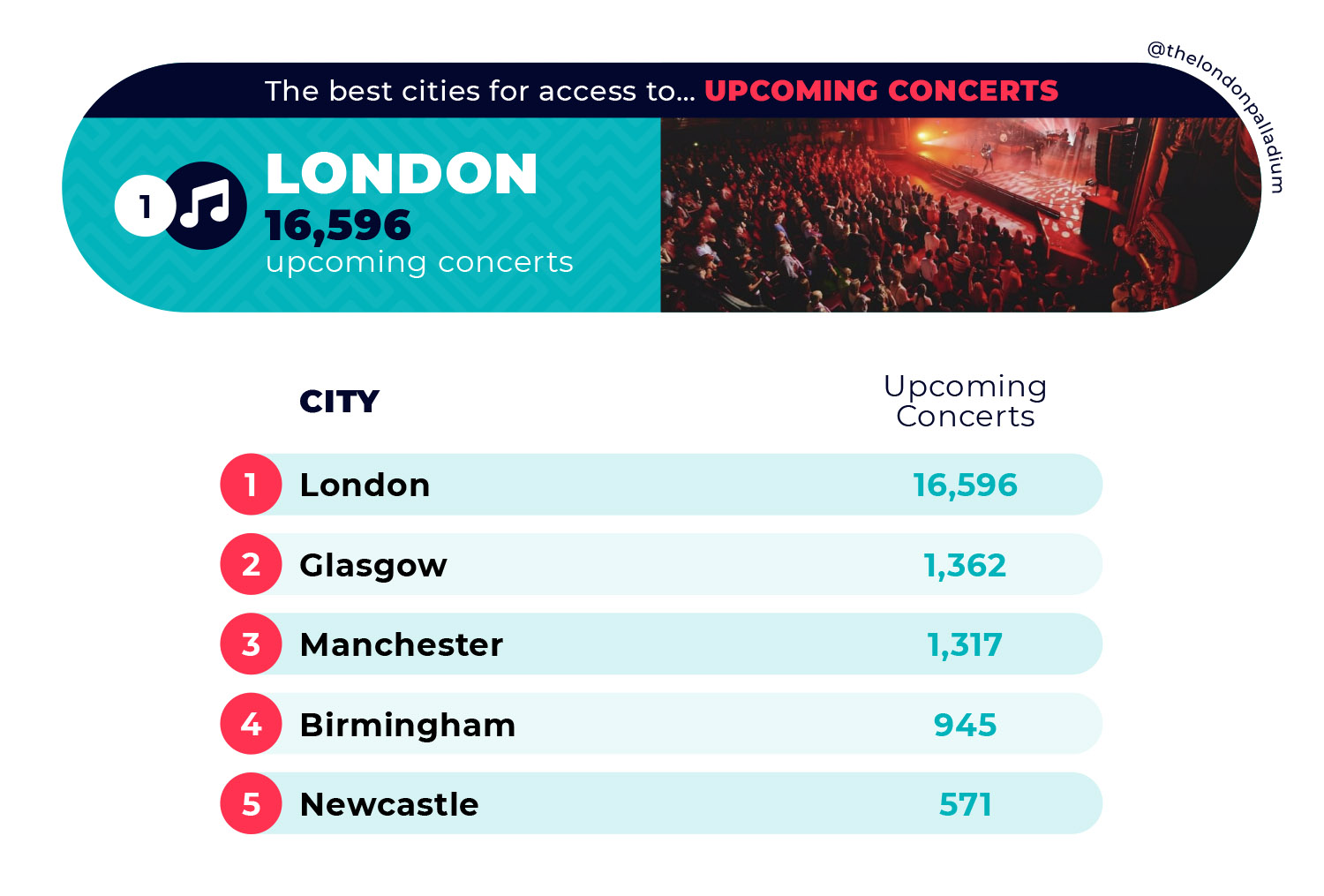 Artist and Band Origins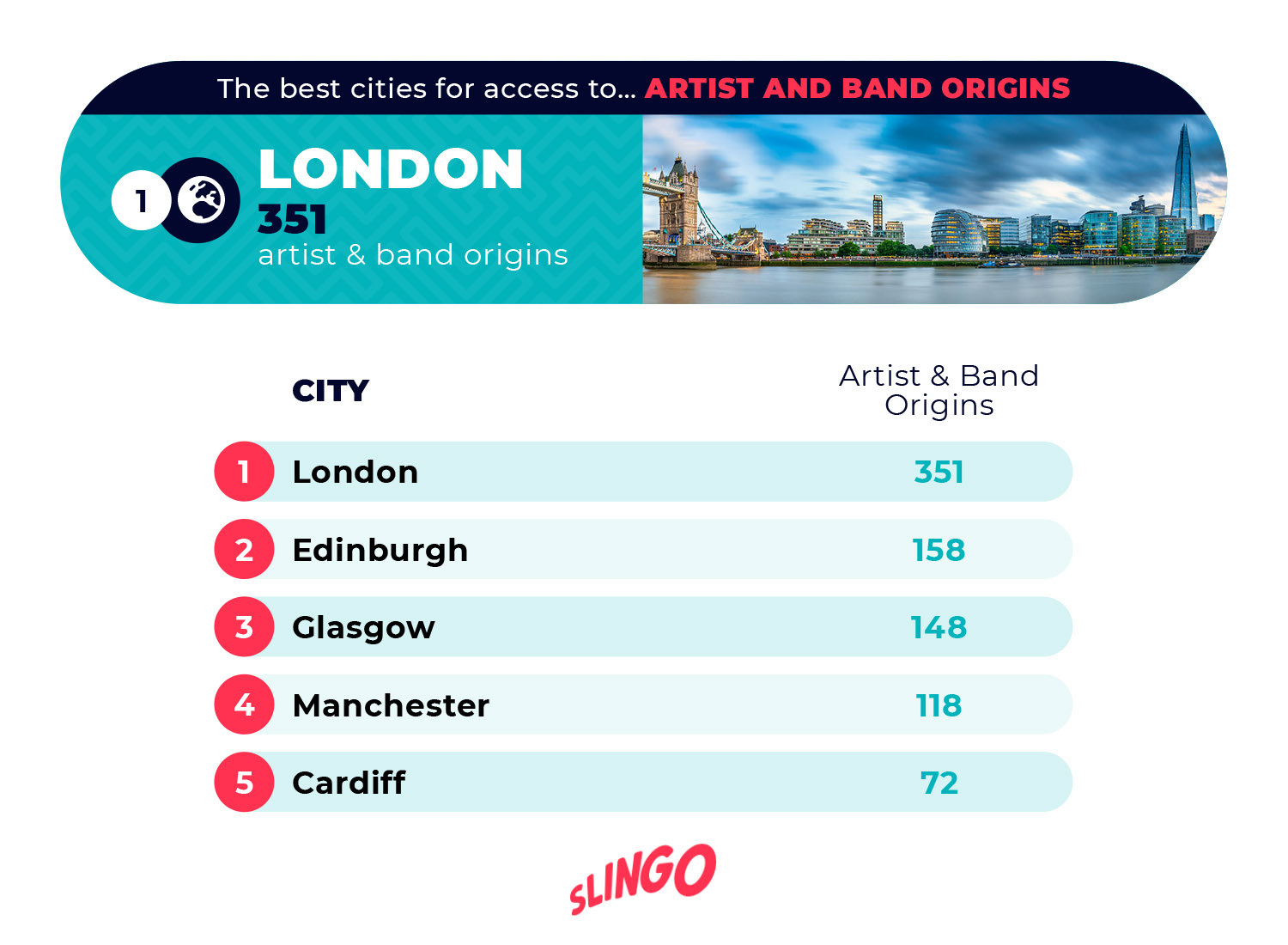 Methodology
Upcoming festivals were recorded from songkick as the next 1001 festivals in the UK. Only festivals playing at venues with two or more upcoming festivals were recorded. Festivals playing at unique venues were not included. Upcoming events were recorded for each city from ticketmaster. Musician origins and UK venues were taken from wikipedia. All data was retrieved on or before 16/05/2022.