What type of people are most likely to strike it lucky?
We all dream of catching a lucky break, whether that's hitting the jackpot in the lottery or landing a big Slingo win. But who are the people that get all the luck? 
Well, while some would say that you make your own luck (and in the case of Slingo, results are, of course, completely random), we can still delve into our database of players to reveal the cities, ages, genders and names that have statistically seen the most winners across our games.
The UK's luckiest cities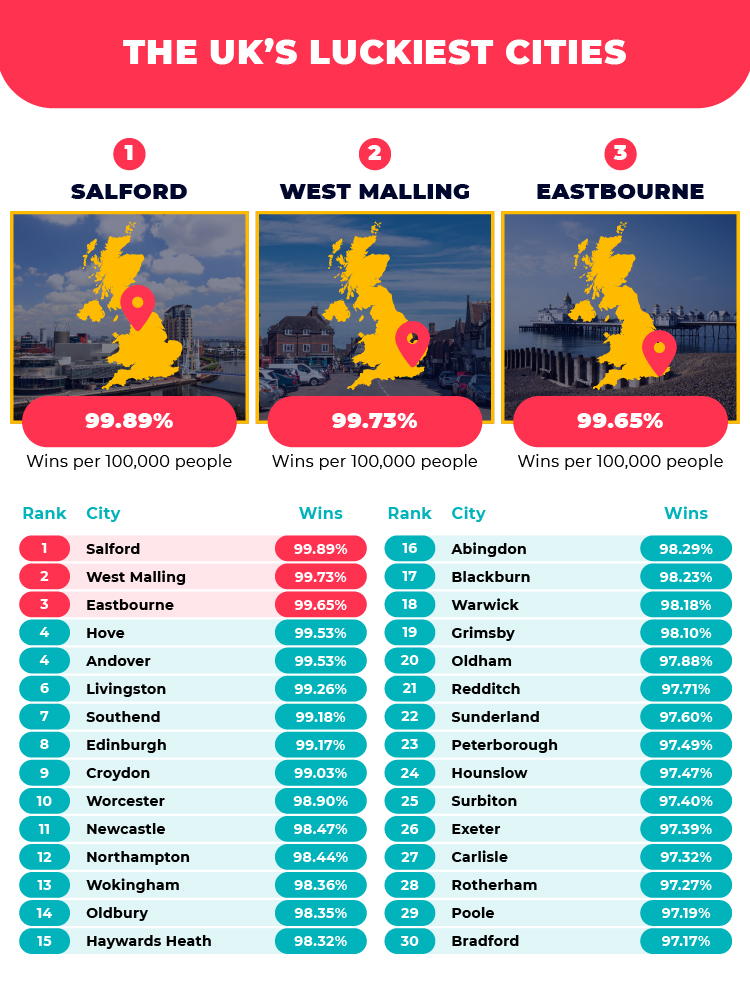 The luckiest city in the UK is Salford, with 99.89% of Slingo bets resulting in a win in the Greater Manchester city.
This was followed by a much smaller town, West Malling in Kent, with a win percentage of 99.73%, and Eastbourne in East Sussex, with 99.65%.
We also took a look at the number of winners in the People's Postcode Lottery to see which postcodes are the luckiest.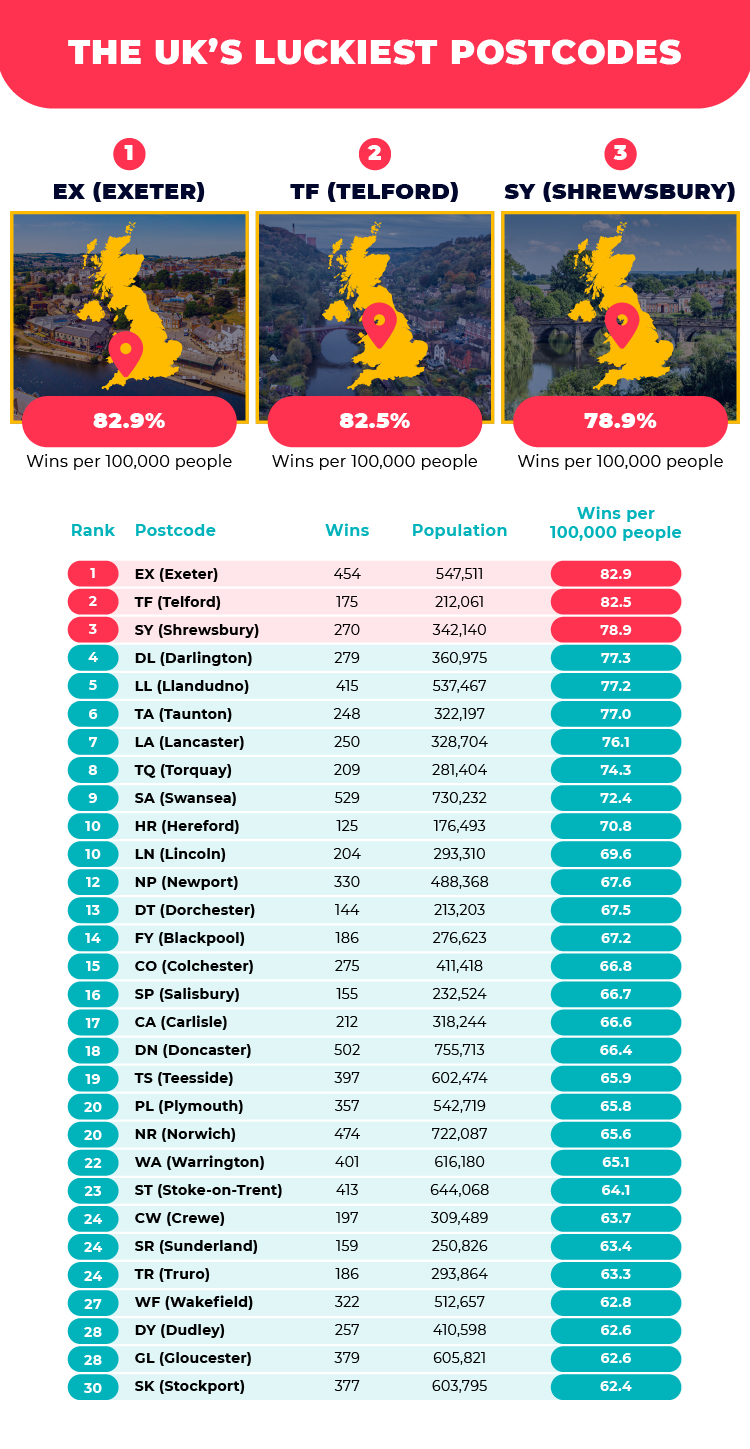 While bigger postcodes such as Birmingham and Sheffield had the most wins overall, when we look at the wins per person, it was Exeter that can claim to be the luckiest, with 82.9 Postcode Lottery wins per 100,000 people.
Which ages are the luckiest?
In the same way that age is just a number, luck is what you make it, but looking into the statistics when it comes to Slingo players, it appears that luck may start to dwindle a little as you get older.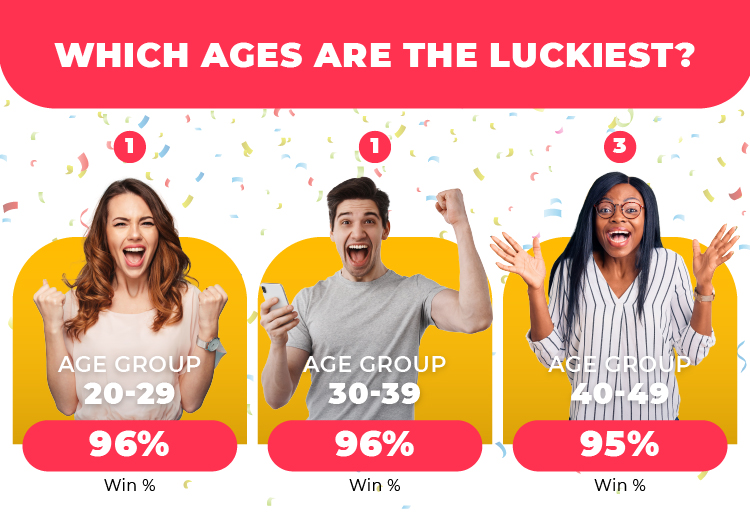 Are men or women luckier?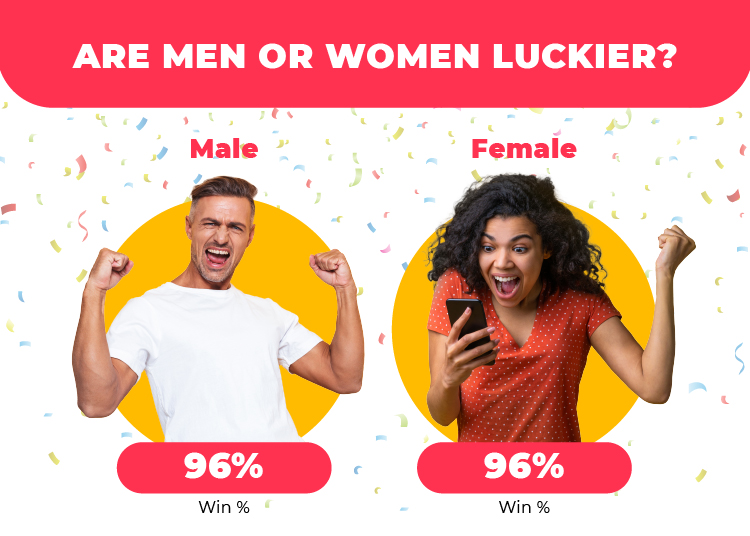 One area where there is seemingly no real difference in luck is between men and women, with bets placed by both resulting in wins 96% of the time.
The UK's luckiest names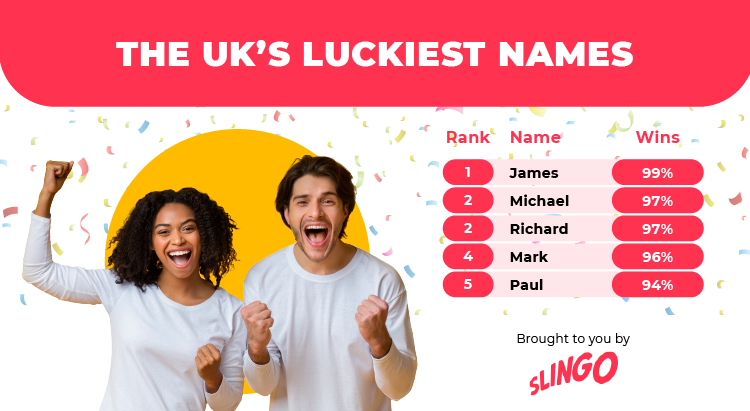 James is one of the most common male names in the UK and if you're one of the thousands of people who share this name then you could be in luck, as 99% of Slingo bets placed by James's resulted in a win.
This was followed by two more common names, Michael and Richard, both with win percentages of 97%.
Methodology
All data (excluding Postcode Lottery wins) sourced from Slingo's own customer data and relates to the number of bets that resulted in wins across all Slingo brands since August 2021.
Data on the number of People's Postcode Lottery winners was sourced from Lottery.co.uk's Postcode Lottery Statistics and refers to the number of wins since 6th January 2011.
These were then calculated per 100,000 people in each postcode area using population figures from the UK Census.
Disclaimer: Winning in the casino is based on a random generator and by no means do the stats mean that if a player falls within these groups they stand a bigger chance of winning.