How do you go about determining which resorts are the best ski resorts in the world? We've spent hours - literally - discussing this subject. We all know what makes a ski resort great. This includes miles of slopes, a diverse range of terrain, excellent restaurants, and so on. But what distinguishes a superb ski resort from the rest?
Not only is skiing a fun and sociable sport, but it's also great for your physical and mental health. Skiing, being an aerobic endurance sport, aids you to burn calories as well as reduce weight. You can also increase your mood and overall sense of well-being and happiness by releasing adrenaline and endorphins into your system.
Socialize on the slopes
When you're travelling abroad, skiing is also a fantastic way to make friends. In addition, you can also ski in so many parts of the world. This article represents our carefully studied thoughts after our numerous snowboarding tours. We've spent years skiing and snowboarding, and we've also visited innumerable ski resorts on six of the seven continents.
We produced a long, long list of resorts and rated them on a lot of criteria. This includes the quality of the skiing on and off-piste, the convenience of access, the pricing, and so on.
For the reasons stated below, we believe these are the top ski resorts on the globe this winter.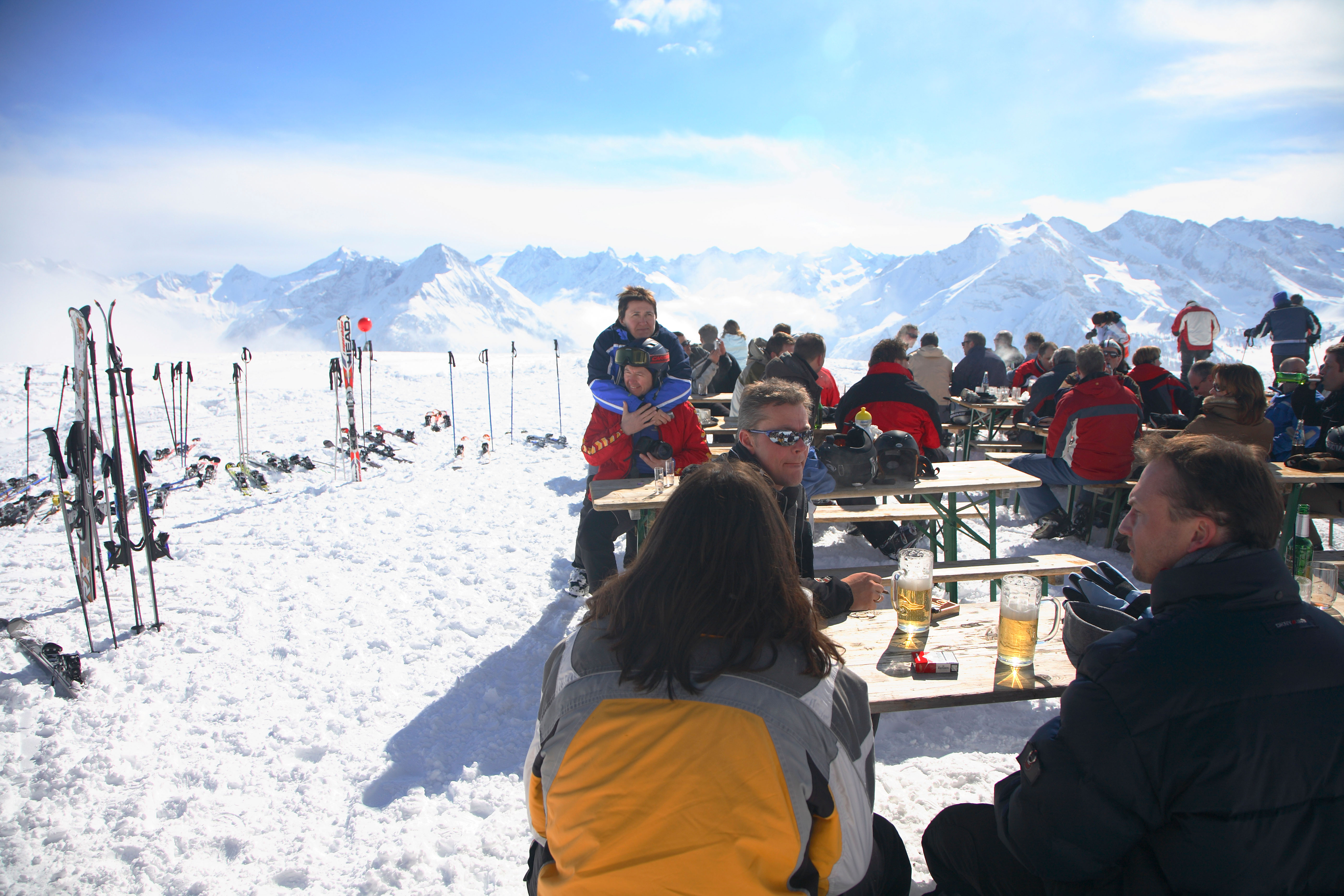 Contents
Whistler Blackcomb Mountain
Courchevel
Zermatt, Switzerland
Vail Mountain Resort, Colorado
Aspen Snowmass, Colorado
Val d'Isere
Cortina d'Ampezzo
Telluride. Colorado
Niseko, Japan
Chamonix, France
St. Antonius, Alps
Kitzbühel, Austria

1. Whistler Blackcomb Mountain
The Whistler Blackcomb, now part of the Vail Resorts company, combines an exceptional terrain of two mountains. This is to create Canada's top ski resort and the largest winter sports region in North America. Over 200 lines are accessible through 37 lifts on the combined skiable terrain. The three-kilometre-plus PEAK 2 PEAK gondola also connects the two mountaintops and has the world's longest unsupported lift span.
Whistler's superb technical facilities, along with the variety of terrain make it a favourite among expert skiers. Furthermore, Whistler Blackcomb is also a popular destination for freestyle skiers and boarders. Five distinct parks spread across 99 acres of snow. These have been built for all abilities of freestyle, ranging from modest jumps and rails to the Nintendo Terrain Park and an Olympic-sized pipe. The pros train here, and the diversity makes it a fantastic place to master the fundamentals.
Its unparalleled vistas extend all the way to the Pacific Ocean. In addition, there is ample terrain for all ability levels, and a picturesque full-service resort community. This is right at the base, making it an excellent choice for both families and casual skiers. There is plenty of snow and mountain to go around, and it is only a two-hour drive from Vancouver.
2. Courchevel
Despite its posh communities and reputation, Courchevel is for expert skiers who are aiming for once-in-a-lifetime snow experiences. It is part of Les 3 Vallées area, the world's biggest Alpine ski domain. It boasts 600 kilometres of interconnected ski slopes spanning 10 peaks higher than 2,500 metres. In addition, it offers a 150 kilometres ski terrain accessible by 60 lifts.
The four metres of natural snow that falls annually is expertly managed and groomed. There is one corridor (couloir) that is regarded as one of the most challenging black runs in the world. Furthermore, it offers an impressive selection of steep black mogul runs.
From the summit of the Col de la Loze to Le Praz, the Jockeys and Jean Blanc pistes provide compact tree skiing. Jean Blanc was a World Cup downhill racer in the past. At the end of the day, you surely appreciate a top class restaurant in any of the five towns. What's more, seven of these are Michelin-starred. However, the normal glittering après-ski scene has made it one of France's most popular ski resorts won't be there this season.
3. Zermatt, Switzerland
With one of the world's most gorgeous mountains as a background, Zermatt, Switzerland's ski resort is a skier's haven. It is the highest winter sports region in the Alps, with the largest vertical drop in Switzerland. On top of that, the majestic Matterhorn can be viewed practically everywhere on its 350 kilometres of routes and slopes.
Last year, the world's tallest 3S ski-lift debuted, transporting 2,000 skiers per hour to the Matterhorn Glacier at 3,883 metres. This is surely enough to motivate all skiers. Imagine skiing over a mountain and an international border to pass down into a trail system on the other side.
The Matterhorn's southern face lies in Italy, and skiing over the Theodul Pass takes you into the massive Breuil-Cervinia trail system in Italy's Val d'Aosta. There's also Europe's longest downhill run. This is nearly 25 kilometres long, from Matterhorn glacier (Klein Matterhorn) to Zermatt. Moreover, The Zermatt Snow Park, located on the Theodul Glacier, is also a popular destination for snowboarders and free-ride skiers.
Few destinations can compete with Zermatt's off-piste options. Zermatt, together with the Rothhorn, Stockhorn, and the Matterhorn Glacier, is the starting point for one of the world's most spectacular off-piste excursions. This is the 178-kilometre (111-mile) Haute Path climbing route from Zermatt to Chamonix in the French Alps. A guide, as well as expert skills and high-altitude stamina, are required. In fact, the path connects a network of mountain huts, inns, and lodges and often takes eight days to complete.
4. Vail Mountain Resort
The Vail is the largest ski resort in Colorado and one of the largest in the world, with enough terrain to keep an ardent skier of any ability level occupied. Long, well-kept runs overlook the luxury hotels, elegant restaurants, and stores of the similarly well-kept town. That is Vail Mountain Resort.
Experts proceed to the seven back bowls for bumps and glades. These are kept in great shape by the predicted 350 inches (ca. 9 metres) of yearly snowfall. Furthermore, Vail is noted for its diversity as well as its vastness with 5,289 acres of skiing served by 31 lifts. Riders are kept satisfied with three unique terrain parks, while back country skiers will find snow bliss here.
5. Aspen Snowmass
With four ski regions encircling Aspen and Snowmass Village, Aspen Snowmass is probably the best ski resort in Colorado. Buttermilk, Snowmass, Aspen Mountain, and Aspen Highlands together cover over 5,500 acres. In fact, Snowmass alone accounts for over 3,000 acres. Buttermilk, the smallest of the four, has hosted the Winter X-Games since 2002.
Aspen Mountain's steep terrain from its three ridgelines is entirely classified black or double-black, making it only for intermediate and expert skiers. The Aztec run hosts the World Cup Women's Downhill every year. Aspen Highlands, noted for its expert lines, is also popular with backcountry skiers, who climb to the Highland Bowl's high-alpine terrain.
The advanced and expert runs in Aspen Highlands are also well known. Aspen's status as a glamour destination stems from Hollywood and sports personalities who buy property here. Although much of the backcountry terrain is only for expert skiers, Aspen is unique in having some simple places that are safe for novice skiers.
6. Val d'Isere
After his stunning sweep of three gold medals at the 1968 Winter Olympics in Grenoble, skiing superstar Jean-Claude Killy established his hometown as one of Europe's most well-known ski resorts. This was at the much-celebrated Val d'Isere. Along with Tignes, this beautiful town shares the high valley, providing over 300 kilometres of linked ski terrain supported by more than 150 ski lifts.
The valley is part of the Parc National de la Vanoise. This is surrounded by peaks that provide skiing at heights as high as 3,450 metres. The height ensures snow in the late spring; skiing on the Glacier du Pisaillas normally lasts until June, and sometimes into July.
With over two dozen demanding black lines, Val d'Isere and Tignes provide some of the greatest skiing slopes for specialists. However, it is the spectacular off-piste terrain that awards talented skiers bragging rights. Tignes' off-piste skiing is mostly above the tree line. If you go to the North Face of Pramecou, will appreciate some spectacular views. Hiring a guide is strongly suggested here, even for experienced alpinists.
7. Cortina d'Ampezzo
The Cinque Torri's five jagged peaks provide the affluent Cortina D'Ampezzo with the most stunning scenery of all of Italy's ski resorts. Cortina was barely known to devoted skiers before hosting the 1956 Winter Olympics. Since then, it has become a phenomenon for the well-heeled winter set.
The town is still very upscale, but skiing here is a serious steal, largely owing to the value-packed Dolomiti Superski Pass. This provides access to the lifts, and trails of a dozen resorts, most which are linked to providing almost 400 kilometres of interconnected skiing. Several ski villages are located in between the peaks known as the Gruppo del Sella and the Marmolada Glacier. In fact, the entire region is a UNESCO World Heritage Site.
In Cortina alone, more than a dozen lifts transport skiers from the centre of town to snowfields at the crests of the highest hills. Whence they may ski back into town in a single exciting run, or spend the day on the high-altitude snowfields. Skiing is one of the most popular activities to do in Italy and Cortina's terrain is suitable for both newbies as well as experienced skiers. Based on its terrain. Half appropriate for intermediates and half for specialists. A bobsled course and an Olympic rink for ice skaters are also available.
8. Telluride
Another one of Colorado's most popular ski resorts is Telluride. It is situated in a gorgeous location with lots of demanding terrain at an altitude that guarantees constant snow. Because of the height of the San Juan Mountains, the resort's base begins at an amazing 8,725 feet (2.66 km) and lifts transport skiers to 12,515 feet (ca. 4 km). There are about 2,000 acres of skiable terrain in between. Telluride's outstanding vertical and vast tracts of hike-to terrain draw hardcore skiers.
However, it's also a resort for the whole family. It provides skiing for all abilities and a ski-in/ski-out Mountain Village at the base, which is linked to Telluride by a free gondola. Skiers with prior experience may ski the steep tracks right into Telluride.
9. Niseko, Japan
Niseko United is a group of four interconnected ski resorts on Japan's northern island of Hokkaido, around 90 kilometres from Sapporo. They include Niseko Village, Grand Hirafu, Hanazono, and An'nupuri. These resorts feature some amazing and varied terrain on the slopes of a volcano, with many of the trails facing near-perfect weather.
They present some remarkable and varied terrain on the slopes of a volcano, with many of the paths overlooking Mt. Yotei, known as "Hokkaido's Mt Fuji."
One-half of the mountain is covered with groomed trails, woodland glades, bowls of ungroomed powder, and snow parks. The other half is a massive hillside of unpatrolled backcountry experiences, complete with natural halfpipes, steep chutes, and practically limitless tree skiing. Niseko is famed for its powder and the low temperatures that generate it, so dress warmly.
Despite its reputation for glades and off-piste alpine skiing, Niseko has more than two-thirds of its courses rated for beginners and intermediates. Heli-skiing, cat skiing, snowmobiling, snowshoeing, and hot spring spas are all available at the resort, making it a must-see on any holiday to Japan.
Niseko's plethora of activities for children, as well as its excellent program of snowboard and skiing instructions (accessible in English), won it the distinction of Japan's Best Ski Resort for families at the Ski Asia Awards.
10. Chamonix
All the way from France, Chamonix is one of the best-known and most popular ski destinations. This is thanks to the famous name of Mont Blanc, the first Winter Olympics, and ski slopes with the world's highest height differential.
Mont Blanc, Europe's highest summit at 4,807 metres, guarantees Chamonix some of the greatest and longest-lasting snow conditions in the Alps. The nearby glaciers help to keep temperatures low and the powder dry because of the height. The snow falls and remains on some of the world's most difficult ski terrain.
Chamonix is divided into various sections. Grands Montets, at heights ranging from 1,235 metres to 3,300 metres, provides skilled runs with the world's largest height disparity. The legendary Verte, the only piste in Haute-Savoie sanctioned for World Cup racing, can be found at the Les Houches ski resort. Its 3.5 kilometres are tree-lined and frequently glazed over, with an 870-metre vertical and a sequence of jumps.
Chamonix is also well-known for its excellent off-piste skiing. In fact, Les Houches has skiing for all abilities as well as cross-country paths, so it's not just for specialists.
11. St. Antonius
Another renowned name among skiers is St. Anton. This is because it was the site of the first ski club in the Alps, formed in 1901. Its 280 kilometres of terrain at elevations of up to 2,800 metres are not for newbies or even most intermediates, since they comprise some of the most difficult runs in the Alps.
The moguls are renowned, as is the resort, and the off-piste skiing is excellent, as it is one of the snowiest places in the Alps. Hire a guide and proceed to the amazing vistas near Sonnenkopf; inquire about the Schindler Chutes or the Waterfall path into Langen for the most breathtaking experiences.
The regional Arlberg lift pass provides access to 340 kilometres of slopes and pistes, including those in the adjacent Austrian ski resorts of Lech and Zürs, both of which provide plenty of chances for novice and intermediate skiers. You can take a shuttle bus to these resorts, and some of their pistes are also linked to St. Anton by the Flexenbahn, a cable car that connects to the opposite side of the Flexen Pass.
With the end of the epic 85-kilometre Run of Fame, more delights await. The circuit takes expert skiers from St. Anton/Rendl to Zürs, Lech, and Warth before returning to St. Anton. The circuit spans the whole Ski Arlberg ski area.
The hamlet of St. Anton is a charming collection of Alpine inns, stores, and restaurants, and ski lifts that depart directly from the village. St. Anton's nightlife, which is usually famed for its bustling après-ski scene, maybe a little more muted this season.
12. Kitzbühel, Austria
Kitzbühel, located in the Austrian Alps and is easily accessible from both Innsbruck and Salzburg. It appears as a tourist poster for Alpine ski resorts, with its fresco-painted houses and mountain cottages. Kitzbühel's sophisticated boutiques and luxury hotels give it the air of a fashionable Swiss resort. It also offers friendly warmth and lodgings that welcome families on a budget. Kitzbühel, as charming as it is, is more than simply a lovely face.
There's the famed 85% vertical slope, where skiers compete yearly in the Hahnenkamm. It is the most difficult of all downhill events, for dedicated skiers eager for white-knuckle descents. In addition, there are mild slopes and lifts for less experienced skiers.