Ancient Egypt and its tales of pharaohs, pyramids and hidden treasure has fascinated people for hundreds of years. It's a popular theme for films, books, TV shows and slot games, and there are even a few Slingo games inspired by the likes of Cleopatra, Tutankhamun and co. 
If you're not sure what a Slingo game is, don't panic! Slingo is our very own blend of slots and bingo, and there are lots of fun Slingo games to choose from. 
In this article we're focusing on Egyptian-themed Slingo games – read on to find out more!
---
*Terms and conditions apply.*
---
Walk Like an Egyptian
Of the three Egyptian-themed Slingo games we're focusing on today, it's impossible to pick a favourite! From the feature-packed Cleopatra Slingo to the epic Book of Slingo – without forgetting Tutan's Treasure along the way – each game has something new and exciting to offer.
Without further ado, let's take a look at each of them in a little more detail:

Slingo Cleopatra
Slingo Cleopatra is an exciting Slingo game that combines hit slot Cleopatra with the famous Slingo grid. The Cleopatra slot was released back in 2012, and remains one of the most popular slot games to this day. Players love its Ancient Egyptian theme, which centres around Cleopatra, the last pharaoh of Ancient Egypt, who was known for being a fearsome leader with a magnetic beauty.
Whether you've played the original slot before or not, you're sure to love Slingo Cleopatra. Match up numbers on the Slingo grid with those on the reels to complete Slingos and work your way up the bonus ladder. One of our favourite features of this game is that you will collect every prize you land on or pass, and it will be added on to your running total of Bonus Spins.
Eye of Horus Wilds and Cleopatra Super Wilds help you to mark off numbers on the grid, which might give you more chances to win.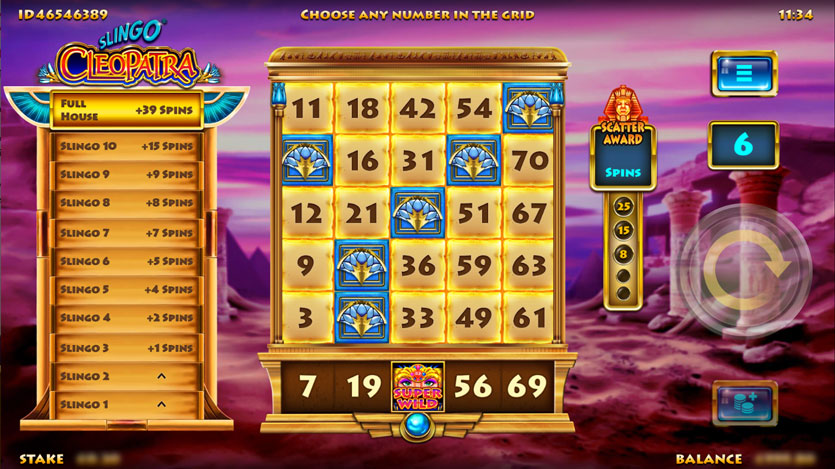 Tutan's Treasure
Tutan's Treasure is an epic Slingo game that takes its inspiration from the classic treasure-hunting movies we all know and love. The game offers a slightly spooky take on the Egyptian theme, and is set deep inside the pyramids, complete with hieroglyphics on the walls, flickering torches and even a scarab beetle that scuttles across the screen when you least expect it!
The aim of the game is to collect gems to complete artefacts and win real cash prizes. The gameplay is a little different to other Slingo games, but it's easy to understand. Simply choose your favourite artefact then find all of the gems it's made of for your chance to be rewarded with a prize. Spin the reels to match precious stones like quartz, emerald and gold with those on the grid to complete the artefacts.
With mysterious treasures such as Tutankahmun's Mask, the mythical Eye of Horus and even a bejewelled scorpion, you decide which one to choose. The top prize in Tutan's Treasure is a whopping 2,450x your bet, which is certainly an attractive proposition!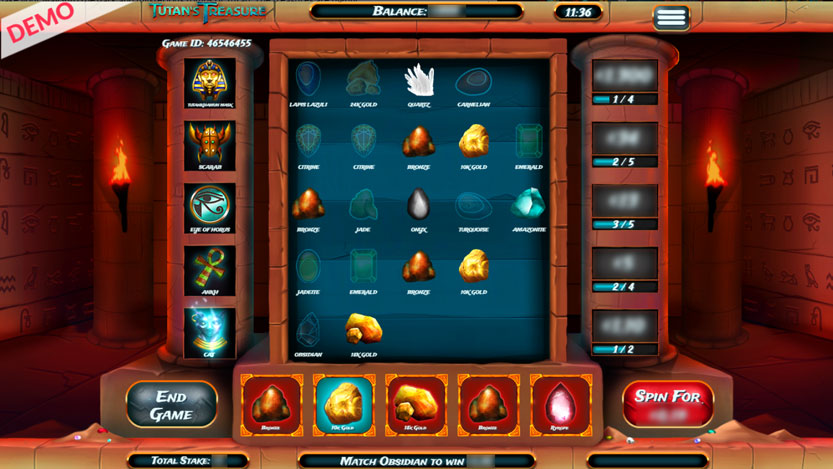 Book of Slingo
If you're a fan of Rich Wilde's adventures in Book of Dead, you'll love the Book of Slingo game. And if you haven't got any idea what you're talking about, don't worry! Book of Slingo is an action-packed game that's ideal for both beginners and more experienced players.
In this game you'll complete Slingos to work your way up the pay ladder and unlock the free spins bonus round, where the powerful Book of Slingo will reveal a mystery expanding symbol for even bigger wins.  It's up to you to decide whether to play the bonus game or end the current game and collect your winnings.
We love the detailed design of Book of Slingo, and symbols include the Book of Slingo itself, a Wild scarab beetle, and the Eye of Horus. The Eye of Horus represents protection, health and restoration, and remains an important cultural symbol today. You may even have come across it in other Egyptian-themed games (like Tutan's Treasure, for example!).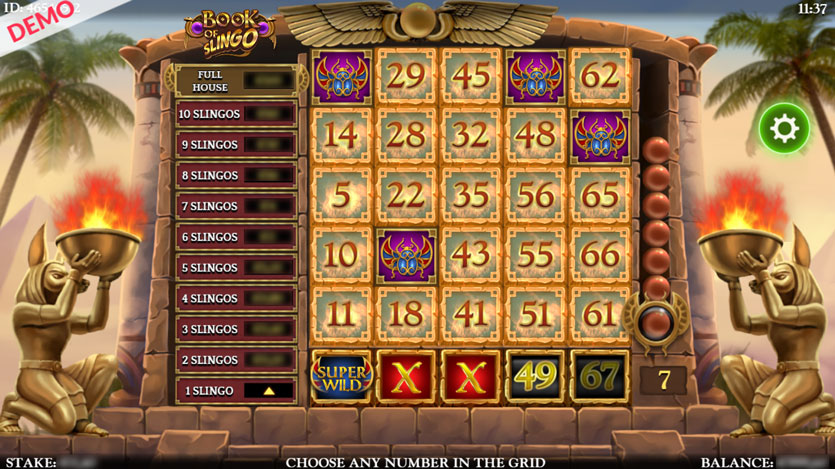 Play These Ancient Egyptian-Themed Slingo Games at Slingo.com
Find all these Slingo games and more at Slingo.com, the official home of Slingo. With an amazing selection of Slingo, slots and online casino games, you're sure to find your new favourite at Slingo.com. Remember to always gamble responsibly, and never spend more than you can afford to lose.