Come on Down and Play These Fantastic Slingo Gameshow Slots!
Gameshows are a staple of TV, with many of our Saturday nights not complete without yelling correct answers at the tele, or cheering along with the crowd. Slingo has been inspired by this excitement many times over the years which is why they have created a variety of fantastic Slingo titles inspired by some of the most popular gameshows throughout television history. So, join us and tune in as we go through the best Slingo games that are inspired by gameshows; come on down!
Slingo Masked Singer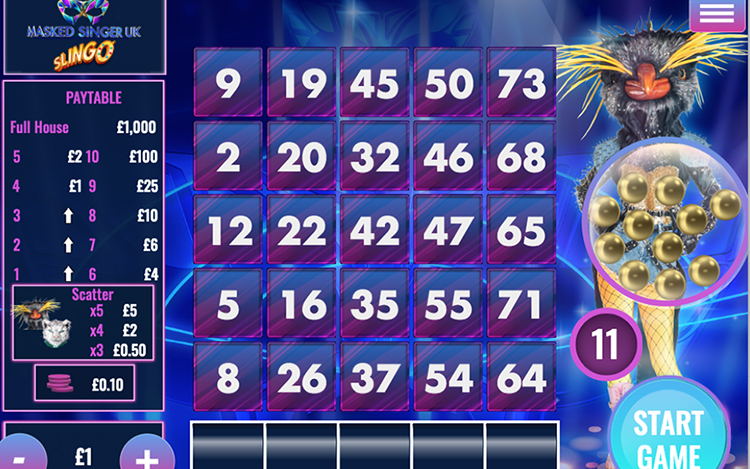 Masked Singer Slingo follows in the footsteps of a number of other gameshow-themed Slingo games. Inspired by the absolutely smash-hit TV show, that's aired across the globe, who knows just who, or what amazing prizes could be hidden behind the incredible costumes, and singing talent. This version of Slingo has a straightforward design. It's branded with The Masked Singer logo, is mostly dark blue - presumably to reflect the stage - and depicts Rockhopper from the current series, as you'd expect. They're on the left side of the screen, looking after the balls, while the 5x5 grid and paytable are in their normal spots in the middle and right.
Slingo Deal Or No Deal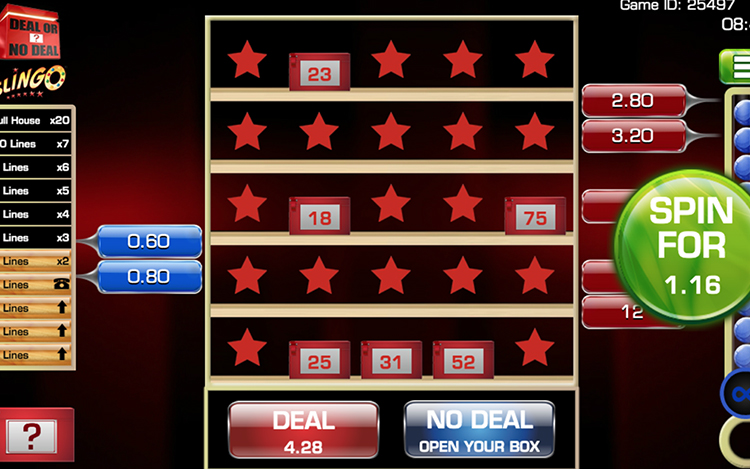 Slingo Deal or No Deal is probably one of the most well-known gameshow-inspired Slingo games. Inspired by the iconic TV show, hosted in the UK by Noel Edmonds and in the US by Howie Mandel, this highly interactive edition of Slingo puts you in the driver's seat, allowing you to play the game your way (with some recognizable Slingo features, of course)!
When you first start the game, you'll be prompted to pick your fortunate box, which will be placed to one side, much like on TV. You eliminate the famous red boxes from your 5x5 grid by matching numbers from the slot reel to those in the columns above. You'll get a Slingo and climb up the Prize Boost Ladder if you mark off 5 boxes in a row vertically, horizontally, or diagonally. This will multiply the value of any remaining rewards. Will you beat the banker, or crumble under the pressure and take a deal too soon. Try Slingo Deal or No Deal to find out!
Britain's Got Talent Slingo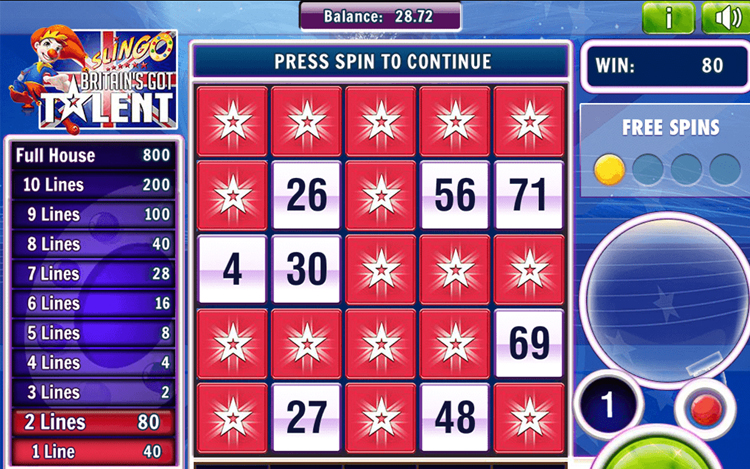 The show Britain's Got Talent Slingo is another Slingo Originals and Fremantle partnership with a star-studded cast. As the Slingo Joker and the talent show stage collide, let us delight you with a touch of showbiz dazzle. There are no dull moments in this glamorous edition of Slingo, just like in the popular TV program, with some surprises on the slot reel that could raise the roof. Enjoy the show from your seat in the audience, or wait nervously in the wings for your time to shine. 
It's showtime! The iconic 5x5 Slingo grid appears on your screen, complete with a slot reel featuring the union flag that's synonymous with Britain's Got Talent's branding. Matching numbers from the column above are eliminated as numbers rotate into the slot reel. To make a 'Slingo,' mark off 5 numerals in a row horizontally, vertically, or diagonally; if you do so, consider yourself through to the next round, because you'll be advancing a stage up the prize ladder. 
The Price is Right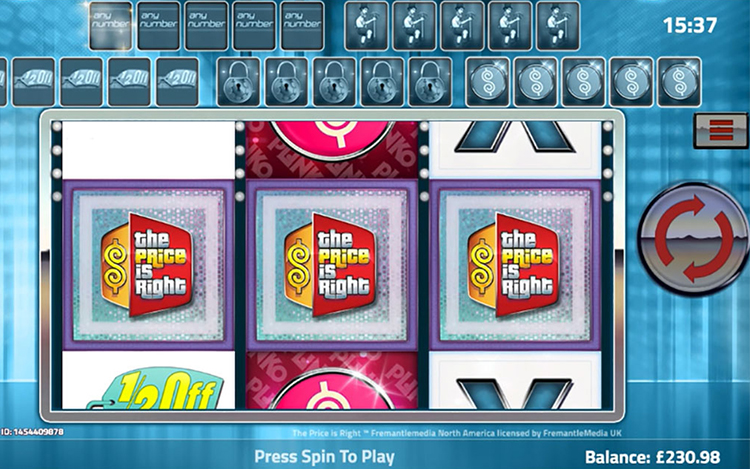 Please, come down! Slingo Originals is bringing the classic game show to your fingertips with this spectacular online slot version, so no more yelling at the TV. Make your way to the stage for a chance to play the fantastic games that viewers have come to expect, complete with show sound effects. Just like the game show which has a long history spanning continents, and has seen hosts such as Bruce Forsythe (in the UK) and Drew Carey (in the US), all the elements that make this game show a smash hit are present and correct in its Slingo version.
This wonderfully creative slot, as you might assume, is jam-packed with additional features. Unlike most other Slingo games this title features bonus elements that play out like those in video slots, making it the perfect option for slots fans to discover the Slingo Genre. Will fortune smile on you? Come on down to find out!
Play These Game Show-Inspired Slingo Games at Slingo.com
Game Show-inspired Slingo games are tons of fun. Become a contestant in some of the greatest shows of all time. From battling the banker in Deal or No Deal to guessing prices in the Price is Right, to belting it out in Slingo Masked Singer and Slingo Britains got talent, these titles offer a little something for everyone. Best of all, all these games can be played any time and any place you like at Slingo.com. Sign up and play today and discover more.