Sink Your Teeth into the New Slingo Shark Week Game!
Shark Week is the longest-running TV programming event in history, and we're big fans! In case you haven't heard of it, every summer Discovery Channel dedicates an entire week of programming to sharks, and the event has gained cult status.
To get ready for Shark Week 2022, we've teamed up with Discovery Channel to bring you Slingo Shark Week!
This exciting new release features the familiar Slingo grid, although this time you'll be marking off Slingos in the hopes of triggering one of five shark-tastic bonus games.
Bonus games include Break the Cage, Fish Grab, What Did the Shark Eat and more. Spin the Shark Wheel to trigger enhanced bonus rounds or win multiplier prizes!
And with Free Spins, Wilds and Super Wilds to help you along the way, there are plenty of chances to win in this action-packed Slingo game.
After your initial spins are up, you can choose to buy extra spins to carry on the fun!
How to Play Slingo Shark Week
Before playing Slingo Shark Week online, you'll need to decide on your stake. Once that's sorted, it's time to begin!
The aim of the game is to match up numbers on the reel with those on the grid. Just like in other Slingo games, you'll win a Slingo for marking off five numbers on the grid – vertically, horizontally or diagonally.
Completing a Slingo on the grid will move you up the bonus ladder, and your goal is to mark off every number on the grid to achieve a full house and win the corresponding prize.
Wilds and Super Wilds can help you towards this goal by allowing you to choose specific numbers to mark off on the grid.
Complete five Slingos or more to gain access to an exciting bonus round at the end of your game. With fun bonus games like Break the Cage, Fish Grab and more, you could be in with a chance of supersizing your winnings.
Get ten Slingos to spin the Shark Wheel, which is full of enhanced bonus rounds and multipliers of up to 100x your bet!
Slingo Shark Week Game Features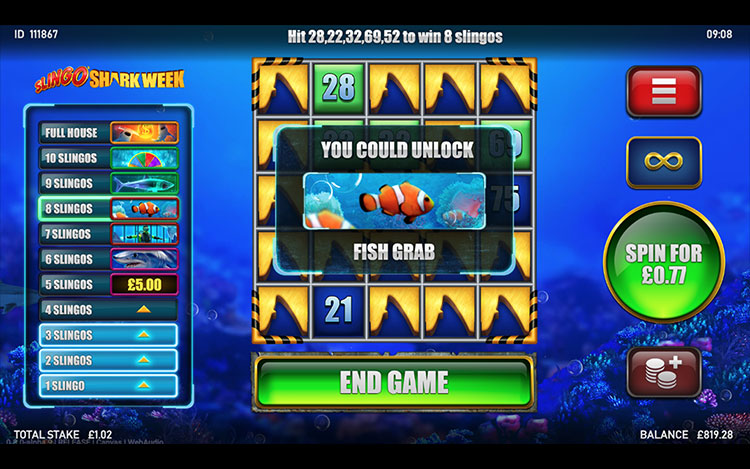 The Slingo Shark Week game has a few features you'll recognise from other Slingo games, as well as some exciting new additions:
Complete five or more Slingos to trigger a bonus game

Get ten Slingos to spin the Shark Wheel

Multipliers of up to 100x your bet

Wilds allow you to mark off any number in the row above

Super Wilds enable you to make off any number in the entire grid

The Free Spin symbol awards an additional spin

Option to buy more spins at the end of the game
Play Slingo Shark Week at the Official Slingo Site
Brave the shark-infested waters with Slingo Shark Week! And where better to play it than the official Slingo site? With over 1,200 Slingo, slots and casino games plus amazing customer service and a fun gaming environment, Slingo.com is your #1 destination for a fantastic gaming experience. Sign up and play Slingo Shark Week here at Slingo.