You may have noticed that there are lots of slot games with 'riches' in the title, which makes it easy to get them confused! In this blog, we're going to focus on two of our favourite games that share similar titles: Rabbit Hole Riches and Slingo Rainbow Riches.
We'll look at the gameplay, features and theme of both games, and hopefully by the end of this blog you'll be able to easily differentiate between the two games.
Gameplay
Since Rabbit Hole Riches is a slot game and Slingo Rainbow Riches is a Slingo Originals game, the gameplay and mechanics of how the games work are a little different. Read on to find out more!
Rabbit Hole Riches Gameplay
Rabbit Hole Riches is a 3x3 slot game with five paylines. It follows a standard slots format, where the aim of the game is to spin the reels and match up three numbers on a payline to win a prize. 
There are five fun bonus features to look out for in Rabbit Hole Riches - more on those later. They can be triggered by landing three Scatters on the reels, and there's the potential to win cash prizes, free spins and multiplier prizes.
Slingo Rainbow Riches Gameplay
Slingo Rainbow Riches follows the format of other Slingo games. If you're not familiar with them yet, don't worry! It's easy to get the hang of. Slingo games have a numbered 5x5 grid, similar to a bingo card. To play, spin the reels underneath the grid to hopefully match up numbers on the reels with those on the grid.
The aim of the game is to complete Slingos by marking off lines on the grid (horizontal, vertical or diagonal). 
In Slingo Rainbow Riches, if you complete five or more Slingos you'll gain access to one of seven bonus games inspired by the original Rainbow Riches slot game!
Game Features
Let's take a look at some of the key features of both games:
Rabbit Hole Riches Features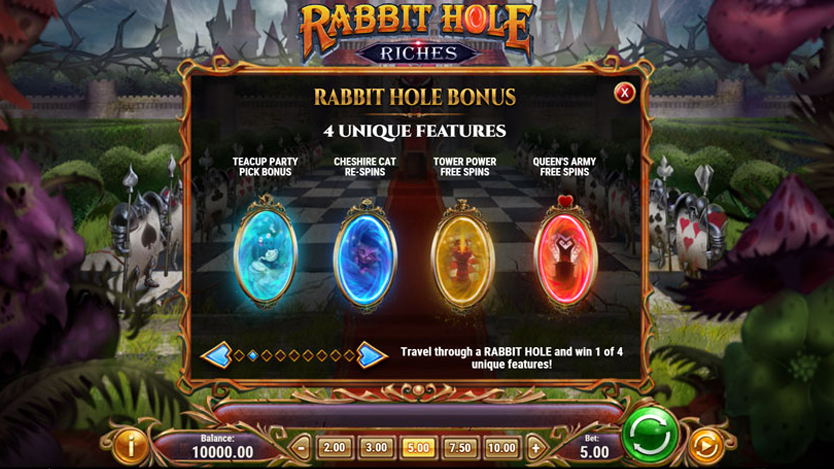 Rabbit Reward:

The White Rabbit can randomly appear and throw two Scatters onto the reel. If a third Scatter then appears on the final reel, the bonus games are unlocked.

Teacup Party Pick Bonus:

Get one free spin with only high-paying symbols on the reels. Then pick a teacup to reveal a symbol. All instances of this symbol on the reels will win you a prize of between 2x and 8x your stake.

Cheshire Cat Respins:

Get one respin with the Cheshire Cat Wild active. You're guaranteed a win on your first spin, followed by another respin.

Tower Power Free Spins:

7 free spins with the Red Tower and White Tower Wilds active. Choose a Tower and score a point for each position the Wild covers. If you choose the winning Tower, your wins from the round will be doubled.

Queen's Army Free Spins:

8 free spins with the Queen Wild active. Win multipliers and additional free spins are potentially unlimited in this bonus, if you keep landing wins! 
Slingo Rainbow Riches Features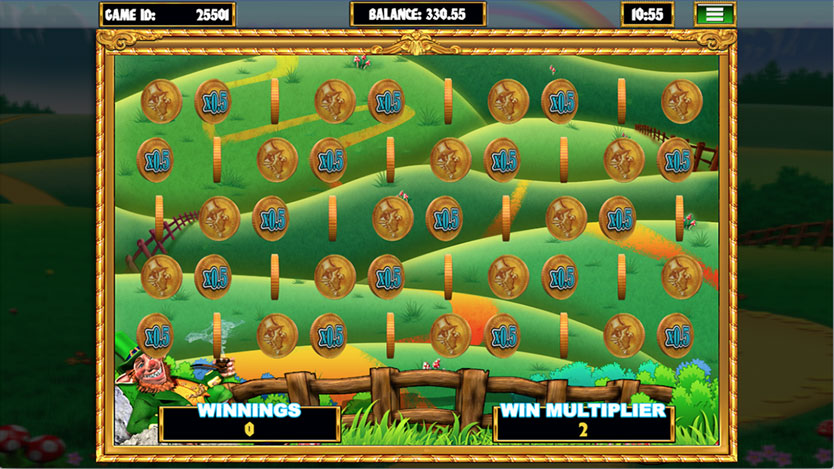 Jokers and Super Jokers help you choose numbers to mark off on the grid.

Free Spin symbol awards an extra spin at the end of the game.
Seven bonus rounds, triggered by completing five or more Slingos on the grid. Here's a quick summary:
Wishing Well:

Choose a lucky Wishing Well to win prizes and multipliers.

Cash Crop:

Watch as coins spin in front of you, until one stops to reveal a multiplier of up to 10x your stake.

Magic Toadstool:

Choose three magic toadstools to win multiplier prizes.

Magic Toadstool Red:

As above, but this time you can choose four toadstools.

Road to Riches:

Larry the Leprechaun spins the reels to determine how many steps you can take along the golden trail, with multiplier prizes of up to 500x your stake.
Road to Riches Red:

As above, but with multipliers of up to 1,000x your stake.

Pots of Gold:

The highest level bonus game, where you could get a chance to win a multiplier of up to 1,000x your bet!
Technical Features
For those of you interested in the technical features of the two games, check out our summary below:
Rabbit Hole Riches Technical Features
The RTP (Return to Player) of Rabbit Hole Riches is 96.23%.

The minimum and maximum bet ranges from £0.10 to £50.

The game has a 3x3 format, with five paylines.
Slingo Rainbow Riches Technical Features
Slingo Rainbow Riches has an RTP of 95.6%.

The minimum and maximum bet ranges from £0.50 to £100.

Each game consists of 10 spins, with the option to buy extra spins at the end of the game.
Themes and Graphics
Rabbit Hole Riches and Slingo Rainbow Riches have completely different themes, so it's worth trying out both games to see which you prefer.
Rabbit Hole Riches is inspired by Lewis Carroll's Alice in Wonderland, and symbols include the Cheshire Cat, the Red Queen, the Mad Hatter and the Caterpillar. The theme is slightly darker than the Disney film you may be familiar with, but don't worry – it's not too scary!
On the other hand, Slingo Rainbow Riches shares the same cheerful Irish theme as the original Rainbow Riches slot which it is based on. The game is set on a bright, sunny day in the rolling hills of Ireland, and it features leprechauns, toadstools, wishing wells and more. 
Rabbit Hole Riches vs Slingo Rainbow Riches: Which Game Is Better?
Although this is the question you might want the answer to, the truth is that it depends on your preferences! If you're looking for an Alice in Wonderland-inspired slot game, Rabbit Hole Riches is perfect. However, if you feel like an Irish adventure complete with leprechauns and toadstools, Slingo Rainbow Riches is for you.
The best advice we can give you is to try them both! The only real way to get a feel for games is by playing them yourself, and it's great to try out all the different options.
Play Rabbit Hole Riches and Slingo Rainbow Riches at Slingo.com
You can find Rabbit Hole Riches, Slingo Rainbow Riches and lots more exciting games at Slingo.com, the official home of Slingo. Join us now for a safe, fun and engaging gaming experience that puts you first. Ready to try something new? Sign up with Slingo now!