Whether you're looking for games with a specific RTP or you're not even sure what RTP is, we've got you covered. In this blog we'll highlight some of our favourite Slingo Originals games with an RTP of 94%, as well as explaining what RTP is all about.
RTP is short for Return to Player, and is usually expressed as a percentage. Percentage return to player (% RTP) is the expected percentage of wagers that a specific game will return to players over a long period of time. 
Each online game (including slot games and Slingo Originals) has its own RTP, and this information is made readily available by the casinos.
Many players are interested in finding the slot machines with higher RTPs (such as those with an RTP of 94%), since these are the games that theoretically pay out the most amount of money over time.
However, it's important to remember that all outcomes are random, and just because a game has a high RTP it doesn't guarantee you a win.
That said, let's take a closer look at the Slingo games with an RTP of 94%. Read on to find your new favourite!
---
*Terms and conditions apply.*
---
Our Favourite Slingo Games with an RTP of 94%
Check out the list below for our pick of the best Slingo Originals games with an RTP of 94%.

Slingo Cleopatra
First up is Slingo Cleopatra, an epic Slingo game that combines hit slot Cleopatra with the famous Slingo grid. The Cleopatra slot was released back in 2012, and remains one of the most popular slot games to this day. Players love its Ancient Egyptian theme, which centres around Cleopatra, the last pharaoh of Ancient Egypt, who was known for being a fearsome leader with a magnetic beauty.
In Slingo Cleopatra, match up numbers on the grid with those on the reels to complete Slingos and work your way up the bonus ladder. One of our favourite features of this game is that you will collect every prize you land on or pass, and it will be added on to your running total of Bonus Spins.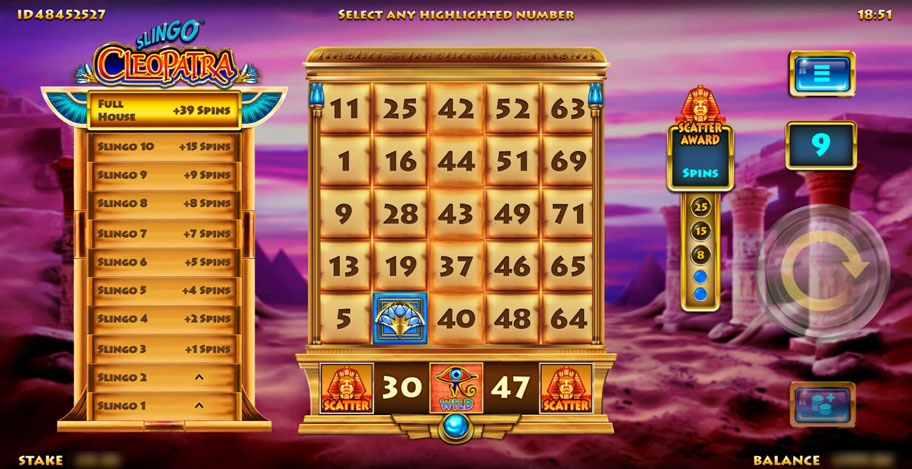 Slingo Lucky Joker
Slingo Lucky Joker is a fun Irish-themed Slingo game featuring a leprechaun Joker, who moves around a Feature Trail on the edge of the Slingo grid to try to help you boost your wins.
With each spin of the reels, a dice will simultaneously decide how many places the Joker moves around the Feature Trail. Dotted around the trail are multiplier prizes, and if he passes them you'll be awarded the prize!
Get four or more Slingos to trigger the Bonus Slot game at the end of your current game. You'll be awarded a certain number of spins on a slot machine-style game, giving you a chance to multiply your winnings. Fast-track your way to this feature by landing three or more Bonus Slot symbols on a single spin, or by getting lucky on the Bonus Wheel.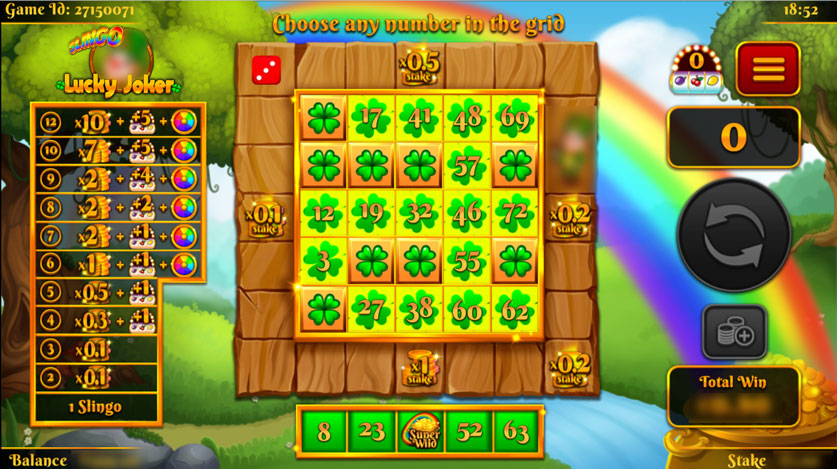 Wheely Wheely Big Win
Wheely Wheely Big Win is a Slingo Original with a unique format that really makes it stand out from the crowd. The game takes its inspiration from roulette and features two wheels, one inside the other. The aim of the game is to match up the coloured segment of both wheels with the white arrows at the top.
Adjust the coloured segments to determine the volatility of the game and the prize money: a bigger segment increases your chances of winning but decreases the payout, whereas a smaller segment has less chances to win but the payouts are bigger. Don't worry – it sounds more complicated than it is!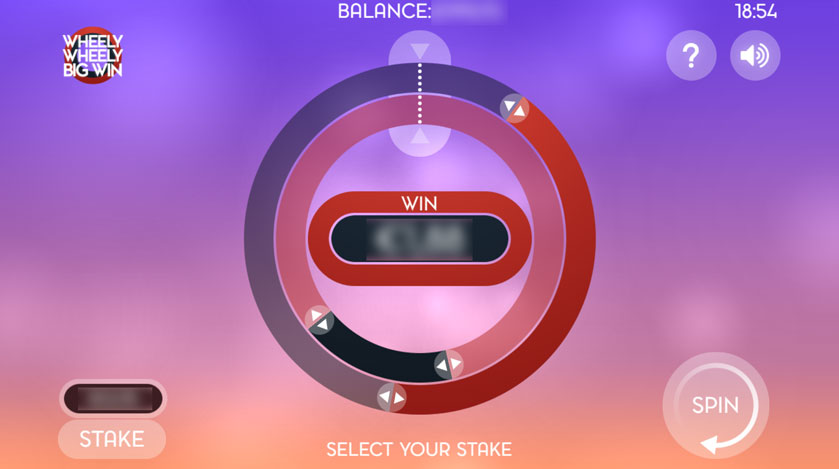 Slingo Pirate's Treasure
Slingo Pirate's Treasure is a swashbuckling Slingo game where you'll join a fearless crew of pirates on the hunt for treasure and cash prizes.
As well as Wilds, Super Wilds and Free Spin symbols, the Pirate Captain can also appear on the reels to try to help you land a win. When this feature is randomly triggered, a cannon on the side of the reels will shoot at one of the numbers to try to help you complete a Slingo.
Get six or more Slingos to activate the Pirate's Booty bonus round, or find three Scatters on the reels to spin one of three Bonus Wheels.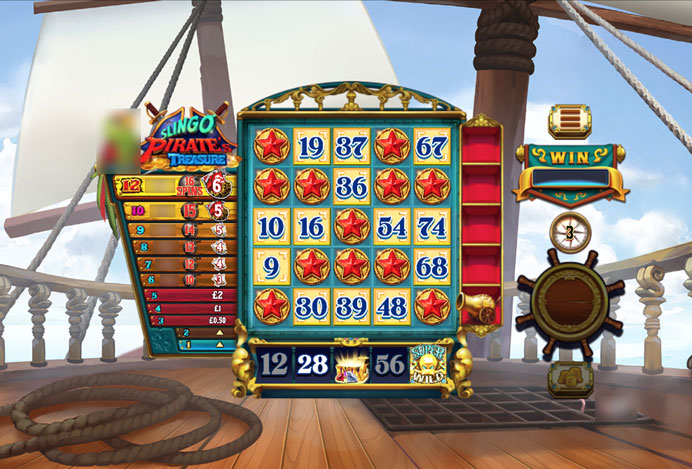 Slingo Carnival
Slingo Carnival takes us back to the fairgrounds of our youth: think of big tops, candy floss and even the dreaded Waltzers! This unique Slingo game features seven lucrative bonus rounds inspired by classic fairground challenges; reveal a multiplier in the Pick a Toy Bonus, or spin the wheel to move up the rollercoaster in the thrilling Coaster Climb Bonus.
To trigger the bonus rounds, you'll need to complete five Slingos or more on the grid. Jokers and Super Jokers can help you to mark off numbers, and there's also a Free Spin symbol that can award an additional spin at the end of the game.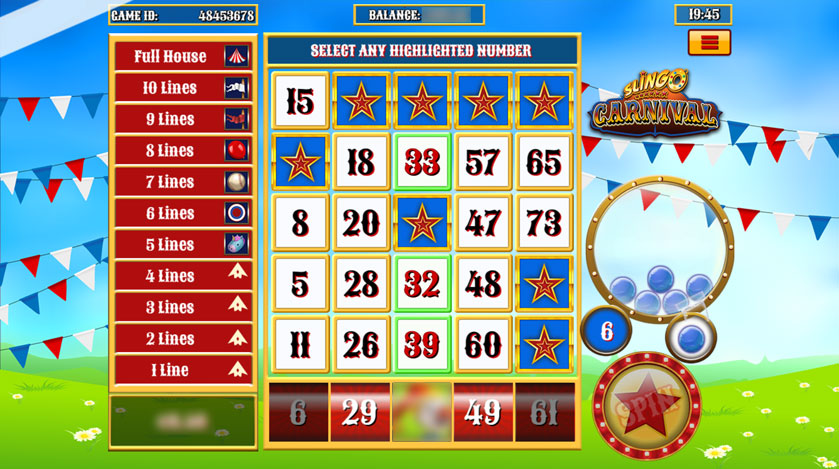 The Price Is Right
Nice to see you, to see you… nice! This glitzy Slingo game, The Price is Right takes its inspiration from the much-loved gameshow of the same name, where contestants were asked to guess the price of consumer items to be in with a chance of scooping big wins.
Spin the reels to match bonus symbols across five consecutive spins and activate bonus rounds for your chance to win a cash prize. For example, in the Half-Off Bonus you'll need to pick the right cards in order to eliminate empty gift boxes and find one with a prize in it.
In the Cliff Hanger Bonus, you'll need to spin the reels then decide how many steps the hiker can take up the mountain without falling off. If you manage to win this round, the prize will be your initial stake multiplied by the number displayed on the reels.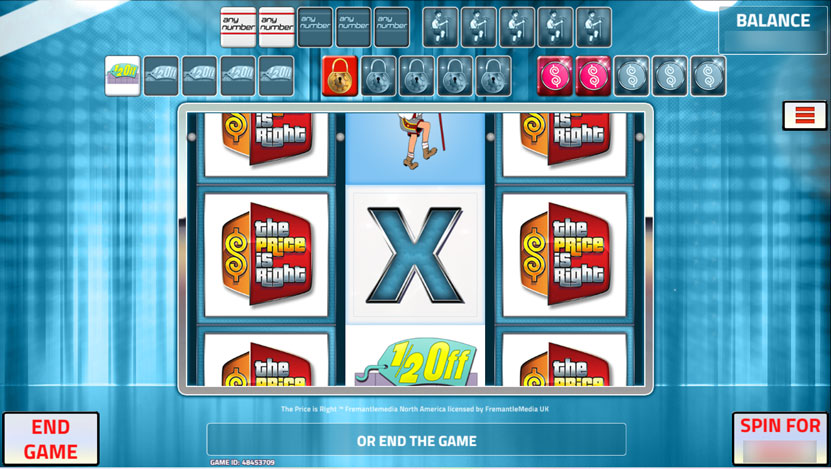 Pay of the Dead
Next up it's Pay of the Dead, a vibrant Slingo game with a unique Day of the Dead theme. This traditional Mexican holiday is celebrated around the same time as Halloween, when families welcome back the souls of their deceased loved ones for a brief reunion with food, drinks and celebration.
In the festivities, candles are lit and edible skulls made from sugar are decorated with beautiful patterns. Pay of the Dead takes its inspiration from these symbols, and there's even a rather spooky-looking female skull who will increase your multiplier but take one of your lives in the Free Spins Bonus!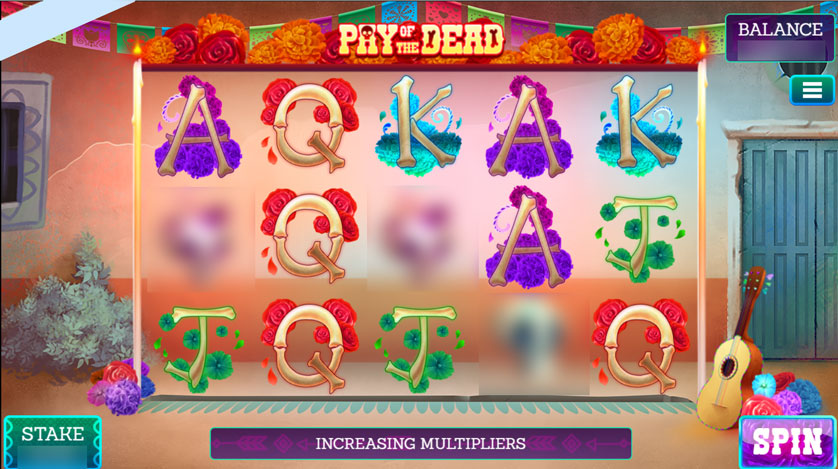 Pigasus and Friends
Pigasus and Friends is a quirky Slingo game that transports us to a farmyard where some rather unusual animals live! Meet Pigasus the flying pig and his friends: a ewe-nicorn (a sheep with a unicorn's horn) and a three-headed giraffe.
With a fun free spins bonus and a Red Hot Respins feature, Pigasus and Friends offers an exciting gaming experience for everyone. And with potentially unlimited free spins, you could be bringing home the bacon with this unique Slingo slot game.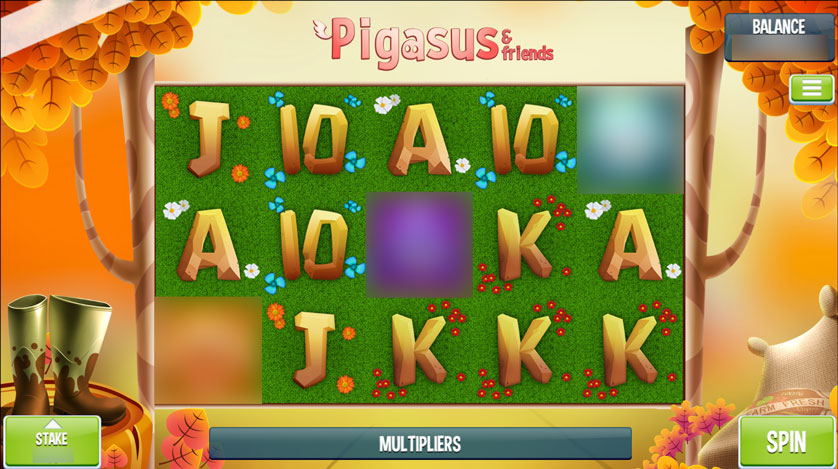 Enjoy These 94% RTP Slingo Original Games Here at Slingo.com
Find all these games and more at Slingo.com, the official home of Slingo. Sign up now and have fun in a safe, secure environment that puts you first. With exciting Slingo, slots, and casino games to choose from, you'll be spoilt for choice! Register at Slingo today and start your adventure.