This time we're braving the icy waters of Alaska with Slingo Deadliest Catch, the epic Slingo game inspired by the Discovery Channel TV show of the same name. With three different bonus games available in Day and Night mode depending on how many Slingos you complete, this unique release is fast becoming one of our favourite new Slingo games.
We love how the Slingo Originals and Gaming Realms team have turned the action-packed TV show into a fun Slingo game, featuring the two fishing boats used in the series as well as their fearless captains.
In the game you'll collect Golden Crabs for more chances to win in the bonus games. And if you're lucky enough to activate the Crab Hunt bonus game, you could win up to 500x your bet.
In this review, we'll explore what Slingo Deadliest Catch is really like to play, and the unique gaming experience it offers. If you'd rather read a step-by-step guide on how to play, visit our Slingo Deadliest Catch page.
---
*Terms and conditions apply.*
---
Slingo Deadliest Catch Information
| | |
| --- | --- |
| Game Name: Slingo Deadliest Catch | RTP: 95.7% |
| Game Provider: Slingo Originals brought by Gaming Realms | Reels: 5 |
| Theme: Sea, Fishing | Paylines: 12 |
| Feature/s: Bonus Spin, Wild Symbols, Multiplier, Free Spin | Min & Max Bet: £0.20 - £25 |
| Volatility: Medium | Biggest Possible Win: 3,740x |
HIGHLIGHT ONE: Slingo Deadliest Catch Gameplay
Slingo Deadliest Catch is an original Slingo game that offers a fun gaming experience, whether you've seen the Discovery Channel TV show it's based on or not. The game has the same smooth, fast-paced Slingo gameplay that we've come to know and love, and the Golden Crabs feature brings something new to the table.
There are three bonus games to explore too, and each can be played in Day or Night mode depending on how many Slingos you complete. Keep reading for our review of this unique Slingo game.

HIGHLIGHT TWO: Exploring the Slingo Deadliest Catch Game Theme
Like all Slingo games, Slingo Deadliest Catch features crystal-clear graphics and a sharp design that brings the game to life. The stormy sea is clearly visible in the background, which makes it easy to imagine what it would feel like to be there.
As we mentioned earlier, Slingo Deadliest Catch is based on the Discovery Channel TV show of the same name. In case you haven't come across it, we'll give you a quick summary.
Deadliest Catch is a reality TV show that follows two fearless captains as they fish for crabs in Alaska. Although the water temperature is perfect for crab fishing, the weather conditions in Alaska are notoriously hostile. With gale force winds, high seas, snow and more for the captains to contend with, Deadliest Catch makes for gripping viewing.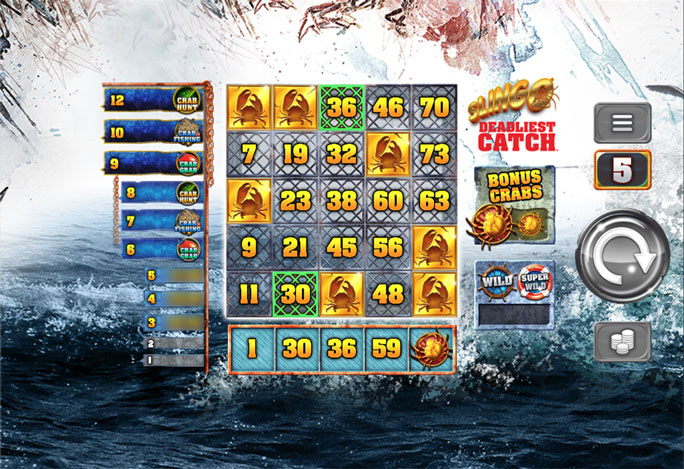 HIGHLIGHT THREE: Slingo Deadliest Catch Symbols
In the Slingo Deadliest Catch game, there are a few different symbols to look out for. Here's a quick summary:
Wild: Enables you to mark off any number in the column above the one it appears in

Super Wild: Lets you mark off any number in the entire grid
Golden Crab: Gives you more chances to win in the bonus games
Free Spin: Awards you an extra spin of the reels at the end of your current game
You'll also notice that on the pay ladder, six Slingos and above have a colourful image next to them. The images represent the bonus games you can unlock for completing the corresponding number of Slingos.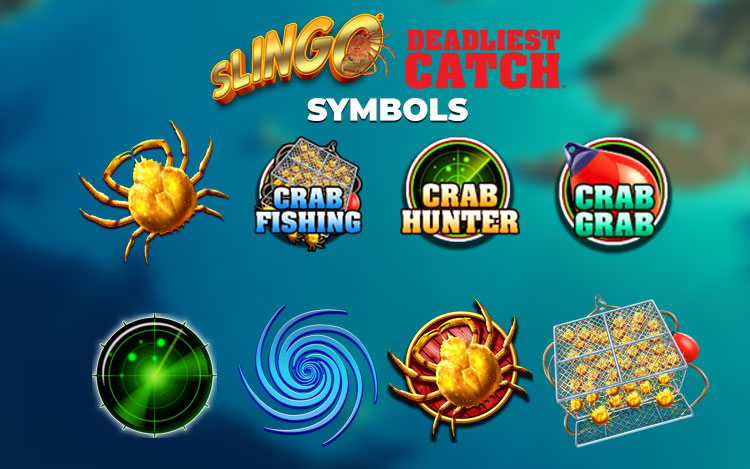 HIGHLIGHT FOUR: Slingo Deadliest Catch Game Bonuses
Slingo Deadliest Catch has three fun games to try to activate in Day or Night mode, depending on how many Slingos you complete. Here's some more information about each one:
Crab Grab
Complete 6 Slingos to play Crab Grab in Day mode, and 9 Slingos to play in Night mode

Once the game is activated you'll choose from the floating buoys on the screen to reveal multiplier prizes. You'll get 4 initial picks, with one more for each Golden Crab you collected in the base game.

In Day mode the maximum multiplier is 5x, whereas in Night mode it's 50x!

Crab Fishing
7 Slingos will activate Crab Fishing in Day mode, while 10 Slingos will trigger Night mode.

Choose your ship and head out to sea. You'll get 5 initial spins, with one more for each Golden Crab. Each step the ship takes on its journey is worth up to 2.5x your starting stake. Move over the Crab and Storm symbols for even more chances to win!

In Night mode the maximum multiplier is 30x your stake.

Crab Hunt
Complete 8 or 12 Slingos to play Crab Hunt.

Choose your captain and your fishing zone before you begin. The aim is to select a square on the grid map to hopefully find crabs. You'll get 7 picks to start with, plus one more for each Golden Crab.

In Day mode you can win up to 20x your stake per square, and in Night mode the top multiplier is 500x!
FINAL HIGHLIGHT: Slingo Deadliest Catch Summary
Slingo Deadliest Catch is another great addition to the Slingo catalogue. With its original theme, fun bonus rounds and slick design, it's well worth a try if you're looking for a new game to play.
Want to learn more about Slingo Originals, including our recommendations of the top Slingo Originals x Gaming Realms titles to try? Read our blog post to discover more Slingo Originals games.
Play Slingo Deadliest Catch at Slingo
Slingo.com is the official home of Slingo Originals, including Slingo Deadliest Catch. Dive into this new Slingo game and play one of three exciting bonus games in Day or Night mode. With its original theme, simple gameplay and the chance to win multiplier prizes, this Slingo game is fast becoming a classic. Ready for an adventure? Register at Slingo and play Slingo Deadliest Catch now!