Will You Accept the Banker's Offer in Deal or No Deal Slingo?
 
If you were a fan of hugely popular TV game show Deal or No Deal, we've got the perfect game for you! Deal or No Deal Slingo gives you the chance to play the famous game, with a unique Slingo twist!
Choose the correct boxes to mark numbers off on the Slingo grid and work your way towards the Banker's Offer, with a top jackpot prize of £100,000. 
Keen to learn more about Deal or No Deal Slingo? Read on to find out how to play, and how to make the most of the game's exciting bonus features!
How to Play Deal or No Deal Slingo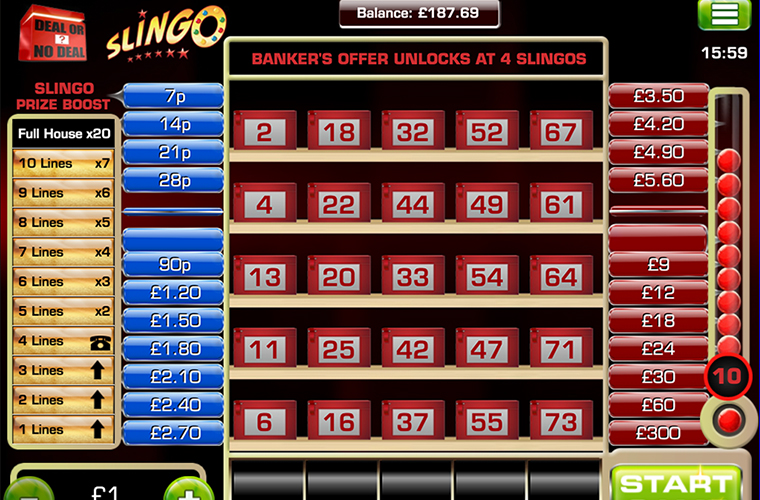 Before playing Deal or No Deal Slingo, you'll need to decide on your stake. Once that's sorted, pick your lucky box from the 26 presented to you. Your box will be put aside while the other 25 boxes fill the 5x5 grid.
When you're ready to begin, hit the 'SPIN' button. Each of your initial ten spins places five numbers/symbols in the reel below your grid. If any of the numbered boxes in the columns above match the number below it on the reel, that box will be opened and its prize value will be removed from the game. Five opened boxes next to each other (vertically, horizontally or diagonally) creates a Slingo, and each completed Slingo moves you up a place on the prize multiplier bar to the left of your screen.
Once you've completed four Slingos you'll unlock the Banker's Offer and be given three options:
DEAL: Take the Banker's Offer

NO DEAL: Open your box and collect the prize value inside

SPIN: Continue the game
If you choose 'SPIN' the Banker will make an offer after each spin based on the prize values left in the game.
If you mark off all possible Slingos and get a Full House you'll jump up to a 20x multiplier!
How to Win on Deal or No Deal Slingo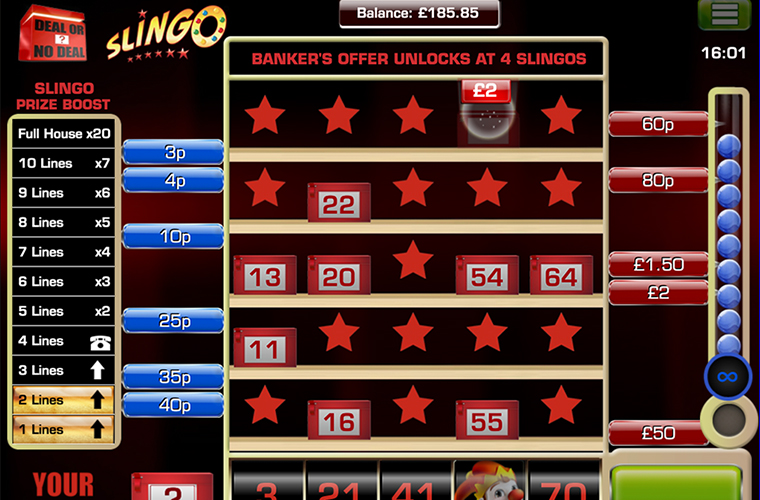 Since all online slots and Slingo games are games of chance, there are no hacks or ways to guarantee a win. All outcomes in Deal or No Deal Slingo are determined by an RNG (random number generator) - a computer system that is almost impossible to predict.
 However, our top tip for playing Deal or No Deal Slingo is to use the Jokers and Super Jokers wisely. When these symbols appear on the reels they enable you to choose numbers to mark off on the grid - so choose carefully!
 The aim of the game is to mark off lines (or 'Slingos') on the grid to work your way up the bonus ladder on the side of the grid.
 If you're given the chance to mark a number off on the grid, think about it carefully to see which grid position you think will help you to complete Slingos! Sometimes the choice may be obvious (e.g., if you've only got one number left to complete a Slingo), but at other times you might need to carefully weigh up your options.
 You'll also need to think carefully when you're deciding whether to take the banker's offer, collect the prize value of your mystery box, or keep on spinning!
Make the Most Out of Deal or No Deal Slingo Bonus Features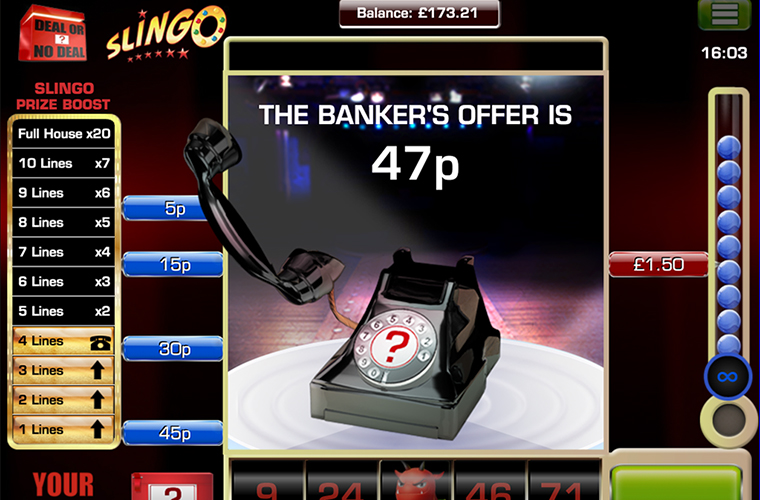 Deal or No Deal Slingo has a few bonus features, but our favourite has to be the banker's offer. Complete at least four Slingos to unlock this part of the game, then decide whether to accept the offer, open your mystery box or continue to play
We also love the Free Spins feature, which adds an extra spin at the end of your game if you find the Free Spins symbol on the reels.
Deal or No Deal Slingo also has an Extra Spins option, which enables you to buy potentially unlimited free spins after your initial ten spins are up!
And make sure you look out for the Joker and the Super Joker, who will try to help you land complete Slingos by letting you mark off numbers on the grid!
Play Deal or No Deal Slingo Online at Slingo.com
Where better to play Deal or No Deal Slingo than at Slingo.com, the official home of Slingo? Enjoy all your favourite Slingo, slots and casino games in a safe, secure environment that puts you first. Ready to play? Let's Slingo!