The Slingo Extreme slot machine might be just what you're looking for if you want to add a bit more spice to your Slingo games. The Slingo Extreme slot offers fast-paced action along with all the enjoyment of the Slingo slot genre thanks to a scorching redesign and automated gameplay. Join us in today's article as we learn how to play Slingo extreme.
What is Slingo Extreme
Slingo Extreme offers a distinctive playing experience by combining aspects of 75-ball bingo and slot games. Slingo Extreme is a fantastic mashup of the thrill of traditional bingo with the slot experience. The game has a straightforward aesthetic but is chock-full of exciting bonus symbols that may be used to earn free spins, instant cash prizes, and wild substitutes.
Slingo Extreme Gameplay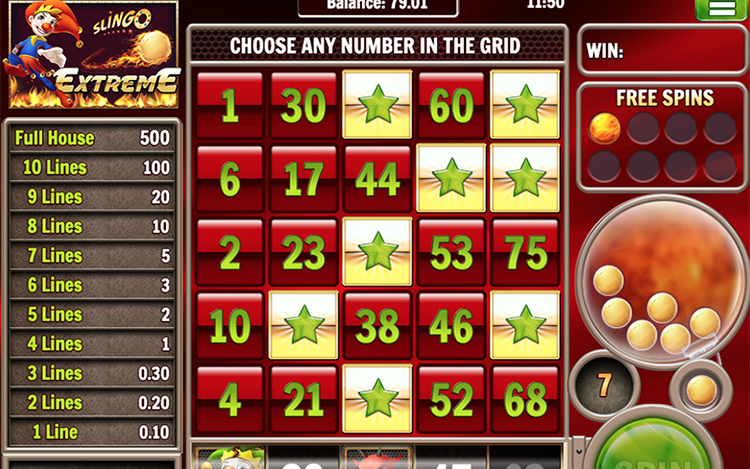 The Slingo Extreme slot machine, in contrast to other Slingo games, has automatic spins that continue until a joker or super joker is landed and a decision is required. Due to this, Slingo Extreme is the ideal game to play on a tablet or phone while on the road.
Slingo Extreme is played over 11 spins for each round (with a total of 8 additional spins available). Matching lines of numbers with those that show up on the reel will help you finish the game. A Full House is when you clear the entire grid, and this is known as a Slingo.
To get started with the Slingo Extreme online game, just adhere to these simple instructions:
Visit Slingo.com to load the game.

Decide how much you'll wager, making sure it's an amount you are comfortable with.

By pressing the "Spin" button, you'll start the game.

Your objective is to land as many winning combinations as possible during your spins. 
Slingo  Extreme was designed with mobile adaptability in mind and may be played on a number of devices, including smartphones, tablets, and desktop or laptop computers. Since there are no incompatible features, you can play Slingo Extreme whenever and anywhere you like. 
As we noted before, SlingoExtreme features all of the well-known Slingo characters prominently. There are two variations of the same character: the Joker and the Super Joker. The two jokers can show up on the reels and act as wild symbols in Slingo Reel Extreme, replacing all other symbols aside from the bonus symbol to increase your chances of matching more.
The terrible Devil is back to his old tricks. This evil creature will impede any potential matches or combos when he shows up on your reels. In addition to the Jokers, the Slingo Extreme slot game contains a unique wild symbol that looks like a stack of golden coins. This sign doubles the win lines in addition to substituting for other symbols (except the bonus symbol) to complete matches. The bonus symbol, which activates the Win Spin Bonus feature, is the final component.
How to Win in Slingo Extreme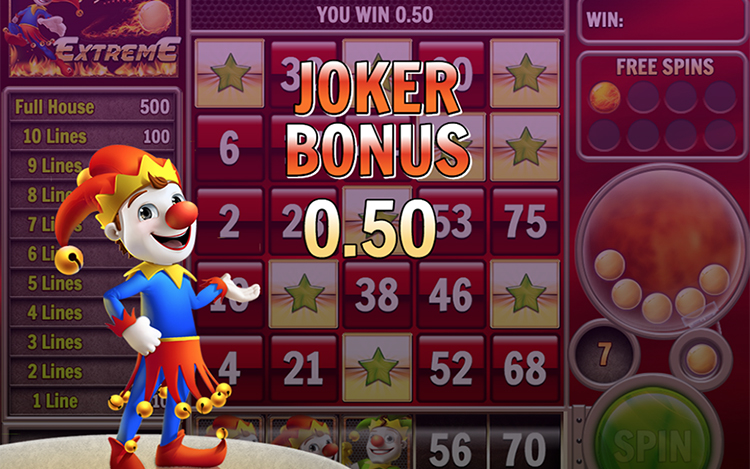 Making slingos—horizontal, vertical, or even diagonal lines where all five numbers have been passed through—is the key to succeeding in a slingo game. The higher the payout, the more winning slingos you have collected. When playing at maximum bet, a complete house of all 12 Slingos earns you 50,000.
Bingo so far, but Slingo Extreme also includes a number of special symbols that, like in slots, let you win even if you don't make a slingo. Of course, the key to winning this game is having the good fortune to land those slingos or spin the special symbols, but it sure is satisfying to see your winnings grow!
Make the Most out of Slingo Extreme's Bonus Features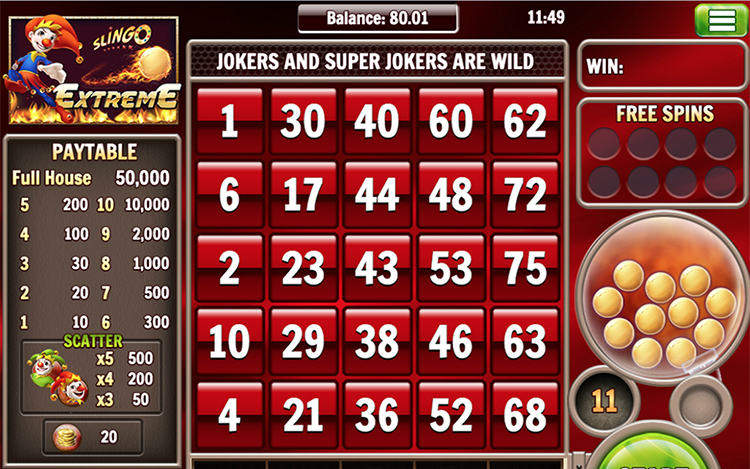 Unlike some other Slingo titles, which keep things pretty simple, the Slingo Extreme slot has a nice mix of bonus features to keep play interesting.
Free Spins
In Slingo Extreme, hitting the free spin icon will award the player with more spins. Players can earn up to 4 free spins during each round of Slingo Extreme, and all free spins gained are paid out at the conclusion of the main game. There are between 4 and 8 extra spins available because each free spin reduces the number of additional spins that players can buy at the conclusion of the main game.
Joker Bonus
When players land three or more jokers or super jokers on the reels in a single spin, they are given the Joker Bonus, an instant cash payout.
Play Slingo Extreme at Slingo.com
We at Slingo.com are passionate about everything Slingo—it's right there in our name! In addition to amazing slot machines, bingo games, live games, casino games, and much more, we are the premier destination for Slingo games like Slingo Reel Extreme. To take advantage of everything Slingo.com has to offer, register and start playing.