If you're new to playing online slots, you might have noticed that each different slot game has different symbols on the reels. The symbols are designed to reflect the theme of the game - for example, a classic fruit machine-style slot is likely to feature pieces of fruit as symbols, whereas one with a fairytale theme might feature witches, elves and magic wands!
Read on to find out more about the different types of slot machine symbols and what they do, including some examples from a couple of our favourite slot games!
What Are the Different Slot Machine Symbols?
Although each online slot will have its own unique symbols and design, what those symbols do is likely to be similar across different slot games. To explain what we mean, let's take a look at some of the different types of slot machine symbols:
Standard
Standard symbols are those which usually award a cash prize for landing a certain combination of them on the reels. The symbols will be relevant to the design of the game - for example, a Game of Thrones slot might feature the different characters as symbols, while a fishing-themed slot might feature different types of fish.
Many slot games use the traditional card values A, K, Q, J, 10 to represent the lower-paying symbols, while the higher-paying symbols are likely to have a more complex design.
However, this can vary according to the game, so always check the paytable of the game you're going to be playing.
Wild
If you're familiar with card games, a Wild symbol in online slots is similar to a Wild Card. In slots it can replace any other standard symbol, hopefully helping you to land a winning combination.
Usually Wilds can't replace 'special' symbols such as bonus, Scatter or jackpot symbols, but this will depend on the specific game you're playing.
In some slot games Wilds might have other special powers, for example doubling any win they form a part of, but this varies so you'll need to check the rules for your game.
Sometimes Wilds will be easy to recognise as a symbol that reads 'Wild', but in other games it may be less obvious.
Check the paytable to find out what the Wild is in your slot game, and remember that not all slot games feature Wild symbols.
Scatter
Many - but not all - slots feature Scatter symbols. They can usually activate some kind of bonus round if a certain number of them appear on the reels, but again this will depend on the specific game.
Scatters get their name because they can be 'scattered' across the reels. Unlike standard symbols, which usually have to appear on adjacent reels from left to right, Scatters do not need to be next to each other to trigger the bonus feature.
Like Wilds, Scatters are sometimes easy to identify because they may have the word 'Scatter' written on them. Otherwise, check the paytable to find out what the Scatter symbol is in your slot game (and if there is one). 
Bonus
Bonus symbols are very similar to Scatter symbols, but they always trigger a bonus round. You might need to land a certain number of Bonus symbols on the reels to get access to the bonus round, or the symbols may need to land on specific reels.
Bonus symbols often have the word 'Bonus' written across them to make identifying them easier, but this isn't always the case. Check before you play to see what the rules are for your chosen game.
Slot Machine Symbols Are Unique
Variety is the spice of life, and each slot machine will have its own unique symbols to add to the theme of the game. To show you what we mean, we're going to look at the different symbols found in two of our favourite online slots ever: the Egyptian adventure Eye of Horus and the mining-themed Bonanza.
Eye of Horus Symbols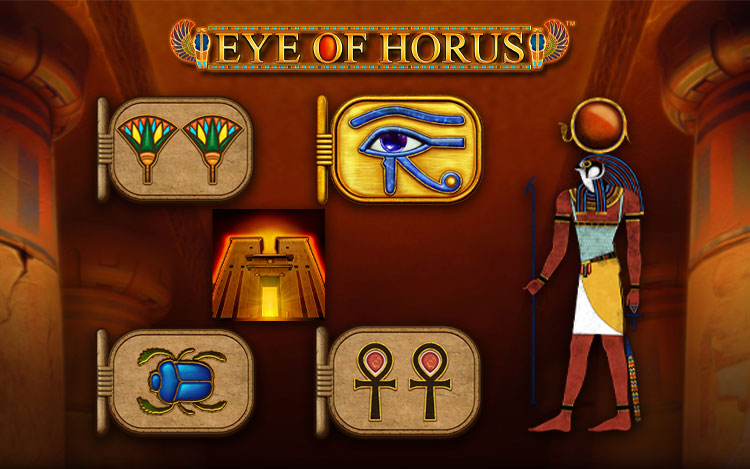 The Eye of Horus game takes place deep within the pyramids, where the pharaohs' secrets are yet to be revealed. It features its own unique symbols, which we're going to take a look at below:
The highest paying symbol is, of course, the Eye of Horus. Landing five of them consecutively on a payline will win you an amazing 500x your original stake!
You can also win 500x your original bet by matching five of the Scatter symbols in a row, represented by the gleaming golden entrance to the pyramid. Matching three or more of this symbol also triggers an exciting Free Spins round, where you'll be awarded 12 free spins!
The next highest-paying symbol is Anubis, the god of the afterlife. In Eye of Horus he is represented as a jackal, and landing five or more matching symbols will win you 400x your original stake.
Next is Horus in his incarnation as a falcon; this symbol can land you up to 300x your bet. He's followed by the blue scarab beetle, who is worth 250x your original stake.
The cross symbol with the loop at the top is called the ankh, and is the ancient Egyptian symbol for life. They're worth up to 200x your bet, and the colourful fans share the same value.
The lowest paying symbols are the classic card values J – A, offering up to 100x your original stake.
Another important symbol is Horus as a man, who appears randomly throughout the game and acts as the Wild. He can replace all symbols except the Scatter, and expands across the whole reel to help you get more winning combinations.
Bonanza Symbols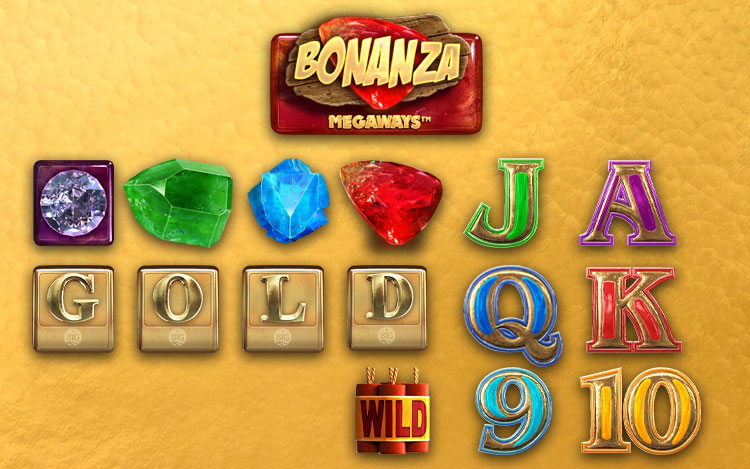 The Bonanza slot game sets the perfect scene for a Gold Rush adventure. It begins in a remote woodland area with a quaint old cottage and a stream running by it. As the game progresses, we journey deep into the underground mines to find that treasure.
Bonanza features gemstones galore, and the sparkling emeralds, sapphires, rubies and diamonds are so beautiful you'd be forgiven for thinking they're real! 6 emeralds or sapphires will pay out 2x your bet, 6 rubies will pay out 7.5x and 6 diamonds will pay out 50x your original bet.
And let's not forget about the GOLD – although the letters G O L D have no value on their own, they are the scatters in this game. Winning 4 will activate a dizzying free spin feature!
Sticks of dynamite are the game's Wilds, which replace every symbol except the scatters. Like many slots, Bonanza also features the classic playing card symbols 9, 10, J, Q, K and A for its lower payouts.
Learn More about Slot Machine Symbols and Play Slots with Unique Symbols at Slingo.com
You can find these slot games and many more at Slingo.com, home to over 1,200 Slingo, slots and casino games. Sign up for an amazing gaming experience in a safe, secure environment that puts you first. Join Slingo and begin your slots adventure!