Everything You Need to Know about the Hit Game
The classic Monopoly board game brings back tons of fond memories. From choosing your favorite piece to buying your dream property (or even being sent to jail without passing Go!), there's plenty of fun to be had with this nostalgic game.
Thanks to its vast popularity, Monopoly has now been made into a variety of different console games as well as apps. And now it's a Slingo game! In Partnership with SG Digital, Gaming Realms brings this family favourite into an exciting new world where slots meet bingo.
Monopoly Slingo takes some elements straight from the classic board game and incorporates a fun Slingo twist. Read on to learn about the rules and features of this innovative and exciting game.
Game Info
RTP: 95.30%
Min. Bet: £0.30
Max. Bet: £25
Rolls: 7-8
Extra Rolls: 4–Unlimited
Paylines: 25
Volatility: User Defined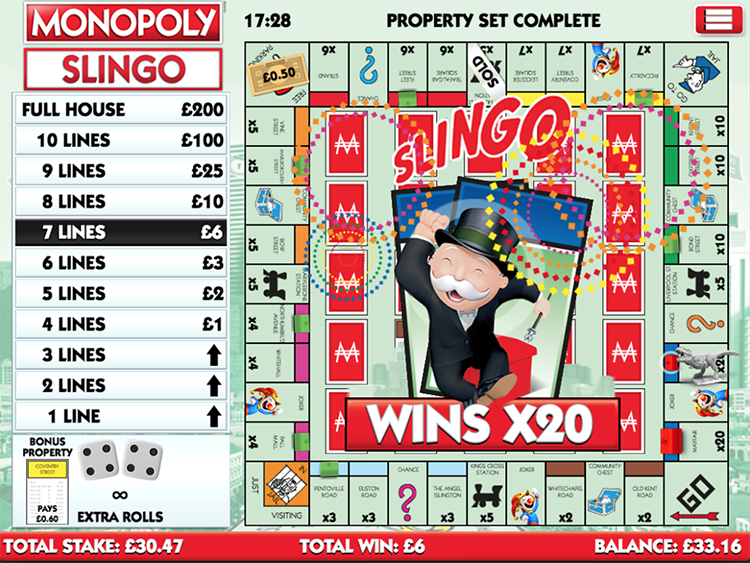 Monopoly Slingo Gameplay & Rules
Before getting into how to play Monopoly Slingo, it's important to understand the basics of Slingo. If you're new around, you can read our Beginner's Guide to Slingo.
What sets Monopoly Slingo apart from most Slingo games is that it is designed like the board game instead of the usual bingo grid, and you get rolls instead of spins. And instead of numbers, the slot is made up of Monopoly properties.
Monopoly Slingo lets the players choose the volatility level. At the beginning of the game, you can pick a silver piece icon from the "Choose Profile" option. Each profile comes with different attributes.
| | | | | |
| --- | --- | --- | --- | --- |
| Profile | Volatility | Initial Rolls | Extra Rolls | Top Prize |
| T-Rex | High | 7 | Unlimited | £20,000 |
| Battleship | Medium - high | 7 | 8 | £12,500 |
| Racing Car | Medium - low | 7 | 6 | £7,500 |
| Dog | Low | 8 | 4 | £2,500 |
After you've set the volatility, you can roll the dice to move around the board like in the board game. Each time you land on a property, all the cards of the same colour group will be marked off. If you match five in a row, whether vertically, horizontally or diagonally, you get a Slingo!
Whenever you complete a Slingo you move up the prize ladder. The prize ladder is on the left side of the reels, and you get the highest prize on the ladder when you score a Full House.
Aside from that, cash prizes (real money, not Monopoly money!), and multipliers are won by landing on a whole set of properties. Just like in the classic board game, some properties have higher values than the others.
In the game, you will encounter the Slingo Joker. When you land on the Joker, Mr. Monopoly (formerly known as Uncle Pennybags) will select a card from each property and shuffle them. Choose a card to reveal the property you will then advance to.
Monopoly Slingo Features
Monopoly Slingo is far from being a typical Slingo game as it's packed with exclusive features. You may be familiar with some of them, as they take their inspiration from the classic board game.
Passing Go & Free Parking
In the original board game, you get additional cash whenever you pass "Go". In Monopoly Slingo, every time you pass "Go" cash will be added to the Free Parking square. When you land on the Free Parking slot, you get to collect the accumulated cash.
Chance and Community Chest
When you land on a Chance card or a Community Chest you will be rewarded. You can get Free Rolls, cash prizes, a "Get Out of Jail Free" card, or the chance to move your position on the board (this can include jail!).
Landing on this will send you to jail for three rolls or until you roll a double. Or if you're lucky enough to have a 'Get Out of Jail Free' card, it will automatically set you free!
Rolling a double will reward you with a Free Roll.
On the board, there are 25 property cards. The 26th is dealt with as the "Bonus Property". If you land on the Bonus Property (which can be seen at the bottom of the prize ladder) you win an instant cash prize!
When you open the game menu, you will see the "Play Controls" option. Here, you can choose the number of extra spins, max extra spins price, total single game stake, and total single game loss.
Slingo has once again managed to pull another jewel from its community chest. Monopoly Slingo offers a taste of nostalgia with a unique Slingo twist. It's a great choice for players who want to have more options on their game's volatility and stake. Take a Chance and play Monopoly Slingo today!