Lake District's enchanting and top-tier hotels are enough to make anyone fall in love. Gorgeously set in picturesque locations - these luxury hotels are among the best you could want to visit!
Explore the intricacies of mesmerising architecture, world-class cuisine and experiences that will simply leave you wishing you could stay forever. From small luxury hotels with traditional rooms to the most grandiose hotels in the beautiful Lake District, check out our guide to some of the best on offer.
Here Are 16 of the Best Luxury Hotels in the Lake District
Idyllically set on the shores of the beautiful Lake Windermere, Macdonald Old England Hotel and Spa is ludicrously scenic.
Be prepared for spectacular views of the lake, majestic sprawling lawns and world-class facilities. Take a trip out on the lake and immerse yourself in the unforgettable atmosphere and unrivalled landscapes.
This luxury hotel offers guests exquisite amenities, including room service, a flat-screen TV, a private balcony, spa treatments, and a thermal suite!
Each of its 106 magical rooms, all immaculately designed with the finest deco, caters perfectly to the needs of every guest.
Indulge in some of the finest British cuisines at the lakeside restaurant and top it off with a classic afternoon tea in the terrace lounge.
Take the time to relax, unwind and create memories that will last a lifetime at this phenomenal luxury hotel.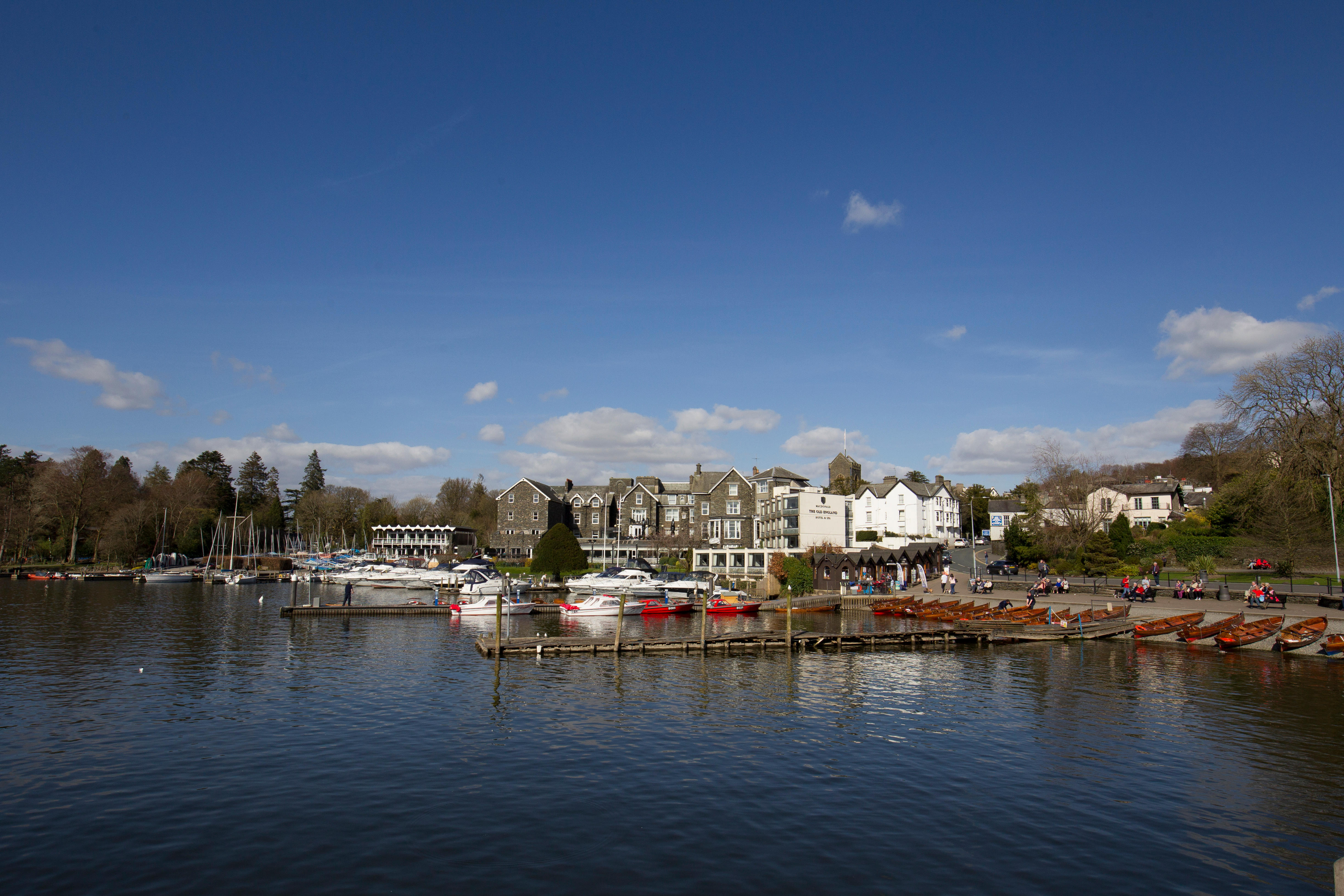 Fancy a romantic getaway? Love is in the air at Windermere Boutique Hotel!
Neatly nestled in the heart of the Lake District lies this luxurious hotel.
Think dreamy. Think sipping on champagne in hot tubs. It's nothing short of fabulous, boasting pristine service, amenities and an unmatched ambience.
From the moment you walk through the door, you'll be treated like absolute royalty in this luxurious establishment.
Treat yourself to a relaxing and rejuvenating massage at the prestigious spa and simply relish the moment.
After a refreshing night's rest, you can enjoy a breakfast fit for royalty in the comfort of your bed.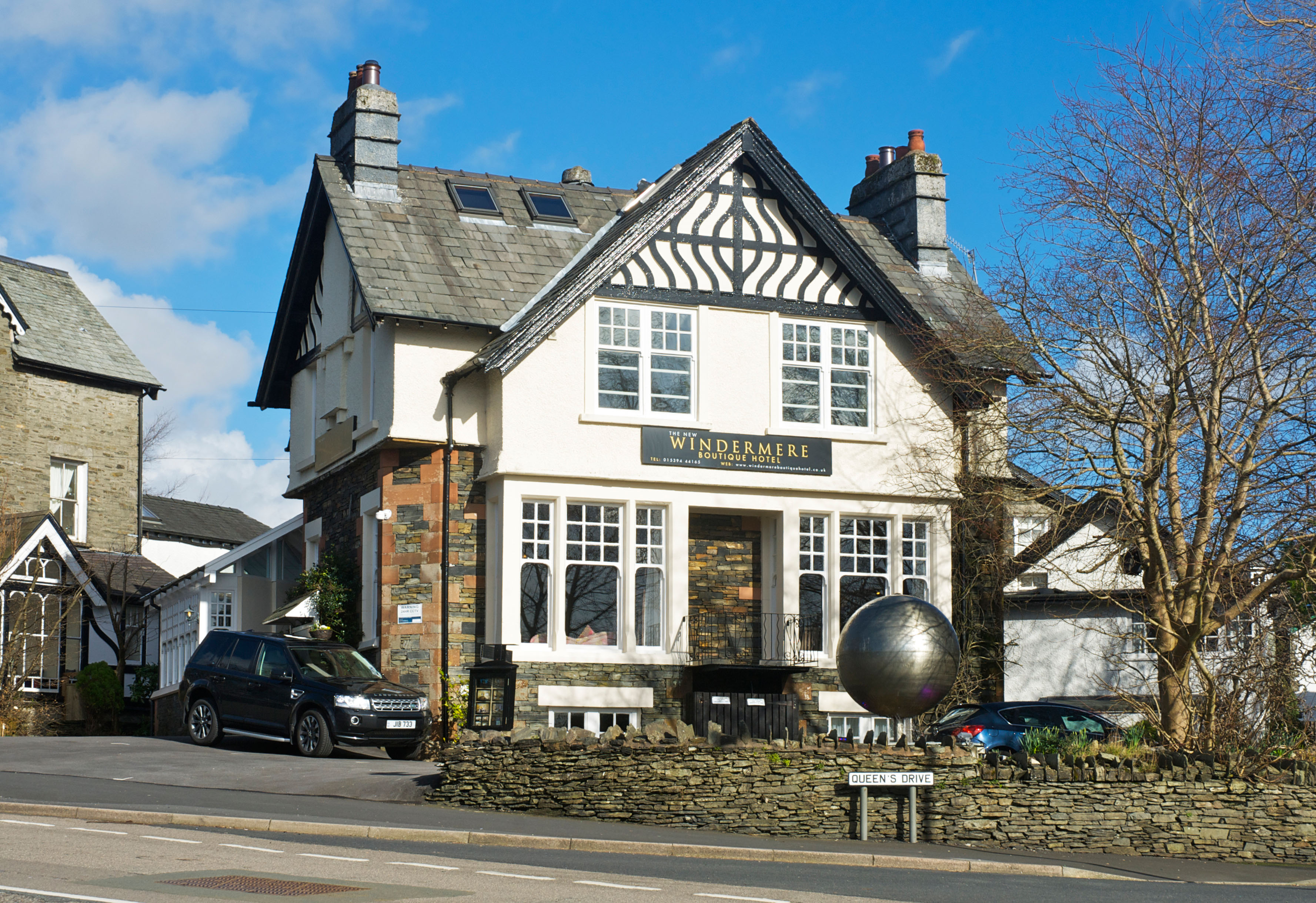 Luxury bed? Check. Gourmet breakfast? Check. A boutique hotel that you'll be reminiscing about from the moment you leave? Check!
Picturesquely set on 17 acres of grounds on the fringe of Lake Windermere - Storrs Hall is the perfect magical getaway.
A traditional hotel with antique finishing welcomes you elegantly upon arrival. Professional service awaits at your beck and call, paired with phenomenal views, amenities and an aura words fail to describe.
Take a trip out on the lake and enjoy the splendour on display. Then, make your way down to the restaurant, which has been awarded 2AA rosettes, to enjoy an a la carte meal that is nothing short of divine.
Top it off by sipping on some bubbly after ordering from room service or enjoying the comforts of the hot tub. Pamper yourself at this luxurious hotel - exploring, relaxing and fine dining in the Lake District has never been this spectacular!
A gorgeous riverside hotel set in a Victorian estate - sounds dreamy? It is!
Only a short walk away from Grasmere's lake lies an iconic hotel built in 1856, fully equipped with the finest amenities and invigorating experiences for guests to enjoy.
Expect to indulge in delectable dishes at the award-winning restaurant while overlooking the majestic gardens below.
Fancy relaxing in a hot tub? Why not think about visiting the Herbal Pine Sauna or Aromatherapy room. The facilities are world-class and you're guaranteed a phenomenal experience.
Every room is perfectly equipped and features a luxurious bathroom, flat-screen TV and scenic views.
Introducing the perfect fusion of traditional and stylish with a dash of the most incredible surrounding hills you've ever seen.
The Daffodil Hotel & Spa is among the best luxury hotels the Lake District has to offer - stunning views, relaxing private hot tubs and fabulous rooms that will cater to your every need.
This is the perfect escape. You'll be welcomed by remarkable natural surroundings, rooms overlooking Lake Windermere and an extraordinary ambience.
Recharge at the spa, spend some much-needed time in the steam room and enjoy an unforgettable fine dining experience at The Daffodil Hotel & Spa.
Imagine a secluded wonderland set in 400 acres of woodlands, with the most exquisite surrounds, outstanding facilities and luxurious accommodation - Armathwaite Hall Hotel & Spa offers precisely this.
One of the original stately homes, this 11th-century upscale resort is dreamy. Guests can spend time wandering the majestic gardens, observing the pristine architecture and decor and exploring the state-of-the-art facilities. It's otherworldly.
The terrace views offer guests incredibly magical scenery and the rooms are flawless!
Think articulate architecture fused with sleek furnishing - Cranleigh Boutique is an upscale, contemporary luxury hotel that is simply magnificent.
The hotel is the embodiment of opulence, with lavish rooms and incredible amenities for guests.
The BAHA cuisines available are a true representation of the contemporary atmosphere at this Lake District luxury hotel. Treat yourself to a delightful and unforgettable experience at Cranleigh Boutique.
Situated in the Lake District is an iconic, tastefully decorated and captivating stone house luxury hotel called 1692 Wasdale.
Surrounded by impeccable scenery, this classic hotel has been modernly furnished and equipped with top-class amenities for guests to enjoy.
The rooms are gorgeous, and the rural setting makes for a magical experience. It's simple, picturesque and makes for the perfect getaway.
Turn back the clock and experience the sheer bliss, traditional charm and electrifying atmosphere of The Belsfield Hotel.
Experience a truly beautiful hotel complete with designer rooms, gorgeous views and professional service.
The beauty and tranquillity of this hotel will leave your heart content. It's perfect for couples, and you're guaranteed an exceptional time at The Belsfield Hotel.
If you like the country house hotel style, then you'll probably love a castle. Behold, Augill Castle was built in the 1940s and more recently modernly furnished to curate a fantastic experience for any guest.
Glorious to look at, it's also perfect for any type of guest. There's a laidback culture with a charming traditional but informal atmosphere.
Large vintage rooms with wonderful scenic views ensure that guests have an authentic experience at the magical castle. The service is superb and the food is top-notch. Experience a break away like none other.
An adult-only deluxe hotel that is bold and charming, this Victorian mansion house has a cosy atmosphere, and the professional staff are very welcoming.
The rooms are stylish, furnished tastefully and feel homely. Guests can spend time exploring the beautiful gardens and nearby attractions.
If you're feeling like unwinding a bit, spend some time at the bar lounge or on the outdoor terrace, or enjoy the luxury of your own private hot tub.
It's an exquisite luxury hotel near lake Windermere that is simply phenomenal.
One of the most lavish luxury hotels, set on 14 acres, with views of Lake Windermere - Linwaithe House is nothing short of exquisite.
Situated atop a hill with sweeping views of Lake Windermere, Linthwaite House prides itself on having sophisticated rooms, with some equipped with hot tubs and private verandas.
The setting is enchanting, to say the least, and guests can spend time exploring the sprawling gardens, playing chess on the giant chess set and even rowing a boat on the lake.
It's a paradise for couples. Enjoy world-class fine dining with a spectacular atmosphere at the restaurant and end the day with some bubbly on the terrace.
The perfect escape from the city, this hotel offers a break away that is tranquil, rejuvenating and captivating. Low Wood Bay Resort & Spa is iconically idyllic - providing a breath-taking world away from life as we know it.
Guests can enjoy the state-of-the-art spa facilities that will leave you feeling renewed. The surroundings are picturesque and rural, but the facilities and accommodation are luxurious and comfortable.
This lakefront resort has the perfect balance between traditional and modern and makes for an unforgettable experience. Couples will particularly love this charming small luxury hotel for a romantic getaway.
Surrounded by trees, on top of a hill lies a 20th-century country house hotel notorious for being among the finest luxury hotels in the Lake District.
There are high ceilings and magnificent architecture to marvel at. It's an elegant hideaway from the hustle and bustle of everyday life.
Guests can enjoy any of the 14 uniquely designed bedrooms during their stay. Most of the rooms boast access to picturesque lake views.
Enjoy afternoon teas on the terrace and experience world-class fine dining at the restaurant. This Edwardian Country House truly is a sight to behold.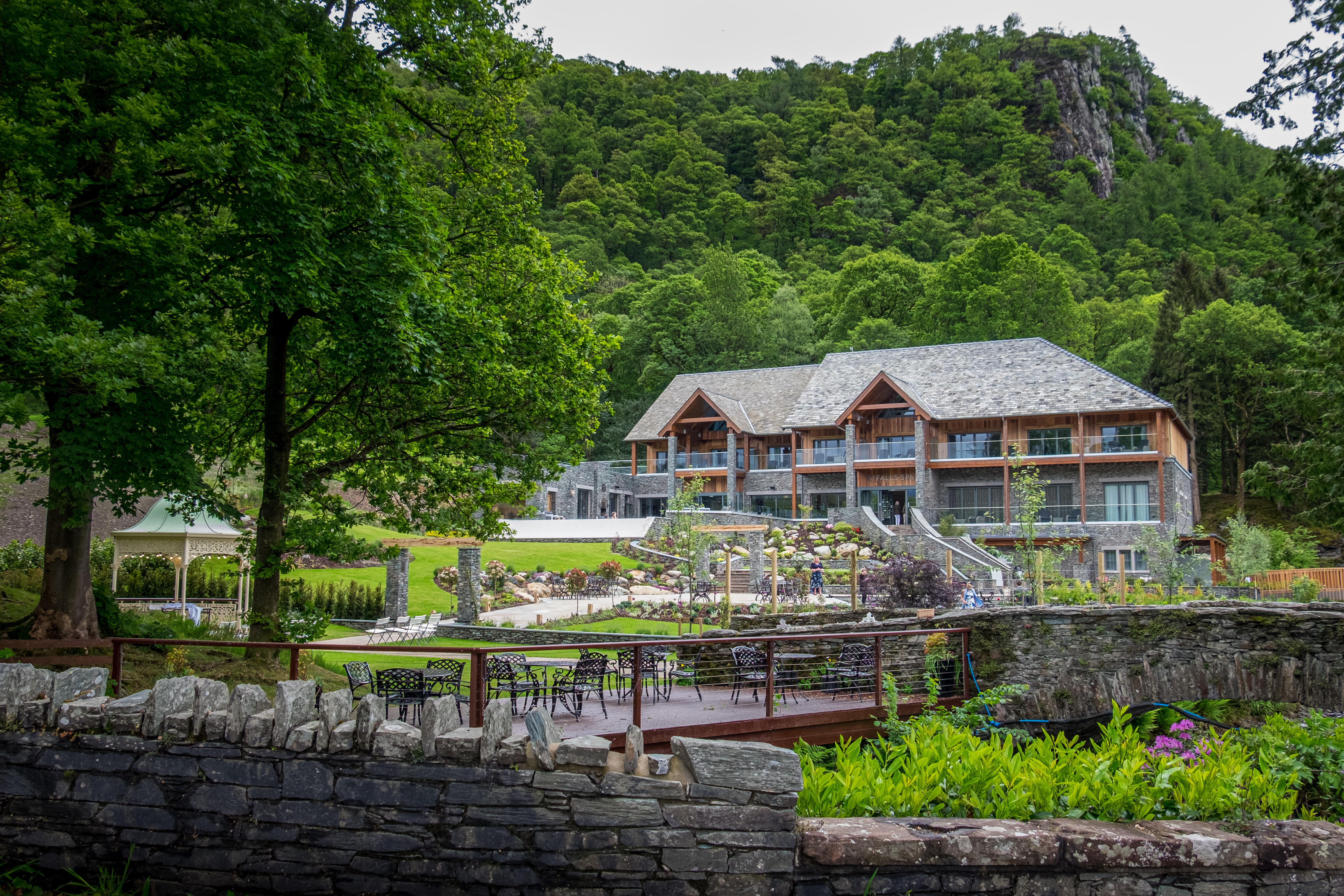 Experience a superb 19th-century hotel that you'll never forget. This magnificent luxury hotel and spa is neatly hidden away, offering guests a mesmerising experience.
Amenities include a thermal suite, two restaurants and accommodation equipped with everything to ensure you have an incredible stay.
Enjoy afternoon tea out in the garden or Asian-inspired dishes at one of the hotel's restaurants.
Guests can indulge in some bubbly at the champagne bar, relax in the infinity pool or simply spend time admiring the breathtaking surroundings of Lodore Falls Hotel & Spa.
A luxurious escape right on the lake Windermere, this hotel offers an experience filled with the finest cuisine, swimming in an indoor pool, beautiful grounds, drinks by the lake and impeccable service.
This is truly one of the most iconic, enthralling and picturesque experiences on the list. Staying at Lakeside Hotel & Spa is the ultimate getaway.
Guests are treated like royalty, facilities are phenomenal, the rooms are just sublime, and not to mention the mouth-watering food on offer.
Any stay at Lakeside Hotel & Spa is sure to be memorable. It's a fusion of country house and contemporary that will leave you feeling re-energised.
FAQs
Which luxury hotels in Lake District allow pets?
Most of the luxury hotels mentioned on this list allow pets. There is, however, an additional fee for guests opting to bring pets with them.
Only certain pets are allowed, and it's advised that you check with the hotel before confirming your stay. The most common pets that guests bring along are dogs and cats.
These hotels can be especially accommodating for pets because of their sprawling gardens and wonderful natural surroundings. Owners are always encouraged to exercise caution when bringing pets to a luxury hotel that is shared by other guests.
Do any luxury hotels in Lake District offer free breakfast?
Complimentary breakfast offers are often updated frequently. It's best to check directly with the hotel you intend to book your stay at to see whether they offer complimentary breakfast for guests.
It's also advised that you specify if you have any specific dietary requirements so that the hotel can plan to accommodate your needs.
Do any luxury hotels in Lake District have a pool?
Every luxury hotel on this list has at least one or more pools. In fact, most of these luxury hotels are equipped with state-of-the-art pools, infinity pools and indoor pools.
Guests are guaranteed to have a refreshing and relaxing time in the pool. You can also enjoy a nice drink or meal beside the pool in most cases.
Which luxury hotels in Lake District have rooms with a private balcony?
Almost every luxury hotel on the list has rooms available with private balconies. Standard rooms might not necessarily come equipped with private balconies, but guests can choose to upgrade to a room that offers private balconies or private terraces.
Final Thoughts
The most luxurious hotels in Lake District are truly remarkable establishments with a wide selection of things to do, convenient and luxury amenities, professional and helpful staff and incredibly scenic surroundings.
You can expect world-class service and facilities at every luxury hotel on the list. Your stay will be nothing short of spectacular! For more tips on the best luxury hotels in the UK, check out our lifestyle news.
Discover more luxury hotels throughout the UK
No matter where in the UK you are looking to go on holiday, we can give you plenty of ideas for luxury hotels you could stay in! Check out our other guides below: