The UK is home to countless beautiful locations that welcome tens of millions of international visitors every year.
The rise of the 'staycation' has also seen more UK residents exploring the attractive options that offer convenience and quality.
One popular UK location for holidaymakers is Cornwall. Positioned in the Southwest of England, Cornwall is a peninsula that the Atlantic Ocean borders to its north and west and the English Channel to its south.
Cornwall is one of the sunniest places in the UK, with a relatively mild climate that gets warmest during the summer months.
It is known for having a great selection of beautiful beaches and excellent conditions for surfing. As you might expect for a county bordered on three sides by water, the seafood here is fantastic and fresh!
There are lots to see and do in Cornwall with a long, rich history. You will be able to visit castles, smugglers' caves, and much more. Or, you can explore the South West Coast Path if you're looking for an active break.
Nature lovers will be able to explore the Eden Project, an indoor rainforest that allows you to experience an incredible collection of plant life. You will also enjoy an unbeatable sea view on the coastal walks in this great county.
Picturesque fishing villages, charming pubs, and local beer and cider are also popular among the locals and visitors.
If you are planning to visit Cornwall, you will have a great choice of luxury hotels for you to enjoy your stay in style. Please take a look at our list below, showcasing some of the best Cornwall accommodation available. Or, check out more travel inspiration by following our lifestyle news.
17 Luxury Hotels In Cornwall
Whether you are looking for a boutique hotel with spectacular sea views, a luxury spa for a pampered break, or a private beach with golden sands to relax on, take a look at our collection of the best hotels Cornwall has to offer for inspiration.
The Idle Rocks Hotel in Saint Mawes is a beautiful, 18 bedroom Edwardian inn located right at the water's edge.
The south-facing harbour is sheltered from sea winds, creating a perfect microclimate for sitting on the outdoor terrace enjoying the sea view.
You will enjoy friendly service from staff who always have a smile on their face. The beautifully designed rooms are perfect for the location and very comfortable.
Take advantage of the aromatherapy and massages in the Reef Knot Retreat. This treatment room allows guests to relax in the comfort of the hotel.
You will be able to make the most of great meals throughout the day and evening at the hotel restaurant, with a great choice of freshly caught seafood.
Padstow, in North Cornwall, is a beautiful town and fishing port that offers excellent boat trips and fishing.
The Padstow Townhouse is a luxury boutique hotel with just six rooms owned by the chef, Paul Ainsworth.
As you might expect for a hotel owned by a chef, the dining here is fantastic. Though it is located a three-minute walk away, their No.6 restaurant is worth visiting. A Michelin star winner, you will have plenty of choices here.
A 'Kitchen Pantry' is stacked with delicious snacks that run on an honesty box system in the hotel itself, so you will never go hungry.
The rooms are beautifully decorated and come with slippers, large showers, skincare products, and other great amenities.
The hotel is just a short walk to the harbour, where, as well as boats and fishing, you will be able to explore the Drang art gallery.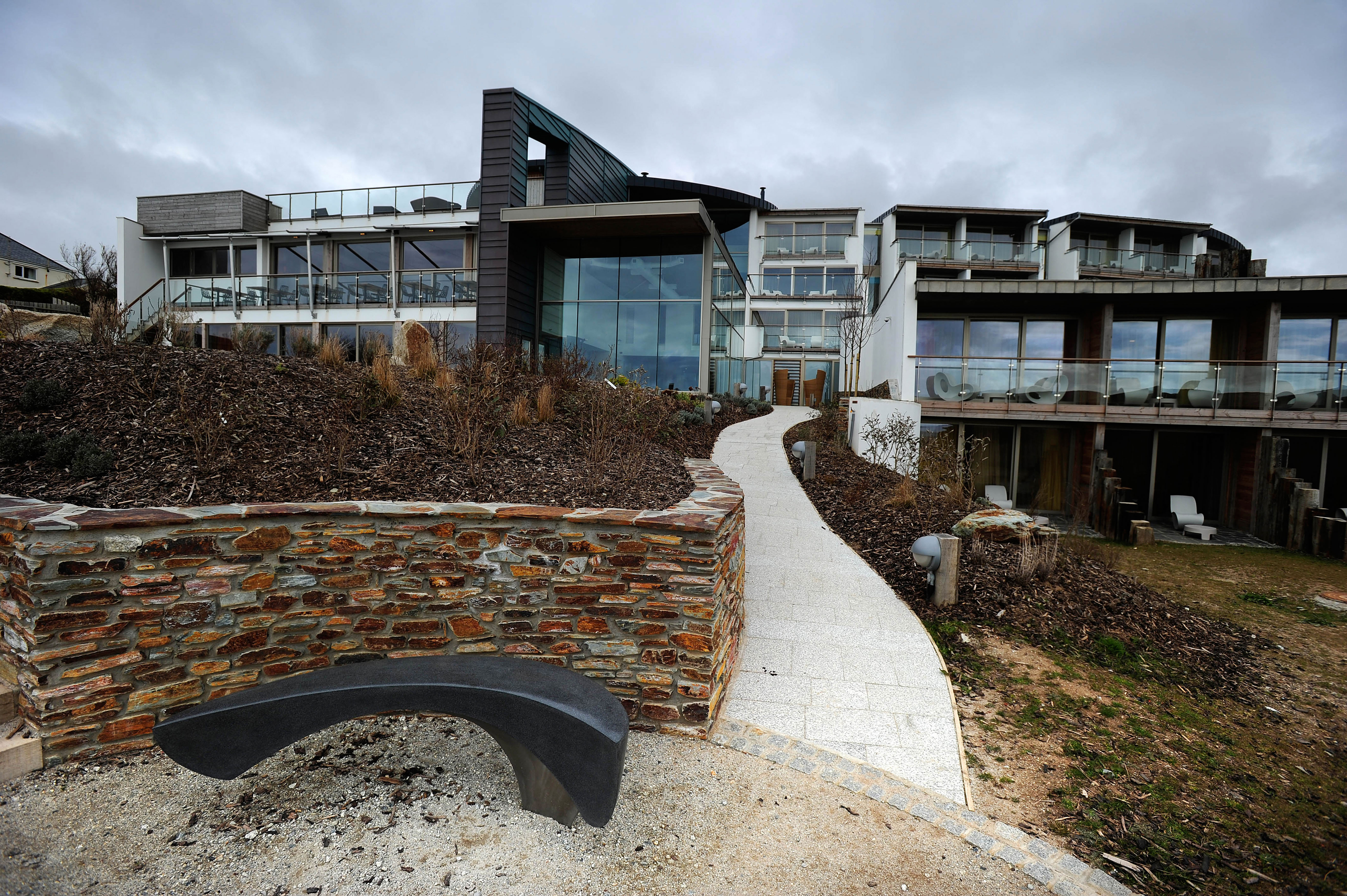 The Scarlet Hotel is a wonderful, eco-friendly retreat perched on a clifftop, boasting incredible views.
The hotel seamlessly blends the interior with the beautiful country thanks to its stunning views.
The 37 bedrooms all make the most of the landscape, and the outdoor pool is chemical-free, using reeds and algae to clean it instead.
The outdoor hot tubs give beautiful beach and sea views, while the indoor pool, steam room and spa offer a level of luxury that will help to relax and rejuvenate guests.
There is a European-style restaurant that serves all day, and the option of room service for those that want to enjoy a meal looking out from their room over the sea is also appealing.
Newquay is a great surf location, and the Watergate Bay Hotel overlooks a beautiful beach.
The large bay is excellent for families or water sports fanatics to enjoy, and the superb hotel is an ideal place to stay. The hotel even has kitesurfing, paddleboarding, and surfing lessons for guests to experience.
Despite having a very welcoming feel, the hotel exudes luxury and boasts a sauna, large infinity pool, hot tub, spa, and fitness centre.
The boutique bedrooms are comfortable and warmly decorated, while the beach loft suites offer other levels of luxury and quality.
There is even a great range of dining options from the casual Living Space to the more upscale Zachary's and the beachfront Beach Hut. Emily Scott Food is also an excellent option with freshly-caught seafood.
Not everyone will want to be located on a beach, and there are plenty of great options in Cornwall that will let you enjoy the beautiful countryside.
One example is the Coombeshead Farm Hotel, Lewannick. You will have access to the local countryside, moorland, and woodland and be near the Eden Project.
The guesthouse has five minimally-designed bedrooms with large rain showers, cotton dressing gowns, toiletries and large, comfy beds.
There is also a bunk room that sleeps up to 12 guests, ideal for large parties.
The main reason people come to Coombeshead Farm Hotel is the food. Run by Coombeshead Farm Hotel, Lewannick, the zero-waste, sustainable nature of the restaurant appeals to many.
Much of the food you will get to enjoy will have been grown or reared on the land, and you will be able to experience high-quality country fare.
Bay views, private beach, luxury spa, outstanding service, and delicious dining, Carbis Bay Hotel, St Ives, has it all.
The luxury hotel on the Carbis Bay estate boasts an incredible 125 acres of land and an excellent level of quality. You will be able to relax at the outdoor pool or head down to Carbis Bay Beach, the hotel's own Blue Flag beach.
The fantastic facilities at the spa are popular among guests that like to make the most of the heated pool, treatments rooms, and sauna.
You will be able to rent paddleboards, canoes, a Sunseeker yacht, or even a beach hut and hot tub.
Guests also enjoy the two AA rosettes awarded Sands restaurant for fine dining.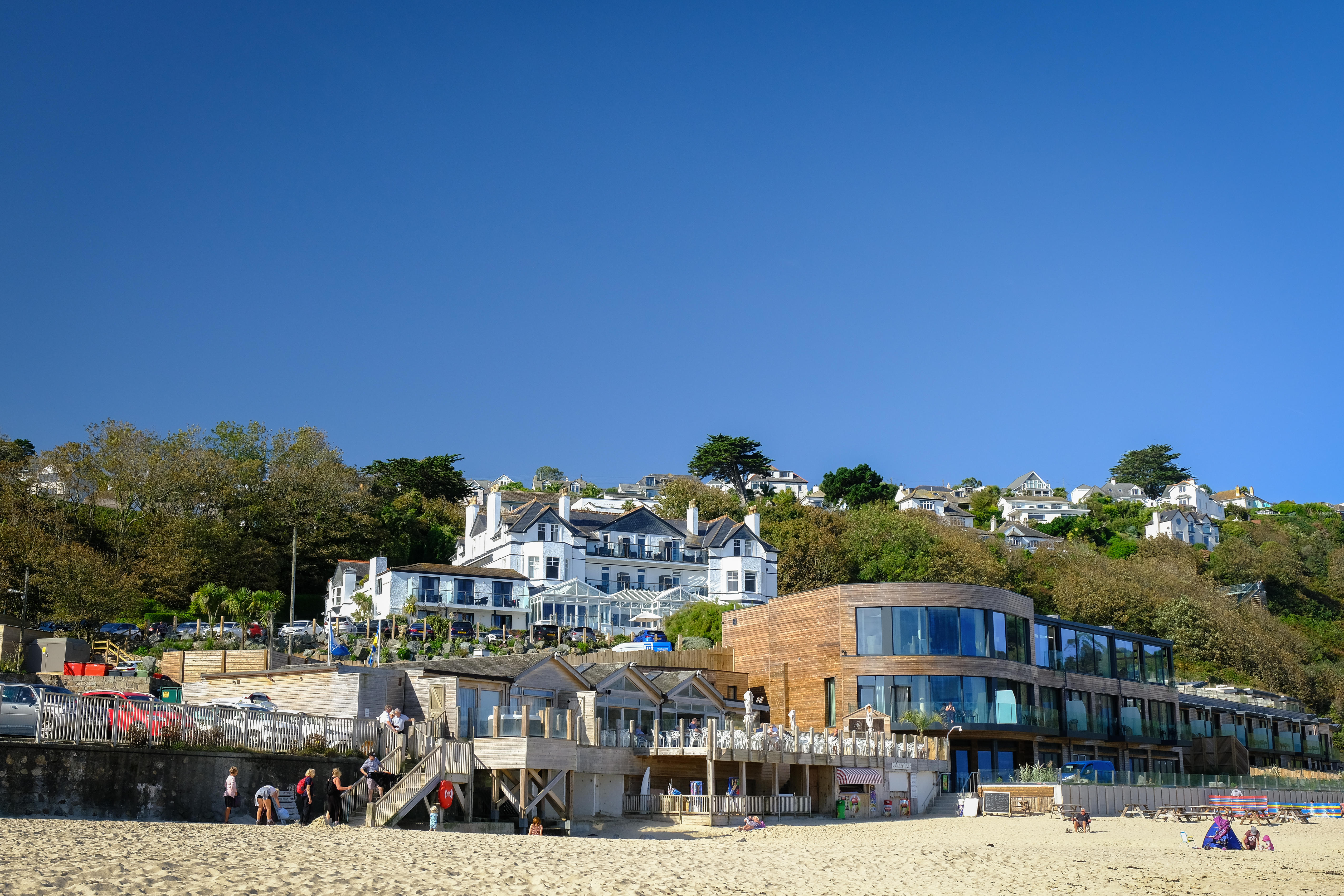 Chapel House Hotel is a beautiful coastal townhouse. Located near the centre of historic Penzance, the great location gives easy access to local sites and attractions and incredible views of St Michael's Mount.
Dating back to 1790, the Georgian townhouse is stylishly decorated, making it a welcoming and comfortable hotel.
The simply designed bedrooms and bathrooms are luxurious, and you will also get to take advantage of the tea, coffee, robes, and slippers they provide you with.
The informal setting is great for those that like to get to know other guests and perfect for those wishing to explore Penzance.
The Old Quay House Hotel, Fowey, provides great seaside charm in this pretty harbour town.
The property dates back to 1889 and was formerly a Seaman's Mission. It is now a luxury hotel that welcomes guests to its wonderful location overlooking the estuary.
Each of the 13 rooms is decorated to a high standard with handpicked furniture, comfortable beds and high-quality furnishings.
Seasonal menus use local produce and fresh seafood to provide exquisite meals. You will be able to enjoy British classics with a contemporary twist, created by head chef Richard Massey.
Hotel Tresanton, St Mawes, is a picturesque location that offers excellent sea views over the beautiful subtropical gardens.
Just a short ten-minute walk from St Mawes Castle and the harbour, you will be able to enjoy the cafes, galleries, and shops.
The hotel was designed by Olga Polizzi and opened in 1998. The hotel offers alfresco dining on the outdoor terraces of the Beach Club.
As well as the great dining options, pool, and a cinema/function room, they also have a private yacht that you can charter.
Thirty unique rooms offer comfort and luxury. There are even options for your pet to stay with you.
Dining options make the most of freshly-caught seafood with a Mediterranean twist.
The Driftwood is the ideal getaway for those looking to escape the hustle and bustle of everyday life and relax in a luxury hotel.
Located in stunning gardens and boasting a private beach, you will be a 30-minute walk from Portscatho and a 5-minute drive from the botanical gardens of The Lost Gardens of Heligan.
The interior is light, bright, and airy, with bedrooms offering coastal views and comfort. Amenities include waffle bathrobes and Ren toiletries.
If you want a hotel with good food, you won't be disappointed. The restaurant's head chef was awarded a Michelin star, and the restaurant offers great local produce and a fresh seafood menu.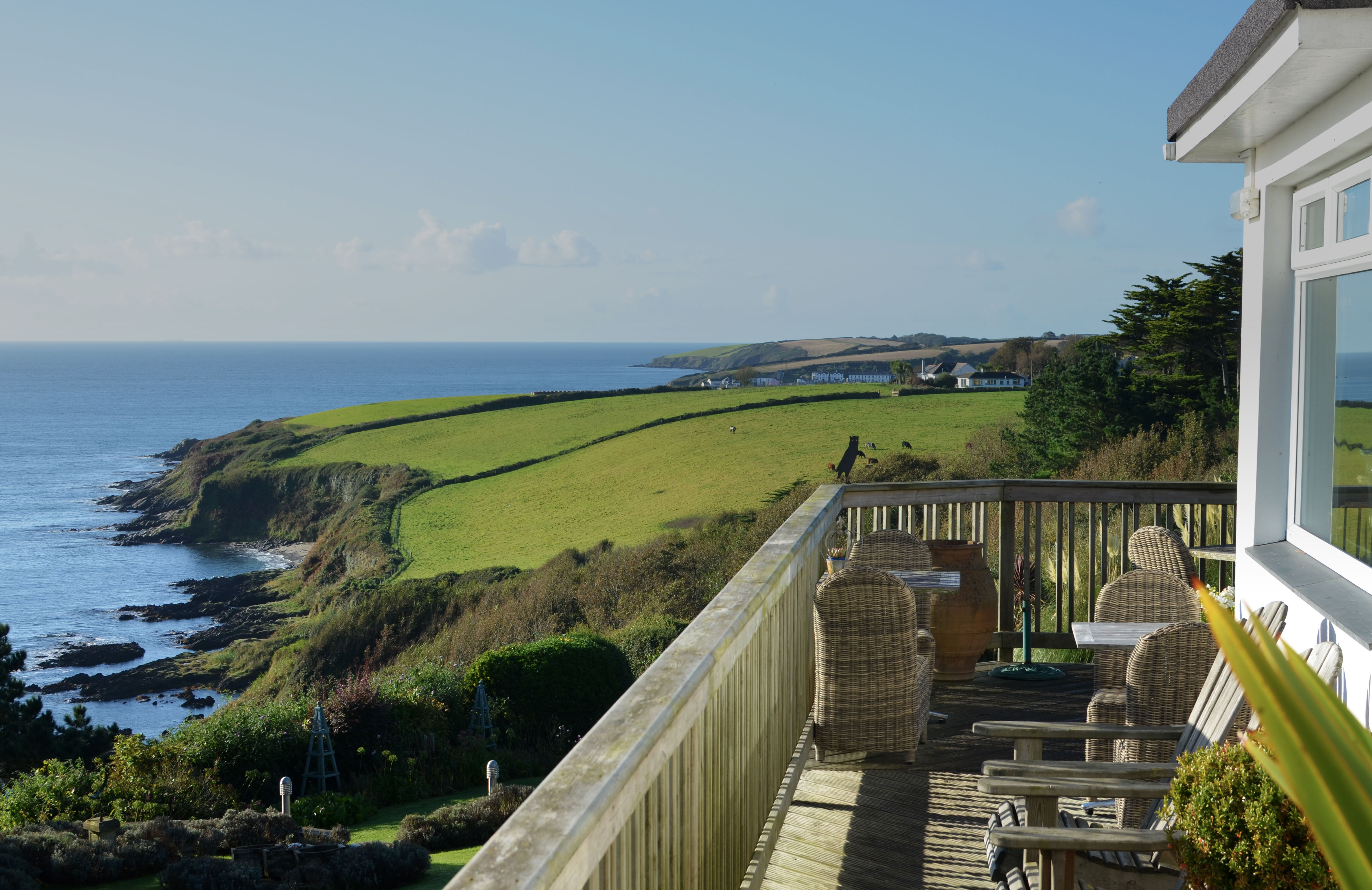 The Old Coastguard, Mousehole combines the charm of a coastal pub-restaurant with a luxury continental seaside hotel. The fantastic location gives unparalleled sea views, especially from the terrace.
The recently renovated bedrooms are in tune with the surroundings with natural colours. Each room in this beautiful boutique hotel is unique, with some offering sun terraces and others with large windows on three sides.
Dining options are excellent with Spanish tapas, fresh seafood, and locally-raised pork.
The Artist Residence Penzance is a unique boutique hotel that captures the bohemian atmosphere of Penzance in a comfortable and welcoming way.
The centrally located Georgian townhouse is great for those who want to make the most of what the town offers. Easy access to local cafes, shops, and art galleries makes it perfect for guests.
There is a friendly, informal vibe throughout the hotel, and the staff are wonderful and helpful. You will be able to take advantage of the bar lounge, restaurant, banquet room, and beer garden.
Each room is unique, with fascinating murals, furniture, and decor. The comfortable rooms are also equipped with espresso machines, TVs, and digital radios.
The restaurant has a great selection and even boasts a smokehouse for that unique, delicious flavour.
The St Enodoc Hotel in Rock offers exquisite views from its hillside location, allowing you to comfortably take in the seaside and Camel Estuary.
You are ideally situated for exploring everything north Cornwall has to offer, including wonderful attractions, extraordinary wildlife, unbeatable walks, shops, towns, and more.
A private house until 1999, St Enodoc Hotel offers its guests a contemporary boutique style that focuses on brightly coloured decor. There are 16 rooms and four suites that are all decorated to give a fresh atmosphere.
The restaurant and terrace use local produce for an excellent opportunity to sample fine Cornish dining.
Boskerris Hotel, St Ives, is a beautiful 1930s hotel situated on a clifftop overlooking Carbis Bay.
Just a short walk from St Ives, you are close enough to enjoy this lovely town's museums, gardens, and cafes.
The hotel is designed to allow a light and breezy atmosphere without seeming cold.
The modern hotel has everything you would expect and more, including Tesla chargers, beach towels, and Netflix.
The rooms are incredibly comfortable, and the beds are positioned to make the most of the sea view. Superior rooms boast sunken baths, wet rooms, and high-quality toiletries provided by The White Company.
You will be able to enjoy casual meals and snacks and fine-dining thanks to locally-raised beef, local produce, and fresh seafood.
This might sound like the title of a horror film, but the reality couldn't be further from that!
Located on the Scilly Isles in Bryher, the hotel is located in a sheltered cove that looks out over turquoise water and wild moorland.
Initially a farm before becoming a pub, the Hell Bay Hotel offers great luxuries like the sauna, whirlpool tub, spa, and heated outdoor pool.
There are 25 rooms in total, decorated in a traditional New-England beach house theme of blue and white. Floor-to-ceiling windows boast incredible ocean views.
Local produce, meat, and seafood go into preparing magnificent meals at this unique and superb hotel.

The Pig at Harlyn Bay is a great country house that combines modern luxury with historic beauty and charm.
Looking out over the Camel Estuary, the stunning gardens give it a picturesque appeal.
The house may date back to the 1600s, and there are still echoes of this past in its flagstones and wooden doors, but the beautifully-decorated rooms offer an excellent level of comfort and style without looking out of place.
The restaurant has a more casual feel than you might expect from a country house hotel, which adds to the charm. The local produce and high-quality food are also magnificent.
Located on The Roseland Peninsula, The Nare, Carne Beach is one of the 5-star luxury hotels in Cornwall and has great views across the hills, bay, and sea.
Decorated like a traditional country house, the hotel exudes quality and the pool, fitness centre, sauna, and spa are all great additions.
The Nare has 36 rooms, and there is a homely feel with rugs, antique furniture, and great amenities.
The French-inspired cuisine served in the Dining Room is marvellous, or you can visit the Quarterdeck for more casual options.
FAQs
Are there any popular attractions close to The St Enodoc Hotel?
As well as having a great choice of restaurants near the St Enodoc Hotel, this excellent hotel is just a short walk from Rock Beach and the Sir John Betjeman Walk. St Michael's Church is also nearby and is a beautiful, small church that overlooks the water.
How far is The Old Quay House Hotel from the centre of Fowey?
The Old Quay House Hotel has a fabulous location in the centre of Fowey, giving you easy access to local amenities and attractions.
Which room amenities are available at Padstow Townhouse?
In your room at the Padstow Townhouse Hotel, you will have a minibar, tea, coffee, and Apple TV, as well as bikes that you can borrow. You'll also find Hunter Wellies for walks, complimentary transfers, room service, a picnic hamper service, as well as the 'Kitchen Pantry' honesty box system.
Is The Scarlet Hotel pet friendly?
For just £15 per night, your dog can join you on your trip to The Scarlet, Mawgan Porth.
Your room will be provided with food bowls, a towel for your dog, and a special gift.
The Retreat Lounge and the outdoor terrace of the Scarlet restaurant are both dog-friendly, and there are lots of great walks your do will love.
Final Thoughts
If your heart is set on staying at luxury hotels, Cornwall has some excellent options, as you will be able to see by the choices above. As well as having some of the best luxury hotels in the UK, Cornwall offers visitors lots to see and do.
With a great selection of beach houses, boutique hotels, and luxury spas, you will be able to find the ideal hotel in a perfect location for you.
You will be able to explore the South West Coast Path, enjoy beautiful beaches, rejuvenate in the luxury spas, or make the most of active getaways, with watersports being particularly popular. Cornwall has lots to offer its visitors and finding suitable accommodation will help make your trip memorable for all the right reasons.
Discover more luxury hotels throughout the UK
No matter where in the UK you are looking to go on holiday, we can give you plenty of ideas for luxury hotels you could stay in! Check out our other guides below: